Marcus Freeman is disappointed after Notre Dame's loss to Ohio State.
Moments after Chip Trayanum scored a game-winning touchdown to help the Buckeyes defeat the Irish 17-14 in South Bend, Indiana, Freeman met with the media to discuss his team's performance in the top-10 matchup.
In a 90-second opening statement, Freeman said Notre Dame had several chances to knock off Ohio State at home. However, he believes the Irish didn't reach their "full potential" in the top-10 matchup, which allowed a "resilient" Ohio State team to come back and win.
"It was disappointing. We had a lot of opportunities to win that game, and then we didn't – Credit to (Ohio State) for continuing to battle back and be resilient when we went up. We have to finish that game. Tough loss. But, as I told our group of guys, we have a really good football team. At times, we showed it today against a really good football team. ... But the loss hurts. It stings." – Marcus Freeman
In the aftermath of Trayanum's touchdown run, it was discovered that Notre Dame's defense only had 10 players on the field for the score that would decide the game's outcome. A reporter asked Freeman to explain how that happened, and the head coach said the blame falls at his feet.
"We were trying to get a fourth D-lineman on the field, but I told him to stay off because we couldn't afford a penalty. I didn't have any timeouts. Right? We couldn't afford a penalty there. Yeah, that's on us. We have to be better."– Marcus Freeman
When asked to elaborate more on his disappointment after Notre Dame's loss, Freeman reiterated that Ohio State did what it needed to do to win the Week 4 contest. However, he thinks the Irish could have played better from start to finish, which would have resulted in a more favorable outcome for the No. 9-ranked team in America.
"I don't want to take anything away from Ohio State and their victory, but we did not play as well as we could have, and that's the disappointing thing. That doesn't take anything away from Ohio State, but that's evaluating us. We didn't play the entire game as we would have liked to. ... There are a couple of plays you wish you could redo, but you can't, so you have to learn from it."– Marcus Freeman
Freeman offered a similar response when asked a similar question later in the press conference, explaining that Notre Dame will continue to chase perfection as it attempts to reach its full potential this season.
"It hurts because we didn't play our best. It's not about them as much as it is about us and playing at our full potential. That's what we're chasing. That's why I am disappointed. If we would have, the result of the game could have been different. It's not that we gave the game away; it's that we didn't reach our full potential. That's the disappointing part."– Marcus Freeman
Ohio State has now won six consecutive games against Notre Dame dating back to 1995. The Buckeyes now enter their bye week with a 4-0 record. They'll return to action in their fifth game of the season against Maryland at home on Oct. 7. Kickoff time and TV network for that game are expected to be announced Monday.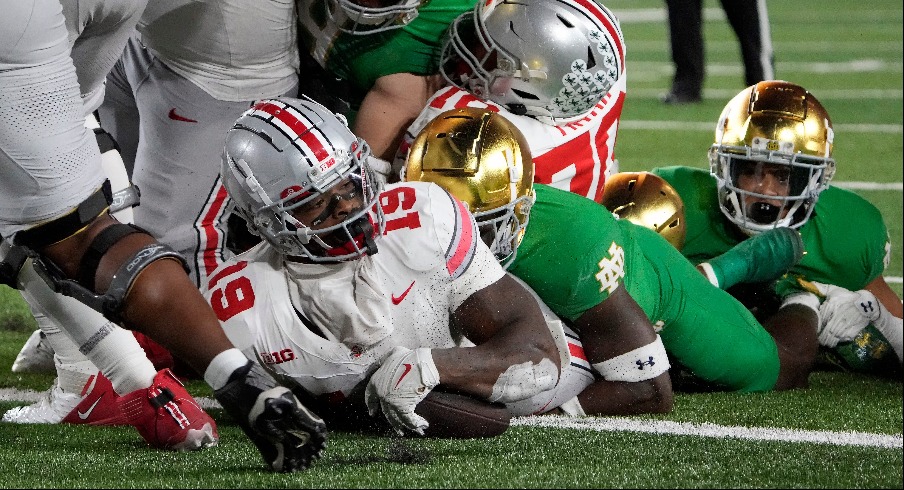 #6 Ohio State 17, #9 Notre Dame 14
Sept. 23, 2023 • Notre Dame Stadium • South Bend, IN