Nine Ohio State freshmen played in Ohio State's 63-10 dismantling of Western Kentucky. Three freshmen made their Buckeye debuts and two freshmen found their way to the promised land in the painted area of the end zone. 
Touchdown Tate
Carnell Tate caught a pass for the third consecutive game. Against the Hilltoppers, Tate grabbed two passes within three snaps, doubling his season total of receptions to four.
Near the start of the fourth quarter, Tate took a short pass from Devin Brown and raced for 12 yards and an Ohio State first down on Western Kentucky's 31-yard line. Two plays later, Brown and Tate connected again. This time it was for a 28-yard touchdown strike, extending the Buckeyes' lead to 56-10. 
The deep ball down the visitor's side of the field resulted in the first touchdown catch for Tate and the first touchdown pass for Brown, a redshirt freshman. The last time a quarterback and Ohio State player connected for their first touchdown pass and catch at the same time was Justin Fields to Jeremy Ruckert against Florida Atlantic in 2019.
Devin Brown with a DIME to Carnell Tate. pic.twitter.com/t8fLL7pcYc

— Eleven Warriors (@11W) September 16, 2023
Tate was on the field for a season-high 23 offensive snaps and made another big play for the team during Ohio State's second possession of the second half. 
Cade Stover turned a short pass into a long gain, but during his run, Stover was dispossessed of the ball by Western Kentucky's Bryson Washington. The ever-alert Tate jumped on the loose pigskin to retain possession for the Buckeyes.
Carnell Tate broke out the dance moves after his first-career touchdown reception. pic.twitter.com/DGcFJydPvA

— Eleven Warriors (@11W) September 16, 2023
JMJ all the way
Tate wasn't the only freshman to find the end zone on Saturday. After a Western Kentucky interception, the Hilltoppers had good field possession near midfield with just under seven minutes to play. After two rushes that gained two yards, WKU's backup quarterback Bronson Barron dropped back to pass on 3rd-and-8. Although he wasn't the intended target, Ohio State freshman cornerback Jermaine Mathews Jr. intercepted the pass, then raced 58 yards for a pick-six. 
Mathews' touchdown ended the scoring for the day, giving Ohio State its 63-10 victory. It also marked the first time the Buckeyes recorded two defensive touchdowns in a game since Dre'Mont Jones and Davon Hamilton scored against TCU in 2018.
Jermaine Mathews Jr. to the CRIB. pic.twitter.com/gh6uJn696x

— Eleven Warriors (@11W) September 16, 2023
Malik Hartford made his way onto the stat sheet on Western Kentucky's next offensive play following Mathews' interception return. Hartford combined with Cody Simon to bring down the Hilltoppers' L.T. Sanders after the running back rushed for a gain of nine yards.
Three Buckeye debuts
Tight end Jelani Thurman and defensive linemen Kayden McDonald and Jason Moore played their first snaps as Buckeyes against Western Kentucky. 
Larry Johnson tapped McDonald to play four snaps and Moore to play three snaps along the defensive line as the game came to a close. Thurman had five snaps with the offense and also saw action on the extra point and punt return teams.
Rest of the class
Brandon Inniss took two offensive snaps and played on two special team units. He was on the field for every kickoff return and two of Ohio State's three punt returns.
Luke Montgomery was on the field for 12 offensive snaps and was a tackle for the field goal unit for the Buckeyes' last extra point. 
Noah Rogers was on the field for five plays at wide receiver.
Under the NCAA's redshirt rules, a player can appear in up to four games at any point throughout the season and still count it as his redshirt year. Through the third game of the 2023 season, five Ohio State freshmen have played in every game: Hartford, Inniss, Mathews, Montgomery and Tate. 10 of Ohio State's 21 scholarship true freshmen have seen the field in at least one game.
Class of 2023 Tracker

| NAME | POS | DEBUT | WKU STATS | GP | SEASON STATS |
| --- | --- | --- | --- | --- | --- |
| MALIK HARTFORD | S | Indiana | 1 tackle | 3 | 3 tackles, 1 PBU |
| BRANDON INNISS | WR | Indiana | 2 offensive snaps | 3 | 4 offensive snaps |
| JERMAINE MATHEWS JR. | CB | Indiana | 1 tackle, 1 INT | 3 | 2 tackles, 1 INT, 1 PBU |
| LUKE MONTGOMERY | OL | Indiana | 12 offensive snaps | 3 | 17 offensive snaps |
| CARNELL TATE | WR | Indiana | 2 catches, 40 yards, 1 TD | 3 | 4 catches, 75 yards, 1 TD |
| NOAH ROGERS | WR | Indiana | 5 offensive snaps | 2 | 8 offensive snaps |
| KAYDEN McDONALD | DL | WKU | 4 defensive snaps | 1 | 4 defensive snaps |
| JASON MOORE | DL | WKU | 3 defensive snaps | 1 | 3 defensive snaps |
| JELANI THURMAN | TE | WKU | 5 offensive snaps | 1 | 5 offensive snaps |
| ARVELL REESE | LB | Indiana |   | 2 | Special teams |
| JAYDEN BONSU | S |   |   |   |   |
| NIGEL GLOVER | LB |   |   |   |   |
| CEDRICK HAWKINS | S |   |   |   |   |
| LINCOLN KIENHOLZ | QB |   |   |   |   |
| JOSHUA MICKENS | DE |   |   |   |   |
| JOSHUA PADILLA | OL |   |   |   |   |
| BRYSON RODGERS | WR |   |   |   |   |
| AUSTIN SIEREVELD | OL |   |   |   |   |
| CALVIN SIMPSON-HUNT | CB |   |   |   |   |
| WILL SMITH JR. | DL |   |   |   |   |
| MILES WALKER | OT |   |   |   |   |
(Note: The table does not include freshman walk-ons who have not yet played.)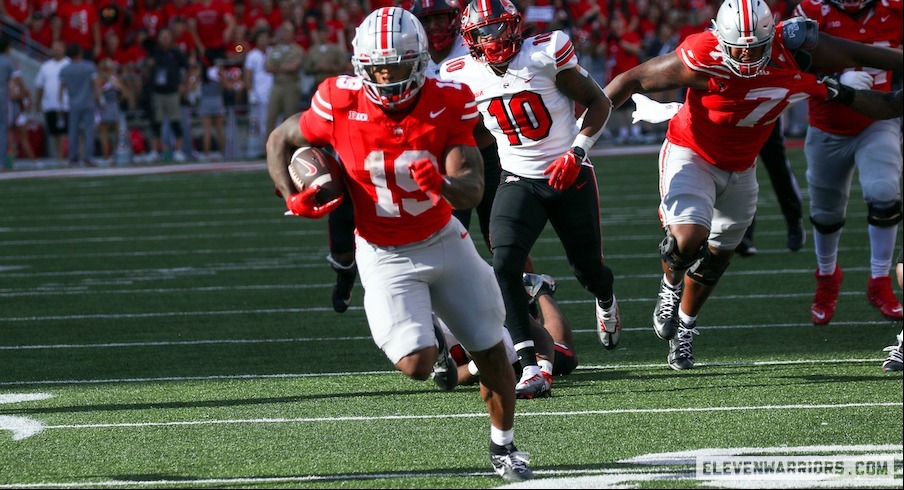 #6 Ohio State 63, Western Kentucky 10
Sept. 16, 2023 • Ohio Stadium • Columbus, OH