Western Kentucky was completely outsized and outmatched Saturday afternoon in Columbus, and the scoreboard proved that.
Ohio State had an up-and-down first two games of the season, beating Indiana and Youngstown State but still wanting (and needing) to play better and be more consistent, especially offensively. The Buckeyes did that and then some Saturday afternoon while completely dominating Western Kentucky, 63-10.
Hilltoppers head coach Tyson Helton had nothing but praise for Ryan Day and OSU following the game, admitting that Ohio State was just bigger and better than Western Kentucky, while also admitting that the Buckeyes are one of the best teams in the country.
"Ohio State and Ryan Day have an excellent football team as they showed it on that field today. Big, physical football team got after us pretty good. ... Coach Day had them ready to play. They're a Good football team, maybe one of the best in the country."– Western Kentucky head coach Tyson Helton
Although the Hilltoppers were 29.5-point underdogs entering the game, Helton and his team did all they could do to try and win the game, or at least make it close. That included going for it on fourth down more often than WKU is used to. Western Kentucky converted three of six fourth-down opportunities and didn't punt once in the first half after trailing 42-10 at halftime following a 35-point outburst by Ohio State in the second quarter. The Hilltoppers also had four turnovers in the loss.
"We came here to try and win. We played on the edge. We did all we could do to try and go out there and give ourselves a chance and good football teams don't allow you to do that and that's what they did today. They stopped us on fourth down, made us turn the ball over. So hats off to them. ... If you're gonna play Ohio State and be in that game you better live on the edge, so that's what we did."– Western Kentucky head coach Tyson Helton
While Helton knew he had to be much more aggressive, he also realized that some of those decisions forced his defense to be behind the eight ball quite a bit and put them in a bad spot. Helton continued to praise Ohio State while saying that a team like Western Kentucky must take chances and do things that the Hilltoppers don't normally do if they were to try and make it a game against the Buckeyes, even if it means being in bad spots if things don't go the right way.
"All those points ... I own about 40 of those points out there. 35-40 of those points belong to me. Just by my decisions and how I was going to play the game. I put our defense, at times, in bad situations, giving them half the field to work with."– Western Kentucky Tyson Helton
Ohio State improved to 3-0 with its blowout win on Saturday while Western Kentucky fell to 2-1. WKU takes on Troy next Saturday before beginning its Conference USA schedule.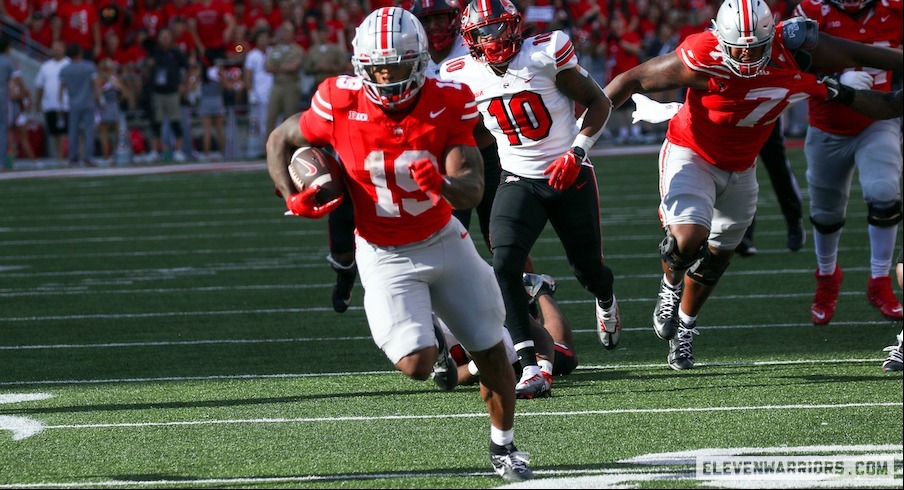 #6 Ohio State 63, Western Kentucky 10
Sept. 16, 2023 • Ohio Stadium • Columbus, OH