Good artists borrow, great artists steal.
That's perhaps the most famous saying of the great painter Pablo Picasso. Playing against a team that has thrived on its turnover margin – Western Kentucky led the country in that statistic entering Saturday – the most masterpiece-esque moments from Ohio State's defense Saturday came when they stole that methodology from the Hilltoppers.
The Buckeyes generated four takeaways and scored two defensive touchdowns against an offense that had zero giveaways on the season. They got the ball back to their offense three additional times on thwarted fourth-down conversions.
"The turnovers were huge," Ryan Day said. "I thought they hung in there. When they were getting the stops at the end of the first half and getting the ball back to the offense, they fed off of that. We had some good momentum going there. Good passion. Bunch of guys playing fast, violent."
Perhaps no position group personified the turnover-making, physical brand of defense Ohio State played Saturday more than its cornerbacks. It was slot cornerback Jordan Hancock who got the takeaway festivities started by laying the lumber to former Ohio State wide receiver Blue Smith, after all.
Smith had just converted a 3rd-and-8 and was attempting to reach midfield when Hancock separated the ball from his body. While the Buckeyes' defense failed to recover the first fumble it forced during Western Kentucky's lone touchdown drive in the second quarter, corner Davison Igbinosun dove on the scraps this time.
Jordan Hancock knocks it loose. Davison Igbinosun scoops it up. pic.twitter.com/gUWVvU2xkc

— Eleven Warriors (@11W) September 16, 2023
Not to be outdone by his fellow corner, Denzel Burke levied a hit against Western Kentucky running back Davion Ervin-Poindexter in the third quarter to force another fumble that rolled into the Hilltoppers' end zone. A scrum ensued for the ball, but defensive tackle Tyleik Williams eventually emerged with the rock.
It marked the first defensive touchdown of 2023 for Ohio State.
"That was probably one of the best plays I've ever had, causing the forced fumble," Burke said. "I kind of just threw my body in there, just see what happens, and the ball came out. Wow."
We love a Tyleik Williams defensive touchdown. pic.twitter.com/34N5LULB24

— Eleven Warriors (@11W) September 16, 2023
Those two ball-jarring hits marked what Burke feels is a hard-hitting mentality from the team's outermost defenders.
"We call ourselves 'Skunyuns,'" Burke said of himself and his fellow corners. "We're going to put our face in the fan every time. We're going to be physical. We're going to get in your face. We're going to show our presence."
The corners got a takeaway in the way corners traditionally do as well, with freshman Jermaine Mathews collecting his first career interception in the fourth quarter. He jumped a curl route and returned it 58 yards for another defensive touchdown.
"That's actually my little brother," Burke said. "I probably was the most excited on the sideline. He does it in practice all the time and there's going to be more for him to come. He's going to be a great cornerback here at Ohio State."
Jermaine Mathews Jr. to the CRIB. pic.twitter.com/gh6uJn696x

— Eleven Warriors (@11W) September 16, 2023
None of that is to discount the big plays made by Ohio State's front seven.
Linebackers Tommy Eichenberg and Steele Chambers were the top two tacklers for the Buckeyes Saturday, collecting 10 and 8, respectively. Day credited Chambers with the initial spark for the defense when he made a 1-yard tackle for loss on a 3rd-and-5 play in the second quarter. The Hilltoppers failed to convert the ensuing 4th-and-6 and Ohio State outscored Western Kentucky 42-0 after that point.
"It was a pitch and he came to the edge and showed up in a big way," Day said. "I thought that ignited our defense a little bit, too. It was well-executed, Tommy did a great job communicating it and Steele was right there. That's what I'm talking about with our linebacker play, is playing fast and downhill and being decisive."
On paper, there were two other plays Chambers made that stood out even more than that tackle.
The first came on Western Kentucky's opening drive when Chambers broke up a fourth-down pass attempt to maintain a 7-0 Ohio State lead.
The other came with less than five minutes to play in the third quarter. Rather than just breaking up a pass, this time Chambers hauled in his first interception of the season and fourth of his Ohio State career.
"He just threw it to me," Chambers said. "I was there, luckily I caught it. Right place, right time I guess."
Chambers also credited Williams for generating pressure on the play and forcing a bad throw.
Williams had a big day of his own, with the touchdown and a gaudy seven tackles from his interior defensive line spot. He picked up a sack as well.
"It's like a little bowling ball, he's just going left and right all over the line. It's crazy," Chambers said of Williams. "Sometimes he'll steal tackles from us. Just his ability to take on double blocks and somehow peel off and make a tackle is pretty insane."
It's not to say that Ohio State's defensive numbers weren't fantastic as a whole. The Buckeyes held Western Kentucky, who were led the quarterback and top wide receiver from the nation's No. 2 passing offense in 2022, to a mere 204 passing yards at a clip of 5.2 yards per pass attempt.
The Hilltoppers' 10 points and 284 yards were both the fewest they've amassed in a game since the start of the 2021 season.
But it was those takeaways that cemented a stellar defensive performance from the Silver Bullets on Saturday.
"It's big, especially whenever you're playing in the Shoe," Chambers said. "The crowd gets into it, so any time you can get a big play, shift the momentum, it's huge for the defense."
Now the true tests of the season begin.
Next week Ohio State hits the road to take on No. 9 Notre Dame. A few more big defensive plays in that contest could help swing things in the Buckeyes' favor.
"I feel like we played good, played solid," Burke said. "It was a good game. We've still got a lot of stuff to clean up. We're trying to play at a high level, and with these games (against weaker opponents) we want to play at a high level so when these matchup games come, we're ready. Next week we're going to South Bend – it's a real one."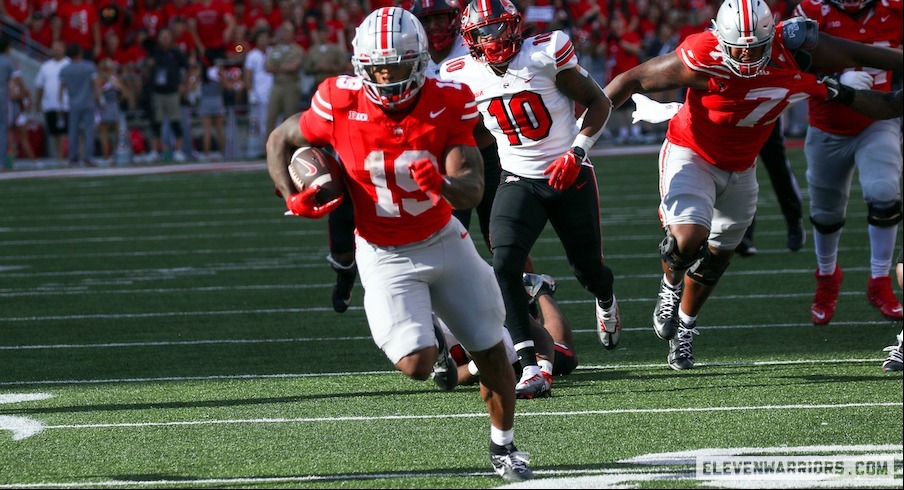 #6 Ohio State 63, Western Kentucky 10
Sept. 16, 2023 • Ohio Stadium • Columbus, OH