It's safe to say Ohio State put together its best performance to date in 2023 on Saturday.
After the Buckeyes demolished Western Kentucky 63-10 in a game that included a 35-point second quarter for the Buckeyes, Ryan Day took to the lectern to discuss the team's win with the media.
A quick recap of what he had to say:
On the second-quarter explosion from Ohio State's offense: "We needed to take the next step. ... We know we have to go on the road next week – that was a good week of work now. ... You saw our team play like that today, and that's what it's going to be moving forward."
Day said that the Buckeyes' coaching staff will still find areas to critique on film after a dominant win against the Hilltoppers. "We have to find those plays that we know in a matchup game could cost us."
Day was pleased with McCord's execution in the two-minute drill at the end of the first half.
On what he liked from the defense: "Bunch of guys playing fast, violent. ... That's what we're looking for, guys flying sideline to sideline and getting their hands on balls in the secondary."
"When we're running the ball the way we were today, that's big. ... We did much better in short yardage. ... When we're staying efficient in the run game, that allows us to be more aggressive throwing the ball."
Day praised Denzel Burke's effort forcing a fumble, and liked how the linebackers played "fast and downhill" in Saturday's game.
"Make no mistake about it, we turned it up this week." Day said he was confident this kind of performance was coming today because of what he saw from the team in practice all week. He said it will be important for the Buckeyes to replicate that kind of performance in practice this week.
Day said Kyle McCord had his best week of practice leading up to Saturday's game. He was happy with the way McCord responded after getting strip-sacked. 
Day on Tyleik Williams' defensive touchdown: "That was great."
Kyle McCord also spoke from the podium and talked about the team's offensive improvement this week. A brief sampling of his comments:
McCord said this week's game serves as a "big confidence boost" going into next week's game against Notre Dame. "The biggest thing now is using it but understanding it's a different team we're going against ... We came out here today and handled our business, but it's going to take even more next week."
"It's definitely nice getting the official nod," McCord said of being named the starting quarterback earlier this week. He said that bolstered his confidence going into today's game.
"We knew if we put together a complete game, it was going to look really, really good." He said he thinks Ohio State's offense can be the best in America, but the practice performance wasn't what it needed to do going into the first two games. Day harped on that this week, and McCord felt the team responded in the right way.
"My job as the quarterback is just all about how can I keep us on schedule and get the ball to our playmakers, and I feel like we did a really good job of that today ... It was about time that we finally fired on our cylinders."
McCord says he'll watch Notre Dame film on Sunday, but he knows it's a really good team. "They're ranked in the top 10 for a reason."
Looking for more postgame interviews? Visit the Eleven Warriors YouTube, where we have videos of Denzel Burke, Emeka Egbuka and Steele Chambers.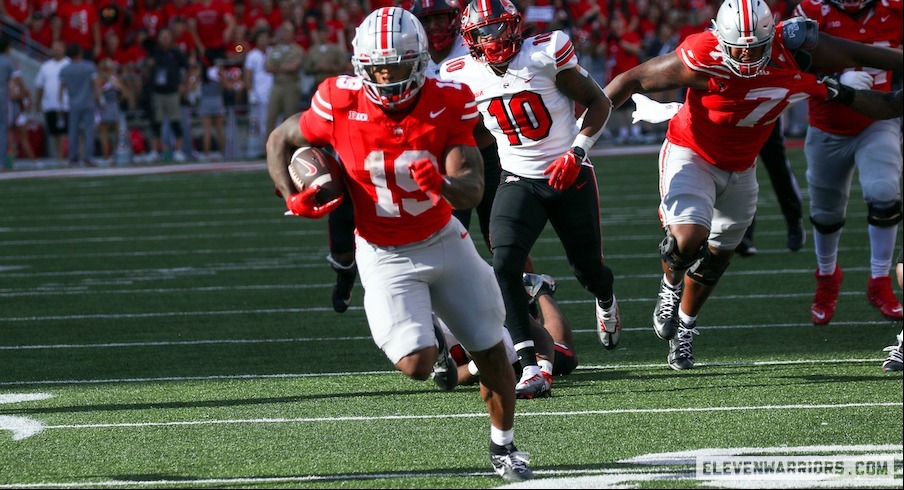 #6 Ohio State 63, Western Kentucky 10
Sept. 16, 2023 • Ohio Stadium • Columbus, OH