Presented by The 1870 Society
After two uneven performances to start the season, Ohio State put it all together yesterday against Western Kentucky, notching a 63-10 victory in the Shoe. 
Ryan Day's squad used a 35-point second quarter featuring 294 yards of total offense on 16.3 yards per play to take a 42-10 halftime lead. 
Marvin Harrison Jr. was sensational once again with five grabs for 126 yards, including a career-long 75-yard touchdown. The Route Man has 12 catches for 286 yards and three touchdowns over his last two outings. 
On the other side of the ball, there's a rumor the Silver Bullets might be back though we need to see it against an elite opponent. That said, the defense forced four turnovers, turning two into touchdowns, in a dominant performance. 
The 63 points marked the most by the Buckeyes since week three a season ago when they put up 77 on Toledo. 
Also, shoutout to Carnell Tate for recording his first touchdown catch as a Buckeye. That dude is special and with what he's been through, my favorite moment of the day was watching him bring in a tear drop throw from Devin Brown for six. Salute, young man. 
With a trip to South Bend on tap for next Saturday night, the hope for Day and company is that yesterday's complete performance will serve as a springboard into the big time matchup. 
But before we move into Notre Dame mode, here are Five Things from Ohio State's demolition of the Hilltoppers. 
---
STAX ON STAX ON STAX
In his first game as the unquestioned starting quarterback, Kyle McCord stacked another performance better than the week prior. 
After completing 60.6% of his throws versus Indiana in the opener, he improved to 70% in week two against Youngstown State. Yesterday against the Hilltoppers, he was even better completing 82.6% of his tosses. 
Similarly, his 318 passing yards yesterday bested the 258 he put up last week and the 239 against Indiana. 
Against Western Kentucky, McCord completed 19-of-23 throws for those 318 yards and three touchdowns. 
His biggest blemish came via a strip stack fumble. Yeah, those can happen but the pressure came from in front of him enough that he should've at least been able to protect the football. After the turnover, McCord completed 14 of his next 17 throws for 266 yards and all three of his touchdowns. 
While he's gaining confidence looking downfield, a large chunk of his throws are coming on shorter routes but give him credit, he's usually hitting receivers in stride on those, allowing pass catchers to maintain speed and create yards after the catch.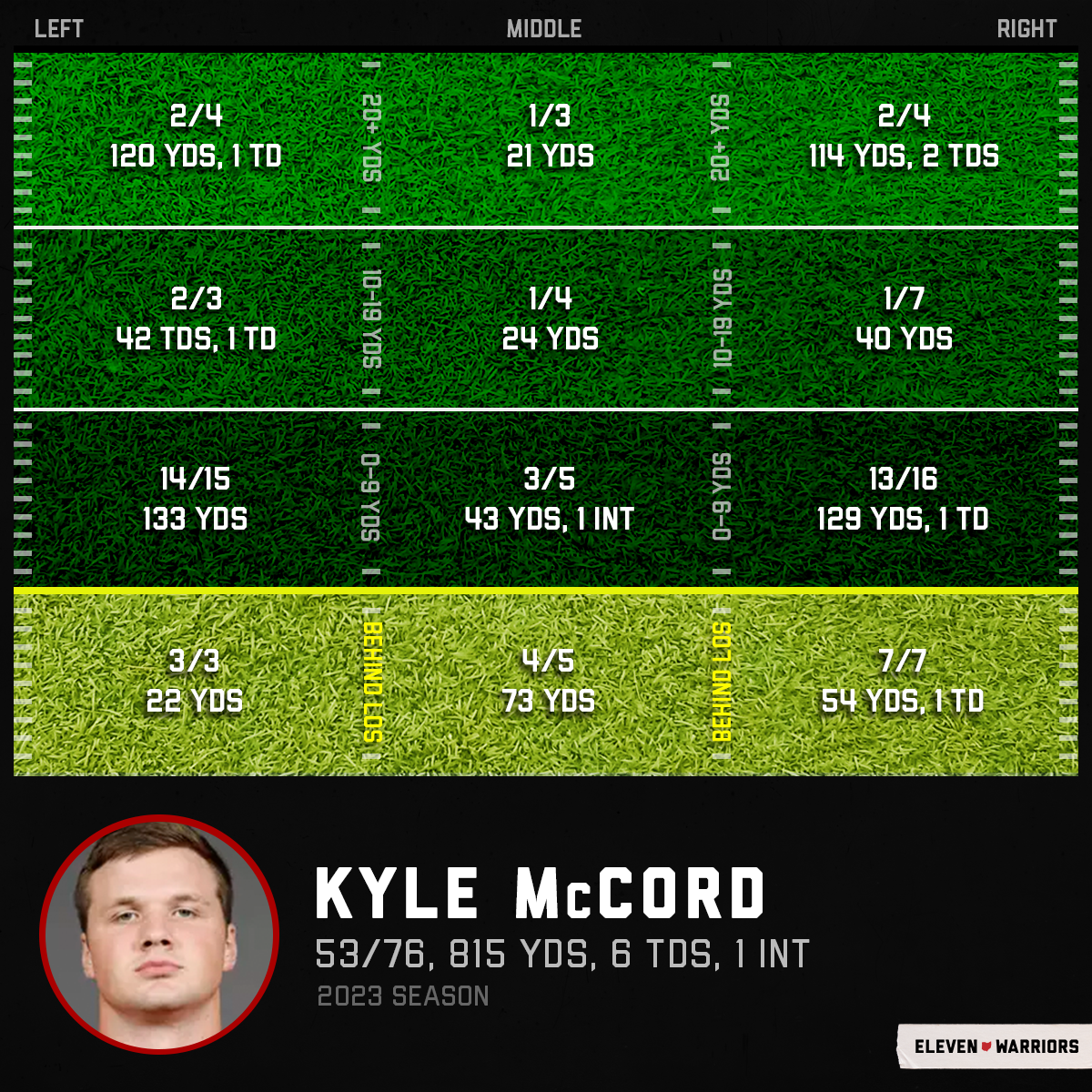 Yesterday's building block performance should have McCord's confidence sky high as he gets set for his first big game as Ohio State's starting quarterback. 
BULLETS BACK? 
Ohio State's defense was solid over the first two weeks holding the likes of Indiana and Youngstown State to a combined 10 points. That said, the defense registered just one turnover, had trouble putting pressure on the quarterback and wasn't every good in limiting third down conversions. 
Jim Knowles' group turned those shortcomings around in a big way yesterday against the best offensive attack it's seen so far this season.
Beyond allowing only 10 points to a high-flying attack, the defense created four turnovers via two interceptions and two fumble recoveries. Better yet, one of the interceptions and one of the fumbles yielded defensive touchdowns as true freshman cornerback Jermaine Mathews Jr. recorded a 58-yard pick six while defensive tackle Tyleik Williams hopped on a forced fumble by Denzel Burke for another score. 
Jermaine Mathews Jr. to the CRIB. pic.twitter.com/gh6uJn696x

— Eleven Warriors (@11W) September 16, 2023
Williams' recovery was just one example of his domination in what is becoming a breakout season but more on that later. 
We love a Tyleik Williams defensive touchdown. pic.twitter.com/34N5LULB24

— Eleven Warriors (@11W) September 16, 2023
Steele Chambers (INT) and Davison Igbinosum (FR) also captured turnovers for the Buckeyes.
Ohio State recorded eight tackles for loss, two sacks, six passes defensed and held the Hilltoppers to 3-of-16 third down conversions.
The starting defensive line, outside of Williams, didn't stuff the stat sheet but did create some pressure. Backups Jaden McKenzie (2 tackles, 1 TFL) and Mitchell Melton (2 tackles, 2 TFL, 1 sack) looked particularly effective. 
According to Ohio State, the 20 points allowed through the first three games of the season are the fewest since Ohio State surrendered 16 through the first three games of the 1975 season.
STAR BURST
A week after he recorded 74 yards on seven touches with two touchdowns, while having another 27 yards on three carries with a touchdown erased due to penalties on the offensive line, TreVeyon Henderson again looked determined and explosive out of the backfield. 
Against the Hilltoppers, Henderson racked up 115 yards on 14 touches with a pair of touchdowns in about 2.5 quarters of action. 
Salute to the playcalling as well that again attempted to get Henderson on the edges and in space both on the run and in the pass game. 
On the ground, Henderson averaged 6.8 a pop with 88 yards on 13 carries. He opened the scoring with a 21-yard jaunt around the left side that showcased his ability to get to the edge, put his foot in the ground and turn upfield with purpose as he raced untouched for six. Only one of his carries went for no gain. 
Through the air, Henderson had just one catch but it went for 27 yards via a quick swing pass again getting him on the edge where he could reach top speed before taking on a defender. 
With Henderson the clear RB1, Chip Trayanum has also emerged as the clear RB2 giving Ohio State a thunder and lightning combo though likening Trayanum's power running style to thunder shouldn't be misconstrued as a knock on his burst as he took a 40-yarder to the house giving the Buckeyes a 28-10 lead. 
Chip Trayanum to the CRIB! pic.twitter.com/WPUHz0CtGY

— Eleven Warriors (@11W) September 16, 2023
The combo and the offensive line will face a much stiffer test this weekend but you have to feel pretty good about the state of Ohio State's running game heading into South Bend.  
FREAKY TYLEIK
Ohio State hasn't gotten as much as it wants from the defensive ends so far this season, even if they created more noise yesterday, but the interior's production hasn't disappointed. 
The main reason for the impact from the middle is Tyleik Williams. The third-year tackle out of Manassas, Virginia had his best game as a Buckeye against the Hilltoppers, continuing his early season breakout. 
In addition to his fumble recovery for a touchdown the big man posted seven tackles including a sack. 
Through three games, Williams slots third on the team with 17 stops - pretty amazing for a defensive tackle. No other interior defensive lineman has more than eight stops. He's also tied for the team lead in tackles for loss and sacks.
If Ohio State wants to slow down Audric Estime next weekend, it surely will need a strong outing from Williams and his interior compadres, specifically Mike Hall Jr. and Ty Hamilton. 
1-2 PUNCH
Whether or not the secondary can hold up when it matters most will be of the few key factors that determine whether or not the Buckeyes reach their goals this season. 
Through three games, albeit against two awful and one solid passing attack, the unit has stood tall thanks largely to No. 1 cornerback Denzel Burke and resurgent safety Josh Proctor. 
Burke continued his stellar season with a couple pass breakups and two other passes defended while also forcing the fumble in run support - surely not his specialty - that Williams hopped on for six. 
Burke did allow a couple catches for 40 yards but the dude has looked every bit the No. 1 corner Ohio State needs him to be. 
Meanwhile, Proctor, who started against Notre Dame last year and gave up a big gainer on the opening snap and pretty much disappeared for the rest of the season, has started two of three games after injury kept him from taking the field versus Youngstown State. 
He picked up where he left off yesterday though, posting three tackles and two pass breakups in the decisive first half. He forced an incompletion on a 3rd-and-2 play during WKU's opening possession leading to a turnover on downs and later, his near-interception in 4th-and-6 created another turnover on downs. 
He would go on to finish the day with five stops and his three pass breakups on the season are second only to Burke's five. Not bad for a guy who's reputation is built on run support. 
Ohio State really needs Proctor to keep it up considering Ja'Had Carter hasn't been able to get on the field despite his experience at Syracuse and while I'm super high on Malik Hartford's future, seasoning is needed. 
With Burke and Proctor shining while Sonny Styles, Davison Igbinosun and Lathan Ransom have largely held their own, the secondary needs nickel Jordan Hancock achieve greater consistency. 
He was a liability at times in the first half yesterday allowing a 17-yard catch on a 3rd-and-10 play, giving up a 7-yard slant on a 2nd-and-10 snap, committing pass interference on a 2nd-and-8, getting cooked for a 34-yard completion and then surrendering a 21-yard completion before, to his credit, forcing a fumble at the tail end of that play. He did record a PBU on a 3rd-and-4 in the second half and giving up a lot of catches helped him reach five tackles but Knowles needs more level play when Hancock comes in, often in place of Styles. 
Join The 1870 Society for exclusive access to the Ryan Day Podcast to learn more about what goes into building and running the Ohio State football program. Memberships at The 1870 Society start at just $1.99 per month and help keep Ohio State athletics elite.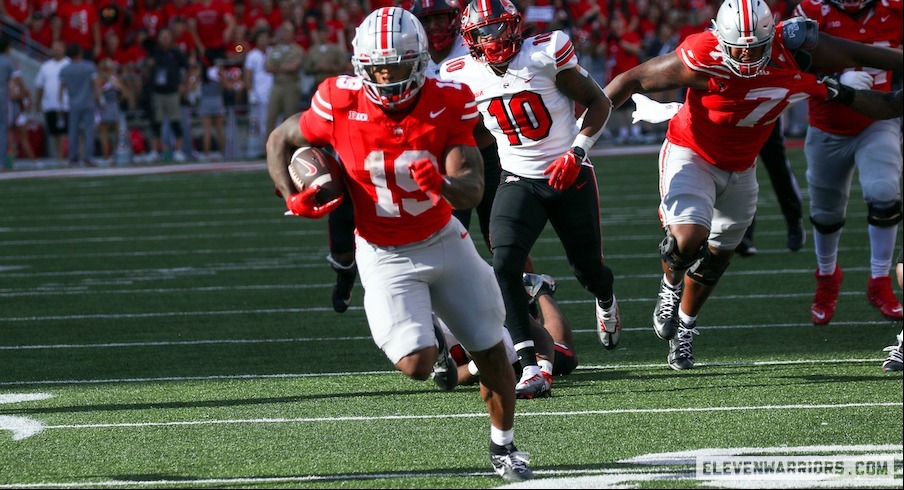 #6 Ohio State 63, Western Kentucky 10
Sept. 16, 2023 • Ohio Stadium • Columbus, OH