Two hours before Saturday's game began, Ryan Day expressed confidence that his team was about to have its best performance of the year against Western Kentucky.
"This team is about to take the next step," Day said at Saturday's pregame Skull Session. "We have to take the next step. We're going to turn everything up today, and we'll see you guys in two hours."
Ohio State delivered on Day's promise.
After a pair of games to start the season against Indiana and Youngstown State that could be described as unsatisfying – even though Ohio State won comfortably – Saturday's third game against Western Kentucky showed how good the Buckeyes can be when they're at their best.
While Western Kentucky scored on two of its first three possessions to make it a 14-10 game, Ohio State thoroughly dominated the matchup from there, scoring 49 unanswered points to finish the day with a 53-point victory.
Ohio State finished the first half with more points (42) than it scored across four quarters in either of its first two games against Indiana (23) and Youngstown State (35). For the game as a whole, Ohio State scored more points (63) than it did across its first two games combined (58).
Why was Day so confident the Buckeyes would perform like they did in Week 3? Day said that confidence stemmed from the way his team practiced all week.
"We had a few people come to practice and boy, they said, 'Man, that was as physical a practice as I've seen in a long time,'" Day said. "We talked about it on Sunday, and then we had a team meeting before practice on Tuesday, and we laid out what needs to be done this week. And these guys liked to get challenged, and we pushed them hard this week, so that was a good sign that they responded."
The Buckeyes' offense had its most efficient performance of the season against Western Kentucky, scoring seven touchdowns and totaling 562 yards (358 passing yards, 204 rushing yards). The offense was particularly spectacular in the second quarter, in which it scored touchdowns on five straight possessions while accumulating 294 yards on just 18 plays (an average of 16.33 yards per play).
For the first half as a whole, Ohio State averaged 1.27 points per play and exactly 12 yards per play (42 points and 396 yards on 33 plays), which was most representative of the Buckeyes' offensive performance against Western Kentucky as they took many of their starters out of the game by the end of the third quarter.
Kyle McCord, who played all of Ohio State's first nine drives against Western Kentucky after he was named the full-time starting quarterback this week, thought the Buckeyes' first-half performance was reflective of what they should be able to do every week. Like Day, McCord felt the way the Buckeyes practiced leading up to the game made the difference in how they performed on Saturday.
"As an offense, we felt like there were times where we looked really good in Week 1 and Week 2, and then there were times where we kind of spun our tires. And we knew if we went out and we could put together a complete game, it would look really, really good," McCord said. "If we were able to run the ball well, if we were able to pass the ball well, we would be one of the best offenses if not the best offense in America.
"So I think we realized that the level of preparation in practice maybe wasn't at the point where it needed to be early on in the season, and I think Coach Day really harped on that, and the guys responded, for sure. I think we had a really good week of practice, and that showed today."
But it wasn't just Ohio State's offense that shined against Western Kentucky. In a game that was supposed to be a significantly tougher test for Ohio State's defense, the Buckeyes ended up outscoring the Hilltoppers by themselves, scoring a pair of defensive touchdowns – Tyleik Williams recovered a fumble in the end zone in the third quarter, and Jermaine Mathews Jr. returned an interception for a touchdown in the fourth quarter – while allowing only 10 points.
Western Kentucky's 10 points and 284 yards were both the lowest totals for the Hilltoppers in any game since the start of the 2021 season. Against an offense that averaged 352.1 passing yards per game in 2022 and 327 passing yards in its first two games of 2023, Ohio State ceded only 204 yards through the air, the second-lowest total for the Hilltoppers in any game since the start of 2021.
Much like against Youngstown State, Ohio State's defense looked vulnerable early, giving up points on two of its first three defensive series. But the Buckeyes put the cap on the Hilltoppers from there, holding the visiting team without points on each of its final 11 possessions. The Buckeyes took the ball away three times in total – Steele Chambers had an interception in the third quarter – and also forced three first-half turnovers on downs.
"The turnovers were huge," Day said. "I thought they hung in there when they were getting the stops at the end of the first half and getting the ball back to the offense. They kind of fed off of that. We had some really good momentum going there. Good passion, bunch of guys playing fast, violent. There were some really good collisions going on … That's what we're looking for. Guys flying sideline to sideline, we were getting our hands on balls in the secondary."
While Ohio State is happy with how it performed on Saturday, the Buckeyes know they can't celebrate for long. Next week will serve as a real test of whether Ohio State is one of the best teams in college football, as the Buckeyes hit the road for the second time this season to play Notre Dame, who is already 4-0 this year and also ranked in the top 10 nationally.
Ohio State showed its ability to play elite football against Western Kentucky, but it now must prove it can play its A-game against top competition. That said, McCord believes the confidence the Buckeyes built against Western Kentucky can springboard them into elevating their game again next week at Notre Dame.
"Any time you can get the offense and the defense going like that, it's a huge confidence boost. And I think the biggest thing now is using it, but understanding that it's a different team we're going against," McCord said. "They got a lot of really good players, they're well-coached. It's going to be an away game in a tough environment, so it's like we came out here today, handled our business, but it's going to take even more next week. So I think everybody's gonna be kind of on a little bit of an edge this week, which is good."
Blowing out a Group of 5 team doesn't prove that the Buckeyes are ready to beat the likes of Notre Dame, Penn State and Michigan. But there was still a clear-cut improvement from Ohio State against a Western Kentucky team that was a step up in competition from Youngstown State and could well prove to be a better team than Indiana. Day doesn't want that progress to go unrecognized.
"I just think that the style of the game allowed us an opportunity to kind of go play and compete. But make no mistake about it, we were turning it up this week," Day said. "We know what we're about to get into. We wanted to build momentum going into next week, and everything was turned up in a big way. So we've gotta get back to work. Notre Dame starts now. Usually, we start it on Sunday. We're starting to prepare tonight."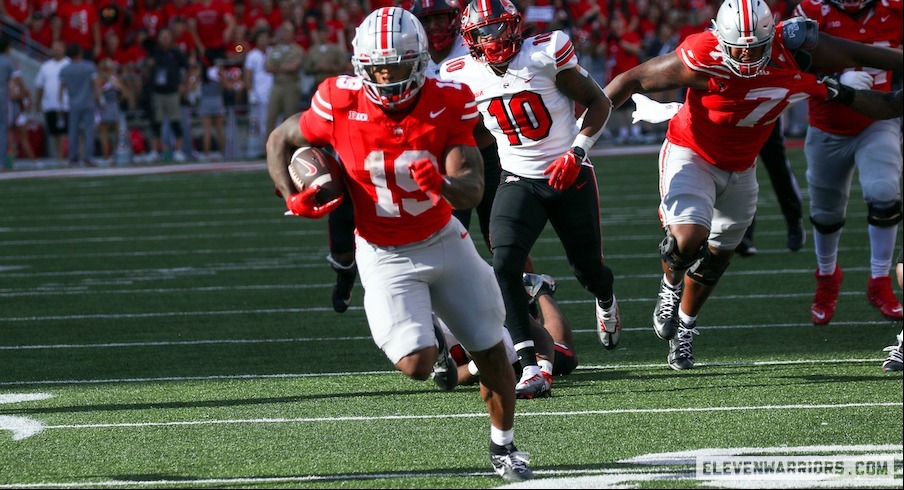 #6 Ohio State 63, Western Kentucky 10
Sept. 16, 2023 • Ohio Stadium • Columbus, OH