For one quarter, Ohio State looked like it could be in for a battle with Western Kentucky. Then the second quarter happened.
The Buckeyes' offense exploded in the second quarter, scoring touchdowns on five straight possessions to turn a 14-10 game into a 42-10 game before halftime. After scoring only 23 points in the season opener against Indiana and 35 points in the second game against Youngstown State, the Buckeyes scored more than that in the first half alone against the Hilltoppers to leave no doubt about a victory in their third game of the season.
Ohio State's defense added two touchdowns of its own in the second half, along with Devin Brown and Carnell Tate connecting for the first touchdowns of their respective Ohio State careers, to complete the 63-10 rout of the Hilltoppers, who did not score in the second half.
 
Q1
Q2
Q3
Q4
 

#6

Ohio State
7
35
7
14
63
WEstern KENTUCKY
3
7
0
0
10
Ohio State scored a touchdown on its opening drive for a third consecutive game to start the season. The Buckeyes needed a fourth-down conversion to make it happen, which they got on a 7-yard pass from Kyle McCord to Emeka Egbuka. TreVeyon Henderson ran the ball 21 yards into the end zone on Ohio State's next play.
TreVeyon Henderson is just too fast @OhioStateFB gets things started early in Columbus pic.twitter.com/CjrIqIFLtX

— FOX College Football (@CFBONFOX) September 16, 2023
Ohio State's defense made a fourth-down stop on Western Kentucky's opening drive, giving the Buckeyes the ball back just two yards behind midfield. But Western Kentucky got the ball back four plays later when McCord lost the ball on a strip sack by Hilltoppers defensive tackle Hosea Wheeler, which was recovered by fellow WKU defensive lineman Deante McCray.
The Hilltoppers took advantage of the turnover to score their first points of the game on a 43-yard field goal by Lucas Carneiro, making the score 7-3 before the end of the first quarter.
Henderson returned to the end zone on Ohio State's third drive of the game, rushing for a 7-yard score for his second two-touchdown game in as many weeks to give Ohio State a 14-3 lead.
Another one for TreVeyon Henderson

He adds on another TD for @OhioStateFB pic.twitter.com/339X9enbej

— FOX College Football (@CFBONFOX) September 16, 2023
Western Kentucky cut the lead back to four points on its next drive with its first touchdown of the day. Ohio State had an opportunity for a takeaway when Lathan Ransom forced a Davion Ervin-Poindexter fumble, but multiple Buckeyes whiffed on the opportunity to recover the loose ball, which Western Kentucky right tackle Wes Dorsey eventually fell on. Malachi Corley scored a 2-yard touchdown on a screen pass three plays later.
It didn't take long for Ohio State's offense to extend the lead back to two scores as Marvin Harrison Jr. burned the Western Kentucky defense for a career-long 75-yard touchdown on the opening play of the Buckeyes' fourth possession.
MARVIN HARRISON JR.

There's just no catching the @OhioStateFB WR pic.twitter.com/M1kkQa9sA7

— FOX College Football (@CFBONFOX) September 16, 2023
After stopping Western Kentucky on a fourth-down attempt from its own 40-yard line, Ohio State followed that up with its second straight one-play touchdown drive as Chip Trayanum took the ball all the way to the house for his first touchdown as a Buckeye.
Chip said SEE YA @OhioStateFB adds on another TD in the first half pic.twitter.com/mLjzDQa7cV

— FOX College Football (@CFBONFOX) September 16, 2023
The Buckeyes successfully recovered a fumble on their next defensive series when Jordan Hancock stripped the ball away from former Ohio State receiver Blue Smith and Davison Igbinosun fell on it to give the Buckeyes the ball back at midfield again. Four plays later, McCord found a wide-open Emeka Egbuka for a 15-yard touchdown that made it 35-10 with 1:55 to play before halftime.
Following another fourth-down stop by the Ohio State defense that gave the Buckeyes the ball back at their own 42-yard line with 28 seconds left to play before halftime, Ohio State promptly drove down the field to make it 42-10 before the break. A 40-yard connection between McCord and Cade Stover set up a 14-yard touchdown pass from McCord to Egbuka with eight seconds to go before the break.
Another one for Egbuka

The @OhioStateFB offense isn't holding anything back in this one pic.twitter.com/dg8zKVOul1

— FOX College Football (@CFBONFOX) September 16, 2023
The Buckeyes' 35 second-quarter points were their most in a single quarter since they scored 42 in the second quarter against Miami (Ohio) in 2019.
The pace slowed down considerably to start the third quarter as both teams – neither of whom punted once in the first half – punted the ball on each of their first two second-half possessions.
Ohio State's defense scored the first points of the second half on Western Kentucky's third possession after halftime when Denzel Burke forced a fumble that Tyleik Williams recovered in the end zone for the Buckeyes' first defensive touchdown of the year.
The Buckeyes can't stop scoring

The @OhioStateFB defense adds on a TD pic.twitter.com/4IvF8rU6lK

— FOX College Football (@CFBONFOX) September 16, 2023
The Buckeyes came up with another takeaway on Western Kentucky's next possession when Steele Chambers intercepted a pass by Austin Reed.
Devin Brown took over at quarterback on Ohio State's next possession and threw the first touchdown pass of his career with a perfect 28-yard throw to Carnell Tate, who caught the ball for his first score as a Buckeye.
Devin Brown with a DIME for the TD @OhioStateFB pic.twitter.com/msAIzpZjKb

— FOX College Football (@CFBONFOX) September 16, 2023
Jermaine Mathews Jr. added seven more points for the Buckeyes when he returned his first career interception 58 yards to the end zone for Ohio State's second defensive touchdown of the day.
PICK SIX@Jr2Maine takes it for 58-yards and the @OhioStateFB TD pic.twitter.com/YXCX0hclTl

— FOX College Football (@CFBONFOX) September 16, 2023
| OHIO STATE   | METRIC |   W. Kentucky |
| --- | --- | --- |
| 562 | TOTAL YARDS | 284 |
| 204 | RUSHING YARDS | 80 |
| 33 | RUSHING ATTEMPTS | 33 |
| 6.2 | AVERAGE per RUSH | 2.4 |
| 3 | RUSHING TOUCHDOWNS | 0 |
| 358 | PASSING YARDS | 204 |
| 22-27 | COMPLETIONS–ATTEMPTS | 22-39 |
| 16.3 | AVERAGE per COMPLETION | 9.3 |
| 4 | PASSING TOUCHDOWNS | 1 |
| 24 | 1st DOWNS | 15 |
| 60 | TOTAL PLAYS | 72 |
| 9.4 | YARDS PER PLAY | 3.9 |
| 5-10 | third down conv | 3-16 |
| 5-40 | PENALTIES | 3-24 |
| 24:14 | POSSESSION | 32:34 |
McCord finished the game with 19 completions on 23 passing attempts for 318 yards and three touchdowns.
Henderson led the Buckeyes in rushing with 88 yards and two touchdowns on 13 carries, while Harrison was Ohio State's leading receiver with five catches for 126 yards and a touchdown.
Tommy Eichenberg led the Buckeye defense with 10 tackles while Burke and Josh Proctor each had two pass breakups.
With its first three wins of the season now secured, Ohio State now turns its attention to preparing for its first major test of the year next Saturday, when the Buckeyes will play Notre Dame in a battle of top-10 teams.
Kickoff at Notre Dame Stadium is scheduled for 7:30 p.m. and the game will be televised on NBC.
Game Notes
Lathan Ransom was listed as questionable on Ohio State's status report, but still ended up starting the game at strong safety. Seven Ohio State players were unavailable for Saturday's game, most notably including tight end Joe Royer.
Marvin Harrison Jr. became the 24th Buckeye to catch 100 passes for his Ohio State career.
Tommy Eichenberg surpassed the 200-tackle mark for his Ohio State career with six tackles on Western Kentucky's opening drive.
100,217 was the attendance at Ohio Stadium for Saturday's game.
Mitchell Melton recorded the first sack of the year by an Ohio State defensive end – and the first of his Ohio State career – in the fourth quarter.
Saturday's game was the first time since 2018 vs. TCU that Ohio State had two defensive touchdowns in one game.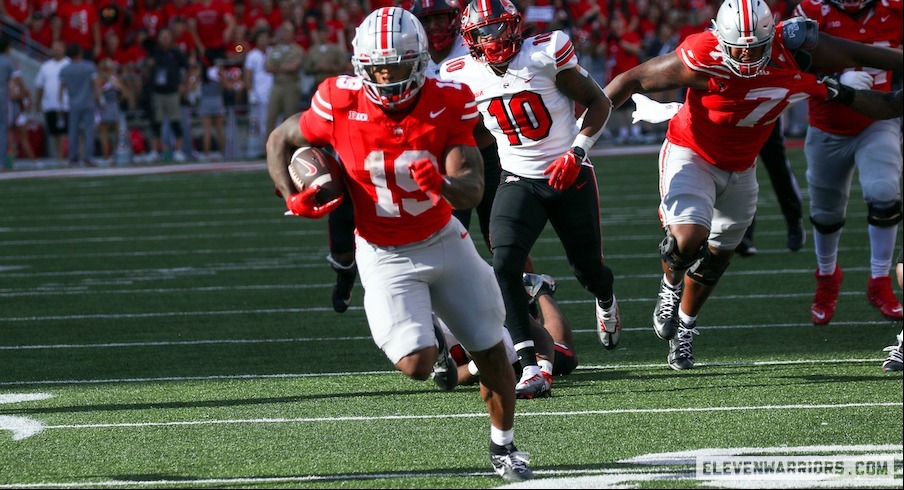 #6 Ohio State 63, Western Kentucky 10
Sept. 16, 2023 • Ohio Stadium • Columbus, OH