While every Buckeye will be looking to put their best foot forward when preseason camp begins at the Woody Hayes Athletic Center on Friday, there are some players who need to have a big month of August more than others.
Some players are entering camp just looking to solidify their standing as starters or key players in the rotation for Ohio State this year, while there are other players who are realistically probably at least a year away from making a substantial impact for the Buckeyes.
The following players fall somewhere in the middle of the spectrum. All of them have a chance to earn significant playing time for Ohio State this season, but they still have to prove they deserve it. They might not be the frontrunners to start at their respective positions, but there's still time for them to potentially earn their way into the lineup – and the next month could make all the difference.
For the purposes of this article, only players who are in their third year at Ohio State or later are included. While there are many first- and second-year players who also fit the category, most of them will likely have better opportunities to earn more playing time in future seasons if they don't this year; for the players on this list, time is starting to run out on their opportunities to become key players for the Buckeyes.
Some of the players might be more likely than others to ultimately earn their way onto the field regularly this year, but all of them have a chance, and the next month could be one of the most important months of their Ohio State careers.
Demario McCall, RB/H-Back
If it seems like this has been written about Demario McCall for the last three years, well, it has. McCall has been perennially projected as a breakout player for the Buckeyes dating back to 2017, but he has yet to earn a substantial role in Ohio State's offense – and going into his redshirt junior season, it's still unclear how he might factor into the Buckeyes' plans.
McCall has bounced back and forth between the running back and H-back positions, and he still faces competition to get on the field at both spots. He could potentially be Ohio State's No. 2 running back behind J.K. Dobbins, but Master Teague is also vying for that role. He could also feasibly be the Buckeyes' No. 2 H-back, but Jaelen Gill looks like a strong candidate at that spot.
After missing most of this spring with a calf injury, McCall must be healthy and perform well in fall camp to make a run at a bigger role in the offense. While he's demonstrated explosive playmaking ability in small doses, he needs to demonstrate consistency in practice in order to earn the trust of his coaches and more playing time in an offense that's loaded with talented skill-position players.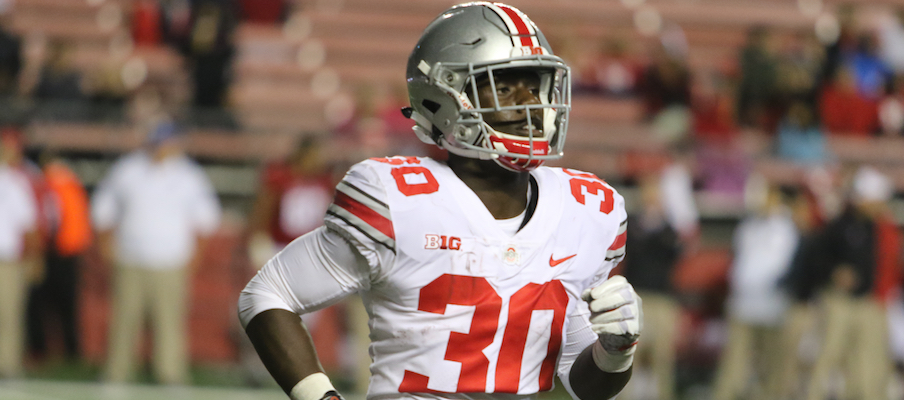 Jaylen Harris, WR
As Harris enters his third season as a Buckeye, it seems like it should be time for him to find his way into Ohio State's wide receiver rotation. He's the Buckeyes' biggest wide receiver, at 6-foot-5 and 215 pounds, and offers intriguing upside as a downfield playmaker with the potential to create mismatches as a downfield playmaker because of his size.
Yet with Austin Mack and Binjimen Victor entrenched as leaders of the outside receiver rotation, Chris Olave also in line for substantial playing time and five-star freshman Garrett Wilson making a major push for an immediate role, it remains uncertain whether there will be room for Harris to get on the field regularly this year. Ryan Day said earlier this month that the Buckeyes want to have a six- or seven-man wide receiver rotation (which also includes K.J. Hill and whoever else makes the rotation at the slot receiver/H-back position), but Harris is still going to need to have a big camp to force his way into that rotation.
C.J. Saunders, WR
Even though he started his Ohio State career as a walk-on, Saunders has been talked about by his coaches and teammates over the past couple years as a viable candidate to earn a spot in the wide receiver rotation. That'll have to happen now if it's ever going to happen since he's entering his final year of collegiate eligibility.
The door is open for Saunders to potentially earn the No. 2 spot on the slot receiver depth chart, but he has to contend for that spot with the aforementioned Gill and potentially McCall, who are both more explosive athletes. Saunders is highly regarded for his effort both on the field and in the meeting room and is a skilled route runner with sure hands, but he's still going to need to have an excellent camp to seize playing time over his counterparts who were more highly touted recruits.
Branden Bowen, OT/OG
With the ability to play both tackle and guard, it seems likely that Bowen will be called upon for meaningful playing time at least at some point this fall, but the fifth-year senior enters training camp still needing to compete for a job to earn a coveted spot in the starting lineup for his final season as a Buckeye.
Bowen ran with the first-team offensive line throughout spring practices, spending time at both right tackle and left guard, but graduate transfer Jonah Jackson arrived this summer as the likely starter at left guard while redshirt freshman Nicholas Petit-Frere made a push this spring for the right tackle job. 
It's likely that Bowen and Petit-Frere will compete for the right tackle job throughout the first two to three weeks of camp, and Bowen has been successful in this position before; in 2017, Bowen beat out Demetrius Knox, Malcolm Pridgeon and Matt Burrell to win the starting right guard job in the weeks leading up to the season. After missing the past season-and-a-half while recovering from a leg injury, however, Bowen must demonstrate he can perform at the same level to win a starting job again this year.
Joshua Alabi, OT
Like Bowen, Alabi is a fifth-year senior who enters his final camp as a Buckeye looking to earn a spot in Ohio State's starting five up front. Whether he will actually be at the forefront of the competition for a starting job, however, appears less certain.
Alabi spent the spring running with the first-team offensive line at left tackle, but that was only because Thayer Munford was recovering from offseason surgery. Now that Munford has been cleared to return for the start of camp, Alabi could be relegated to backup duty behind him.
Presumably, Alabi will get a shot to compete for the right tackle job with Bowen and Petit-Frere, and he shouldn't be ruled out in that competition. He performed well while filling in for Munford in the Rose Bowl to end last season, and has more actual playing experience at tackle than either Bowen or Petit-Frere. That said, he has exclusively played left tackle since moving to the offensive line after beginning his career on the defensive line, which means he'll have to be able to make a quick and smooth transition to the opposite side of the offensive line to have a chance to emerge as the starting right tackle.
Haskell Garrett, DT
Following the departure of Dre'Mont Jones after last season, Garrett appeared to be a frontrunner to replace him in the starting lineup at the 3-technique defensive tackle position on Ohio State's defensive line, but now, he appears to be fighting just to earn a spot on the top two rows of the depth chart at the position.
Jashon Cornell moved back inside this spring and took the majority of first-team reps at the position after playing defensive end in 2018, while Taron Vincent is also pushing for substantial playing time as a sophomore. Garrett appeared to be third in the pecking order coming out of the spring game – in which Cornell and Vincent both played with the first-team defense while Garrett played alongside other projected backups – so he's going to need a strong showing in camp in order to climb the depth chart.
Regardless of how the depth chart stacks up, Cornell, Vincent and Garrett are all expected to see regular playing time in the defensive tackle rotation, but how much of that playing time goes to Garrett will probably depend on how well he performs in August.
Baron Browning, LB
Browning already saw semi-regular playing time in Ohio State's middle linebacker rotation last season, but as the 11th-ranked overall prospect in the entire recruiting class of 2017, Browning was expected to have emerged as a fixture in the starting lineup by now as he enters his junior year.
Instead, Browning's standing within the linebacker unit and even which position he will line up at remains unclear going into fall camp. He took many of the first-team reps at middle linebacker this spring while Tuf Borland was sidelined by a knee injury, but Borland is the incumbent starter at that position while Teradja Mitchell is also making a push for the starting job at that position.
As physically gifted as Browning is, he's still capable of emerging as an impact playmaker for Ohio State's defense over the next two years, but he's still in the position of having to prove he belongs in the rotation right now. With the linebacker rotation still unsettled, August will be a big month for many players at the position, but it's especially big for Browning as he enters the back end of his Buckeye career still looking to establish a role for himself.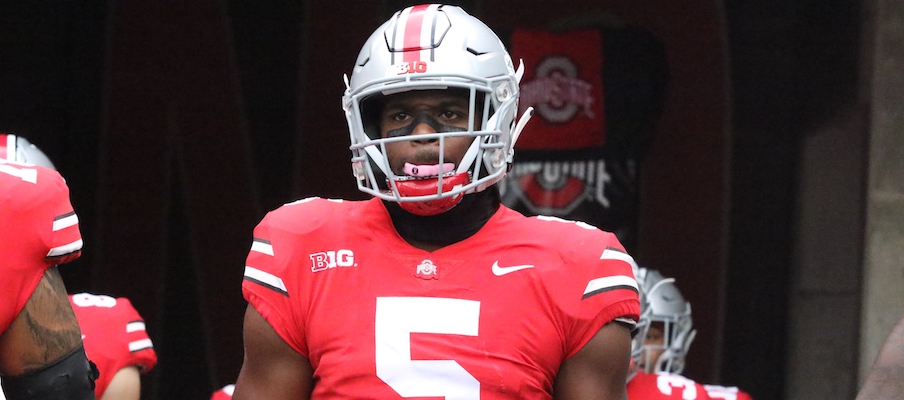 Jahsen Wint, Bullet
After beginning last season as a co-starter at safety and finishing the year playing only on special teams, Wint seems likely to be a backup who plays mostly on special teams again this year. He certainly has aspirations of playing a role on defense, though, and after an excellent spring game performance in which he recorded two interceptions, he can't be ruled out.
Wint is now playing the new bullet position in Ohio State's defense, where he's slated to be the backup to Brendon White but could still theoretically earn his way onto the field as a package player. Whether the Buckeyes choose to incorporate him into the defense (barring a White injury) could depend in large part on whether Wint, who missed part of the spring due to injury, is able to carry momentum from his spring game performance into a strong fall camp.
Isaiah Pryor, S
Like Wint, Pryor performed well enough in camp last year to begin last season as a co-starter at safety, ultimately pulling ahead of Wint to become the starter alongside Jordan Fuller at the position for the first half of last season before being reduced to special teams duty for the final stretch of the year. Now, he's currently in line to be a backup to Fuller at the middle safety position in Ohio State's new defensive scheme.
Because the Buckeyes are expected to use a variety of different alignments in the secondary this season, Pryor still has a chance to earn his way into the lineup for packages in which Ohio State will use two deep safeties. He's going to need to perform well in camp, though, to prove he deserves playing time and fend off competition from rising sophomore safety Josh Proctor, who is also a strong contender to earn a spot in the rotation.
Marcus Williamson, CB
After missing most of last season and this spring due to injury, Williamson hasn't been talked about much as a potential contributor in Ohio State's secondary this year, but he's flashed some potential in the occasions that he has gotten on the field in his first two seasons as a Buckeye. If he's going to earn a bigger role on the Buckeyes' defense this season, however, he needs to be healthy and perform well in preseason camp.
New Ohio State secondary coach Jeff Hafley hasn't specified whether he plans to rotate cornerbacks like his predecessors Kerry Coombs and Taver Johnson did, so it's uncertain how much playing time is up for grabs behind Jeffrey Okudah, Damon Arnette and Shaun Wade at the position. That could depend, though, on whether any other cornerbacks prove that they belong on the field – Hafley has expressed an intent to find roles for players who deserve to play – and Ohio State's August practices will be Williamson's best opportunity to make that case for himself going into his junior season.
Amir Riep, CB/S
Having spent time at both cornerback and safety in his first two years at Ohio State, Riep offers valuable versatility that could increase his chances of earning playing time in the Buckeyes' secondary this year. Still, it remains uncertain entering fall camp where exactly he will line up primarily and if he will be in line to see playing time on defense with any regularity this season.
Riep lined up primarily as a slot cornerback in Ohio State's spring game – like Shaun Wade also did – and performed well in that capacity. After continuing to work with both the cornerbacks and safeties this spring, it appears as though Riep could be in line to back up Wade in the hybrid slot cornerback/safety role that he is expected to play.
Like Williamson, Wint and Pryor, Riep finds himself behind Okudah, Wade and White in the Buckeyes' large group of junior defensive backs, leaving no clear path to the field for Riep this season. Also like the others, he still has a chance to earn a role in the secondary in one package or another – but with all the competition he faces in the secondary, his performance in camp could determine whether Hafley and Ohio State's other defensive coaches are motivated to find a place for him in the lineup.