Justin Fields and Matthew Baldwin drew most of the attention during and following Saturday's Ohio State spring game, as the two new quarterbacks saw their first game action as Buckeyes and each made their case – somewhat underwhelmingly – for why they should be the starting quarterback this upcoming season.
Binjimen Victor made headlines for his 98-yard touchdown catch on a deep pass from Fields, while early enrollee freshman Garrett Wilson introduced his presence to Ohio Stadium with a high-pointing touchdown grab on a pass from Baldwin.
With all the attention placed on the quarterbacks and the offense, however, it's easy to forget that they were playing against their own defense. And while it's a spectacular performance overall for either Fields or Baldwin, the play of the Buckeyes on the other side of the ball was a reason for that.
The Gray team won Saturday's spring game, 35-17, and while the first-team offense played a part in that, it was also because several members of the second-team defense shined and made their case for moving up the depth chart. The Scarlet defense didn't have as many standouts – in part because most of the starters came out of the game early, and most of their replacements were walk-ons – but there was one defensive lineman who stood out for what he showed while going up against the first-team offensive line.
The following five defensive players are among those who most deserve some attention for how they performed in Saturday's spring-ending scrimmage in the Shoe.
Jahsen Wint, S
No defensive player made a bigger mark on Saturday's spring game than Wint, who intercepted a pair of deep passes – one from Baldwin, and one from Chris Chugunov – on back-to-back defensive plays.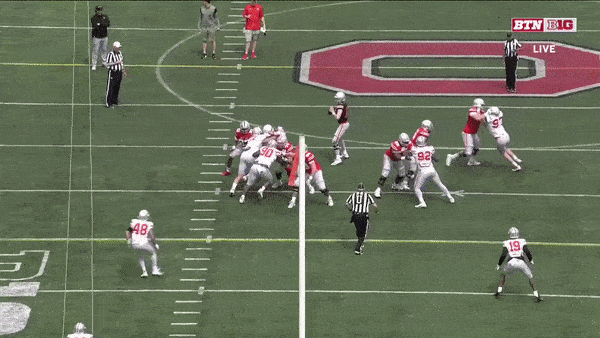 Wint was also credited with four tackles and an additional pass breakup.
As Ohio State's defense struggled last season, there might not have been any player whose play was more universally panned than Wint, who was a liability in both coverage and run support at the safety spot in 2018. He showed excellent range and ability to make plays on the ball with his two interceptions on Saturday, though, while lining up as a safety on some plays and closer to the line of scrimmage on others as part of his new role at the Bullet position.
Brendon White is expected to be the Buckeyes' top Bullet this season, but Wint is the only other safety who regularly practiced at the position this spring, which should lead to a spot on the two-deep and an opportunity to earn at least some snaps on Ohio State's defense and prove he's a better player than he showed last season.
Amir Riep, CB/S
Riep also had an interception in Saturday's game, the first interception of the game, when he tipped a Baldwin pass intended for Jaelen Gill and caught the ball off his deflection, then returned the interception back to the 20-yard line, putting Gray in position to score the first touchdown of the game.
Pretty play, @Riep_Amir! pic.twitter.com/Aob0mCKAuq

— Ohio State on BTN (@OhioStateOnBTN) April 13, 2019
For the game as a whole, Riep played 50 snaps – most among all defensive backs – while lining up as a slot cornerback, safety and outside cornerback at various positions throughout the game. He held up well in coverage throughout the game and was credited with 4.5 total tackles.
With his versatility and experience playing both cornerback and safety, Riep could be a valuable piece in the Buckeyes' secondary this year. Shaun Wade appears poised to play a substantial role for the Buckeyes as a slot cornerback/safety hybrid, but Riep will likely be his primary backup while offering the ability to rotate or fill in at multiple defensive back spots as needed.
Noah Potter, DE
Zach Harrison drew all the hype among Ohio State's two early enrollee defensive ends this spring, but it was Potter who stood out for his performance in Saturday's spring game.
Potter was credited with three tackles in Saturday's game, including a sack, and showed impressive technical ability for a true freshman as he used his hands to shed blocks and put heat on the quarterback.
The 6-foot-6, 252-pound defensive end played 50 total snaps in Saturday's game, and showed multi-position versatility too, lining up inside at defensive tackle for 11 of those snaps.
Potter was going up against the second-team offensive line while Harrison was playing for Scarlet and going up against the first-team offensive tackles, so it shouldn't be assumed off the spring game that Potter is further along than Harrison, who lost his black stripe this spring (which Potter did not) and appears to be making a push for an immediate spot in the rotation. Potter's performance on Saturday, though, did make his case that he shouldn't be ignored as a potential immediate contributor as a freshman, too.
Javontae Jean-Baptiste, DE
Another young defensive end who made his case to make a move up the depth chart and earn a spot in the rotation with his play in the spring game was Jean-Baptiste, who led all defenders with five tackles on Saturday, including a sack.
Jean-Baptiste forced a fumble on a run by Xavier Johnson in the first quarter, and consistently showed his quickness off the snap to close in on the ball as both a pass-rusher and run defender.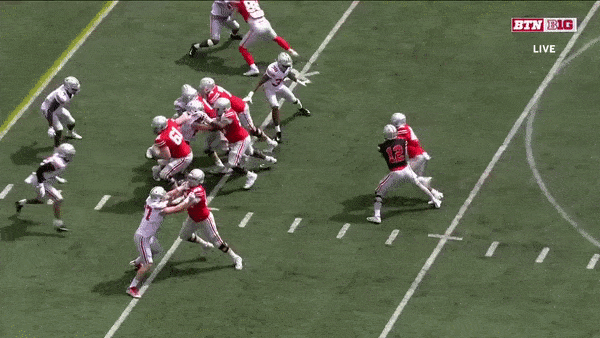 He had a score when he limped back to the sideline late in the second quarter after being pulled down to the ground on an uncalled hold by Kevin Woidke, but he was able to return to the game in the second half and continued making plays.
Jean-Baptiste redshirted and did not play a single snap as a true freshman in 2018, as he needed a year to bulk up and physically develop in order to play on the collegiate level. Now listed at 6-foot-5 and 245 pounds, though, Jean-Baptiste looks like he could be ready to contribute. The challenge will be climbing up the depth chart at a position where the Buckeyes are loaded with talent, but he appears to be moving in the right direction.
Tyreke Smith, DE
The most impressive player for the Scarlet defense on Saturday was Smith, who recorded 3.5 tackles, including a game-high 1.5 sacks.
In particular, the sophomore defensive end impressed with his get-off at the line of scrimmage – including one play where he blew by right tackle Nicholas Petit-Frere, the most athletic offensive lineman on the team – showing the burst and speed that give Smith the potential to be a breakout pass-rusher for the Buckeyes this fall.
It would appear that Tyreke Smith had the snap timed well on this one pic.twitter.com/SMMNDl9ipb

— Bill Landis (@BillLandis25) April 14, 2019
After seeing occasional playing time in the defensive end rotation and as a defensive tackle in the Rushmen package last year, Smith is expected to see a significant increase in playing time this year and has the potential to be the Buckeyes' most disruptive edge player outside of Chase Young.