Nobody at a program the stature of Ohio State is ever guaranteed a second chance – or even a first chance, for that matter.
Often, players get one opportunity to impress, capture a starting job or prove they belong. If they slip up in that moment, there's no guarantee the coaches will ever choose to rely on them again. Ohio State's coaches, at almost any position, can turn to a talented four-star or five-star prospect if somebody slips up.
Jahsen Wint and Isaiah Pryor, having fumbled their opportunities last fall, now have to find some way to climb back.
Throughout the 2018 offseason, safety remained an unanswered question. Everybody knew Jordan Fuller would start last year; he went back and forth with Erick Smith during the first half of the 2017 season, but secured the spot around the midpoint of the schedule. But who would play beside him in the back end of the defense? Nobody knew.
Greg Schiano and Alex Grinch turned to Wint and Pryor as the season opened. They played nearly an equal amount of snaps in Week 1. But due to Wint's struggles both in coverage and taking angles against the run, the coaches leaned more on Pryor in the first half of the season. He, too, made mistakes as a deep safety and as a tackler, though.
That untenable situation left an opening for Brendon White to lay claim to the starting job, which he did against Nebraska on Nov. 3, when Pryor was out with an injury and Fuller left the game early after being ejected for a targeting penalty.
White gave the Buckeyes the safety they needed to pair with Fuller. But it also sent Pryor and Wint down a career path they likely didn't anticipate. A road no player ever wants to travel.
This offseason, both Pryor and Wint have had to search for a second chance.
Pryor plays the deep safety position where Fuller will start in Jeff Hafley's secondary, and Wint has been tabbed to play bullet, the new hybrid safety/linebacker position where White will start. Unless Fuller or White suffer an unfortunate injury, neither Pryor or Wint – both in their junior seasons of eligibility – will have a chance to start this season.
If they contribute this fall, it will almost certainly come as reserves or on special teams. Neither player is in an enviable position, so it's imperative for both of them to make consistent strides both in the weight room and in practices to make sure they're ready if that second chance comes their way.
"Don't sleep on Isaiah Pryor and Jahsen Wint," Fuller said last week.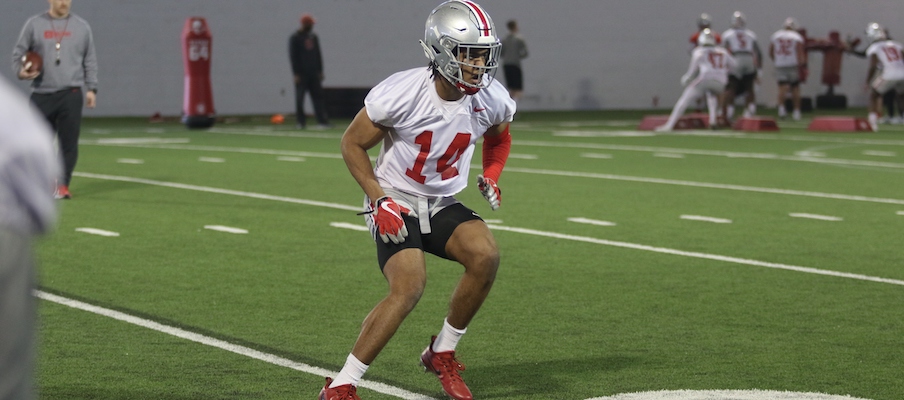 Playing free safety, Pryor's role hasn't changed much from what he did a season ago, though there could be more opportunities to make plays.
As Fuller explained at Big Ten media days, the deep safeties have fewer pre-snap calls to make and should play a style that allows for more chances to get their hands on balls in the air. That, to Fuller, fits the style of play of Pryor, who stands 6-foot-2, 200 pounds.
"I think he's in the best position for him to succeed," Fuller said. "He's very instinctual in terms of like, tracking a ball carrier down. That is Isaiah's thing. He's very good at that. When the ball is in the air, he can cover so much ground. So just being in that middle safety position, that's great for Isaiah. I think that's the perfect position for him. That's also why I say that if I win that middle safety job, I don't want to stay there the whole time, because I want him playing, too."
Pryor will be jockeying for position with Josh Proctor, a rising second-year safety who made a strong impression on the coaches this spring after playing sparingly in 2018. With Fuller running out of eligibility after this season, either Pryor or Proctor will likely step into the starting spot in 2020, meaning winning the backup job this fall matters to both of them.
Wint doesn't have as clear of a future opportunity to play as Pryor.
Both Wint and White have two more years of eligibility remaining, so unless White leaves for the NFL after the 2019 season, Wint might have to beat him out for a chance to become a starter at Ohio State. An unknown injury hindered him this spring, forcing him out of multiple practices. He ended the spring strong, though, by intercepting a pair of passes from Matthew Baldwin and Chris Chugunov in a standout spring game performance.
"He gets into the spring game and he starts making all those plays. That really excites you," Hafley said of Wint. "But we did not get a whole body of work with him so I am really excited to see what he can do."
Preseason camp begins a week from Friday, signaling the next step in both safeties' attempts to work their way back onto the field. If that second chance comes around, both Pryor and Wint surely understand they can't let it slip in a similar fashion to what happened last year.
Third chances usually don't exist at Ohio State.