Ohio State got as much done in its 15 allotted spring practices as it could, but with months remaining until the Aug. 31 season opener, much uncertainty remains.
We already took a look at what we learned at each position group this spring, but there are still questions that remain at every position group, as well. These are the biggest.
Quarterback: Who will back up Justin Fields?
Matthew Baldwin's announcement of his intention to transfer cleared up who will start at quarterback – Justin Fields – but it left a gigantic hole behind the Georgia transfer.
Fields and Chris Chugunov are the only two scholarship quarterbacks remaining on the team. Last offseason, Ohio State brought in Chugunov as a graduate transfer from West Virginia with the sole intention that he would serve as a depth piece, not being one broken chinstrap away from taking a meaningful snap in a close game. As ABC6's Clay Hall first reported, the Buckeyes are after a graduate transfer who can get to Columbus and immediately compete with Chugunov to be Fields' backup.
Kentucky graduate transfer Gunnar Hoak appears to be the top option, at the moment. He planned to visit Ohio State late this week, 247Sports' Patrick Murphy reported. 
Whether Hoak or someone else chooses to become a Buckeye, Ryan Day absolutely needs to add at least one more quarterback to a position group suddenly depleted of its depth.
Running Back: How much will J.K. Dobbins' backups contribute?
Ohio State essentially had two starting running backs the past two seasons, and Tony Alford treated them as such. Mike Weber and J.K. Dobbins both had more than 170 carries last season, combining for 2,007 yards on 402 rushes.
With Weber headed to the NFL, there's an opportunity for someone to rise on the depth chart and take some of the carries the Buckeyes lost with Weber's departure. However, unlike the past couple years, Ohio State will likely use Dobbins as a true featured back unless someone can step up and become a complementary piece beside him.
Demario McCall moved back to running back after the end of last season and seemed to be a possibility as a third-down back or pass-catching option from the backfield. However, he unexpectedly missed the entirety of spring with an injury. Master Teague made progress as he enters his second season, and Marcus Crowley went through his first-ever spring practice as an early enrollee, but neither is expected to have a Weber-like role.
McCall, assuming he gets fully healthy, and Teague will likely compete in the fall to serve as Dobbins' backup, but no one knows quite how many touches either will get regardless of who wins the job.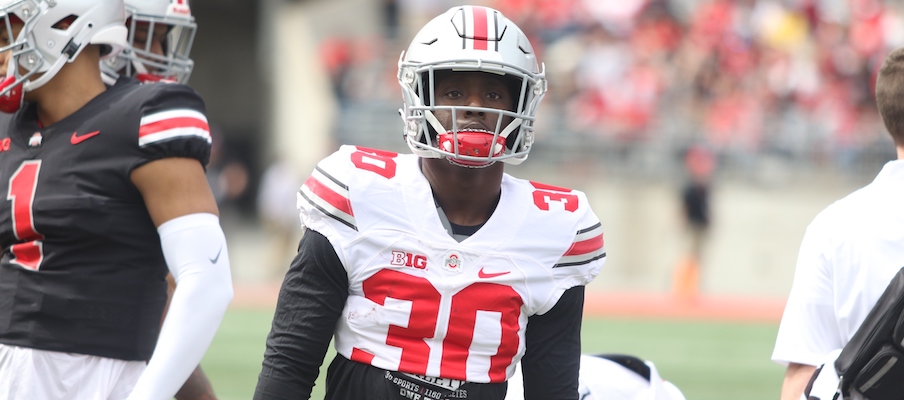 Wide Receiver: How much will Garrett Wilson contribute immediately?
All Garrett Wilson needed was a single play in the spring game to show he had the natural ability to play at the collegiate level. Sevyn Banks had solid coverage on the early enrollee, but Wilson leaped over him and snagged a touchdown pass from Baldwin.
Austin Mack, Binjimen Victor and Chris Olave will also play the X and Z receiver positions, but Wilson will likely have a spot on the two-deep depth chart. He has special talent and will play extensively.
Wilson, who became the first freshman to have his black stripe removed this spring, will play. That's indisputable. He has shown both the level of talent necessary and a readiness to have an immediate role on Ohio State's offense.
But how big of a contributor will he be as a true freshman? Will he be one of the top couple receivers on the team? It's too early to know.
Tight End: How much will Ohio State involve Jeremy Ruckert in the game plan?
If Luke Farrell and Rashod Berry weren't around and Jeremy Ruckert had the starting tight end spot locked up, nobody would bat an eye. He entered the program a year ago as the second-rated tight end in his recruiting class, and though he only had one catch for 13 yards as a true freshman, his shine still remains.
Kevin Wilson and Day have thrown out the idea of using more formations with multiple tight ends in order to get the trio of Farrell, Berry and Ruckert more opportunities. And more pertinent to the rising sophomore, Ruckert has been tested as a potential slot receiver to get him more opportunities in the passing game.
At 6-foot-5, 250 pounds, Ruckert has the potential to be a matchup nightmare for defenses, and Ohio State should take advantage of that. After just one catch last year, expect many more in 2019.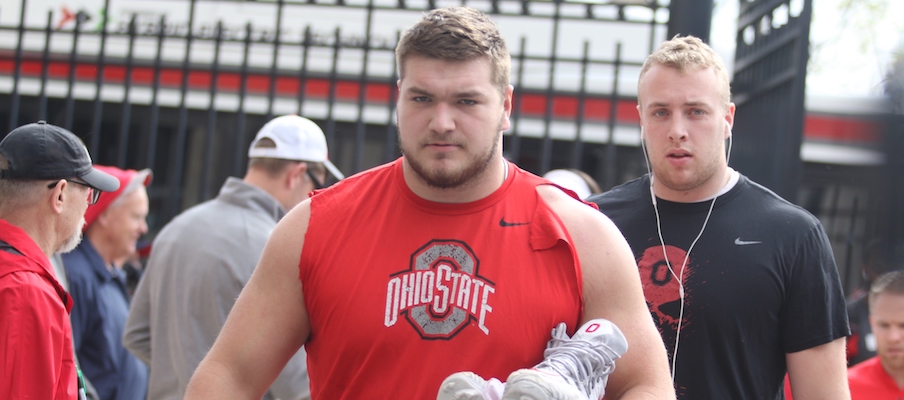 Offensive Line: How will a line filled with first-time starters mesh together and perform?
Whichever five offensive linemen take the field in August against Florida Atlantic, they almost assuredly didn't play a single snap this spring as a five-man unit. Let's look at each position.
Left tackle: Returning starter Thayer Munford missed the entirety of spring practice due to injury, so Joshua Alabi played with the first-team offense.
Left guard: Graduate transfer Jonah Jackson is the expected starter, but he is still finishing classes at Rutgers, so Gavin Cupp played with the starters.
Center: Expected starter Josh Myers worked with the first-team offense, preparing for his first season as a starter.
Right guard: Wyatt Davis went through his first spring practice as an expected starter.
Right tackle: Branden Bowen and Nicholas Petit-Frere engaged in a still-ongoing competition to start. Neither player has started at right tackle, though Bowen has six starts at guard.
Though the line has the potential to be an upgrade over last season, there's minimal experience playing together, and chemistry is an underrated component of strong offensive lines. So whether Bowen of Petit-Frere wins the job, it'll be pertinent for Greg Studrawa to ensure the five-man group meshes well together.
Defensive Line: Who will emerge as Larry Johnson's next star?
Larry Johnson just keeps churning out stars. No one was surprised Nick Bosa was taken in the first round on Thursday, but Johnson helped develop him into the second overall pick in the NFL draft.
So, beyond Chase Young, who's next?
Tyreke Smith is the obvious pick. He's primed to become a full-time pass-rush threat after Johnson used him situationally in the Rushmen package last season. Johnson mentioned him a couple times in his Ohio State coaches' clinic presentation on April 12 as being someone with immense potential.
Tommy Togiai, widely regarded as the strongest player on the team, could have a larger role this season at nose tackle. However, with Robert Landers and Davon Hamilton still on the team, his snaps will be limited. Taron Vincent could emerge, too. He was the top-rated defensive tackle in the class of 2018, and there's an opportunity to play with Dre'Mont Jones heading to the NFL.
Linebacker: Who will play middle linebacker?
Malik Harrison will start at weakside linebacker, and Pete Werner took all the first-team reps this spring at strongside linebacker. But who will start and take the majority of snaps between them in the middle remains uncertain.
Tuf Borland's teammates named him a captain last season, and he has nearly two full seasons of experience as a starter. However, he missed some of Al Washington's first spring practices with a knee injury, and there's added competition: Baron Browning enters his third season, and Teradja Mitchell appears ready for a significantly upgraded role.
Regardless of which of the three options starts, there's enough room for at least one other linebacker to have a role in the middle. The pressure will be on Washington to make sense of the situation.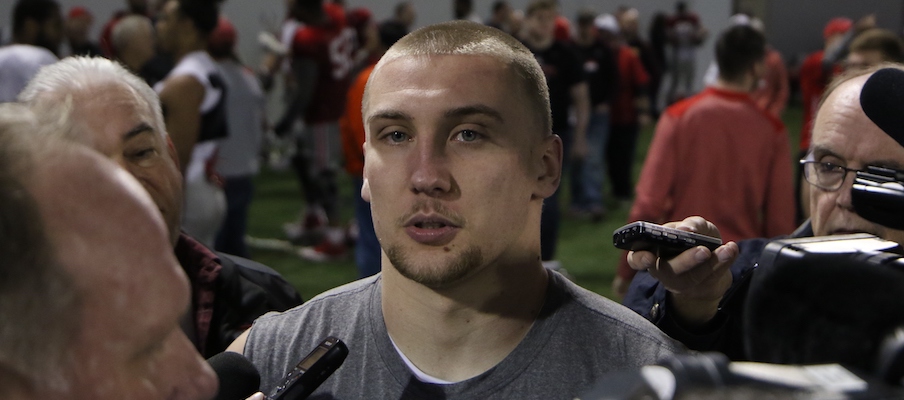 Cornerback: Will Damon Arnette finally play up to his potential?
Unless something notable changes, Jeffrey Okudah and Damon Arnette are expected to start at cornerback in the fall with Shaun Wade having a role as a nickelback/safety.
Okudah showed in the Rose Bowl that he has All-American potential if he maximizes what he can become as a cornerback. But Arnette still hasn't proven to be a consistent option in the defensive backfield.
He has multiple seasons of experience as both a cornerback and nickelback. And now under his third position coach in three years, he has one more chance to turn into the player Ohio State hopes he will become.
Safety: Will Josh Proctor force his way into the lineup?
Jordan Fuller didn't play a single snap this spring due to an injury, but the rising senior and returning captain has his job as a starting safety locked up – even though Josh Proctor flashed this spring.
Proctor spent most of the spring with the second-team defense – Jeff Hafley and Matt Barnes had Isaiah Pryor with the starters in place of Fuller – but Day mentioned near the end of spring practice that Proctor was among the players who made the most progress this spring.
Next season, with Fuller running out of eligibility, Proctor will have a shot to start. But he's tried to speed up the process and obtain a role on the defense in 2019 as a true sophomore.