Ryan Day's first spring practices as a head coach came to an end on April 13.
The next few months of the offseason will be spent speculating on how Ohio State will look in the fall, but it's worth taking a step back and realizing what we learned in the past couple months in Columbus.
Let's take a look at the biggest things we learned about each position group this spring.
Quarterback: It's Justin Fields' team for (at least) the next two years
Let's start with the easy one. The quarterback decision has been made, and Ryan Day didn't even have to name a starter.
Justin Fields took the vast majority of first-team reps throughout spring practice and began the spring game with the starters, but Day still remained mum on who would start at quarterback. He tried to sell the idea that the Buckeyes were holding an ongoing quarterback competition when the spring began, and he maintained that position in his press conference after the spring game. 
But Matthew Baldwin's decision to transfer last week immediately ended what Day once called a "battle." Fields will start in 2019, and he'll start in 2020. If all goes according to plan, he'll then head to the NFL in 2021 with a pair of seasons of experience as a starter. 
Running Back: J.K. Dobbins is preparing for a major load of carries
No Mike Weber means even more J.K. Dobbins, and nothing happened this spring to dissuade that from happening.
Early in spring practices, Dobbins took the blame for what he believed to be a subpar sophomore season. Though he racked up more than 1,000 yards for the second year in a row, his yards per carry dropped from 7.2 in 2017 to 4.6 in 2018.
"I'm not going to make any excuses," Dobbins said in March. "It was me. I regressed last year. I didn't have the year that I needed to have. So I put that on myself, and I'll get back to that this upcoming year."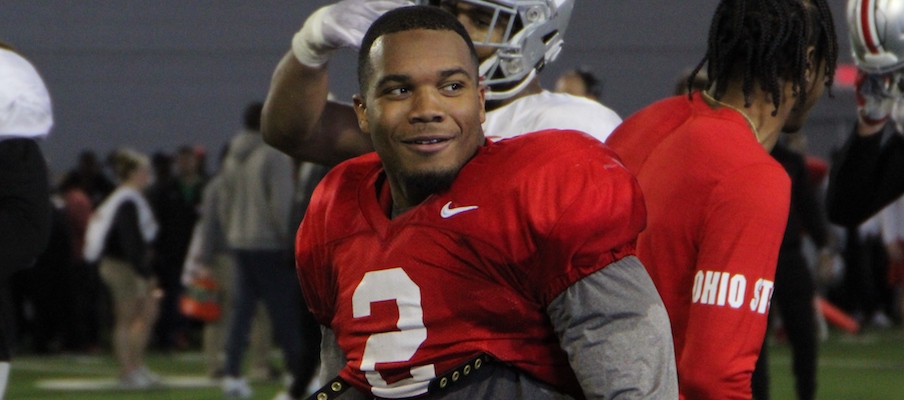 Given the dissatisfaction, Dobbins told running backs coach Tony Alford he didn't want to be treated like an experienced veteran during the spring, instead preferring to take as many reps as possible. Alford said he would oblige, intending to insert Dobbins more often than he would have had that conversation not happened.
Dobbins wants to serve as the bell cow in the backfield, and he'll have every opportunity to do so in the fall.
Master Teague and Marcus Crowley flashed in moments, but neither appears ready to take a Weber-esque load from Dobbins. Demario McCall also will be involved, but he missed the entirety of spring practice with an injury.
Wide Receiver: The rising underclassmen will push the upperclassmen for playing time
K.J. Hill, Austin Mack and Binjimen Victor compose a strong class of senior wideouts, but they'll have to play well to remain on the field in lieu of a rising group of underclassmen.
Second-year receivers Chris Olave and Jaelen Gill and freshman Garrett Wilson shined during the spring, and Brian Hartline will find a way to get them on the field.
Olave's surge was predictable. He finished his freshman season strong with a pair of touchdown receptions against Michigan and a five-catch, 79-yard performance in the Big Ten championship.
Wilson and Gill had the potential to make similar ascensions, and they had the springs the staff hoped. Coaches couldn't stop praising Wilson, and Hartline called Gill one of the most improved players on the offense.
All three underclassmen made it clear that they deserve playing time in the fall. Ellijah Gardiner also made a case for himself this spring, which he concluded with a strong spring game.
Tight End: The unit is more experienced than in recent years, forcing increased opportunities
Is this the year Ohio State's tight ends finally have a big role in the passing attack? Considering that same question has been asked every single offseason since what feels like the beginning of time, the answer is still likely no.
But with Luke Farrell, Rashod Berry, Jeremy Ruckert and Jake Hausmann returning, the position group's collective experience will be as vast as it has been recently. Thus, the coaches will spend the next few months game planning how to maximize production and get as many of them on the field as often as possible.
Kevin Wilson and Day have discussed increased two-tight end sets. The implementation of under-center snaps should increase playing time for tight ends, too. Ruckert, who Urban Meyer once called the best tight end prospect he had ever seen, has also split out as a slot receiver to get him on the field. The coaches appear intent on giving the unit a bigger role in the offense, even if that doesn't lead to drastic upticks in receptions.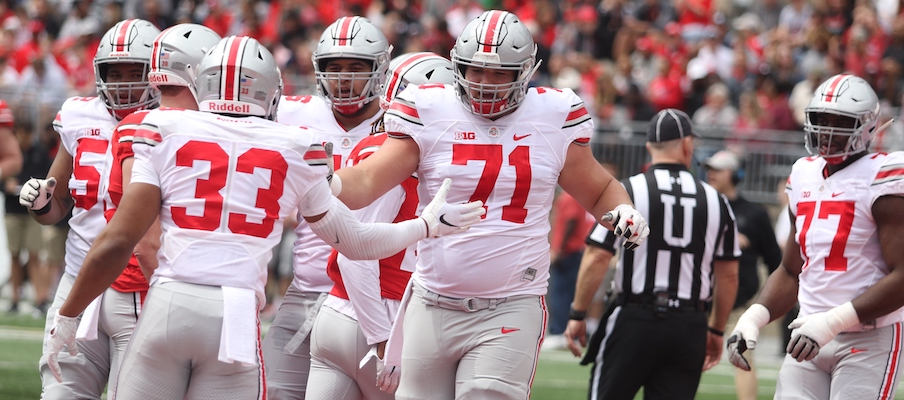 Offensive Line: Josh Myers continued his ascension, positioning himself as the likely starter at center
After the Big Ten Championship Game, which marked Wyatt Davis' first career start, Greg Studrawa said Davis wasn't the only second-year lineman ready to play. He also named Josh Myers as someone who he felt was prepared enough to enter the game. The opportunity never presented itself, though, and he remained relegated to special teams.
With Michael Jordan heading to the NFL and Malcolm Pridgeon and Demetrius Knox graduating, Myers finally had a spot – or, three spots – open up. And he has taken advantage of the opportunity, coming close to locking up the starting center spot.
Studrawa left open the possibility of five-star Harry Miller enrolling in the summer and earning a job as an immediate starter, but that would be a surprise. Myers progressed this spring and should have the job locked up beside Davis and Jonah Jackson, the likely starters at guard.
Defensive Line: Tyreke Smith appears to be next off Larry Johnson's assembly line of defensive ends
Larry Johnson has earned deserved praise from his ability to turn highly regarded recruits into productive college players who eventually become NFL draft picks, and Tyreke Smith could be next.
Smith had a spot on the vaunted Rushmen package as a true freshman, but his role was relatively limited. Expect Johnson to let him loose in the fall.
During the coaches' clinic the day before the spring game, Johnson specifically called out Smith as someone who he thinks has a chance to be special. Smith will likely join Chase Young and Jonathon Cooper atop the defensive end depth chart, and his pass-rushing skills should be an asset.
Linebackers: There's a lot of depth at the position
No one was happy with the performance at the second level of Ohio State's defense last season. Not the linebackers, not the coaching staff, not the fans. Day recognized the issues and didn't retain Billy Davis. But no one graduated and no one left early for the NFL, meaning the Buckeyes will enter the 2019 season with the same players in the room.
Ohio State returns three returning starters, but Al Washington didn't name anyone as a starter this spring. That was partially a continued attempt to spur competition, but it also stems from the depth behind Malik Harrison, Tuf Borland and Pete Werner.
Teradja Mitchell, Baron Browning, Dallas Gant and K'Vaughan Pope each flashed at times this spring, but given the returning starters, there's no clear path to the field for any of them. Washington has the enviable problem of too many players who appear to be ready to play.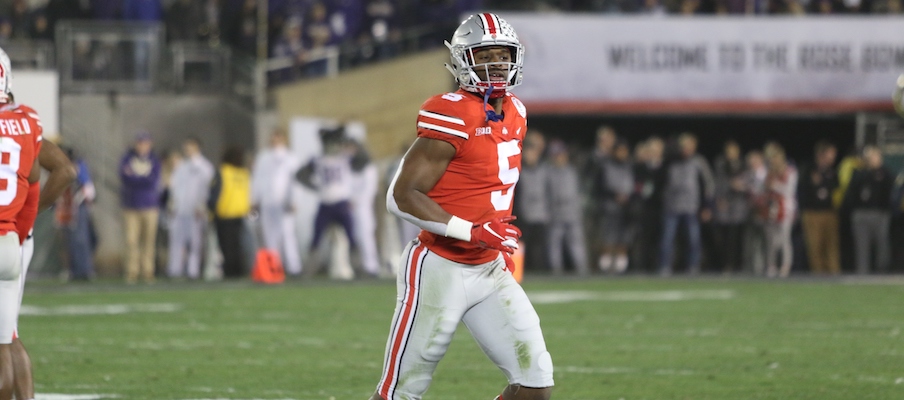 Cornerbacks: One way or another, Shaun Wade will force himself onto the field
Jeffrey Okudah and Damon Arnette have cemented themselves as the starting cornerbacks on the outside, but that doesn't mean there isn't a role for Shaun Wade. The former five-star defensive back in his third year as a Buckeye forced his way on the field last season and will do so again this fall.
The week before the spring game, Day referenced Wade as one of the team's top performers this spring. His role will likely be as a nickelback and safety. Jeff Hafley and Greg Mattison have tinkered with the defense, and Wade's versatility gives them options.
Safeties: Brendon White will be all over the field
A Bullet among Silver Bullets.
Brendon White made the newest position on the defense his own this spring. He and Jahsen Wint were the only two players repping at the spot in the spring, and in the fall, he'll be the one taking snaps as the hybrid linebacker-safety.
White lined up near the line and deep in the defensive backfield. He blitzed and dropped into coverage. He played all three levels of the defense, using his long, athletic frame to the defense's advantage. 
Though Ohio State only gave a glimpse of the new position this spring, the coaches showed a willingness to play White at many different spots on the field, entrusting him with different assignments and a high level of responsibility.