Ohio State has a habit of trying to win Big Ten titles in February.
If you don't follow recruiting closely [raises hand] here's what I'm talking about:
B1G RECRUITING CLASS RANKS 2008-19 | 247SPORTS

| YEAR | 1st | 2nd | 3rd | 4th | 5th |
| --- | --- | --- | --- | --- | --- |
| 2008 | OHIO STATE | MICHIGAN | ILLINOIS | MINNESOTA | WISCONSIN |
| 2009 | OHIO STATE | MICHIGAN | PSU | MSU | ILLINOIS |
| 2010 | PSU | MICHIGAN | OHIO STATE | MSU | IOWA |
| 2o11 | OHIO STATE | NEBRASKA | IOWA | RUTGERS | MICHIGAN |
| 2012 | OHIO STATE | MICHIGAN | RUTGERS | NEBRASKA | MSU |
| 2013 | OHIO STATE | MICHIGAN | NEBRASKA | PSU | MSU |
| 2014 | OHIO STATE | MICHIGAN | PSU | MSU | WISCONSIN |
| 2015 | OHIO STATE | PSU | MSU | NEBRASKA | MICHIGAN |
| 2016 | OHIO STATE | MICHIGAN | MSU | PSU | NEBRASKA |
| 2017 | OHIO STATE | MICHIGAN | PSU | MARYLAND | NEBRASKA |
| 2018 | OHIO STATE | PSU | MICHIGAN | NEBRASKA | MARYLAND |
| 2019 | MICHIGAN | PSU | OHIO STATE | NEBRASKA | PURDUE |
They have the best players and facilities. Arguably the best coaches. Conservatively, the Ohio State Buckeyes are put in the best possible position to win the conference every single year. February (and now also December with early signing) is where they typically renew the birthright.
They won or shared the 2002, 2005, 2006, 2007, 2008, 2009 and 2010 titles. Then the conference adopted a championship game for 2011, which means in an alternate universe where Jim Tressel promptly reports petty cash violations to the NCAA, extinguishing Tatgate before it could scandalize - senior Terrelle Pryor is cementing his playing legacy all the way to Indianapolis.
Alas, that didn't happen. Ohio State would have taken its veteran roster with the best player of the conference and possibly the country - along with three entire classes ranked head-and-shoulder-pads above all others - to the first unified title in 2011. Instead, they self-nuked and derailed the program for one season *punches calculator keys* which is a full decade in Buckeye years.
That's how good you had it. A blip feels like a prison sentence.
Urban Meyer's first recruiting class then somehow finished atop the conference despite the fact that he was forced to finished it in the aftermath of a surprise postseason ban announcement. His first team ran the table with nothing to play for. That squad not only would have gotten a Nebraska team that allowed 70 in the B1G title game to Wisconsin, it would have gotten a Nebraska team it had already put 63 on two months earlier.
only three of eight unified titles belong to Ohio State, despite the Hall of Fame coach, NFL farm league and every other national advantage it brings to this regional competition.
And then it would have gotten a hollow Notre Dame team in the penultimate BCS title game, replacing Alabama - who graciously stepped into the Buckeyes' destined spot. We're now two seasons into the unified B1G title game era and Ohio State has nothing to show for it.
It's easy to assume they would have prevailed in both of games, one with their unbroken 2011 conference favorite against a Michigan State team that only beat its hobbled Bausersquad by a field goal, and the other versus that Nebraska shitburger. But it failed to reach Indy each time, because it sucked and cheated, respectively.
Which is why 2013 was going to be so satisfying. The Buckeyes skipped all the way to Indy in what felt like destiny. It was so predetermined that when Ohio State failed to put the hammer down late against Wisconsin, leaving Christian Bryant in long enough to shatter his ankle in what should have been garbage time we barely noticed.
It didn't matter. Nothing was stopping this train. But Urban seemed to know what was ahead. He slammed the podium in the postgame in disgust once he received Bryant's prognosis, because he was losing a captain for the season - but also because he had probably seen Pitt Brown play football.
That secondary without Bryant was now a festering wound, and that's all it took for Michigan State to cancel destiny and revoke Ohio State's return to the BCS championship game one week after a Michigan program in absolute free-fall took it to the brink.
Three unified Big Ten champions. None of them named Ohio State. Look at that recruiting table atop the story again and try to wrap your head around why anyone ever called your beloved team the Luckeyes.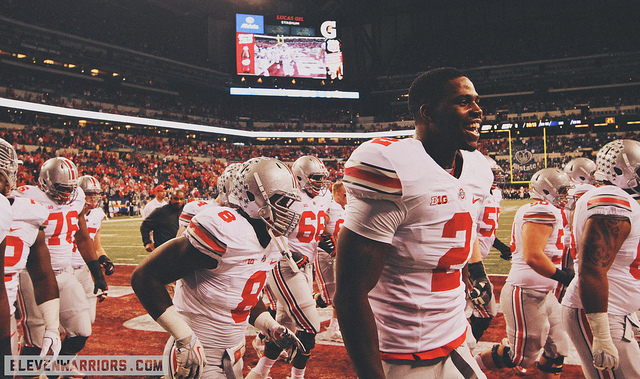 The 2014 season began with Braxton Miller's arm falling off. It ended the way most dreamworld fantasies do, with your favorite guys kissing shiny trophies on a stage while babies were conceived and named after college students nine months later. Finally, the right thing happened. It took four years, but the right team got a title. A repeat would be the most predetermined title in the history of Ohio State's predetermined titles.
As it turned out, there is such a thing as a team that's too talented. Let's just skip 2015.
If Ohio State can correctly block a field goal in State College, you don't have to worry about officiating or game planning or other particulars - the Buckeyes escape Happy Valley the way they usually do instead of on a stretcher. That team was ill-equipped to win anything but a B1G title that season, and getting another shot at Wisconsin would have brought little tension.
That brings us to the last two conference crowns, both of which reside in Columbus. Between going full-Fukushima in Iowa City and West Lafayette, the past two seasons have felt ordained from the seeds of Ohio's unofficial religion. Conference MVPs, triumphs over Michigan and dominating the Pac 12 champion in a fancy bowl game.
But only three of the eight unified titles belong to Ohio State, despite the Hall of Fame coach, NFL farm league and every other national advantage it brings to this regional competition. Sure, that's most of them. Buckeye fans are spoiled beyond belief, but they also have a goddamn point - there should have been more shiny stuff on the shelves at the WHAC in that 83-9 run that began after the Tatgate season.
Wisconsin has more trips to Indy. Sparty is undefeated there. That's Three-Star Heaven West and East respectively to those of you who knew about that recruiting table at the top of the article before you read it. Ohio State football, for all of its spoils, seemed to be leaving just a little too much on the table regionally under Meyer. He finally put together consecutive champions right before retiring again. His longest streak was two.
Tress got six in a row. Sure, he shared some of them. You want to imagine JT in the unified title era? You would have loved it, from the 20-17 final score to the dominant time of possession.
Maybe we're back at the beginning of conference title sustainability. Maybe we're staring at the first real drought since the Earle-Coop transition. Maybe three out of every eight is beyond a reasonable expectation for those of us buying bananas for $10 apiece. Entitlement isn't a comfortable condition, but neither is the nausea of missing expectations, however lofty they might be.
That said, Michigan's best shot at playing a game in Indianapolis is in March. It's all relative.