So...Michael Thomas got just a little too honest over the weekend dishing on his some of his teammates.
His honesty inspired me. Here goes: Christian Bryant shouldn't have even been on the goddamn field.
Last September the Buckeyes were in Ohio Stadium up 10 on the Badgers with about that many minutes remaining in the game. They had the ball on 3rd and short at Wisconsin's 28-yard line. They had Drew Basil already warming up his leg on the sideline.
They also had Carlos Hyde in the backfield in his first full game back from suspension (he had five carries in the FAMU blowout), but Braxton Miller's number was called for that 3rd down play and he took a seven-yard sack.
A delay of game penalty then pushed the Buckeyes back five more yards, which transformed what had been a knife-twisting scoring drive into a punt.
Ohio State got the ball back again with 6:42 left in and promptly put the ball in Miller's hands twice more. Those two plays netted two yards. On 3rd down Hyde powered ahead for seven, but the Buckeyes were forced to punt again.
Wisconsin got a field goal on its ensuing drive to cut Ohio State's lead to a single touchdown. Now there were two minutes left.
The Buckeyes recovered Wisconsin's onside kick and gave the ball to Hyde on 1st down. He plowed forward for five yards. The coaches then gave the ball back to Miller again on a designed run where he gave all five of those yards back to the Badgers.
If you're not seeing the pattern here, you're not looking hard enough.
Miller's unsuccessful 3rd down scramble then forced yet another 3-and-out. Four plays later Bryant's ankle was in pieces and his season was over.
Sure, Ohio State's only competent safety and most important defender could have suffered a career-ending injury at any other time, but in this case all his offense had to do was keep him and the rest of the defense on the sideline.
Instead, they went 3-and-out twice, mostly due to having Miller dancing around unproductively as Hyde finished the night with just 17 carries.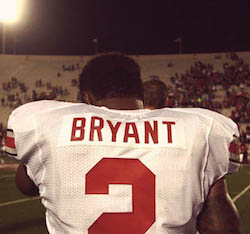 Two weeks later following its first bye, Ohio State found itself in trouble in Evanston against then-undefeated Northwestern, which was playing like it really was the biggest game in school history. Miller was having a dreadful night.
Kenny Guiton, who shined while Miller was injured in September began warming up on the sideline. And then suddenly Miller returned to form. That's what saved Ohio State, per the postgame narrative.
In related news, Miller's struggles also led to more reliance on Hyde, who bullied the Wildcats for 110 yards on the ground - in just the 2nd half - while scoring three touchdowns over the Buckeyes' final four drives.
The drive where he didn't score? Rod Smith was sent in to spell him following a beastly 17-yard run. It ended when Miller threw incomplete on 3rd down.
Ohio State's savior in 2013 was apparent every time a game got close, and it wasn't Miller. It was the beast lined up in the backfield with him.
Hyde then led the comeback win against Iowa, crushing the Hawkeyes for 106 yards and two TDs in the final two quarters alone. Hyde cleaned up the defense's mess in Champaign with 248 rushing yards and a whole bunch of necessary, cosmetic scores late in the game.
When the Buckeyes chose to use Hyde this season, nobody slowed him down. Nobody. Even Clemson only "held" him to 113 yards on 4.5 per carry running a defense that sold out to stop him and force the Buckeyes to throw.
That was Hyde's worst output of the season. He also had 116 yards (6.6 per carry) against the Spartans, the best defense in America.
But when those two games in particular got close and the Buckeyes had the chance to win in the final minutes, Ohio State called Miller's number instead of Hyde's. And they squandered a potential game-winning drive because of that decision. Twice.
Hyde had the best statistical day by an opposing running back in Ann Arbor in the 134-year history of Michigan football.
Yes, Miller had all of those TD passes early on against Wisconsin and Penn State. He piled up five scores against Michigan as well; don't misunderstand me - Miller didn't win two B1G MVP awards because he's just average. His Michigan performance was nice.
But Hyde had the best statistical day by an opposing running back in Ann Arbor in the 134-year history of Michigan football. He rushed for 226 yards on their field, damn near averaging a first down on every carry. Nobody on any team has ever come close to that. Beanie Wells had fewer yards up there in 2007 on a dozen more carries.
So when the game is close and the margin for error doesn't exist - would you want El Guapo barreling ahead or Miller dancing around? All year the safest and most consistent bet the Buckeyes had was giving it to #34. This isn't convenient hindsight. It was evident all year.
The only thing that frightened traditional I-Formation enthusiasts in Columbus when Urban Meyer was hired was the gimmicky cuteness associated with spread football. As it turned out the Buckeyes ran power out of the spread all year, showing off one of the best rushing attacks Ohio State has ever had.
But in the final two games of the season when they should have leaned on their power back, they ignored him. They got cute. They overthought the play calling and they squandered both of their postseason games because of it.
Yes, there were other, significantly larger problems with the 2013 Buckeyes. Their entire defense was a complete disaster, void of any discernible identity or intuition and easily Ohio State's worst defensive unit of the current century. It never improved. It never learned.
And Thomas was absolutely correct about his fellow receivers being invisible. Some of the recruits Meyer is bringing in for 2014 might have seen the field this year if they weren't still in high school.
But despite all of that, Ohio State was still good enough to run the table with those shortcomings. Nobody could stop Hyde - not for four quarters, and especially not in the fourth one. 
Monday night as the BCS title game was winding down, Hyde watched Auburn and Florida State slug it out. On the penultimate drive he offered Auburn a simple suggestion:
Give your running back the ball!

— Carlos Hyde (@El_Guapo34) January 7, 2014
Seems like he was still a little frustrated. He should be. We all are.
You know what's more demanding on a defense than trying to slow down a bruiser like Hyde - who only gets stronger as the game wears on - with the offensive line that he had, with the game on the line? Absolutely nothing. Nothing is more arduous than that.
And now Hyde - one of the very best we will ever see - is gone for good. We'll never see that nothing again.