ANN ARBOR, Mich. – As Ohio State fans shook with nervous energy, a calm came over the sideline. All week, the third-ranked Buckeyes had prepared for Michigan's two-point conversion plays and, now, with the most important play of the season arriving, cornerbacks coach Kerry Coombs told his players he knew what was coming.
He alerted Tyvis Powell that the Wolverines were going to motion triple stack and Michigan wide receiver Bo Dever would run an angle route. Those events took place shortly thereafter. And the final result of the Wolverine's two-point conversion was a Powell interception. Thirty-two seconds later, the final scoreboard read: Ohio State 42, Michigan 41.
"I was taking a shower, talking to Kenny and that's when it hit me," Powell said, with an infectious grin. "That was our season on the line. We had 12-0, the Gold Pants, the chances for a national championship, it kind of hit me, like, 'I saved the season.'"
The redshirt freshman cornerback spent his first season as a verbal punching bag for Coombs. At practice, Coombs would routinely yell at Powell for his shoddy coverage and inability to complete drills in the fashion he wanted.
One year later, his name will be remembered for years to come in Columbus. Powell wasn't surprised Michigan elected to go for the win – no one in the stadium was. But he was shocked that they decided to run a play the Buckeyes prepped for all week.
When the Buckeyes faced a similar do-or-die two-point conversion last season against Purdue, Tom Herman opted to go with the sure thing, a play Ohio State rarely used but knew would work to near 100 percent certainty.
It did. Michigan's did not.
"He really threw the ball. I was thinking to myself, Coach Coombs is a genius," Powell said.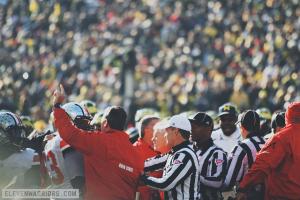 Golden Gloves
Detroit native Joe Louis captivated the nation in the 1930s with his championship boxing career. Columbus' own Buster Douglas did it some 60 years later. On Saturday at Michigan Stadium, it was the Ohio State and Michigan football teams. 
Less than a minute into the second quarter, multiple punches were thrown and three players were ejected after some extracurricular activities following a Buckeye kick return.
Wolverine linebacker Royce Jenkins-Stone ripped Dontre Wilson's helmet off, which prompted Wilson to throw punches at Michigan defensive back Delano Hill. Meanwhile, Marcus Hall came off the bench and threw punches at another Wolverine. The incident lasted almost a minute.
Jenkins-Stone, Wilson and Hall were all ejected. As Hall walked to the tunnel, he spiked his helmet and flipped the double-bird to the taunting crowd.
"I was disappointed in that," Ohio State head coach Urban Meyer said of the melee. "I don't know where that came from. We had a little chat about that and that's not acceptable."
What probably made hearts flutter in Columbus was the image of Braxton Miller in the middle of the fight. Senior center Corey Linsley said that's why he and Hall sprinted onto the field. They don't just protect the quarterback during plays.
"I feel a little responsibility for Marcus getting ejected because he saw me run out there, and I shouldn't have done that no matter what," he said. "I just can't explain it in words. I couldn't believe it. I was in total and utter shock. That shouldn't happen in any game. I guess it's a consequence of the emotion, but both teams are better than that."
There's some concern from Ohio State that Hall could face further punishment for his two-finger salute as he left the field.
"The conference office will wait until after the game for the officials' written report, review the video and then take further action if needed," Scott Chipman, the Big Ten's commissioner for communications, said.
Whether the Big Ten acts or not on the matter remains to be seen. But Meyer said he will address the situation with Hall. Regardless, it's an incident, no matter how infamous, that adds another incredible story to an historic rivalry.
"You don't want anybody to fight," junior linebacker Ryan Shazier said. "There are a lot of emotions going on both sides and a lot of guys are really hyped and things just happen. It's not acceptable, but I am not surprised that it happened."
Hyde Seeks Green Space
It could have been the 16-point spread, Ohio State's 23-game win streak or Michigan's lethargic play dating to October. There were many reasons why one thought the Buckeyes would win Saturday. However, the surest came from Ohio State's 393 rushing.
Clichés fill the sports world but some are based in fact. Football games are won in the trenches is one truism. Ohio State and Michigan are one of many examples. The Buckeyes offensive line is as stout as any in the country; they've won 24 games in a row. Michigan had one of its worst lines in history in 2013; they lost five games. Simple, really.
The Game is a microcosm of the adage that winning the trenches equals a "W" on the schedule. Ohio State's victory marked the 13th consecutive year that the team with more rushing yards won. Carlos Hyde's 226 yards were the most ever by a Buckeye in the Michigan game.
"I want to give credit to my offensive line. They did a great job today. Great job," Hyde said, excitedly and with emphasis.
His total came with what nearly became the ultimate blemish. Ohio State gained control of game in the second half and led 35-28 in the fourth quarter. Fighting for extra yards, Hyde fumbles on the Buckeyes' own 41-yard line and a Wolverine defender came up with the ball. They would go on to tie the game.
Five minutes remained, and Ohio State never wavered – it fed its most productive offensive player. A six-play scoring drive featured four rushes from Hyde, including the game-winning touchdown.
"He runs the ball hard, you don't have to worry about him, and he makes plays," senior offensive lineman Andrew Norwell said. "We just do our job up front and we have good chemistry."
Hyde is averaging eight yards per carry this season, owns two 200-yard rushing games and has scored a team-high 14 touchdowns. Time and again this season – Northwestern, Iowa, Michigan, etc. – the Buckeyes have been in need of instant offense and on each occasion they've turned to Hyde.
It's a far cry from August, when his status on the team wasn't even certain. A three-game suspension could have ended with Hyde being left off the team. Meyer gave him zero guarantees.
"Leadership. From where he grew from last year and that little incident he had, he just felt like he's got to prove himself even more," Meyer said.
But it's not just Hyde who Meyer and Tom Herman instill their trust in. The five guys blocking for him are also called upon. As he's wont to do with Hyde, Meyer too showers continuous praise on the O-line, a group he would take anywhere against any team.
"It means a lot," senior offensive lineman Andrew Norwell said. "You do it for the guy next to you. You care about that guy next to you a lot and you trust that he's going to do his job."
It wasn't just Hyde who delivered on Saturday. Miller also flashed his dynamic playmaking ability by rushing for 153 yards and three touchdowns. Hyde and Miller became the first Buckeye backfield duo to rush for 100 yards since Jim Otis (114) and Rudy Hubbard (103) in 1967.
"We play together. It's not just one person or anything like that," Hyde said. "It's really like a brotherhood here and that shows. We stick together and we know that we going to come out with a win."
Brotherhood or not, some of Hyde's teammates and even a coach have felt his wrath. Running backs coach Stan Drayton took a shot from Hyde while the tailback was running at full speed during drills last year. It sent the coach to the turf roughly and quickly. A similar experience befell Linsley at the 2011 Nebraska game.
Linsley told a story that involved Hyde breaking his ribs simply from being run into by the back at full speed. When they say get of the tracks when they train is coming through, it's to be taken literally for Hyde.
"He's one tough, fast, big dude," Linsley said.