The Buckeyes have one more left to play in 2017.
It isn't a playoff game, which is objectively disappointing given Ohio State's caliber of both talent and coaching. However, I'm old enough to remember when winning the Big Ten, beating Michigan and getting to play the Pac Ten champion was everything that mattered in the universe. Achieving what the Buckeyes did this season used to be intergalactic perfection.
Times change, so the 2017 season was merely great - but as Urban Meyer is fond of saying, the future is bright at Ohio State. He'll always be right about that as long as he's involved with the football program - but now, as 2017 fades into the rich tapestry of seasons we will forever refer to in the past tense, let's bid a final goodbye to everything we hated about this championship season.
We love to whine, even when there's confetti flying amid another gaudy commemorative hat to collect. Here are the choice cuts from Shangri-La in 2017:

10. LOSING BOWEN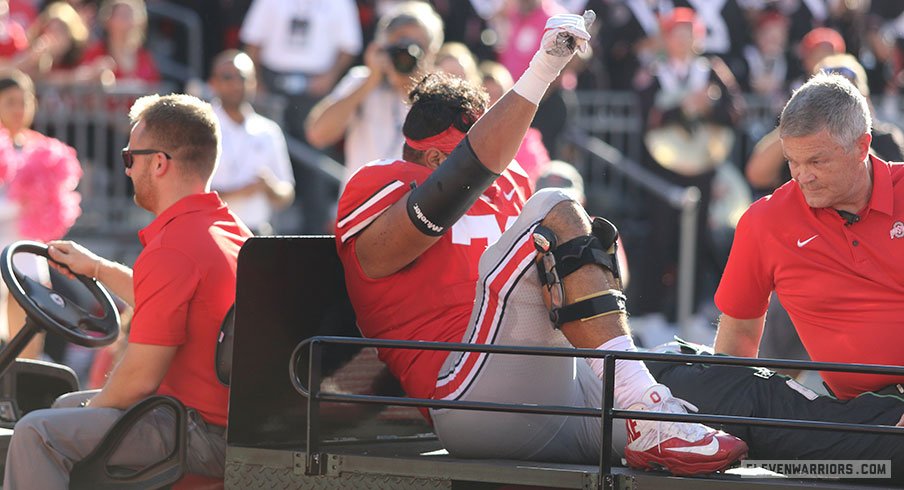 The hottest competition of fall camp was the battle for right guard, and Brandon Bowen ended up winning it (the news of his victory was broken by his mom; shout-out to moms).
But barely a month into the season he was rolled up on against Maryland and lost for the year. This was initially - rightfully - viewed as a major test of OL depth, which Meyer has gone on record saying was shaky. Fortunately, Greg Studwara earned every cent of his paycheck this season, and Meechy stepped in in more than admirable fashion.
But losing a starting offensive lineman? To an injury, for the whole season? This decade? That was an unfamiliar sting. There was also PTSD from the most recent Clemson game. Life is not fair.
In the end, Bowen's replacement was the only member of the line that didn't get a postseason accolade (understandable, in a partial year of starting work) and he was still beyond serviceable. The OL was as cohesive as it has been since hitting Tree Shredder mode to close out 2014 - and it did so coming out of a crisis.
So yeah, losing Bowen to a catastrophic injury was terrible. The epilogue was not.
9. FIFTEEN MINUTES IN ANN ARBOR
Ohio State prepares for That Team all year, every year. TUN iconography is plastered all over the WHAC, all over our collective psyche and all over the epitaphs of both superior and lesser Buckeye teams than the 2017 edition. It's always there.
This season was no different. Ohio State navigated through the regular season to reach the That Team, but then it took the field with That Game Plan. The 1st quarter in Ann Arbor was arguably the worst 15 minutes your favorite team turned in all year. Cardiologists were calling their own cardiologists for the first hour of the broadcast.
A quick summary in case you've erased that quarter from your memory: Oh shit, the exam is today?
Fortunately, the next three quarters progressed as scheduled - but it was hairy for a hot second.
8. GIMMICK THREADS IN RIVALRY GAMES
They looked great. Clean, crispy, fresh, styleeeesh. Even the campiness of the whole Wolves thing faded once it was evident Nike had retained the reanimated corpse of Gianni Versace to craft them himself.
The Grays were nice. The Whites were even better. Neither was roundly mocked like so many alt unis often are. If you're going to mess with perfection, do it with panache.
Anyway, Penn State welcomed the Grays to national television by returning the opening kickoff for a touchdown. And then Michigan held the 2 Cocaine 2 Whites to negative six goddamn yards in the opening quarter. 
Keep designing these things for a couple games a year - the retail economy and (this is more important) 11W pageviews absolutely love them. But save them for Illinois or UNLV. Stop adding distractions to games like Penn State and Michigan that require no manufactured juice. A peaceful world is built upon compromise.
7. NO GRATITUDE FOR THE GLUE
We spent the better part of his final season arguing if the eventual B1G QB of the Year, for the third time, was terrible or the best ever.
We spent the better part of the year asking if the only three-time captain in Ohio State history was the best or worst person to lead the offense. We spent every week exalting or devaluing each of the well over two-dozen school and conference records he now holds.
He accounted for 45 touchdowns, nine interceptions and he'll eclipse 3,000 yards passing by the time the Cotton Bowl concludes. He is also unquestionably the team dad on the field and in the locker room. Imagine being unimpressed by that.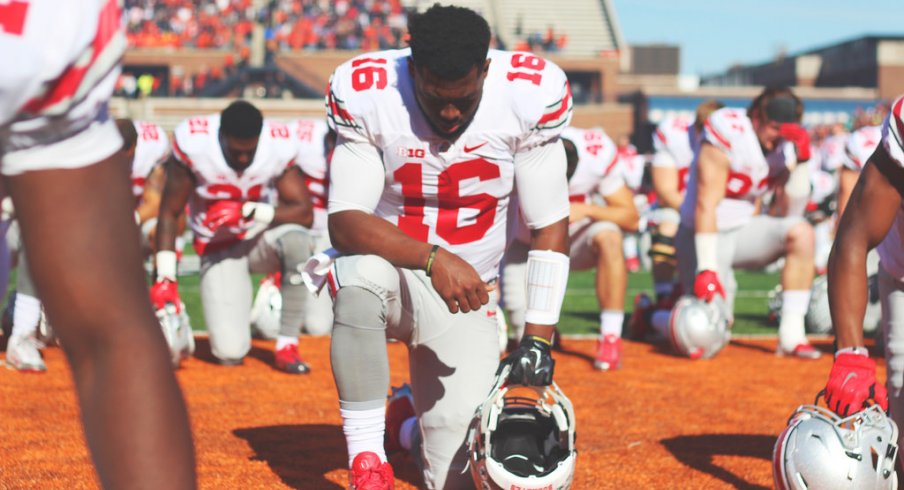 This was the most exhausting and relentless sideshow I've experienced in watching this football program do everything possible to still leave its fans unsatisfied. I'm going to miss the hell out of Number 16, but I look forward to whatever the next sideshow is because it's bound to be healthier for our tribe than this one was.
6. *JIM MORA VOICE* KICKOFFS? KICKOFFS? 
They gave up two touchdowns off the tee. Couldn't keep the ball in-bounds all year. Couldn't figure out how to manage lanes and contain returns for better part of the season. Ohio State's special teams in 2017 were the low point of Meyer's tenure in Columbus.
In lieu of rehashing this one too thoroughly, let's use a one-game example: The trip to Michigan featured 1) a punt that was returned for what became a gimme touchdown after Ohio State's gunners took each other out 2) a missed field goal 3) a kickoff that sailed out of bounds, and -
*dramatic pause*
4) it was one of that unit's better performances of the season.
5. RUNNING BACKS ON A MILK CARTON
(FYI for millennials - this is a dated reference to how missing persons were reported in olden times) 
Urban loves the extra blocker that comes with QB runs, man. He's loved it since he coached Bowling Green. He loved it when he had Alex Smith, Tim Tebow, he loved it when he had Braxton Miller and he still loves it today. You've noticed.
Meanwhile, Healthy Hamstring Mike Weber figured out how to run over and away from good defenses and J.K. Dobbins is one of the three best freshman running backs Ohio State has ever seen. And yet they were both seemingly abandoned for long stretches of multiple games in favor of blocking for telegraphed QB runs.
For what it's worth, Meyer went on the record saying the backs deserve more carries. If only he had a way to alter the play-calling.
This is the price of having him run your program. It's frustrating. It's also worth it.
4. INVISIBLE THIEVES
J.T. Barrett had two dozen touchdowns to go with just one interception heading into Iowa City, and that came off of the best 4th quarter an Ohio State quarterback has ever had.
Then Barrett threw his first pass in Kinnick Stadium. It was an Iowa touchdown. He never the saw the guy.
He was pick-sixed again in Indianapolis, also by a phantom defender, also reading the right side of the field with less than chaotic pressure. There was a time when pick-sixes were Ohio State's specialty, usually against Penn State. Last season, in fact - the Buckeyes were pick-sixing hapless opponents seemingly every weekend.
But in 2017 the Silver Bullets failed to catch a single touchdown pass. Ohio State's record-setting quarterback handed out two of them. Yuck.
3. WALKING AND CHEWING GUM
Zone Six isn't just bad at catching passes in stride. It's horrendous.
You can remember the few rare success stories off the top of your head - a K.J. Hill drag route here, Terry McLaurin's touchdown in Indy over there - but The Guys In Charge of Catching Passes routinely had balls hit them in both hands, their facemasks or their elbows before bouncing off the turf whenever they were in stride.
It began in Bloomington where Parris Campbell had a touchdown sail right through his arms. Terry McLaurin was a multi-time offender, as were Johnnie Dixon, Ben Victor and Austin Mack. Yes, they all also caught passes. They're wide receivers.
Fortunately, 1) Brian Hartline upgraded the instruction in this room and 2) this deficiency wasn't lost on the staff. It's trending up, but still nowhere close to what Ohio State receivers should be delivering. Two units were roundly ignored when accolade season arrived: the linebackers and these guys, who feature "six starters."
The remedy has been bubble screens, and aving receivers squat in the hole of a zone, facing the quarterback, and catching a football flat-footed. That works. But it's far too primitive for what the Buckeyes and any offense led by Kevin Wilson and Ryan Day could be doing, and we're going on a third straight season talking about this.
2. REQUIRING ROCK BOTTOM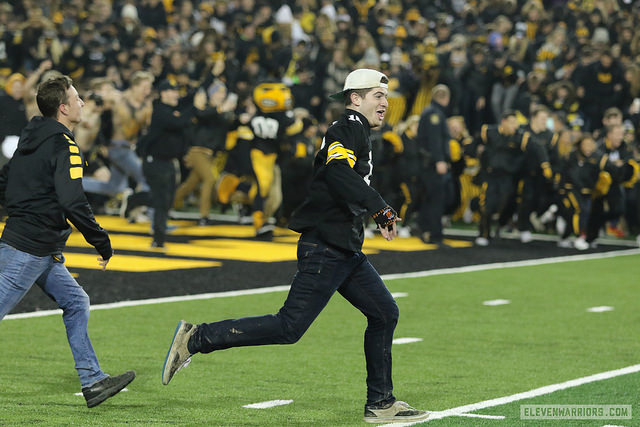 The morning of the Eleven Dubgate we found out both Dante Booker and Jerome Baker would be out for the Michigan State game. Great, an offense that runs Iowa's scheme - but better - would get to chew up the shakiest unit on Ohio State's depth chart that isn't charged with catching passes.
The shock of Iowa still lingered. We prepared ourselves for a dark world where the Eleven Dubgate wasn't undefeated.
Anyway, the Spartans proceeded to score three whole points. The Buckeyes never beat John L. Smith this badly.
Two seasons ago, the Buckeyes couldn't get out of their own way all season and then lost to Michigan State. Seven days later, the team everyone waited ten weeks to see finally made its debut in Ann Arbor. On the final Saturday of the season. Too late.
They allowed 38 to Penn State, then 55 to Iowa. They've allowed 58 points since. In the future, maybe Ohio State shouldn't wait for a catastrophic loss to morph into its true form. The playoff committee isn't predictable enough to follow that development model.
1. TARGETING
Ohio State's loss to Oklahoma did not impair Ohio State's playoff chances. It's historic collapse in Iowa City did.
And the Buckeyes were taking control of that game until Nick Bosa was ejected for targeting. Barrett's pick-six was in the rearview, they were moving the ball nicely and beginning to choke Iowa in their own house, but every one of Ohio State's 52 eligible downshifted the moment its best player was thrown out of the game.
With Bosa gone, Ohio State's title hopes were as dead as Julius Caesar. 
Denzel Ward probably lost 1st Team All-B1G when his legal crushing hit, fumble recovery and touchdown were improperly removed from the scoreboard and his stat sheet by garbage refs and even garbagier replay officials. (Note: he should have been 1st Team anyway). Dre'Mont, Ward, Bosa. While Ward's flag was criminal, these ejections were emblematic of how unruly Ohio State was this season.
Its fiercest opponent was itself. Outside of Oklahoma, which didn't slip away until late in the 3rd quarter, there wasn't a team on the schedule the Buckeyes couldn't line up against and pulverize at will. It just couldn't get out of its own way. Ohio State is your 2017 Big Ten champion, lines up quite favorably against its bowl opponent and will have rings, trophies and banners on display in its facilities forever.
And it was simultaneously one of the most talented and undisciplined teams you will ever see.