Noon kick. Coming off a shocking loss. In 21 degree weather.
The Eleven Dubgate VII Presented by Sweet Water Brewing was an overwhelming success despite the frigid temperatures and the lingering Iowa City sadness, raising nearly $5,000 for DownSyndrome Achieves through your donations and via silent auction items.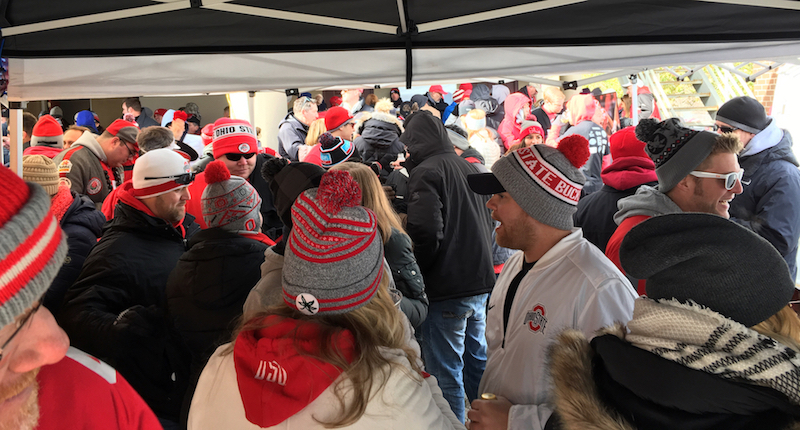 THANK OUR SPONSORS BY BECOMING THEIR CUSTOMERS
SweetWater Brewing: Proprietors of delicious beer.
Mojo Tago: Tacos, breakfast nachos, chips, salsa, tailgating nutrition - amaaaazing food.
Buffalo Wild Wings: You Have to Be Here™ (they also heated our outdoor tailgate, literally)
Aaron Taylor Photography: impressed by the quality of the photo set above? You should contact Aaron, he's an ace photographer.
Insomnia Cookies on North High Street: Don't wait until Dubgate VIII to devour them again. Visit their store ASAP.
Pepsi and Superior Beverage: Caffeine and game day hydration = essential.
Oxford Realty for generously supplying our prime location. They are real estate gods.
Hall of Framers for all the auction items!
Also - thank you to alll of our volunteers - front doors, back door, servers, carders, security, greeters, hostesses and hosts. And thank you to everyone who attended - we hope you had as much fun as we did.
TACOS AND BEER AND COOKIES AND A SEA OF HUMANITY pic.twitter.com/81mBsF3cOo

— The Eleven Dubgate (@11Wgate) November 11, 2017
Mark your calendars now - Eleven Dubgate VIII will be Saturday Nov 3, 2018 before Ohio State's game with Scott Frost's the Nebraska Cornhuskers. Ohio State is 2-0 against Nebraska in Dubgates and now 9-0 overall when 11W throws a banger. We'll be at the same spot next season.
From all of us at Eleven Warriors:
OUR WRITERS ARE HERE BUT YOU SHOULD STILL STOP BY pic.twitter.com/lOIrlqt2nP

— The Eleven Dubgate (@11Wgate) November 11, 2017
Thank you for reading, thank you for stopping by - and thank you for Paying Forward. Go Bucks!