No quarterback throws for six touchdowns by accident.
That just doesn't happen; not even for an accidental starter like J.T. Barrett. A school record six of his throws resulted in the Ohio State band excitedly queuing up Buckeye Battle Cry last Saturday. Go ahead, diminish the feat by citing the opponent. He still threw six TD passes.
This came just one week after being repeatedly hassled at the expense of a game plan relying on passing routes that took significantly longer to develop than his protection allowed. When Barrett did have time he regularly hit his receivers right in their hands. Unfortunately that wasn't always good enough.
As a result, his body was joined by most his throws in bouncing off the turf for much of that unsatisfying evening. Those six TD passes that arrived a week later - none by accident - were nice, but coming against what's now the 122nd-ranked pass defense it is understandably difficult to shake the belief that 1) Ohio State should be more than capable of doing what they did, and 2) Barrett might have thrown six more had he been allowed to.
If you're subscribing to the idea that we need more than just Kent State and Navy to properly assess Barrett then you've done an excellent job of erasing that Virginia Tech game from your memory. We learned more about Barrett in defeat than we did in either victory against Navy and Kent State when he was awarded all-B1G weekly honors.
We love to compare current Buckeyes to former ones, and heading into the season we already knew Barrett wouldn't be inactive Buckeye Braxton Miller. But based on how he performed against the Hokies, he might turn out to be Joe Germaine - and you'd take that without blinking.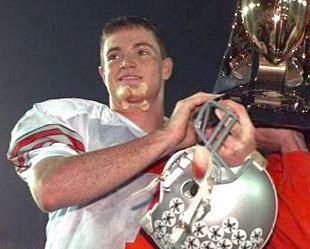 Eighteen seasons ago [Ed: Ugh, really?] Germaine platooned with Stanley Jackson in a tenuous journey to replace Bobby Hoying. Jackson had superior mobility and more time in the program while Germaine threw a nicer ball. When he got his opportunity, Germaine delivered.
In 1995 nobody outside of Mesa, AZ or Buckeye football fatalist circles had heard of him. In 1996 he ended the season as the Rose Bowl's MVP - smiling but curiously unexcited and covered in his own blood. More on that in a bit.
Still, 1996 is one season too early to compare Barrett - whose first name also happens to be Joe - to Ohio State's all-time record holder for completions (in one season) passing yards (ditto) and 300-yard passing games (in one season and in a career). You have to travel to New Orleans one year later to find the right parallel.
That night Germaine's body joined most his throws in bouncing off the turf for much of another unsatisfying evening: Florida State's defensive line repeatedly swallowed Ohio State's blockers and punished its quarterback.
Each time a ball was dropped or fell incomplete, Germaine promptly regrouped with his overmatched line and his beleaguered receivers in the same curiously unexcited way he always reacted to touchdowns. He had the same response each time he was forced to peel his body off the Superdome turf. Germaine had been just as unemotional and non-toxic during a less punishing but far more catastrophic loss to Michigan in 1996. 
One game later in Pasadena against Arizona State Mitchell Freedman came unblocked off a safety blitz and split his chin wide open, causing blood to pour onto his jersey. He jogged off the field, got his face butterflied on the sideline and a few minutes later calmly handled the same blitz and threw a 72-yard touchdown pass.
Two weeks ago while Barrett was absorbing seven sacks and way too many dropped passes, he showed the same neutral demeanor Germaine was famous for always having. He reassuringly smacked his linemen on their backs each time they failed to hold their blocks for more than a couple of seconds. He did the same thing on those rare occasions when they were able to hold their blocks as well.
We learned far more about Barrett in defeat than we did in either of Ohio State's victories.
Each time receivers jogged back to the line after failing to secure a catchable ball, Barrett would single them out, put his hands on their shoulder pads and visibly give them encouragement. He never sulked, got up slowly from being tackled or dared to exhibit any visible frustration - all of which can be contagious. Instead he stayed even and never let his confidence down. I'll do what quarterbacks are supposed to do. You go be great.
Early on against Kent State after his receivers continued to drop perfectly-thrown balls, Barrett maintained his encouragement and took a little bit off of his throws, leading his targets. They started to catch everything. A lot of those floaters may not work against pass defenses ranking in the top 122 but they absolutely contributed to confidence for a unit that desperately needed a huge dose of it.
It was deliberate. No quarterback throws for six touchdowns by accident.
Both Joes have or are adroitly tolerating a quarterback crisis. Both have been resilient in losses and remained stoic behind struggling offensive lines. Both are just mobile enough to not have it become a liability, but overwhelmingly both manage the fog of football acrimony with abiding grace. That leadership trait cannot be overvalued. It makes every single player on the field better.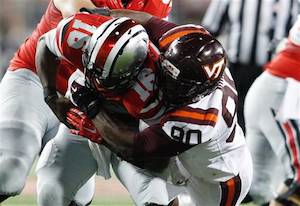 Historically Ohio State fans actually prefer unemotional, intelligent and humble throwers: If we could give Jim Tressel a block of limestone for him to hammer into the shape of Rex Kern every season we might just die happy. Freak show athletes with cannon arms and 4.3 speed are great too, but a capable, imperturbable guy for whom absolutely nothing seems to bother him is a freak show himself.
In 2013 nobody outside of Wichita Falls, TX or Buckeye football fatalist circles had heard of Barrett, who is already on pace to put up freak show numbers. How he's thought of after 2014 concludes remains to be seen, but based on how he responded during and following one of the most disappointing evenings in recent memory, he may prove reliable enough to keep you from thinking about the reigning two-time Big Ten MVP until after the season.
That said, you shouldn't be thinking about Braxton right now. You should be thinking about Joe.