Right, left, right. Right, left, right.
He suffered a complete tear of the right ACL as a high school senior. He sprained the MCL in his left knee at Penn State two months after abruptly becoming Ohio State's starting quarterback. He broke the right ankle on the first play of the 4th quarter of the Michigan game that same season. Right, left, right. It all took just 25 months.
The ACL tore when J.T. Barrett was still just a name among Ohio State's verbal commitments. Those names fill two categories: Native Ohioans or From Somewhere Else. He was the latter, so Buckeye fans had to read about him or find grainy videos online to see what his best plays looked like. He was still a bit of a mystery because of that right knee.
He was very easy to find among the lists you want your recruits to be on - here's Barrett with his esteemed contemporaries atop the national composite dual threat QBs rankings of 2013:
247 COMPOSITE: TOP 5 DUAL THREAT QB PROSPECTS OF 2013

|   | Quarterback | SCHOOL | COLLEGE HIGHLIGHTS |
| --- | --- | --- | --- |
| 1 | ASIANTII WOULARD  | UCLA | Never played at UCLA, transferred to USF, never played at USF. |
| 2 | J.T. BARRETT | Ohio State | Three-time team captain, 2016 Silver Football Winner, 1st-team All-B1G 2014 & 2016, 3rd-team AA 2014, B1G Freshman of the Year 2014, B1G QB of the Year 2016, Fiesta Bowl MVP, school record holder for career TDs, passing TDs, total yards in a season, average total yards in a season, season TDs, season passing TDs, TDs in a game, passing TDs in a game (twice, tied with himself), completions in a season, career completions, career passing yards per game, 200-yard passing games in career, passing efficiency in a season, most 200-yard games in a season, most 200-yard games in career, most 300-yard games in a season, most 300-yard games in career, most 400-yard games in a season, most wins by a 1st-year starting QB, most rushing yards by a QB in a game, longest rush by a QB. B1G record holder for TDs in a season, freshman of the week awards in a season, should break the B1G record for total career TDs this month. |
| 3 | AARON BAILEY | Illinois | Transferred to Northern Iowa. |
| 4 | MALIK ZAIRE | Notre Dame | Appeared in 14 games at ND; grad transfer to Florida. |
| 5 | DAMION TERRY | Michigan State | Career backup; appears situationally in games. |
Ohio State accepted his commitment while Mentor's Mitch Trubisky (6th on that list) held a committable offer, which means Meyer got his guy, the right guy. Sure, Cardale Jones recommitted after a stint at Fork Union, but Barrett was Meyer's first QB recruit to Columbus. Shortly thereafter, his high school career ended by way of that right ACL.
The left MCL happened during a State College dogfight lasting two overtimes. Barrett's stat line was something Buckeye fans in 2017 might find familiar; 12/19 passing for a paltry 74 yards, a touchdown and two interceptions; one a pick-six. Odd, because 2014 was when all of those school records started falling. Tom Herman. Push passes. Devin Smith. With stats like that? Memories are weird.
Meyer had clamped down on the offense in white-out conditions and rode his quarterback's legs - left MCL throbbing - to victory. Barrett finished with 75 yards on 20 carries, along with the final two touchdowns. The comeback/tying one. The winning one.
"He's one of the toughest cats I've ever been around," Meyer said after BEATING PENN STATE.
The difference in this recurring, agonizingly puckered strategy with Meyer's fingerprints all over it was that Ezekiel Elliott got 26 carries that night, so you don't remember Barrett's 74 passing yards. Zeke ate plenty, the Buckeyes won and Joey Bosa had that walk-off sack.
You also don't remember that he did it with the left MCL sprained because of what happened at the end of the following month. You don't. Meyer does. 
That showdown in East Lansing - arguably the most impressive, pressured, high-stakes road performance by a freshman Ohio State quarterback, ever - was still two weeks away. His offense ripped a hole in Michigan State despite NFL talent everywhere and Dontre Wilson practically shaving points.
The right ankle happened 21 days later in the north end of Ohio Stadium with the B1G East already clinched and the Michigan game in the balance. It's the one injury you saw and the only one you remember, because everyone saw it. His leg shattering was re-televised throughout the Buckeyes' championship run. One day Barrett was Ohio State's field commander. The next day he was on a scooter.
Right, left, right. That awkward, bulky leg brace he wears each game is on the left, the plant leg. His right - the one with all the surgery scars on it - that's the push leg. Barrett's body has tolerated plenty on account of playing football. It's also taken in a full collection plate. Perhaps it's been worth it.
He will leave Ohio State as its record-holder without peer, which one would assume comes with blind adulation. First he was an afterthought, then he was a savior, now his place as Ohio State's starting quarterback is openly questioned by the media, fans and high school recruits who will never share a locker room with him. 
His records are a lie. Anyone who plays as much as he does will set records. He can't throw. He's scared. He's indecisive. He's not the same since the ankle broke. Try someone else. Try anyone else.
It comes from all directions. Right, left, right.
---

Barrett has been a team-leader since Day 1, a fifth-year senior who is 26-4 as a starting quarterback.
That is the first line of his official Ohio State bio. It's the epitaph-in-progress for a sport where the average lifespan is under four years. Barrett has already been at Ohio State for five; a college graduate who stuck around for a taste of immortality despite reasons upon reasons to leave. He's Methuselah with a letter jacket.
Those reasons include already being a conference and national champion, bowl game MVP, multi-record holder and multi-year captain. His legs are full of scar tissue as is his psyche. Barrett could also end up being benched as a team captain, though that's doubtful. Besides, he already knows what that feels like - it happened two seasons ago. He's been a team captain at Ohio State more times than he's not been a team captain at Ohio State. Read that sentence twice.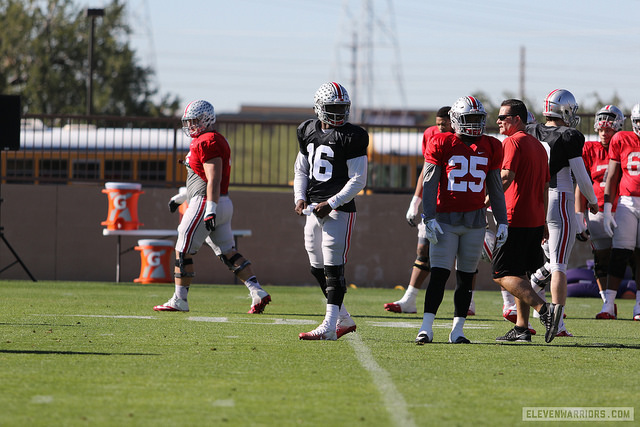 The point is you can't hurt him. He's arguably the numbest Buckeye in program history. Barrett was already one of the toughest cats Meyer had ever seen three years ago. It's impossible.
Number 16 is the most scorned and celebrated, appreciated and disparaged player in Ohio State history. Barrett impairs the Buckeyes; Barrett saved the Buckeyes. Barrett can't throw; ten out of the 23 school records Barrett currently holds literally involve throwing the ball.
Barrett holds the Buckeyes together. Barrett tears the Buckeyes apart.
He chose this path, perhaps out of naivety, back on April 18, 2012. At the time we said:
This pick up is huge for Ohio State, as Barrett is rated as one of the top quarterbacks in the country for 2013 and fits Meyer's offense like a glove. He now becomes the heir apparent to Braxton Miller and will likely have the opportunity to learn under the current OSU quarterback for two seasons when he arrives in Columbus.
It was a safe prediction. Barrett arrived on campus in 2013 and has since been invisible, misnamed, renamed, triumphant, broken, benched, unbenched, arrested, triumphant, adulated and maligned during that span. Those five seasons might as well be 50. He's grown up a bit.
The definition of Meyer's offense has also evolved a bit since Barrett's 2012 commitment. It used to be predicated on the inside running game opening up opportunities on the outside and putting enough pressure on a defense to batter it into submission in the back half of games. It relied on...hey Pantoni, what was that word again -
I'm excited to see Joe Thomas lead this team. We have his back and are confident he's going to do big things with this offense! #Distributor

— Mark Pantoni (@markpantoni) August 19, 2014
Right. #Distributor. Making decisions and reads at the line and then everywhere else. No one on Ohio State's roster has performed that better since Troy Smith. No one on the current roster is close.
This philosophy has been hard to pin down since Herman's departure, which is especially befuddling with Kevin Wilson allegedly running an offense that looks curiously like the one Meyer has historically overruled in tense situations. It puts undue pressure on the quarterback to make plays while half a dozen high-star recruits - some of whom can outrun the entire opposing roster - observe or block.
Barrett is the most visceral cog in Ohio State's sputtering offense, because he's what you see. You don't see the play call, you do see the quarterback, you rarely see what receivers are doing unless the ball heads in their direction. Right, left, right. 
When we chatted with him days after his verbal commitment, he told us:
11W: What made you feel like it was the right time to be a Buckeye?

Barrett: I just felt 100% about the school being where I belong. I love what Coach Meyer is doing there and wanted to be a part of it...My parents and coaches didn't really know I was going to make the decision, but I just spoke to God and make the call that this was the place I needed to go.
Two and a half years after God told him to go to Columbus, he was getting bludgeoned by the Virginia Tech defense in his Ohio Stadium debut. Disaster. Season over.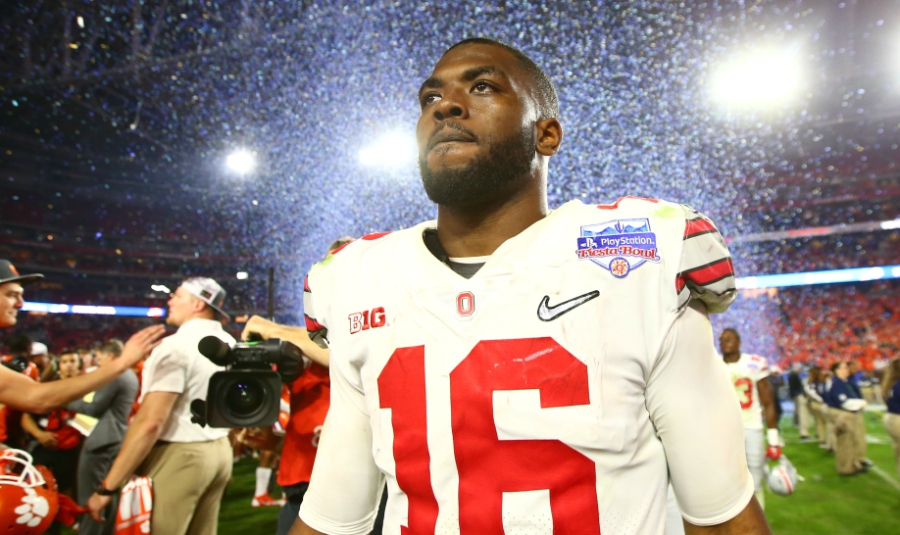 A week later Barrett notched his first school record with six touchdown passes. But we learned more about him in defeat than we did against either Navy or Kent State, the victories that sandwiched it. You might not remember much about that. Meyer does.
That's why he's a three-time captain. That's why Barrett, who is on his third position coach and fourth offensive coordinator is still Ohio State's starter in 2017 after a myriad of statistically deficient performances, including in 2014. It's why Meyer trusts him to guide an offense with a disheveled right side of the line and exactly zero reliable difference makers to distribute to once again.
There's a lot to get angry about there, yet most of the ire is directed at the familiar cog in the machine. Meyer is notorious for having trust issues - he appears to not trust Wilson yet with the schematics - yet he trusts Barrett implicitly. In return, the quarterback seems to mirror his head coach in that regard as it is abundantly obvious that Ohio State, for the second straight season, has not provided Barrett with a single receiving target he trusts or even favors.
That's because of what he sees. Meanwhile, he is what we see. Barrett holds the ball too long because he hasn't trusted where the ball was going since the days when he didn't hold the ball too long. Yes, Methuselah absolutely used to let it rip. In every game.
Barrett threw his receivers open all the damn time. You might not remember that. Meyer does.
---

Of course he's culpable for his statistical regression. You watch the games. It's a team sport.
You can't see him laboring despite the creeping liability of his strong-side protection, because he refuses to. You rarely see him tense up when receivers quit on routes, run the wrong ones or waltz right into coverage. That hasn't changed since that first Virginia Tech game. Distribution involves more than sharing a ball. He guards the team against emotional defeat.
He's only let his frustration slip when the sideline is incapable of getting plays in to match the tempo. The knees are fine; the arm is more than capable - his receivers have dropped perfect touchdown arcs in consecutive weeks. Yes, there's plenty to be angry about from play calling to position coaching to delegation.
Barrett is the most visceral cog in Ohio State's sputtering offense. he's what you see.
Barrett absorbs most of that anger. He was one of Meyer's toughest cats years ago. You can't hurt him. He lost his first senior year to the ACL. He played through the sprained MCL without wincing. He lost his title run to the shattered ankle. He's not losing his final senior year to a philosophical crisis, a lousy September loss or a valid excuse. Those are easier. There's no surgery or scooter involved.
He'll play through this, the same way he always has. He'll be maligned and critiqued as Ohio State quarterbacks always are. He'll get his two dozenth school record later this month and will own several conference records by the time he's finished. Meyer got the right guy back in 2012 when Barrett chose Ohio State. He still has the right guy starting games today.
And you might not believe that. Meyer does.