It's 2017 and #Zone6 is a touchy subject.
That unit begins with Zach Smith, the only remaining offensive position coach from Urban Meyer's first Ohio State team in 2012. He also happens to be Earle Bruce's grandson. Zach's boss, who has hiring and firing obligations for the football program openly and affectionately says Zach's grandpa is like a second father to him. Hey, what are you trying to say? Nothing, man. So touchy.
While Meyer may be very close to Earle, he is completely detached from "his" Twitter account, which is run on his behalf. In case you're wondering, the newly-hired Kevin Wilson doesn't do his own tweets either. Larry Johnson has an account, but he mostly just retweets stuff. The football program has a robust social media presence that operates in a manner that allows coaches to focus on other tasks. There is one exception.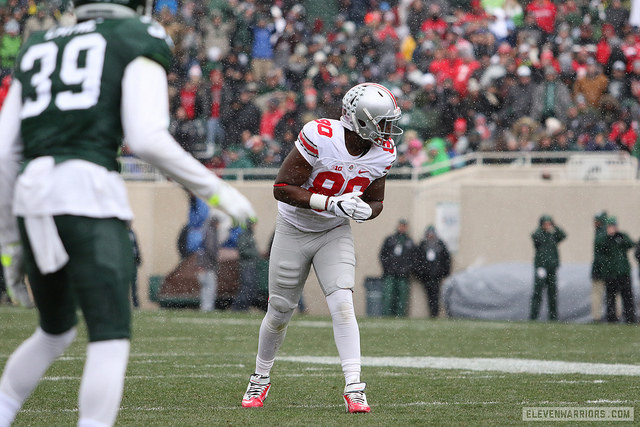 Smith is prolific in social media. He gets Twitter, celebrates #teen lingo and can sprechen sie millenialzie as well as any Thirtysomething Dad. If it makes you cringe, fine - but Smith is currently 247Sports' top-ranked recruiter in part because of his engagement skill. Being braggadocious is the culture of his unit and an important part of who he is.
And in 2017 talking shit on Twitter doesn't disqualify anyone from coaching football players or having nuclear codes. Move on.
But #Zone6 is still a touchy subject, in part because it's difficult to come to a consensus on baseline facts, like does Curtis Samuel count as a wide receiver? The h-back position he occupied is multifaceted. I would argue it's disingenuous for a player who had 97 carries to also be submitted as evidence of unit competence for wide receivers.
Samuel was a difference-maker, on the ground and through the air. And #Zone6 was a comprehensive non-factor in 2016. Yeah, it's a touchy subject.
It's difficult to even pin down a starting point, so let's begin this exercise productively by agreeing Smith's Twitter game isn't it. Instead let's start with Michael Thomas.
COLLEGE MICHAEL THOMAS VS. PRO MICHAEL THOMAS
OHIO STATE BUCKEYES 2015
NEW ORLEANS SAINTS 2016
GAMES
CATCHES
YARDS
TDS
GAMES
CATCHES
YARDS
TDS
13
56
781
9
15
92
1,137
9
How did a guy who was only 3rd team All-B1G cruise to over 1,000 receiving yards in his rookie season? Okay, I'll say it: Drew Brees is better than J.T. Barrett. But Thomas is also significantly better than Jehu Chesson, Jordan Westercamp, Aaron Burbridge and Alex Erickson, who made the 1st and 2nd teams ahead of him. Their offenses treated them differently.
Ohio State had a guy in 2015 who would break every Saints rookie receiving record in 2016. Thomas is a mismatch on any field, an enormous asset both literally and figuratively and hey, he had just two catches for 8 yards in the loss to Michigan State, which had the 76th-ranked passing defense in the FBS. Yeah yeah yeah, the wind that day. It's a still a touchy subject.
Thomas caught seven balls in the Sugar Bowl against Alabama, then proceeded to never top that total for the rest of his career. The Buckeyes not only failed to feed Zeke against Sparty, they didn't give Keyshawn Johnson's nephew the damn ball either.
HOW TO BE A COMPLETE WIDE RECEIVER

| ATTRIBUTE | WHAT THIS ATTRIBUTE LOOKS LIKE DURING A FOOTBALL GAME | HISTORIC OSU EXAMPLE | 2016 #Zone6 EXAMPLE |
| --- | --- | --- | --- |
| BODY CONTROL & AGILITY | Avoiding obstacles. Adjusting body in space. Flexbility to stretch and get hands in position to catch poorly-thrown balls.  | Devin Smith | Noah Brown |
| PHYSICAL STRENGTH | Ability to get off the line while being jammed, fighting for position for high and 50/50 balls, endurance to absorb rough contact for an entire game. | Michael Jenkins | N/A |
| SOFT HANDS & FOCUS | Catching a ball in traffic, amidst chaos and while taking contact or on the verge of getting hit. | Dane Sanzenbacher | Noah Brown |
| FIND OPEN SPACES | Operating within the playbook to find the proper depth for a route. Seeing space in coverage, finding it and sitting down. Vision and intelligence to dissect what defense is allowing. | Philly Brown | N/A |
| COMPETITIVE SPEED | Ability to run away from defenders and gain separation. It's game speed vs. track speed. | Ted Ginn Jr | N/A |
| COMPETITIVE DRIVE | Wanting the ball, needing the ball, insisting on getting the ball. | Michael Thomas | N/A |
So 2016 happened right after 2015 happened - and the two men in charge of Ohio State's passing and playcalling have both now matriculated elsewhere. These changes happened similar fashion and with identical urgency to how Everett Withers worked his way up to James Madison head coach after the Silver Bullets fielded the 83rd-ranked passing defense.
Ed Warinner first sold Meyer on hiring Tim Beck, with whom he called plays in Kansas a decade ago. That pairing did not work in Columbus. It's a touchy subject.
It appears Meyer held Warinner responsible for the failure of his offense, and if you blame the head coach first for meddling and overruling those two guys during games (Urban calls all the shots, yes, your Well Actuallys have all been heard) try to remind yourself that Urban only micromanages whatever he does not trust. This isn't all that complicated.
Warinner delivered Beck. Earle delivered Zach. It's touchy.
#Zone6 IS coming off a SEASON where nobody emerged as a star, consistent threat or even a potential matchup problem.
This past season whenever Ohio State's wide receivers weren't easily erased by contact at the line, they ran primitive routes and failed to gain separation. Noah Brown had five catches for four touchdowns at Oklahoma, including the catch of the year. There wasn't a single difference-making game from any member of #Zone6 outside of that evening.
Brown finished the season with 402 yards, the fewest by a leading OSU wide receiver going back to Bernard Edwards in 1991 (as a standard rule and for our own well-being we refuse to acknowledge that Jim Bollman's 2011 offense ever existed). Even Jalin Marshall had more yards and catches in a secondary role last season. That's not good enough to create problems for any defense, let alone take enough pressure off Samuel, Barrett or Mike Weber.
Nobody emerged from the unit. Parris Campbell, Terry McLaurin and James Clark combined for just 30 catches on the season yet they were all on the field constantly. Either the better receivers weren't healthy enough, trusted enough - or there were no better receivers. None of those explanations is good. 
The Buckeyes entered 2015 with one complete wide receiver and anticipated Brown, coming off a catastrophic injury, would be that guy in 2016. He was not, and worse - no one else in Smith's room was even close. K.J. Hill, Ben Victor and Austin Mack were all expected to contribute, however early on they may be in their careers. They had 24 catches between them. Hill had 18 of them. 
#Zone6 heads into 2017 coming off a year where nobody emerged as a star, consistent threat or even a potential matchup problem. That room loses Brown, Corey Smith and Dontre Wilson but gains Eric Glover-Williams, Trevon Grimes, Brendon White and Jaylen Harris. It also gets a proven offensive mind back in charge of calling plays and a new coach for developing quarterbacks. 
So with all that's being done to reinvigorate the offense outside of wide receivers, what will Meyer do if 2017 produces another season where #Zone6 does nothing more than collect participation ribbons while failing to elevate one, two or even three receivers into the realm of being complete, matchup problems or difference-makers? 
Let's not even go there. It's a touchy subject.