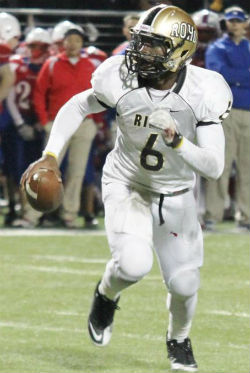 When Wichita Falls (TX) Rider QB JT Barrett took an unofficial visit to Ohio State back in March it was clear he was high on the Buckeyes and that it may not be long before he decided to be a part of what Urban Meyer is building in Columbus.
While it took him almost a month to pull the trigger, Barrett did make the decision to be a Buckeye, becoming the tenth member in the OSU recruiting class of 2013 late last week.
In Barrett, the Bucks get the number one quarterback on their recruiting board and bring in a player ranked as a four star and number one dual-threat quarterback by 247, a four star and number six quarterback according to Rivals, a four star and seventh ranked signal caller by Scout, and a four star and twelfth ranked quarterback by ESPN.
Cardale Jones is in Columbus, but the Buckeyes don't have anything else behind Braxton Miller, making this pick up even bigger for the future after the current Ohio State starter leaves Columbus. The Buckeyes are likely to take two quarterbacks in the class of 2013, but offensive coordinator Tom Herman can now sleep easy at night knowing that Barrett is in the fold and there is talent on it's way to campus.
We caught up with JT to hear more about his decision to become a Buckeye, when he plans enrolling, what he will study at OSU, and more. Join us after the jump to hear more about the possible next big time quarterback to come to Columbus, JT Barrett.
You decided to commit to Ohio State last week. What made you feel like it was the right time to be a Buckeye?
I just felt 100% about the school being where I belong. I love what Coach Meyer is doing there and wanted to be a part of it. If you talk about the elite programs in college football, Ohio State is always mentioned as one of them, if not the first one. My parents and coaches didn't really know I was going to make the decision, but I just spoke to God and make the call that this was the place I needed to go.
What did Coach Meyer say when you committed?
He told me he was already having a good day, but the news made it a great day. He also told me that I just made the Buckeyes a better team.
What did your parents think about your decision?
They weren't really shocked, but they were happy for me. It was funny because they were kind of indifferent to it, but both were pretty happy.
Have you spoken to any of the other OSU commits since you made the news public?
Yeah, I have been in touch with Ezekiel Elliott, Cam Burrows, and Jayme Thompson. I am trying to get in touch with Marcus Baugh as well.
Any plans to visit OSU again in the near future?
I want visit in the summer to workout there and get my mom up for a visit. It was just my dad and me who went in March to see the school, so I want her to see it.
Now that you're committed have the coaches talked to you about working on anything specific?
They haven't really spoken with me about that. I am just speaking to Coach Herman often about both football and life in general.
When do you plan to enroll at Ohio State?
I will be enrolling early, so I'll be up there in January of 2013 and go through winter workouts and spring practice, which will be beneficial.
Do you know what you will major in yet?
I was thinking finance, but now I am not sure. Either way it will be something in the Fisher College of Business, but I am just not sure which exact discipline it will be yet within the school.
Obviously when you get to Ohio State Braxton Miller will be a junior. What do you feel about the opportunity to learn behind a player like that and if you have to are you willing to redshirt?
Learning from Braxton would be a good experience. I'd love to get tips and learn from him both on and off the field on how to have success at the college level. I have been behind good players in high school like in my sophomore year, and know that those types of experiences only help you if you let them. I am going to let Braxton help me. As for redshirting, I am fine with it if that's what needs to happen. Doing that could even help me with school in the sense I can concentrate a bit more on taking more credits so that later in my career when I'm playing more I could take less credits or even graduate early and focus on football.
If you could say one thing to Buckeye Nation what would it be?
I would just say thank you for welcoming me and Go Bucks!
HIGHLIGHTS: