Lousy things tend to happen when J.T. Barrett is peaking.
He had piled up 1,353 total yards and a dozen touchdowns while leading Rider (TX) on a six-game winning streak before tearing his ACL in October 2012. The injury abruptly ended his high school career. He watched his final season unfold from the bench.
Two years later Barrett was thrust into Ohio State's starting role. You remember what happened, but we always owe it to ourselves to revisit those details whenever possible so no fan ever takes his performance for granted: Four B1G POTW awards, 19 school records, two B1G records, 3,772 total yards, 45 touchdowns, B1G Freshman of the Year, B1G QB of the year, 1st team All-B1G and 2nd team All-America. He finished 5th in Heisman voting.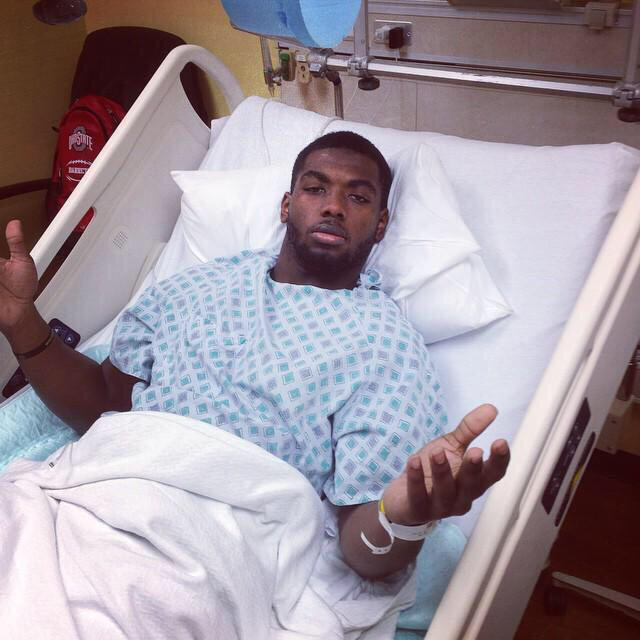 He also finished that season with an ankle broken so badly a plate had to be inserted into his leg to stabilize it. His teammates, who arrived at the postseason in large part to his record-shattering freshman campaign proceeded to dance on stages in Indianapolis, New Orleans and Arlington. He watched a championship season unfold from a scooter.
When Barrett found himself lifting the Fiesta Bowl's MVP trophy on the stage in Glendale to complete last season, it was the first time he had ever been able to end a football season on his own terms. That happy* ending* was accompanied by a couple of unfortunate asterisks. 
The first was that Barrett wasn't able to start 2015 on his own terms, having lost his starter's role to postseason savior Cardale Jones. Once that decision was made, all of the stories about his character behind the scenes – his unsolicited, impassioned sales pitches to recruits; his glowing locker room presence and demeanor - were out in the open for cameras to spy on. He openly cheered on Cardale and the team. He watched his comeback season unfold while wearing a headset. Then he got his shot.
And once he was fully rehabilitated from his gruesome injury and able to get back on the field and start clicking again the way that he had been prior to his ankle surgery, a serious lapse in judgement sent him to the bench for the fourth time in his football career. That's the second asterisk. Lousy things tend to happen when Barrett is peaking.
There's no third asterisk because Barrett owns as many as two more seasons to accomplish any or all of the following: 1) Continue his assault on Big Ten and Ohio State records for offensive production and accolades 2) lead the Buckeyes back to the conference championship game and CFB Playoff with an unassailable level of roster talent alongside him 3) visit New York City in December; a glamour trip no Buckeye has been able to make in a full decade. 
Think about that for a second: Beanie Wells, Terrelle Pryor, Braxton Miller, Carlos Hyde and Ezekiel Elliott never even got an invite. Zeke had all of the stars aligned to make it happen. Meanwhile, Barrett finished 5th in the voting as a freshman in an incomplete season.
Ohio State's State of the Program isn't what it was in 1998, which is still arguably the strongest team it has ever produced. This past season wasn't that same generational shot at immortality that catastrophically went squandered; the Buckeyes are now equipped to fulfill that level of aspiration on an annual basis - and in 2016 one of the biggest reasons for this is the return of Barrett and what he is proven to bring on the field, from the bench and behind the scenes.
J.T. Barrett is championship glue. All the talent in the world cannot win a title without it.
He is their championship glue. All of the talent in the world cannot win a title without it.
Another necessary component to winning the biggest prize is urgency. Barrett's four career benchings were not preceded by any precipitous decline or lapse in performance. It is a cruel irony that his world has been turned upside down right as he was playing his best football, and it's hard to recall a Buckeye on any level (Robert Smith?) who carried the same level of gratitude for just being able to play.
In between his first home start (the most talked-about loss of the 2014 season) and his most recent home start (the most talked-about loss of the 2015 season) Barrett has gone from emerging as a team leader from the underclass to being the team leader. He's the best-known commodity the Buckeyes have had since Braxton entered the 2013 season.
This means Ohio State's coaches should know exactly how to use him, with all of the new players lined up in front of and around him. Barrett is a distributor. It's how he was originally introduced when he he was thrust into starter's role. Hell, it was even a hashtag.
I'm excited to see Joe Thomas lead this team. We have his back and are confident he's going to do big things with this offense! #Distributor

— Mark Pantoni (@markpantoni) August 19, 2014
That philosophy worked in 100% of games where he had both a cooperative offensive line paired with unafraid playcalling, the latter of which his coaches rediscovered unfashionably late last season ahead of their trip to Ann Arbor.
Two seasons ago Barrett played behind an offensive line that gelled before our eyes, while throwing to either unknown or previously pedestrian receivers. He handed off to a new tailback and operated an offense predicated on scoring as many points as quickly as possible. He's already done everything we hope he he's able to do in 2016. This time the lights won't be quite as blinding as they were back then.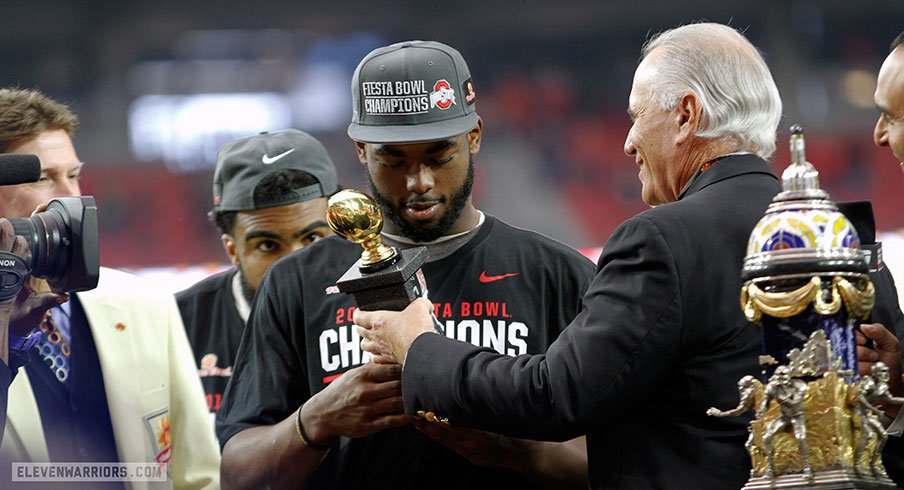 There is no college quarterback on this planet or any other in any time - Alex Smith 12 seasons ago, Tim Tebow in his prime - better equipped to run Ohio State's offense in 2016 than Barrett is. You cannot train, prepare or coach the urgency or gratitude that he brings to the position.
He's already one of the favorites to win the Heisman Trophy and, based on the youth and inexperience he's perceived to have at his disposal, is probably in the best position to win it. The Heisman is both about the performance and the story behind it, and Barrett's got stories, man. His program is about to flood the NFL with rookie contracts. His face is now the face. Ohio State is no longer college football's all-star team. It's Barrett and a whole bunch of stars in the making.
Which means the next story he writes will have a whole new cast of characters in it. Hopefully this time Barrett will be able to enjoy that happy ending, at his peak, on his own terms.