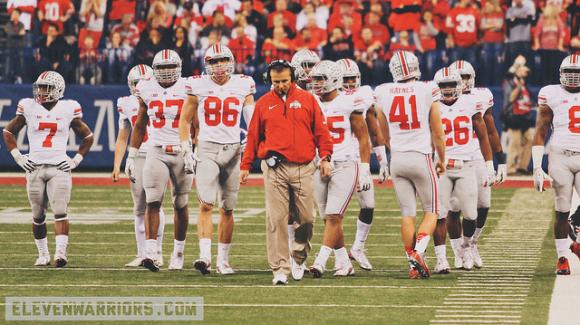 INDIANAPOLIS – It was the same Urban Meyer. The guy who won two national championships at Florida – one at the hands of Ohio State – led Utah to an unbeaten season and won 24 consecutive games as the Buckeyes' head coach.
It wasn't 41-14, but what Mark Dantonio – a Nick Saban and Jim Tressel protégé – concocted Saturday night at Lucas Oil Stadium is no less surprising. Ohio State was one win away from the national championship game, one win away from reaching a destination where demons from 2006, 2007 and 2011 could be extinguished.
But after erasing a 17-point deficit and taking a seven-point lead, the Buckeyes couldn't finish, falling 34-24 to Michigan State in the Big Ten Championship Game.
"That probably is the best team that we've faced in the past two years," junior linebacker Ryan Shazier. "They beat us."
Of all things, even on a night when defensive coordinator Luke Fickell will catch heat, a curious play call and going away from Carlos Hyde are the things many will attempt to decipher.
On 4th and 2 late in the fourth quarter – the play of the season – Ohio State ran Braxton Miller, not Hyde, to the right, not up the middle. Offensive coordinator Tom Herman said it was a play the Buckeyes practiced with success, adding Michigan State happened to execute better.
Perhaps more interesting outcome was 18 carries from Hyde after he'd been a workhorse the previous nine games and enjoyed success running against the Spartans. He finished with 118 yards and averaged 6.6 yards per carry. For two years, Meyer and Herman often went to what they referred to as their bread and butter. It produced 24 wins in a row, but on Saturday they finally looked mortal.
In the first half, second-ranked Ohio State fell behind 17-0. For those 30 minutes, Hyde received just eight carries. On multiple possessions, Hyde started drives with considerable gains only to not see another carry for three or four plays. And then another 10- or 15-yard run would take place.
"I definitely felt like we took over control," Hyde said of the Buckeyes' comeback. "We came out and started clicking on offense, and started scoring points. We came out pretty good in the second half. We started going back to our basic plays, running the ball, power plays and a few tight zone plays."
But it didn't happen consistently.
"It was difficult to try and find formations and plays that allowed us to have a chance to get him the ball. He did well," Herman said. "I was proud of that. It's certainly a mindset as we start talking about plays and formations on the headset, you're always trying to get it to him, but you have to make sure you have the necessary hats accounted for."
Adjustments by Michigan State contributed to Hyde's lack of carries, according to Herman.
"There's always 1,000 different things you could have done different in games like this," he said.
On the fateful fourth down play, Meyer said he wanted the ball in the hands of their "best player." 
Meyer's record in big games is by no means tarnished, though a noticeable blemish now adorns his resume. It still reads two-time national champion, 7-1 in bowls, 2-0 in national championship game, 2-2 in conference championship games, 22-3 against rivals and includes four undefeated conference regular seasons.
On consecutive weekends, the Kings of College Football – Meyer and Saban – have suffered stunning defeats, ending the coronation and possible matchup for the BCS National Championship. Alabama's loss last week opened the door for Meyer to win his third national title and close the gap on Saint Nick.
The 24-game win streak comes in a different light now. The accomplishment is worthy of applause, but an asterisk indicates Ohio State never beat a top-15 team during consecutive 12-0 regular seasons. In the end, the Buckeyes were a good team with flaws that could be easily exposed.
Offensively, they could hang against even the top-ranked defense in the country. Ohio State was held way under its season averages for yards and points by Michigan State, but the Buckeyes still could have won the game. The pass defense is the area that was ripped apart by opponents, the media and fans throughout the season – and for good cause. 
That issue arose again in the biggest game of the season – Connor Cook looked like the Heisman contender instead of Braxton Miller – and the Silver Bullets self-destructed with several inopportune penalties at critical moments. Combine that with an offense that converted just one third-down attempt and it's a lethal cocktail.
It's no national championship or Rose Bowl for Ohio State. For Meyer and the Buckeyes, it's on to regrouping after a crushing loss that ended hopes of the ultimate prize.
Said Hyde: "We're hurt right now."