The 11W Community Interview is truly of the people, by the people, and for the people. You submit the questions, vote on them, and then we pass the top ones on to the biggest names in the world of Ohio State athletics.
Welcome to the first 11W Community Interview of the 2015 Ohio State recruiting class, forever dubbed as Elite '15. As of today, this group of young men sits nine commitments deep with more, it seems, being added every day. Last week, Ohio State added number seven, number eight and number nine to the fold. Heck, they even went ahead and threw in a second 2016 commitment for good measure.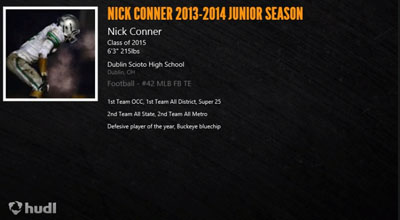 Commitment number seven was Dublin Scioto standout athlete Nick Conner, a 6-foot-3, 225-pound linebacker, fullback and tight end who selected the Buckeyes over Michigan State, Oregon, Boston College, Ole Miss, Kentucky and about a dozen others. 
Today, Nick took some time out of his schedule to become the first member of the "Elite '15" to sit down and field your questions in the 11W Community Interview series. Let's get started. 
---
Describe the feeling of finally receiving that Ohio State offer and what was going through your mind while waiting for it? - DubJayFootball90
NC: To be honest, my thoughts were "It's about damn time." When I was waiting for it, it was a constant struggle because I knew it was the one I wanted but for some reason I wasn't getting it and I couldn't understand why. I will just say it was worth the wait.
Were you close at any point to giving up on the OSU offer? - DMcDougal24
NC: Honestly if I didn't get it there (at camp last week), I probably wouldn't have went back to Ohio State.  I would have had to wait tell after the season and I would have felt like I was a second or third choice. Again, I'm glad it happened when it did.
 Can you take us through the process of your recruitment (the ups and downs) and when were you sure you had achieved what the coaches expected of you to earn your offer?  - AllinOSU
NC: Well at first I started off visiting schools like Illinois and Kentucky, because I didn't get much attention during my sophomore year, I played travel baseball and it kept me from focusing on one sport. I knew this year I had to choose between football or baseball, and decided on football. I worked hard, I went to a couple different camps and once I did the Michigan State camp I knew I was getting that offer.  I felt that was I was the best linebacker out there and it was at that point when I knew I had to get the Ohio State offer. I went and camped and showed them that I was worthy.
Your highlight film shows a rare natural instinct to find the ball.  What was the best compliment that you received from Coach Meyer? - BuckGuyFan1
NC: First of all, thank you for the compliment. I think am a very instinctive player who loves the game of football. In my time talking to the coaches I think the best thing that I love to hear is when they say they can tell I love football. Because not all kids have that, that passion that drives them to compete hard every single snap.
Now that you have finalized your recruitment, where does your focus shift going forward? Do you see yourself being a leader of this class, reaching out to other targets and building the strongest class possible? - LuckyNutz
NC: Absolutely, for sure I want us to have the best class as possible. After going to the Rivals Camp Series in Baltimore, there were a couple kids on my team who I'd love to bring with me to Columbus. The one player I'd want the most though is Christian Kirk; nobody could guard that kid - nobody. I'll talk to anyone anywhere to try and help get our class right.
Have the coaches mentioned using you on offense?  I have seen several highlights of you on the other side of the ball, is that something that is in the cards? - BierStube
NC: We have talked about that a bit, yes. They said I could be like a Zach Boren type, but on defense, playing different spots and moving to the offense if needed. I would be ok with playing a little offense if that's where the team needs me. I'll do whatever it takes to get on the field.
Will you look to enroll early or finish out your high school career in the spring and join the team during the summer? - MortC15
NC: Yes I have already set that up, I'll get to enroll at Ohio State early. My classes are already done and it's crazy to think I'll be there as a Buckeye in January 
What do you believe you can bring to this team that no one else can? - MikeNugents BigToe
NC: I think I'm a very good leader who leads by example, and other players will feed off of that. We will become a better unit and on the field and a closer group of guys off of it. I have a different mindset then most players because I will not quit until I win, and I never stop wanting to compete. 
Did anyone from within the Ohio State program give you any particularly great advice on how to use the desire to get a scholarship offer to become a better person and a better football player?  - BrooklynBuckeye
NC: Honestly coach (Luke) Fickell said he wanted me at their camp and he wasn't going to offer before that happened, and I respected his honesty with me. He said I needed to show up and prove to coach (Urban) Meyer that I have speed at linebacker he was looking for and that I am the right man for the job. It helped motivate me to go out and do it. 
Fickell said he wanted me at their camp and he wasn't going to offer before that happened, and I respected his honesty with me.
 Ohio State is known for having a number of outstanding linebackers over the years. How does it feel to be a part of a tradition that includes guys like Chris Spielman, Andy Katzenmoyer, AJ Hawk, James Laurinaitis, Ryan Shazier, and SO MANY others?  - TennBuckeye 19
NC: That's one of the reasons why I chose Ohio State, because of that great tradition at linebacker. I just want to go there and work hard and have my name on that list one day. That is a goal that I will achieve at The Ohio State University. I don't think some of the fans know how much this means, having this opportunity. It's a dream come true and I won't let it be wasted.
Ever since I came to one of the Saturday night games at Ohio State on a visit, where I saw the stands packed as I got to walk around the field, it's been a dream. It's incredible knowing that people call out my name in the stands. I remember just walking past the student section and someone I don't know screamed my name and I looked over and he said "I want you to be a Buckeye!"  I don't think there is a better feeling than being part of Buckeye Nation. I grew up tailgating at the Ohio State games and now kids will be tailgating for me and thinking I could be some kids idol some day? That's just amazing to me. I love the state of Ohio and couldn't be more pumped up to play for the 100,000 +fans out in the stands and the millions around the world. Go Bucks and thank you.