buckguyfan1
---
Member since 14 November 2012 | Blog
Helmet Stickers: 18,347 | Leaderboard
Voting Record: 2420 / 40
Recent Activity
You're so technical Hove. How about Slam? No, Boom it is.
Congrats again JTF. Miss you around here, but understand the leave of absence. Good Daddy.
I think for BB, Commits should come with a SWOOSH!
I guess I can turn off the red light now. I'm going to tear up the ticket and let you off with a warning BB:)
Glad they're the ones with a QB controversy.
Damn. I'm quite sure the 11 Warriors Staff and in particular Birm have a unique relationship with certain Buckeye Staff. While a select few may toss out terms such as dodging, most would consider this smart business practice. I trust both staffs and frankly believe that I should be privy to what ever information they release whenever they prepared to release it. It's OK to ask the questions, but have some freaking respect on how and when they answer.
It feels like we've had 2 Hurry Ups today. Awesome.
This is an A-Birmination of a class forming.
Safe to say this eating competition was not supported by Advocare.
It does Habu. This one should get more air time too.
I got a gift for them.
No need to worry. Ez takes it 85 yards to the house on the opening drive. He says that has a tendency to calm Buckeye players, coaches and fans nerves.
OK, I'm going to say it. Please please please let our kids stay out of trouble.
Urbz has done a very good job keeping them focused, but damn its a long off season.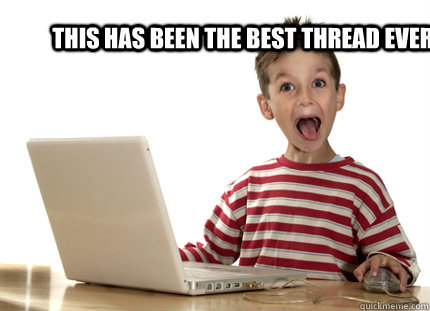 Welcome aboard TKM. Are you related to Squirrel?
Damn he's an effective Coach. By mid point this year, I think you could probably take our second team depth and put together a team pushing to break the top 20.
I rather enjoy hating those bastards on a daily basis.