tennbuckeye19
---
Tennessee (via Lancaster, OH)
Member since 09 October 2011 | Blog
Helmet Stickers: 13,981 | Leaderboard
Grew up in Ohio, the heart of it all. Moved to Tennessee after college for work and married a Southern Belle.
Favorites
SPORTS MOMENT: Grounding out every at-bat in little league.
COLLEGE FOOTBALL PLAYER: Tom Tupa, Chris Spielman
COLLEGE BASKETBALL PLAYER: Dennis Hopson, Jay Burson, Jim Jackson, Michael Redd, Scoonie Penn, Ken Johnson
NFL TEAM: Browns
NHL TEAM: Blue Jackets (not much of a hockey guy, but if I h
NBA TEAM: Cavaliers
MLB TEAM: Indians
SOCCER TEAM: Crew
Recent Activity
You had me up until Kirk Cousins.
My favorite part of Bert falling (which isn't in the gif above) is when he is helped up he gives the crowd a hearty 'rah rah' with his arm in the air and keeps walking like nothing happened.
I still can't believe Goose died...
Proud another Lancaster product will be playing in Columbus.
Maybe you should ask Thad.
I'm not making excuses, cause really I never thought I'd see the day that PSU swept OSU in hoops, but PSU is a better team this year. Tim Frazier missed all of last season with an achilles injury. Still, losing to them twice is pretty crappy.
Well deserved raise for probably the best MSU coach I can remember and coming off one of their best seasons in forever.
The only question will be if the success can continue or has he hit the ceiling in East Lansing?
My opinion on Turner is that he ends up at Kansas, especially if Joel Embiid goes pro (which most believe he will). If not Kansas, I could see him choosing Texas, to follow in his favorite player, Kevin Durant's footsteps.
I got the feeling that Harbaugh's goal was to be an NFL coach and was just waiting for the opportunity. If he leaves the 49ers, he'll get more NFL opportunities. I just don't see him going back to he collegiate level and like others have said, he still has a beef with his alma mater.
The wide receiver rotation could feature several names that were absent a year ago. Michael Thomas, Jalin Marshall and Corey Smith redshirted, James Clark played sparingly and suffered a season-ending injury and Jeff Greene was a transfer. That doesn't include an influx of freshmen skill players.
So many (unproven) weapons.
At this point I think we know what we have in Devin Smith and Evan Spencer. But it will be nice to see if all these new and inexperienced guys can have an impact on the offense. Wouldn't it be nice to have the wide receiver position be a strength of the team for a change?
Mason is talking a good game, but honestly, from living in the Nashville area for a while now, it's clear to me what Vandy's scheduling philosophy is (and has been). They will schedule 4 non-conference games they feel they can win and then hope to steal 2 conference wins to get bowl eligible. I don't see this changing.
Well it is Iowa. Those folks don't have a lot going on other than living and dying with the Hawkeyes. Kinda sad really.
One of my friends moved to Iowa City for a job several years back and couldn't wait to get outta there. He lived there for a couple years and refers to it now as "Back when he was doing time in Iowa".
I was having problems with the new site, but I got this guy to fix everything. He was a little rude though...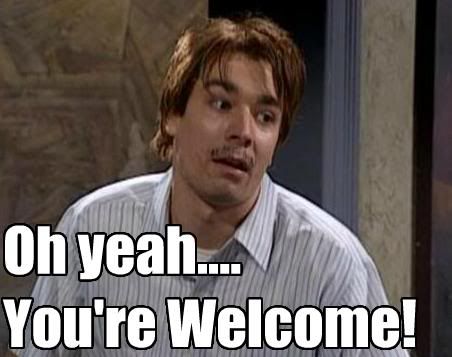 That's what made Gordon's season so crazy. He put up big numbers and lead the league in receiving yards despite missing games due to suspension and with instability at the QB position.
You're right. I'm still learning how to use the new site...
Yep. Definitely seems like the guy who'd step up to the urinal right next to you when there's others available...
BTW: If you watch enough IU basketball, you'll notice that Crean is a master of pants adjusting. Dude is always working his trousers over.
You're right, combines and workouts will be big for them. I think it should be Hyde going in the 1st round, but it will probably be Roby taken late in the 1st. Running back value is down overall, but, if a team falls in love with Hyde, he could sneak into the 1st round. Would be cool to have both taken early.
Guys like BuckeyesVsTheWorld and Hovenaut get 100 helmet stickers every night while they're sleeping...
Calipari's also quite the leaper.
Whenever I hear a coach say "he's the first guy in the gym and last one to leave" I crack up. Especially when I've heard them say it about multiple players. I picture several players all getting to the gym as early as possible and fighting to get in the door first and then waiting around at night to be the last to go, just so the coach can say that about them.