tennbuckeye19
---
Tennessee (via Lancaster, OH)
Member since 09 October 2011 | Blog
Helmet Stickers: 15,904 | Leaderboard
Grew up in Ohio, the heart of it all. Moved to Tennessee after college for work and married a Southern Belle.
Favorites
SPORTS MOMENT: Grounding out every at-bat in little league.
COLLEGE FOOTBALL PLAYER: Tom Tupa, Chris Spielman
COLLEGE BASKETBALL PLAYER: Dennis Hopson, Jay Burson, Jim Jackson, Michael Redd, Scoonie Penn, Ken Johnson
NFL TEAM: Browns
NHL TEAM: Blue Jackets (not much of a hockey guy, but if I h
NBA TEAM: Cavaliers
MLB TEAM: Indians
SOCCER TEAM: Crew
Recent Activity
No OSU offer, but he did have several good offers from big time programs.
Not sure if that's a serious question, but Lisa Salters is a sideline reporter that works for ESPN.
The highly rated kid that was signed to play basketball for SMU, Emmanuel Muiday and has now signed to play in China instead due to amateurism issues and possible eligibility concerns, was a student at Prime Prep.
Archie's pretty good at it too...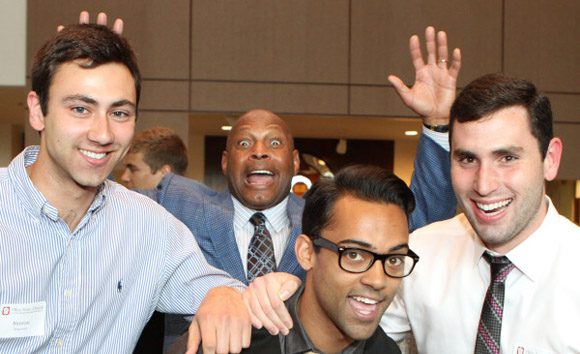 John Elway was an awesome player, no doubt. One of the best quarterbacks I've seen play.
But, if I saw the guy, I'd shake his hand, ask him for his autograph and if he'd take a picture with me, then I'd give him a swift kick to the groin on behalf of all Browns fans. It would only be right.
I saw Caliendo live a few years back. He does segments with each of his impressions and then for his 'grand finale' he had conversations between the characters. He'd go from Robin Williams, to George W. Bush, to Andy Rooney, to Morgan Freeman, to Bill Clinton, to Jerry Seinfeld and so many more. So funny.
Something happens to your body around age 40 that takes a lot away from physical abilities...
Menopause?
How fast could he run away from working with Beth Mowins?
That's what my grandma always said. She had to be home to watch "her stories" so she would plan her day around them.
Oh man, the fumbles...his fumble-itis made me nervous every time he touched the ball.
Nice. This should give OSU 3 quality non-conference opponents for 2015-16, with Kentucky, Memphis, and whoever they will play in the ACC/B1G Challenge. I like it.
Oh Snap!
Congrats Liam. Go Bucks!
The tourney started on Thursday with a play-in game on Wednesday, and it looks like the games are over for today (saturday). Not sure if there are games tomorrow.
Here's the official site. Looks like they have streaming from their site when games are being played. They also have box scores and stats.
I love how the article's source is 'Anonymous' and then when you read the comments, all of them are made by 'Anonymous'. There is so much anonymity going on with that article it's hilarious.
The bad thing about football is there are only a few options for a kid who goes undrafted. What is there, Canada and multiple arena leagues? Basketball players can go overseas and earn a pretty good paycheck or try to earn their way in the NBDL. I know some guys who weren't that good mid-major college players who've had decent runs playing basketball overeseas. The opportunities for a basketball player are almost endless cause almost every country has leagues.
If I'm understanding what Saban's saying, and there's gonna be a cap on draft grades, is it necessary to get a draft grade for a kid to declare? I mean did South Carolina really need a grade for Clowney? Is there gonna be a cap for the number of grades or the number of kids that can declare early or both?
Musburger got bumped to the SEC network and will be doing games with Jesse Palmer this season, not the prime time ABC/ESPN slot with Herbstreit like in years past.
Are you attempting a ranking of athletic programs or universities as a whole?
What about a conference that doesn't have a conference championship like the Big 12?
Well, the perception already is that the SEC is better than the B1G (which is hard to argue), so a team going through an SEC schedule will more than likely get the benefit of the doubt against a B1G team. Which sucks, but there's not a whole lot that can be done about it.
It's not a bad idea and it's been kicked around before, but I doubt it will ever happen.
From what I hear, Thad and/or Gene Smith aren't interested. Supposedly they don't feel like it would benefit Ohio State. And Thad won't play in Cincy. In order for something like this to take place or even just head to head match-ups with Ohio teams, OSU wants them to be played in front of a Buckeye-friendly crowd, which would mean Columbus or Cleveland.
What if 2 (or more) of the best teams in the country are from the SEC, though? Would you think they don't deserve to be in the playoff?
Kevin doesn't like noon games...
I'm pretty surprised you didn't see this coming. Down here in SEC country ever since the playoff format was kicked around and then announced, the thought has been that multiple SEC teams will be in the top 4 each year. Heck, there are some who believe 3 of the 4 teams could be from one conference.