Urban Meyer and the Ohio State staff know they need offensive linemen, especially for the 2014 season, as all five of Reid Fragel, Jack Mewhort, Andrew Norwell, Corey Linsley and Marcus Hall, this year's starting offensive line, will have moved on to the next level by the start of that season.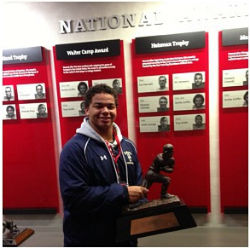 The coaches are looking at a large group of prospects in the 2014 class because of the need at the position, as there are only two offensive line commits in the 2013 class in Centerville (OH) OT Evan Lisle and Indianapolis (IN) Lawrenceville Central OG Timothy Gardner.
There could be as many five linemen in the '14 class if the numbers stay as is in this year's class. One of the top targets that OSU is looking at is Olney (MD) Good Counsel OG/DT Sam Mustipher.
Mustipher's high school is one of the most prestigious high schools in the country when it comes to football. In the last couple of years, they have produced Maryland WR Stefon Diggs and RB Wes Brown, 2013 Virginia Tech commit CB Kendall Fuller, and 2013 Clemson commit LB Dorian O'Daniel, and it appears Mustipher is the next big thing to come out of the program.
At 6-4/285, Mustipher boasts offers from the likes of Clemson, Hawaii, Illinois, Maryland, North Carolina State, Ohio State, Penn State, Pittsburgh, Rutgers, Tulane, and West Virginia. North Carolina, Notre Dame, and Wisconsin are among other schools expressing interest in Mustipher, and many more are sure to come in the next few months.
Mustipher was in Columbus for a camp this past summer and enjoyed his time in the state's capital. He decided to return last weekend to take in the Ohio State-Michigan rivalry and greatly enjoyed his time touring campus and attending the big game.
We caught up with the two-way lineman to find out about his visit, see what the coaches told him, learn when he would like to make a college decision, and more. Keep reading to learn more about 2014 OG Sam Mustipher.
How did you enjoy your visit to The Game?
It was amazing. I had never experienced an atmosphere like that. 110,000 crazy fans and a great rivalry, it was a special experience. It was an eye opener. Friday at the walk-through Coach Meyer asked me if I was ready for a game on the big stage and I said I was.
Which coach did you speak most with?
I talked to Coach Warinner, the offensive line coach. He told me I'd fit into their offensive line scheme if I went to the program, probably at the guard spot. He said he was going to look over my game film from the season too.
Do you have any schools standing out?
No, I do not have any favorites yet. I want to see more schools before narrowing my list.
When would you like to make a decision?
I hope to make a decision in the spring. I'll probably cut my list to five at the start of spring and make a decision near the end. I want to commit early to help the school I commit to recruit talent for my class.
What will be the biggest factors in your decision?
Probably academics. A degree is the most you can get for life after football. Also talent around me, coaching stability, and readiness for the NFL.
Are any schools that have yet to offer expressing interest?
At this point I've been in touch with Notre Dame, North Carolina, and Wisconsin that haven't offered yet. I'm hoping for those three next.
Do you have any visits planned?
I'm taking my next visit to Notre Dame, then hopefully Clemson and North Carolina. Then in the spring I'll schedule more visits.
What goals do you have for your senior season?
Definitely number one is to win a fifth straight state championship with my teammates. I also want to perfect my craft and get ready for Division I schools like Ohio State. Those are my main goals right now.
HIGHLIGHTS:
Other recruiting coverage from the weekend: