We had to wait an extra 24 hours this year since Ryan Day is a Tuesday kind of guy, but we've got our first game week presser today at noonish.
Be sure you're following @11W, Dan Hope (@Dan_Hope) and Colin Hass-Hill (@CHassHill) for updates from the Woody.
ICYMI
Word of the Day: Grift.
 OHIO STATE, STILL LOADED. I've got four more days to idealistically tell you how absolutely loaded this Ohio State team is before y'all start calling for assistant coaches' jobs and questioning the depth chart when the Bucks aren't up by 28 at the half on Saturday.
I know better than to remind you of Ohio State's composite recruiting rankings once the season starts, so I'm going to take full advantage of the brief time we have left where you still believe the Buckeyes are the greatest team the world has ever seen.
In terms of raw talent coming out of high school, Ohio State is absolutely stacked, coming in at No. 2 in 247Sports 2019 college team composite rankings.
|   | TEAM | 5-STARS | 4-STARS | 3-STARS | REC. AVG. | POINTS |
| --- | --- | --- | --- | --- | --- | --- |
| 1. | ALABAMA | 11 | 58 | 13 | 93.18 | 984.96 |
| 2. | OHIO STATE | 13 | 47 | 25 | 92.37 | 973.56 |
| 3. | GEORGIA | 14 | 46 | 24 | 91.91 | 961.85 |
| 4. | USC | 6 | 41 | 31 | 90.42 | 915.56 |
| 5. | LSU | 7 | 43 | 33 | 90.54 | 905.22 |
| 6. | FLORIDA STATE | 5 | 36 | 40 | 89.80 | 878.07 |
| 7. | TEXAS | 3 | 43 | 37 | 89.85 | 877.91 |
| 8. | OKLAHOMA | 5 | 45 | 30 | 89.68 | 869.37 |
| 9. | CLEMSON | 7 | 33 | 33 | 89.44 | 863.03 |
| 10. | MICHIGAN | 4 | 36 | 38 | 88.98 | 853.40 |
Basically, this is just a gigantic team recruiting ranking spanning multiple classes, ranking every team based on how the players on their roster were ranked coming out of high school.
I'm a documented idiot, but even I'm not stupid enough to think that this automagically guarantees any sort of success (I mean, USC is No. 4). Now Ryan Day's gotta actually do good things with these talented teens, but I've got a hunch he appreciates Urban's parting gift.
 RETIREMENT IS GOOD, ACTUALLY. I never in my life imagined I'd be writing hundreds of words about speculations that an assistant athletic director might be leaving Ohio State to go to USC, yet here we are.
With the way some humans are talking, you'd think that Urban Meyer has already inked a contract with the Trojans and will be back coaching college football in Southern California next season.
I don't buy that. I think he stays "retired."
A lot of my speculation is due to his health, but most of it is because by all accounts, he's genuinely loving retired life this time around.
From Heather Dinich of ESPN:
"Now (Urban Meyer)'s like, 'Oh, my God, we have a rowing team? Oh, my God, we have a synchronized swimming team? And they've won three national championships in the last six years? You're kidding me,'" (Gene) Smith said. "All of those things, it's really cool to watch. He had to understand our tennis program has won 11 straight Big Ten championships. 'Our tennis program is that good?' Yeah. There's a novelty, and he's a curious human being anyway; there's a novelty that he's enjoyed learning the administrative side.

...

He said he has had no regrets or second-guessing, even as the season opener quickly approaches.

"Not when I see how good it is," he said.

OK, so -- just to clarify -- is this really it?

"I think it is," Meyer said. "I know people get tired of hearing that, but I think it is.

"I knew when I stepped away [from Florida] pretty quickly that I had made a mistake, that I wasn't ready to step away, but I think this one's different."
Personally, I don't give a damn what he does with the rest of his life. He won a natty, never lost to Michigan and left Ohio State football than he found it while handing the keys to a rising star who plans to be here for the long haul.
Meyer's watch has ended, he can do what he wants. I just happen to think what he wants is also what he's currently doing. I don't know. I'm not going to pretend to know the guy, I'm just a blogger who can (mostly) read and took his class once.
Additionally, I never thought I'd #WellActually the athletic director (and presumably Urban Meyer), but the synchronized swimming team has actually won the national title four times in six years, and for the past three years.
Someone also needs to slip Urban my favorite stat that the synchro team actually wins national championships at a better rate (.762) than the football team does games (.727).
 BREAKFAST BOWL. If y'all thought Ohio State was going noon crazy this year, boy do I have news for you.
From John Ourand of Sports Business Daily:
The Pac-12 will not schedule any of its football games at 9:00am PT this season, as conference officials told the San Jose Mercury News' Jon Wilner last week. But Fox execs indicated that early games could be part of the 2020 schedule if it is marketed as a one-off event, similar to the NHL Winter Classic or a college basketball game on an aircraft carrier. "We would be interested in exploring opportunities beyond this season," Mulvihill said. "I take it as a validation of our noon strategy that we have another major conference that's open to participating and doing it in what would be an unconventional way."

The most likely matchups next season could involve non-conference games that include Big Ten schools that already would have been established in that window this season. Washington hosts Michigan in Week 1 in 2020, while Oregon hosts Ohio State in Week 2. I would expect Fox to push for one of those matchups to be the Pac-12's first 9:00am local time kickoff.
Ah yes, because "regular season football, but recklessly early for where it's being played!" is exactly the same hook as hockey in front of a massive outdoor audience and basketball on an aircraft career with active duty troops in attendance. Folks will flock through the gates like pilgrims to watch a football game instead of sleep. And it's certainly a big enough selling point to win over all the folks who will be watching it at a regular time in their time zones.
I know this would be a move purely for TV, but as my good pal Ben Koo – a west coast knower, unlike myself – pointed out to me last night, this is a logistical disaster. Eugene has a Penn State vibe in that no out-of-towner actually stays in Eugene for the game. Instead, they commute from Portland, which is about a 90 minute drive in light traffic, but a 2 or 3 hour drive on game days.
So... hope y'all like waking up at 5 a.m.
This thing hasn't even gotten off the ground yet and the only thing that can save it is a Waffle House sponsorship, in which case it would switch and I would be forced to run an unofficial PR campaign on behalf of this delightful event.
 A PLACE FOR BRAXTON? Given Cleveland's depth at receiver, it didn't seem extremely likely that Braxton Miller would make the Browns' final 53-man roster when they added the former Ohio State receiver last week (again, that would be one hell of a sentence six years ago).
Now, I don't mean to sound any premature alarms, but...
#Browns waived WR Jaelen Strong, who seemed to have inside track for roster spot.
This could open things up for Braxton Miller.

— Tom Withers (@twithersAP) August 27, 2019
Braxton Miller is absolutely going to have more catches than A.J. Green this year, isn't he?
 © NO COPYRIGHT INTENDED © is what the bio of the @buckeyesfansonly Instagram account reads, while shamelessly stealing damn near 100 percent of its content to push out to its 13,000 followers.
Instagram is full of grift accounts similar to this, but this one has got the be the griftiest grifter that's ever grifted.
Here is a small – emphasis on small – sample of their handiwork.
This one, you'll notice, is the photo from Dan's article yesterday (which we do not own but license from USA Today – who doesn't play around when it comes to their copyrights) with pretty much a sparknotes version of Dan's article in the caption:
(This post was deleted since today's flaying, but screencaps are forever)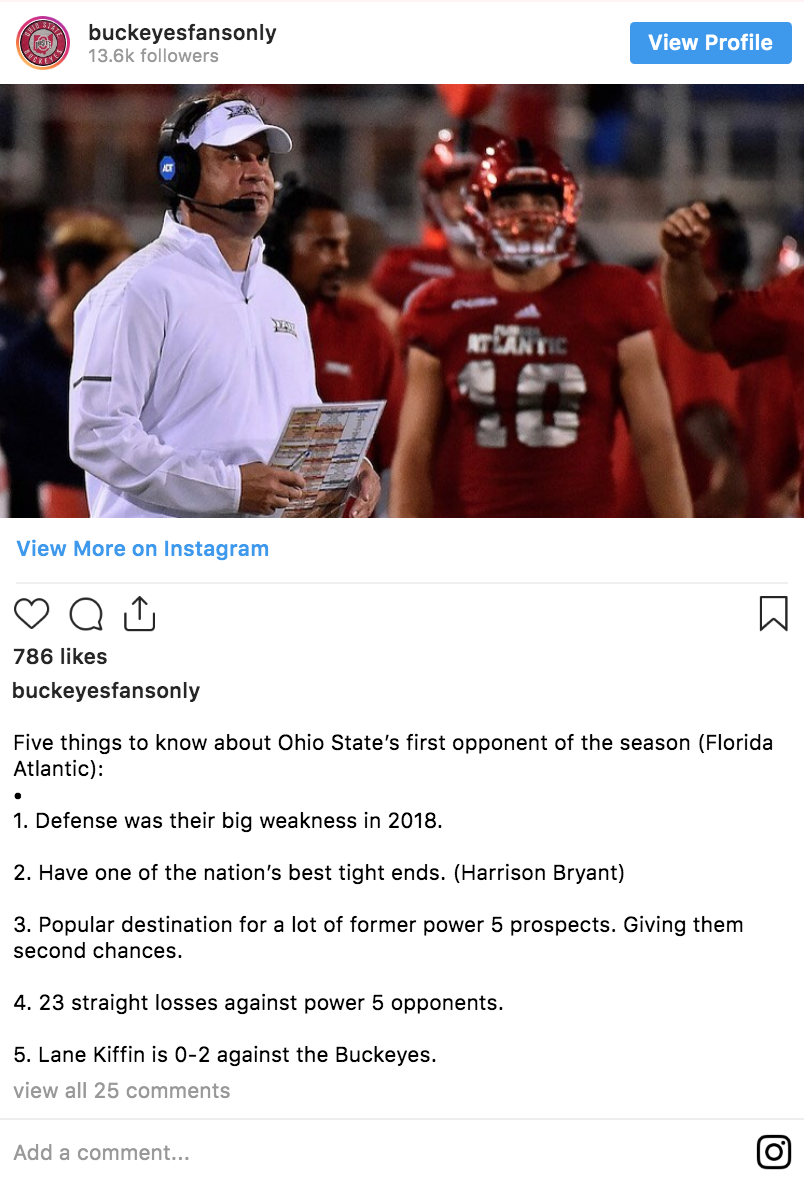 This one is somehow even more egregious, taking both the photo and the word-for-word description from Dan's article from Friday (again, deleted, but screencaps live on):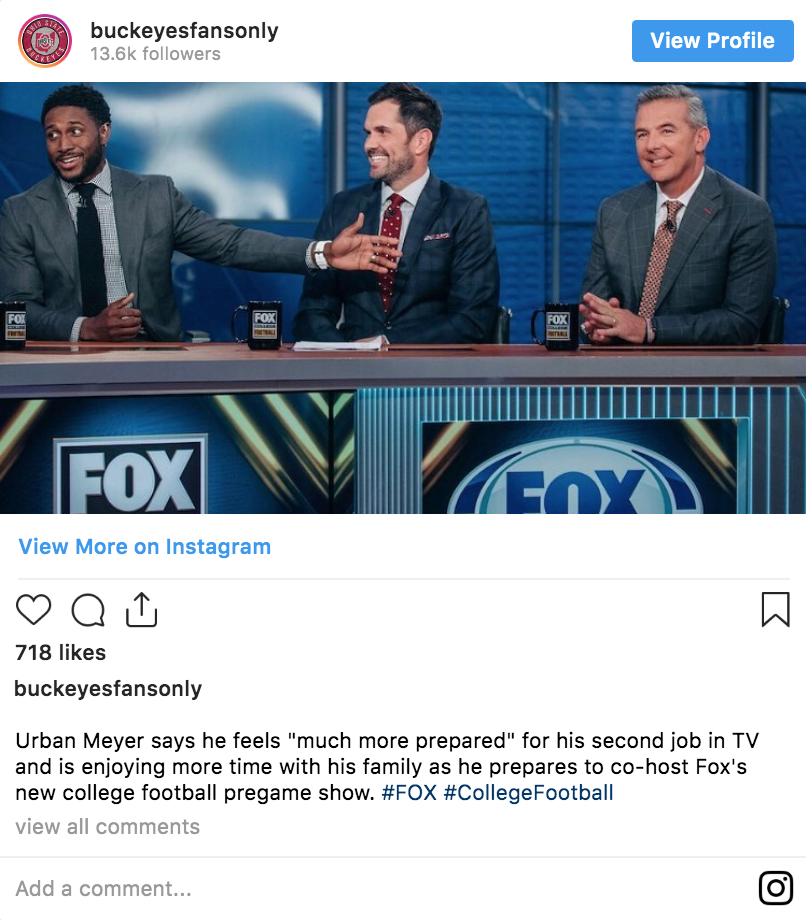 And still more egregious! – they copied Dan's description for his article word-for-word from the site, stole our photo (from a different article), and copied his list (in order!) into their caption with no citation at all.
Basically, they just uploaded Dan's work and our property and claimed it as their own.
And they do it all the time.
Another one that's been deleted since my callout: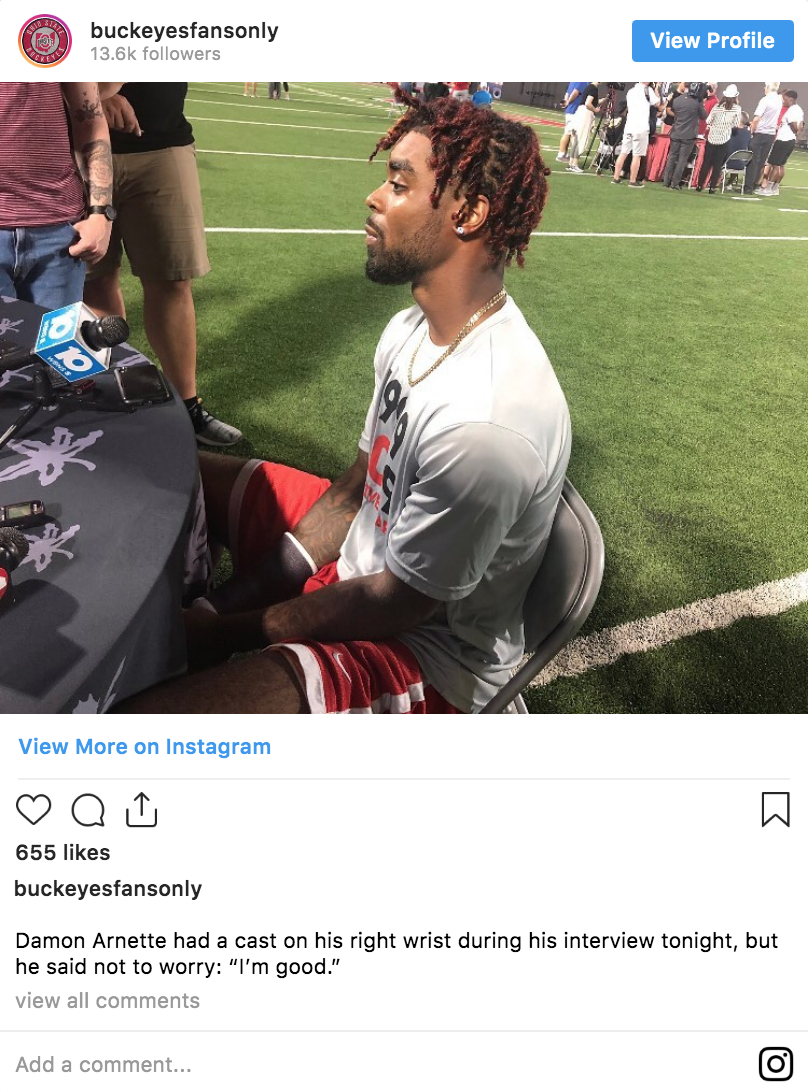 Damon Arnette had a cast on his right wrist during his interview tonight, but he said not to worry: Im good. pic.twitter.com/mi6FoKucaj

— Colin Hass-Hill (@chasshill) August 20, 2019
Their jokes are also... familiar.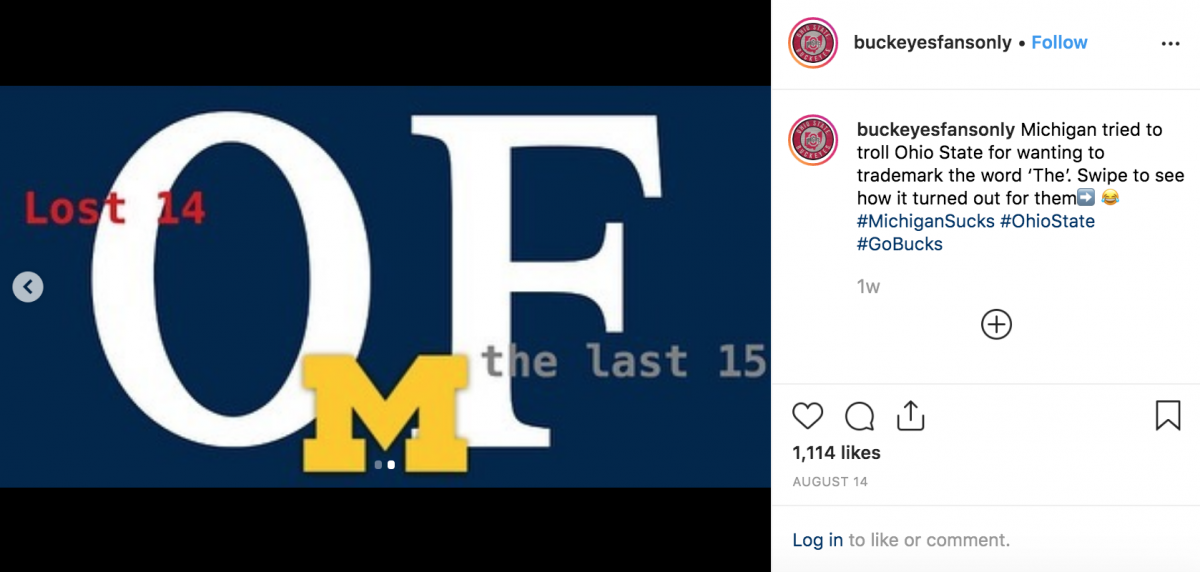 did I solve the puzzle pic.twitter.com/RvMmhw0Nve

— Ramzy Nasrallah (@ramzy) August 14, 2019
This one is particularly hilarious because they actually blocked Ramzy on social media after he called them out, yet stole his content a few days later. The circle of grift – block him, but continue to steal from him!
And this is not a new phenomenon. Nor is it something that happens rarely. This account literally only exists to steal shit.
They used to at least leave the Twitter handle attached to the content they harvest for their own purposes, as you can see: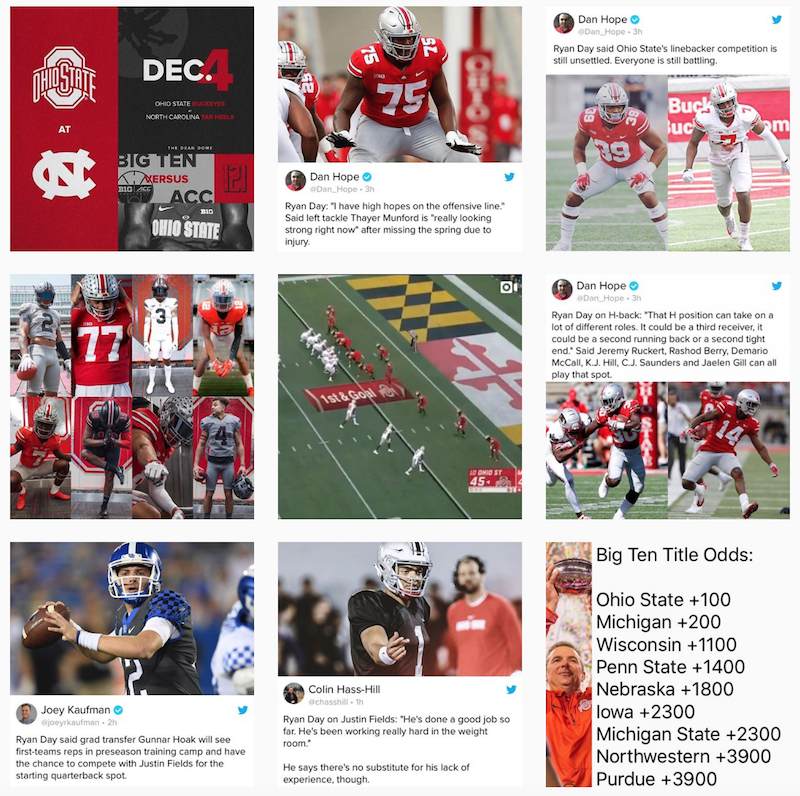 But now, they don't even hold those standards!
Here, they just screenshot of one of Colin's Tweets, but cropped out the linked Tweet (from 11W) and as well as any indication it's from Colin's Twitter:
All top-100 2020 commits in the Big Ten.

5. Fleming (OSU)
8. Johnson (OSU)
31. Corcoran (NEB)
46. Phillips (OSU)
61. Wypler (OSU)
64. Cooper (OSU)
66. Scott (OSU)
71. Miller (OSU)
80. Henning (UM)
81. McGregor (UM)
83. Wedig (UW)
89. Smith-Njigba (OSU)
100. Jennings (PSU) https://t.co/tLtbVNmqKM

— Colin Hass-Hill (@chasshill) July 8, 2019
And they did the same thing with this one, from Taylor:
Lejond Cavazos on winning the 7-on-7 championship with the Ohio State-heavy squad: This is the first of many.

— Taylor Lehman (@TaylorRLehman) July 3, 2019
And this one:
Mookie Cooper confirms his commitment has been moved up to next week at some point. Hes making the video this weekend. Said hes already notified the team hes committing to.

— Taylor Lehman (@TaylorRLehman) July 3, 2019
This formatting sure looks familiar...
And this, where they stole one of our photos, cropped our watermark off of it, and then credited @TheOpening, for some reason (when they do "credit" something, it's after they already removed a watermark, and 90 percent of the time it's crediting the wrong source):
And if you thought you – as a mere commenter – are immune:
This is far, far, far from a complete list. Like I said, there is almost nothing on that account that is original. As far as I can tell, every single photo, graphic, bit of information, or quote lifted from other sources, with no credit or citation given in most cases. It's blatant, too – there are even some cases where they've recklessly copied and pasted a quote with a typo in it.
And it's not just our stuff. At a quick glance, I've seen them lift things from Ari Wasserman of The Athletic, Joey Kaufman of the Columbus Dispatch, Bucknuts of 247Sports, Bill Rabinowitz of the Columbus Dispatch, Andrew Lind of Buckeye Sports Bulletin, Kyle Rowland of The Toledo Blade, Patrick Murphy of Bucknuts, along with what has to be well over a hundred photos from us and Lettermen Row.
And the best part: whenever somebody calls them out in the comments, that comment is swiftly deleted and their account is blocked. But remember – © No Copyright Intended ©
The irony of me – a professional content aggregator – bitching about someone stealing our content in a morning column that revolves around aggregated content is certainly not lost on me, but I've got standards!
First off, I always add my own commentary to whatever it is that I aggregate. And what I do aggregate, I credit everyone by name and outlet, I always provide links, I don't use photos without permission, I try to only use a small section of what they wrote, and I'm the first to tip my hat to excellent work and suggest my readers read the entirety of the pieces I link, cause Lord knows there are some talented folks on these Ohio State Internets.
They do none of those things. They just steal.
The bad news is, Instagram does not seem to care about this. We've all reported the account (and are now all blocked by the account) but Instagram has so far done nothing about it. Maybe if a few hundred/thousand more of you do it, something will change. But honestly, I wouldn't hold my breath. It's a grifters world, we're just living in it.
But hey, at least there's © No Copyright Intended ©
 NOT STICKING TO SPORTS. One American father's harrowing journey to get his kids back from the caliphate... The astronaut accused of committing identity theft from space... How a DNA database helped solve a horrific double murder... In the face of death, the party of a lifetime... Dairy Queen burgers are not made of human flesh, a county coroner is forced to confirm... When the public feared that library books could spread deadly disease... Inside the world of investigators who know you've faked your own death...