While the team he coached for the past seven years is going through its final preparations for its first game of the season at Ohio Stadium next Saturday, Urban Meyer will be sitting on a television set in a studio in Los Angeles, talking about the day's upcoming college football games.
As the Ohio State football team begins a new era and Ryan Day leads the Buckeyes through warmups for his first game as a head coach, Meyer will be starting a new chapter of his own, co-hosting Fox Sports' new Saturday morning college football pregame show – Big Noon Kickoff – alongside Matt Leinart, Reggie Bush, Brady Quinn and Rob Stone.
Big Noon Kickoff, which will air at 11 a.m. Saturdays leading into Fox's noon game (which is set to be the network's marquee college football time slot this season), will be directly competing against ESPN's College GameDay among other college football pregame shows, but Meyer is approaching his new gig with the same competitive drive that led Ohio State to 83 wins in his 92 games as the Buckeyes' head coach.
"As long as they're keeping score, we want to try to win," Meyer said in a phone interview with Eleven Warriors on Thursday following the preseason show rehearsal for Big Noon Kickoff. "We understand that the other group's got a 25-year head start and are great at what they do. So we want to not copy them, but certainly learn from them."
This isn't Meyer's first foray into working in television. In 2011, Meyer spent one season working as a college football analyst for ESPN before returning to the sidelines as Ohio State's head coach. Going into his new position with Fox, however, Meyer says he feels "much more prepared" than he did eight years ago. He said he has been studying other broadcasters, including the Fox NFL Sunday team, to get ready for when the first show goes live on Aug. 31.
"Obviously it was very new to me," Meyer said of joining ESPN in 2011. "I really had zero understanding of how television worked, and obviously I earned a great deal of respect for people that are great at their job and do their job well. So this is much different this time. Much more prepared, much clearer understanding of the way television works, the way directors and producers work, so like anything, you get better with more reps."
Perhaps most importantly, Meyer has been getting to know his new co-hosts and building relationships and chemistry with them, which he believes – not unlike a college football team – is the key to a successful broadcast team. And because of the success that he, Bush, Leinart and Quinn have all achieved in college football themselves, he believes they can offer a unique and relevant perspective about the sport.
"You're talking about two Heisman Trophy winners (Bush and Leinart), you're talking about an All-American at Notre Dame (Quinn)," Meyer said. "And I can bring something where very few people have been, and that's in the national championship locker room and how to build a program, how to motivate a team, how to (handle) strategic situations that come up during the course of a game, so that's where I think my value is."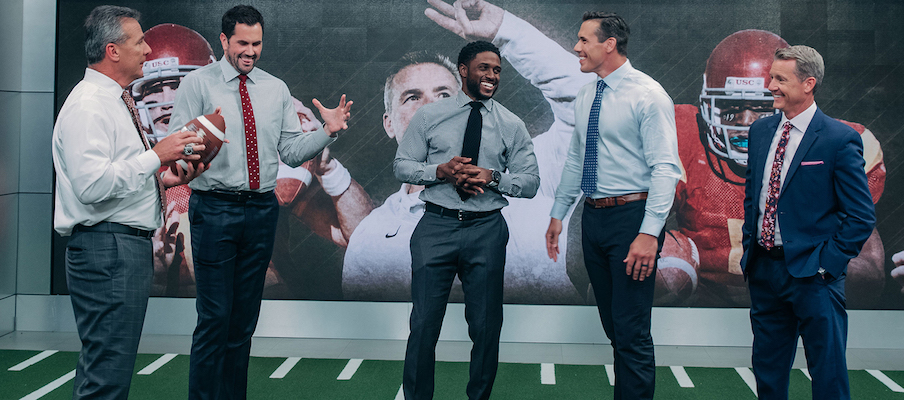 In addition to his work with Fox on Saturdays, Meyer will also be appearing on multiple shows on BTN this fall. Those will include a weekly segment with fellow former college football coach Gerry DiNardo, in which they will provide X's and O's analysis from the weekend's games around the Big Ten, as well as a weekly appearance on BTN's daily studio program, The B1G Show.
Meyer is still working for Ohio State as an assistant athletic director, a role in which he has been involved with donor relations as well as with the Eugene D. Smith Leadership Institute, which provides leadership, character and career development opportunities for Ohio State student-athletes. He said he will also be meeting with the captains of all of Ohio State's sports teams once a month, and he's "really looking forward to that."
As he did this past spring, Meyer will also be continuing to teach the "Leadership and Character" class in Ohio State's Fisher College of Business alongside senior lecturer Charles Buchanan. 
Meyer is also preparing to open a restaurant, Urban Meyer's Pint House, in Dublin, Ohio, this fall, though he says he will not be involved in the restaurant's daily operations.
"That would be the worst thing for the restaurant if I had anything to do with that," Meyer said.
In order to balance all of those different ventures simultaneously, Meyer said he has had to be "very tight" with his schedule. From his decades of experience coaching and recruiting, though, Meyer is no stranger to being busy – and even with his multiple new roles, stepping away from coaching has allowed Meyer to spend more time with his family, which was one of the primary reasons why he chose to retire as Ohio State's head coach in December.
"It's great, but it's also you also have to retrain your mind," Meyer said. "I'm still going through it. For example, I took my son to West Point and Boston College and Bowling Green and Toledo and I would have never been able to do that. And then I've been able to do other things with our family that time has almost never been there, and the way I used to go about it, I really would never take time off.
"I've always tried. And thank God I got three wonderful kids and a wonderful wife of 30 years. I've tried, but my engagement wasn't there. Really, most of the time, I was preoccupied with some situation in recruiting. So it's their time. And I think they really enjoy having a dad that's engaged with them."
Although there continues to be constant speculation that Meyer will ultimately return to the sidelines, Meyer has said that he believes he is done coaching, and as of now, he isn't regretting his decision to retire. It helps that he still has the opportunity to be around college football and around Ohio State, where Day is now following in his footsteps while many of his other former staffers also remain on board.
"It's every coach's dream to build a program and then hand it off to the guy that you believe in, and I really believe and have incredible respect for Ryan Day," Meyer said. "And everybody who's worked so hard in that program, all the administrative staff still have their jobs and it's going well when I'm watching practice. It's a great-looking team, and I love Ohio State and like I said, it's every coach's dream to be welcomed back and be around the players and be around the coaches and know that they're appreciative, as well."
Meyer has attended several Ohio State practices in the weeks leading up to the season, and said he has been in communication with Day "fairly often," though not every day, as Day prepares for his first season leading the program.
"I'll check on him, and he'll reach out to me and say, 'Can we talk about this?' but obviously, I've really been through every situation you can imagine," Meyer said.
"It's going well when I'm watching practice. It's a great-looking team, and I love Ohio State and like I said, it's every coach's dream to be welcomed back and be around the players and be around the coaches and know that they're appreciative, as well."– Urban Meyer on attending Ohio State practices this offseason
Meyer said he will be "cheering extremely hard for the Buckeyes" as he watches their season opener against FAU next Saturday, which will be televised on Fox immediately after the premiere episode of Big Noon Kickoff. He acknowledged that it could be difficult to be objective about Ohio State as an analyst, with a roster full of players he either coached or recruited, but he recognizes that's a part of his new job.
"My job is not to attack people or attack decisions, it's 'How would I handle this?' or 'What was the coach thinking?'" Meyer said. "So obviously, we haven't been there yet, but when that comes up, I just got to do a good job with it."
Asked whether he will refer to Michigan by name or continue to call the Wolverines "the team up north," Meyer said that's still "to be determined."
Meyer and the rest of the Big Noon Kickoff crew will appear on Fox at 4 p.m. Saturday for a one-hour college football season preview show, Fox College Football Kickoff.