Game week has officially arrived at Ohio State.
At the end of the week, Florida Atlantic will fly up to Columbus to play the Buckeyes in the first game of the season for both teams, which is scheduled for a noon kickoff Saturday at Ohio Stadium.
The Owls are best known for their head coach, former USC and Tennessee head coach Lane Kiffin, who has a history of being more outspoken than the typical college football coach – including on Twitter. As a result, he's usually at the center of attention for the football program in Boca Raton.
Given that FAU has never played Ohio State before and that the Owls don't see the national spotlight regularly except when Kiffin is in the news, you might not know much about them entering this week's season opener. 
We're here to change that with Five Things to Know, our first look at Ohio State's opponent entering the first game week of the season.
Defense Was Their Downfall in 2018
Florida Atlantic ranked 14th in the Football Bowl Subdivision in total offense (478.8 yards per game) and 45th in scoring offense (31.1 points per game) last season, yet finished the year with a record of just 5-7. Much like the team that will be hosting them on Saturday, the Owls' weakness in 2018 was their defense. They ranked 85th in yards allowed per game (424.4) and 92nd in points allowed per game (31.8).
Also like Ohio State, FAU responded to its defensive struggles last season by overhauling its defensive coaching staff this offseason, bringing in Glenn Spencer – who was the defensive coordinator at Charlotte last year, and was previously the defensive coordinator at Oklahoma State for 10 years – to replace Tony Pecoraro as defensive coordinator. The Owls return only one defensive assistant coach (safeties coach Wes Neighbors) from last season.
FAU has six returning starters on defense, including linebacker Rashad Smith, who led the Owls with 86 total tackles and four interceptions last season. They'll need to perform at a higher level on that side of the ball, though, to have a chance to stay competitive with Ohio State and to have a chance to make a run at a Conference USA title, as they did in Kiffin's first season in 2017, when they went 11-3.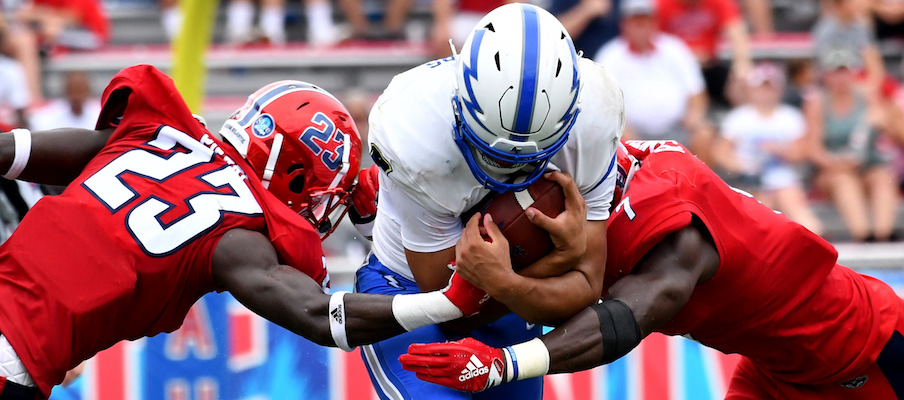 One of the Nation's Best Tight Ends
There aren't a lot of players on FAU's roster who rank among the FBS' top players at their respective positions, but the one FAU player who can legitimately be described as one of the nation's best is senior tight end Harrison Bryant.
The only returning player on FAU's roster who earned first-team All-Conference USA honors last season, Bryant caught 45 passes for 662 yards – seventh-most among all FBS tight ends in 2018 – and four touchdowns. 
Pro Football Focus selected Bryant as a second-team All-American last season, and USA TODAY's Paul Myerberg ranked Bryant as the second-best tight end in college football entering this season.
Former Power 5 Prospects Getting Second Chances
Since Kiffin arrived at FAU two years ago, the Owls have become a popular destination for once-highly touted recruits who began their careers at Power 5 schools but opted to transfer elsewhere. 
FAU's current players who began their careers at marquee programs include former Oklahoma quarterback Chris Robison, former Alabama running back B.J. Emmons and former USC nose tackle Noah Jefferson, who were all four-star recruits out of high school.
Nick Tronti, who has competed with Robison for the starting job in preseason camp (Kiffin has yet to officially name a starting quarterback), transferred to FAU from Indiana. The Owls' roster also includes a former Michigan player, defensive end Ryan Veingrad, though he was a walk-on for the Wolverines. 
FAU was expected to have two additional high-profile Power 5 transfers on their roster this season in former Florida State quarterback Deondre Francois and former Auburn offensive tackle Calvin Ashley, who was a five-star recruit out of high school. However, both of them opted to transfer to historically black colleges at the Football Championship Subdivision level instead; Francois is now at Hampton and Ashley is at Florida A&M.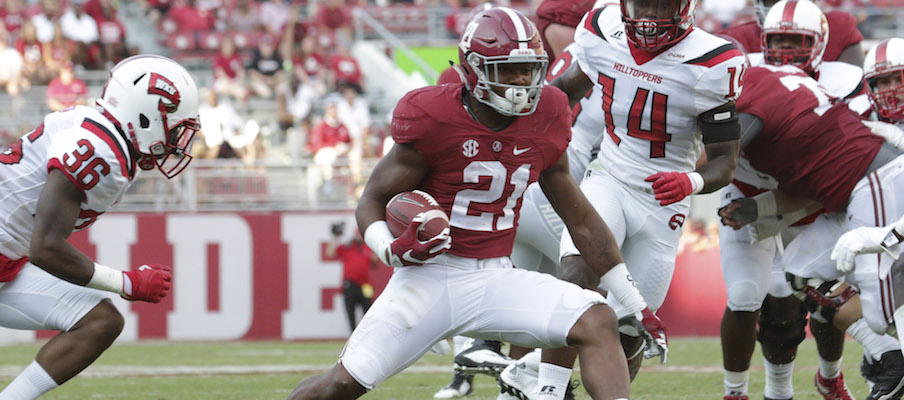 23 Straight Losses Against Power 5 Opponents
It would be an enormous upset if FAU beat Ohio State on Saturday – the Owls were a 27.5-point underdog on Bovada as of Sunday night – and it would be FAU's first win over a Power 5 opponent since 2007, when the Owls earned a 42-39 win over Minnesota.
Since then, FAU has lost its last 23 games against Power 5 teams, and most of them have been blowout losses.
This is the second straight year FAU has opened its season with a road game against one of the top teams in college football. Last season, the Owls started their year with a 63-14 loss at Oklahoma.
Kiffin is 0-2 Against the Buckeyes
Lane Kiffin has never gone up against Ohio State as a head coach, and he hasn't played or coached in a game at Ohio Stadium. But he has been a part of two teams that lost to the Buckeyes.
Most memorably, Kiffin was the offensive coordinator at Alabama when the Buckeyes defeated the Crimson Tide, 42-35, en route to winning the first-ever College Football Playoff five seasons ago.
Kiffin was also a backup quarterback for Fresno State in 1994, when the Bulldogs played the Buckeyes in the season-opening Pigskin Classic in Anaheim, California. Ohio State won that game, 34-10.