Four prominent NBA players were among the dignitaries attending Saturday night's Ohio State game against Notre Dame.
But only Evan Turner attended Ohio State. Boston Celtic Jayson Tatum - who wore an autographed Ted Ginn jersey to the game - is a Missouri native who attended Duke. Golden State Warrior Andre Iguodala is from Illinois and attended Arizona.
Los Angeles Laker LeBron James did not matriculate academically beyond high school and chose his favorite college team. That's the typical Notre Dame fan origin story, but James is not typical.
Those four were part of a cavalcade of celebrities and professional athletes on campus over the weekend. Aside from the NBA guys, there was one other athlete who raised eyebrows.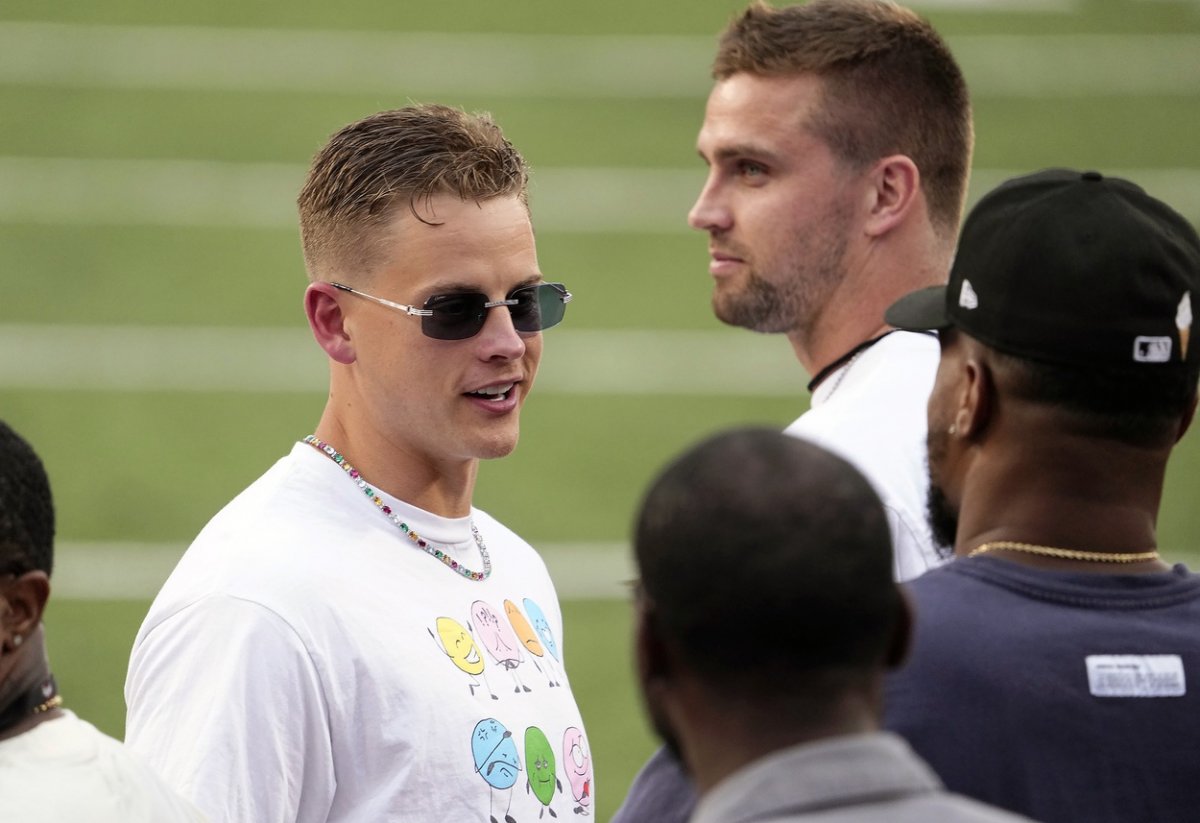 The sight of Joe Burrow - Ohio resident since the age of nine with a two-year sabbatical in Louisiana - attending his alma mater's football game was quickly translated to ipso facto he is a Buckeye first despite his transcendent grad school performance at LSU.
It was an effervescent scene for the soap opera that accompanies each college football season. But beneath the veneer of four dozen professional sportsmen returning to campus to be showcased for aspiring celebrity millionaires as proof of Ohio State's value proposition is the inescapable fact that most of us who attend college meet the best friends of our lives there.
2 of Joes best friends rocking the LSU gear at the game sat. night . Thx Stephen and JT !!!!! And Mom . pic.twitter.com/NRTr00rYdx

— Jimmy Burrow (@CoachBurrow) November 27, 2019
Ohio State quarterbacks Stephen Collier and J.T. Barrett owning LSU gear isn't light treason. It's a wholesomeness overload. Because those guys are going to be friends f o r e v e r.
College is about leaving home for the very first time and meeting a whole bunch of new people. A decade later, you've been to the same weddings! You all find work somewhere and maybe kids start appearing.
Days are long but years are short. Decades pass and you still carve out time to see each other to provide updates while telling stories about the younger, superior versions of yourselves. College friends came together at a critical juncture in their lives.
It's a pivotal four years or so - barely a snapshot of a long life. You'll write each other's eulogies.
Burrow chose LSU to fortify the football employment opportunities he wasn't quite able to solidify in undergrad. He was attending reunions in Columbus as an LSU grad student because that's where his friends were. Of course he was there Saturday night.
It's a bit wet blankety for the recruiting wars, but that's how college works when you do it correctly.
Joe burrow coming back to o state should tell u something ab the brotherhood!!

— Brandon Inniss (@brandon5star2) September 5, 2022
Burrow's alma mater, per its head coach, is as close and as bonded as any of the ones which preceded it - which means both of these things can be true. The rich and famous guys who came back to campus love their school and revere the brotherhood, but they miss their college buddies too.
So while it's fun to suggest it, Joe Burrow is not the poster child for Ohio State's robust program culture in 2022. You're thinking of Xavier Johnson. Buckeyes beat the Irish! Let's get Situational -
OPENER | THE CRUELEST SWITCH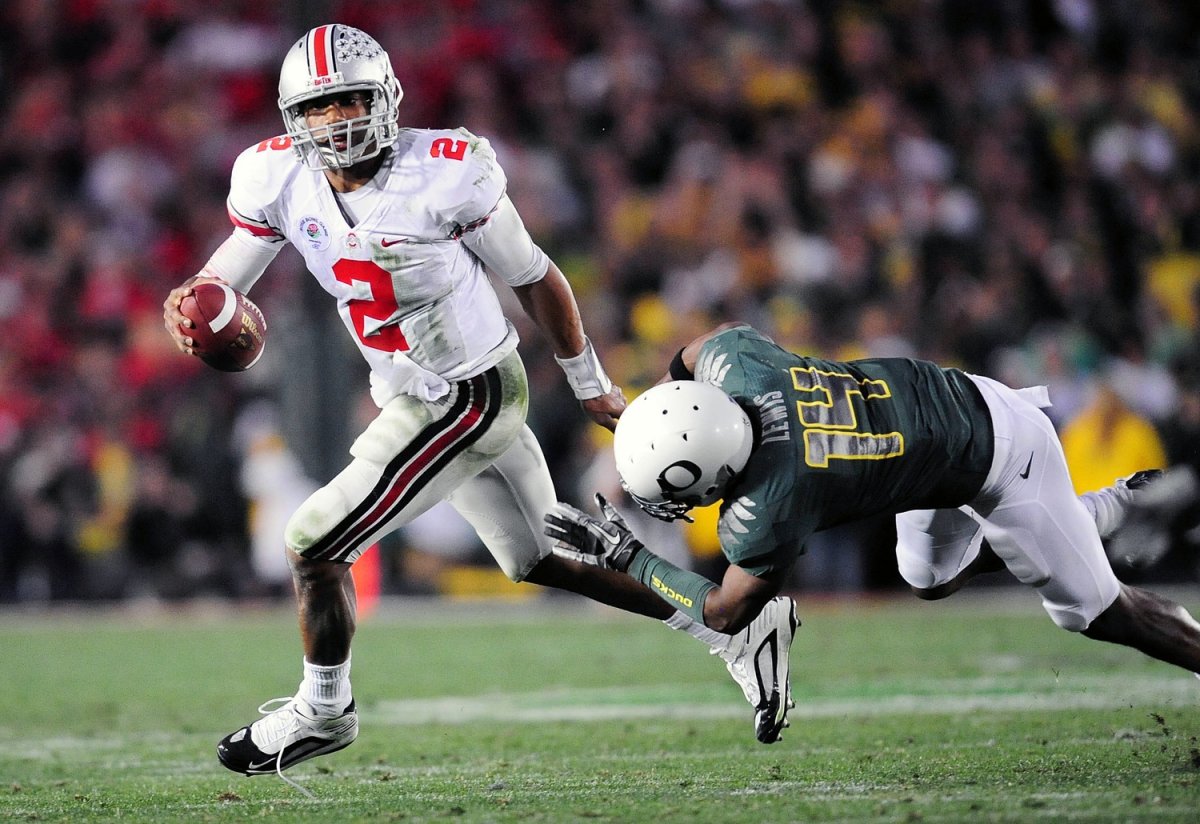 A dozen years ago a dynamic, finesse football team that had averaged north of 40 points over 11 games was favored to win the Rose Bowl over its opponent, which had scored 40 points just once all season.
When the game ended, the underdogs left Pasadena with a nine-point victory by executing a strategy football scientists call keepaway. The favored dynamic finesse team was held to 17 points.
Ohio State ended up with over 40 minutes of possession, highlighted by an eight-minute 19-play field goal drive in the 2nd quarter and capped by a five-minute, 11-play 39-yard drive which ended the game. It was a three-hour strangulation at the base of the San Gabriel mountains.
The Buckeyes never allowed the Ducks to find their rhythm, and Jim Tressel vs. Chip Kelly transpired as every parishioner from the Church of Tresselball prayed and promised that it would.
A dozen years later, a dynamic, finesse football team was favored to win in Columbus. This time, a Tressel acolyte was facing Kelly's star pupil - and this one started out in similar fashion. Notre Dame's offense held the ball for 13 of the game's first 18 minutes.
The underdogs in these two games went into their locker rooms at halftime clinging to 3-point leads. And this is where the two stories diverge in dramatic fashion.
Notre Dame scored a TD with 11:56 remaining in the first half. After that, Ohio State's defense did not allow a point for the remaining 41 minutes and 56 seconds of the game.

But, again, the Jim Knowles defense was "rather basic" against the Fighting Irish.

— Chase Brown (@chaseabrown__) September 4, 2022
The finesse team flipped the cruelest switch, amped up its nastiness on both sides of the ball and proceeded to hold onto it for 28 of the final 38 minutes. The alleged ball control team ran just 28 plays for 101 yards and zero points over that span. This was a two-hour strangulation on the banks of the Olentangy River.
If what transpired Saturday night had taken place during the 2010 Rose Bowl, LaMichael James and LeGarrett Blount would have punished the Buckeyes the way TreVeyon Henderson and Miyan Williams flattened the Fighting Irish. Ohio State won both games.
And if you enjoy eerie similarities, check out the Buckeyes' air production on both nights.
BALL CONTROL AND DEFENSE WIN GAMES TOO

| OHIO STATE QUARTERBACK | C/ATT | YDS | TD | INT | QBR |
| --- | --- | --- | --- | --- | --- |
| TERRELLE PRYOR vs. OREGON 2010 | 23/37 | 266 | 2 | 1 | 79.8 |
| C.J. STROUD vs. NOTRE DAME 2022 | 24/34 | 223 | 2 | 0 | 89.5 |
Day's offensive philosophy has been criticized for being too finesse, too pass-focused and not tough enough - and with some merit, for those of us old enough to remember last year. Ohio State's defense in 2018 and 2021 were so far beneath program standards that HR got heavily involved during both offseasons.
On Saturday, a game that was beginning to play out a lot like the Tressel vs. Kelly matchup in Pasadena abruptly changed course when Ohio State showed what it was capable of doing and not just on an opponent-basis or from week-to-week but on the fly during a game.
At risk of being melodramatic, it was breathtaking - and far more valuable than any 56-10 obliteration would have been. Finesse and speed, or power and possession? Hey, get yourself a team that can do both.
INTERMISSION
The Solo
One of the coolest things about growing up in Upper Arlington was having Perrier drinking fountains getting to watch a beloved sitcom that fictionally took place in your real town. The 69th episode of that show, Family Ties, was called The Real Thing, Part 1.
It debuted in 1985 right around the time Coca-Cola (then known as The Real Thing™) changed its formula to New Coke, which tasted a lot like Pepsi. Michael J. Fox had been the star of the summer with Back to the Future, which he shot while shooting this season.
So for valid reasons, America was wrought with emotions when The Real Thing, Part 1 dropped. In this episode Fox's character falls for a girl played by his future and current wife, Tracy Pollan. She was dating someone else, which made him sad. Producers laid down an obscure six-year old song called At This Moment to become the soundtrack for his broken heart.
It features a saxophone solo. Let's answer our two questions.
Is the soloist in this video actually playing the saxophone?
Trick question, the song debuted in episode 69 which by unwritten rule requires a sax duet. That's Lonnie Price on alto and Ron Viola playing the tenor. VERDICT: Lonnie and Ron are playing the saxophones.
Does this saxophone duet slap?
Family Ties producers continued using it in other episodes as an audio cue to signal when Alex P. Keaton - normally confident and edgy - was dealing with the crippling melancholy that accompanies unrequited love. Sitcoms spoon-feed the emotions their audiences are supposed to feel to them. Music makes it easier.
These are the precise moments for which syrupy saxophone solos were invented. What would we do baby, without us. VERDICT: Timeless slapping.
The Bourbon
There is a bourbon for every situation. Sometimes the spirits and the events overlap, which means that where bourbon is concerned there can be more than one worthy choice.
You're pretty deep into this week's dispatch and we haven't mentioned the words Arkansas State yet. That's this week's opponent. Disrespectful? They're getting paid $1.8M to be disrespected; the answer is no.
Let's mention them now. Arkansas State is led by a former SEC coach and features a former FSU quarterback handing off to a former Ohio State running back. It sounds imposing, but the Red Wolves are categorically the cupcake of this season's non-conference menu.
Cupcakes are sweet, moist, delicious but largely unsatisfying. If you are familiar with this series, you know what comes next: There's a bourbon for that.
When we last visited the Wilderness Trail distillery we had their small grain during the week in 2020 when the Buckeyes would have visited Eugene. A bold whiskey worthy of a big non-con clash. This week we're doing the high rye, which...well, it tastes like cake. Liquid cake.
I have not been exposed to a sweeter whiskey in all of my years. If you make an Old Fashioned with this you can skip the sugar cube. Welcome back to Ohio, Butch Jones. Enjoy your check.

CLOSER | THE COMPANY YOU KEEP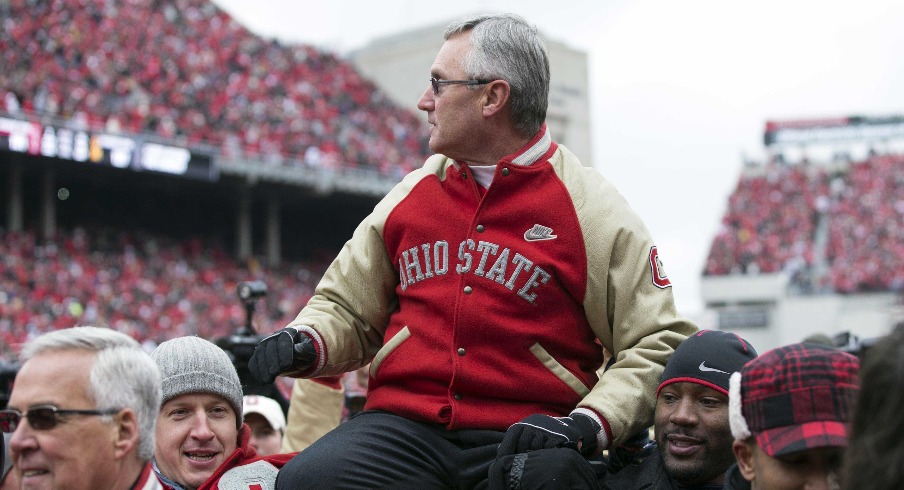 Jim Tressel was never carried off the field in victory during his ten seasons as Ohio State's head coach. He's now taken that triumphant ride twice in the 11 seasons he's been off the payroll.
The guy quickly flipped a deteriorating position in the Michigan rivalry that has maintained through the first two decades of the century and has now held a prominent role in two different championship reunions. To say Tressel is welcome at Ohio State is an understatement.
He has been invited back to campus to lecture on success and development, was inducted into Ohio State's Athletics Hall of Fame and into the College Football Hall of Fame. The manufactured outrage that elevated his departure into a scandal has aged as poorly as any story the sport has ever seen.
Conversely, his legacy as an ambassador for good has aged marvelously. Listen to Kenny Peterson talking about the coach he did not come to Columbus to play for, last Friday night at the 2002 team reunion we hosted.
this is worth watching pic.twitter.com/BNUABwSSWA

— Ramzy Nasrallah (@ramzy) September 3, 2022
It was poignant and appropriate for him to be in the building to watch his former program and former student Tresselballing each other into oblivion on Saturday night. TBDBITL could not have choreographed a finer tribute for the guy who made the Michigan bully his personal lapdog.
Thanks for getting Situational today. Go Bucks, beat Arkansas State.