Jim Tressel, the man we fell in love with following this memorable speech in January 2001 (at halftime of a basketball game against Michigan, no less), will join as many as 65 of his former players as they are honored between the first and second quarters of The Game today on the 10-year anniversary of the school's last national championship.
That team set an NCAA record with a 14-0 finish, winning five games by six points or less along the way and snapped Miami's 34-game winning streak in one of the greatest football games ever played.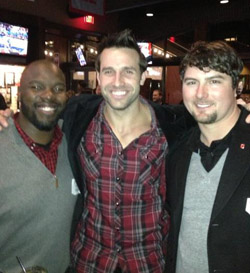 Much like this current Buckeye team, the 2002 team found ways to win. They may not have been the most talented team to ever suit up in Columbus, but they will be remembered forever because they were coached by a man that knew how to get the best out of them and had them believing in each other.
That team got together for dinner last night and Tressel was back in his element, delivering a speech "that made us all feel like we were playing again."
Jim Tressel didn't leave on his terms or necessarily in a way that will lead some to remember him as he should have been remembered, but there's no question we were lucky to have him for that decade of excellence.
With each subsequent scandal, Tressel's transgressions seem to get lighter and there's no doubt that in 10 or 20 years, when viewed through the lens of history, they will seem quaint or downright silly. I'm confident of this.
I'm also quite certain that we'll get to see Tressel delivering a commencement address and dotting the "i", like Woody Hayes did, before it's all said and done.
Today is the first part of the repatriation process. Welcome back, Coach.