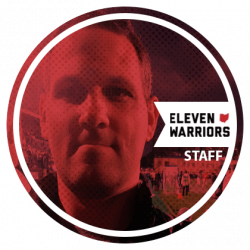 Jason Priestas
Staff
Columbus
MEMBER SINCE August 20, 2006
Jason founded the site in late summer of 2006 after his wife grew tired of his constant Buckeye chatter. With a fifth grade command of the English language, it's a minor miracle that people discovered this site, let alone frequent it.

He lives in Chicago, but misses the friendly scarlet and gray-clad people of his native Ohio.
Favorites
SPORTS MOMENT: 2002 MNC
COLLEGE FOOTBALL PLAYER: Antoine Winfield
COLLEGE BASKETBALL PLAYER: Ken Johnson
NHL TEAM: Columbus Blue Jackets
SOCCER TEAM: Liverpool FC
Recent Activity
Dang, sorry about the technical difficulties.
Weird. It should be working now. Our apologies.
Appreciate you listening! #NeverBrokeABone Gang was here.
Ohio State is elite. Michigan State in 2020 is the opposite of that.
How much of the show is too much to dedicate to that L?
Appreciate that, man. We're having fun.
I definitely need to learn more about it. It's fascinating to me because former players are split on whether it's a smart approach to football.
Hello! It's an oldie from Lobsterdust featuring The Who and Birdman…
We touched on the criticisms of Haskins from within the WFT organization. Give it a listen.
Oh yeah, it's the right move for sure.
Honestly, that wasn't even the topic for us in that segment. I was trying to roast him for saying he wanted to wear No. 6 in the NBA for Baker Mayfield.
Tyvis has been chasing an NFL dream since winning Defensive MVP of the national championship game against Oregon in 2015, so he's still getting up to speed on the roster, but I'm confident the Ohio State grad and smart guy he is knows a great deal more about football than most of us.
Thanks, man. Tyvis is so good at this stuff.
Lol thank you. I hate me some Michigan, but I had to try to give Harbaugh a little love for fighting to play. I didn't enjoy it, but I felt it was right.
Maybe at some point. But yeah, for now, Lancaster is as far outside of Columbus as we're heading for this first batch of road shows. Hope you can make it to one!
How amazing would that be?
We hope to have that up and running soon. Most of the services require one published episode before you can list your pod, but hopefully by early next week we are in business on iTunes, Spotify, etc.
I agree. I think we're going to see a lot of other conferences doing the same thing and it's far too early to know how good of a commissioner he is right now. I can say that entities do not like to voluntarily give up the nearly $800M the Big Ten would pull in from having a football season, so it's not like they're just doing it to piss off fans.
On May 3, 1980, Cari Lightner, a 13-year-old girl, was killed by a drunken hit-and-run driver at Sunset and New York Avenues in Fair Oaks, California. The 46-year-old driver, who had recently been arrested for another DUI hit-and-run, left Cari's body at the scene.[4] Cari's mother, Candace (Candy) Lightner, organized Mothers Against Drunk Driving and subsequently served as its founding president. A 1983 television movie about Lightner garnered publicity for the group, which grew rapidly.
Where is the part about a college being liable for that? I think I've had enough debate with Buster Bluth for today.
So there's a long history of schools being sued by students who were in car wrecks on their own time? The car wreck comment was absolutely a weird semantics gotcha, no matter what you're trying to say now.
Nobody is disputing the fact that people tolerate nominal risk in their day-to-day lives, like driving a car for instance. All I'm saying is that schools are being incredibly hesitant due to liability concerns. It's honestly not hard to see.
That's really a huge part of it. I can't believe it's so hard for some to grasp this.