This should have been the Second-Best Week of the football season.
The Best Week, of course, is Gold Pants Week. Some misguided souls among us - my colleagues on this web site! - call it Hate Week despite everyone on both sides of what's left of the rivalry loving everything about it.
The Annual Vanity Non-Conference Opponent™ that Ohio State likes to sandwich between two toasty MAC-ish buns comes in second place each season. The original 2020 blueprints had us in Eugene this Saturday. Miss you, original blueprints.
OPENING: PARALLEL UNIVERSE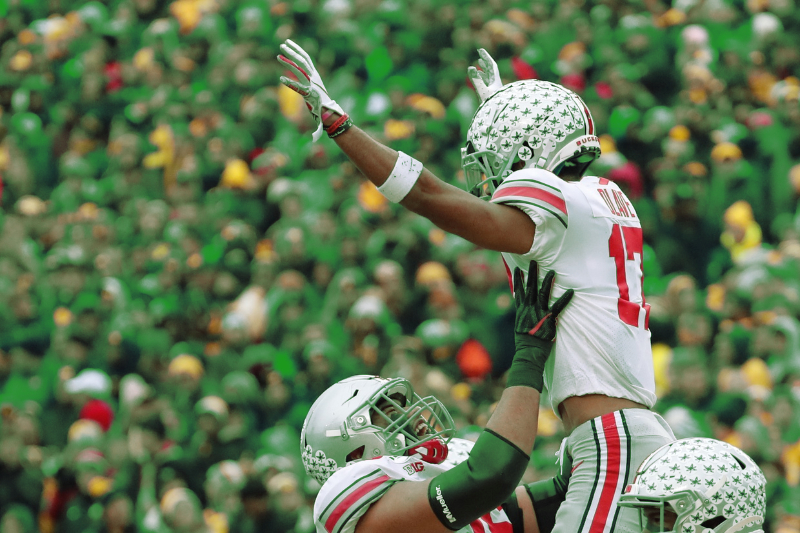 Beating the Ducks for the 10th time in ten tries would have been a nice little glamour shot on a 2-0 record in a CFP run but alas, America is notching north of 25,000 new coronavirus cases a day six months after the virus first arrived here. Yesterday, Jamain Stephens became the first college football player to succumb to the disease Ed. his high school has clarified its initial report.
We'll lose more people to COVID-19 this week than we lost on 9/11. Remember that when we pause on Friday to remember that terrible day.
But the world hasn't stopped turning in crisis, and Ohio State's conference has chosen to stay in hiding. This is when great leaders and bold strategies shine, and we've seen neither out of the Big Ten. There's no measurable vision to what it would take to preserve or restart its season, and compounding that failure is their reluctance to show their faces or issue statements.
In a parallel universe Ohio State would have beaten the living hell out of Oregon, as it always does.
Pulling the plug or barreling straight ahead into a plague without a plan are both easy and lousy ideas. The hardest thing to do comes at a significant cost, but a solid plan could preserve the season. That's what every other conference that has the means to pull it off is attempting to do.
Mapping a way forward requires a strategy, which B1G had six months to work on. Maybe the presidents are putting the finishing touches on one now! Perhaps they've got a series of viable plans to consider. Or they could be just playing video games in their underwear and sniffing nail polish remover. All of these are plausible scenarios.
But we don't know, because they don't communicate. I assume their plan is to keep kicking the can several months down the road, a continuation of their original non-plan from March.
In a parallel universe Ohio State would have beaten the living hell out of Oregon on Saturday, as it always does. Hopefully it will get the chance to do so next season, or perhaps in a March 2021 Rose Bowl featuring both teams' underclassmen, incoming recruits and trainers. 
We'd finally get our Vanity Non-Conference Opponent™ after all. Let's get Situational.
INTERMISSION: THE SOLO
Of all the requests this section has received since its inception, please give us more Classical Era-Themed Austrian Rap is tied for last place with zero. Yet here we are.
I have a narrow American Gen X view of Falco's catalog, which means Der Kommissar was a banger, Rock Me Amadeus was confusing - and to my knowledge there are no other Falco songs. WNCI played Amadeus every 45 minutes throughout 1985. It's one of four things I remember about that year in Columbus: Jimmy Karsatos, Keith Byars, Cris Carter and Falco.
The solo this week isn't a saxophone or a piano. It's Falco's attempt at scat vocal improvisation, an idea that popped in my head after I made the mistake of checking to see why Odell Beckham was trending on Twitter. If you don't know, don't look it up.
Is the soloist in this video actually scatting?
He begins at the 2:20 mark. English was probably Falco's third or fourth language, so the terribleness gets a fractional excuse. But it's him, for sure. Falco is trying to scat all over all of us with the enthusiasm of the 1985 Morning Zoo waking us up with Deutschrap. VERDICT: Technically, no.
Does this scat solo slap?
It does not slap in the slightest. It is the Jim Bollman's play-calling sheet of scat solos. Rock Me Amadeus is as bad of a song as Amadeus was as good of a movie. We can now cross scat off on our solo journey card, forever. OBJ...thank you.VERDICT: Es schlägt nicht.
THE BOURBON
There is a bourbon for every situation. Sometimes the spirits and the events overlap, which means that where bourbon is concerned there can be more than one worthy choice.
Like every other child of the midwest during the 1980s, the entirety of my exposure to Oregon was through the classic video game Oregon Trail, which you can play online right now. You took a break from looking for a job to read this column. When you're done you can take a break from taking a break to play Oregon Trail.
Wilderness Trail - no relation or connection to Oregon other than part of the name - arrived on my doorstep early last month. The package included a small batch BIB offering (that's what's in the glass in that GIF) and a fancy single barrel BIB (the bottle pictured, which you'll notice is still sealed because I opened it an hour later).
These two could not be more different. The single barrel was balanced and woody, which is exactly what you would expect from a wheated bourbon; French toast and shoe leather on the back end. Fun enough, but you can find Larceny easier and for half the cost. If you enjoy Makers, for me this was basically fancy Makers. Sometimes you just want to feel fancy. This is what makes all bourbon Situational.
The small batch, by contrast, is high rye and a lot more sophisticated. It was smoky and fruity and tasted much older than the single barrel. I loved this one. Similar mash bills from other distilleries have not left this kind of impression on my palate. It's a keeper.
Wilderness ships to a lot of places, including Ohio. They're priced appropriately at right around $50 but I saw a few online distributor markups as high as 50%. You'd rather die of dysentery on the Oregon Trail than justify a clumsy middleman's attempt at gouging. Hunt wisely.
CLOSING: 11W IN REAL LIFE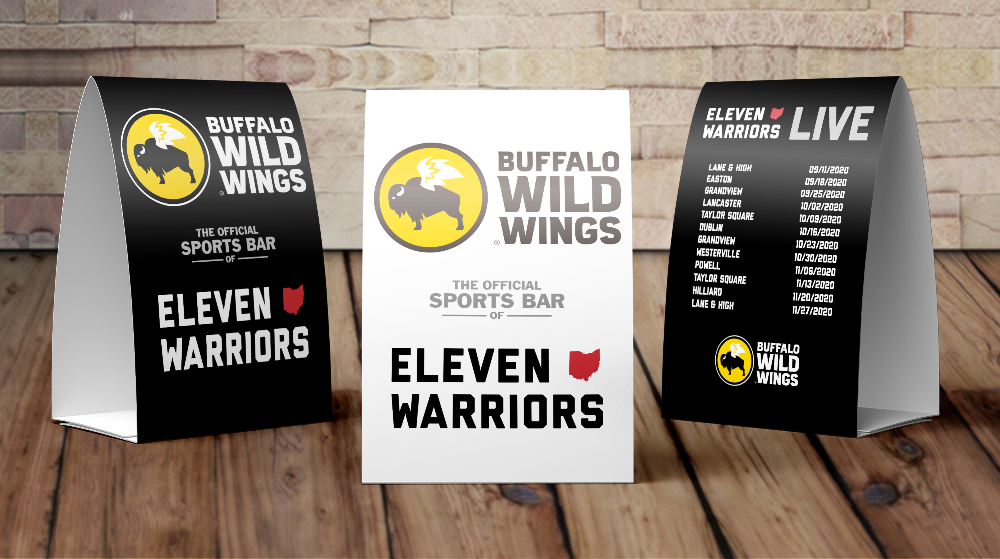 We're not going to allow 2020 to run up the score on us in the 2nd half. What are we, Michigan?
If you haven't already heard, Buffalo Wild Wings is now the Official Sports Bar of Eleven Warriors. That means we're supporting a global franchise that began on Ohio State's campus and operates corporate and franchisee-owned locations all over Central Ohio.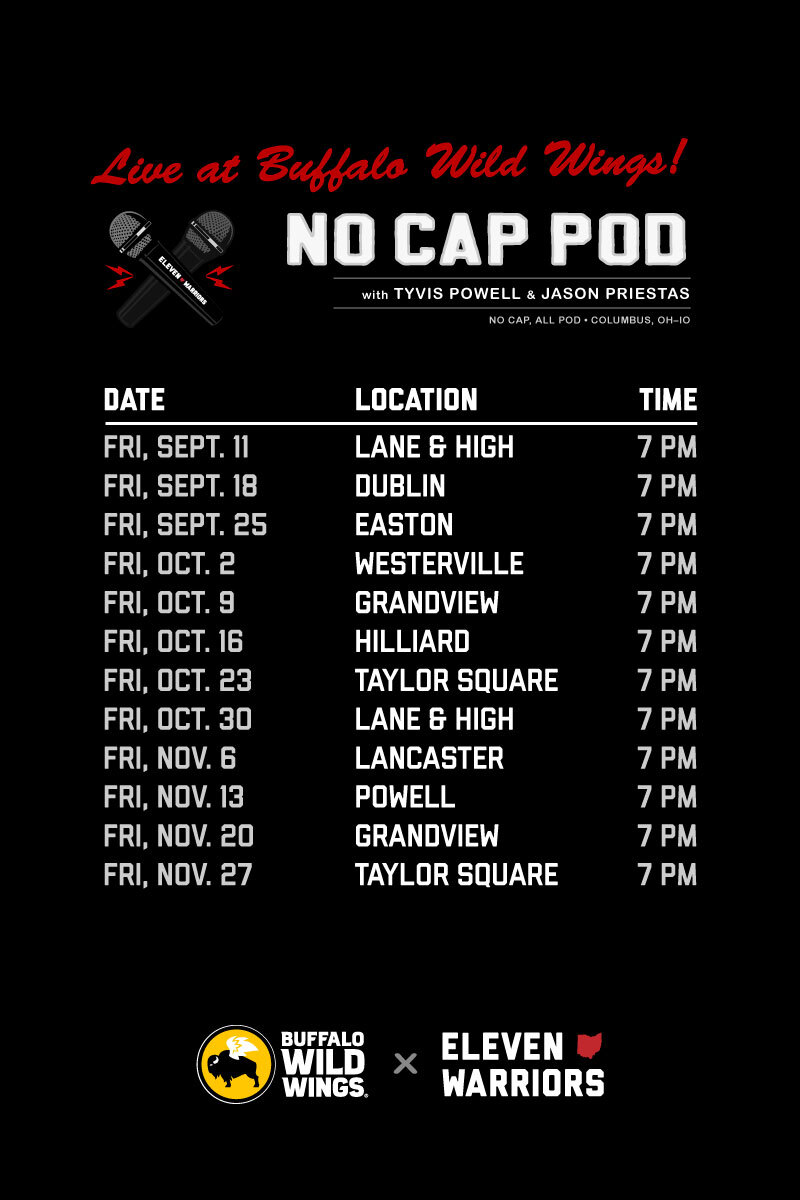 B Dubs has microbrews and macrobrews, traditional bar food we all know and love, and a new southern chicken sandwich, smoked brisket and even cauliflower (!) which is to say it has a core business but also reaches as far and wide as it can. You could say it covers all of the varsity sports, even if you're only interested in football. 
Humble Columbus roots. Got reeeeeally big. Became indispensable to a lot of people. Pissed off a few others. Are we talking about 11W or BW3? It's anyone's guess.
This "season" (we still don't know what to call it) we'll be live-recording the latest edition to the 11W content catalog at a Central Ohio Buffalo Wild Wings each Friday. That show is held down by my partner Jason and a guy named Tyvis Powell, whom I've been writing about since he committed to Ohio State within days of Jim Tressel's resignation.
Our original intent was to create a schedule for Eleven Warriors meet-ups so our online community could get together for in-person upvotes, downvotes and tasty calories. So go grab some beers, eat some food and meet the guys and everyone else from a safe distance. Seats are limited but the food and drinks are not.
Each bar will be piping the show live throughout the building, so you can hear it there first before we pod it up and push it out on the site. You won't read this in The Hurry-Up but I have it on good authority that the Buffalo Wild Wings kitchen is working on a new 11W sauce. Hope to see you all on Fridays.
Thanks for getting Situational today. Go Bucks. Take care of each other.