The 2019 Ohio State spring game delivered a who's-who of Buckeye football hopefuls and dignitaries to Columbus.
From a recruiting standpoint there were talented teens all over campus sizing it up and trying to envision what the future might look like. But if you had entered Standard Hall that Friday evening, you would have stepped right into the past.
Joining several current varsity upperclassmen for an evening in the Short North were former Buckeye stars and notable taxpayers Tyquan Lewis, Jalyn Holmes, Sam Hubbard, Raekwon McMillan, Vonn Bell, Chris Worley and Marshon Lattimore along with Joe Burrow, who were all in town for pleasure and business, for themselves and the local football program respectively.
Yeah, that Joe Burrow. The guy with an Ohio State bachelor's degree who does not yet earn an NFL paycheck or play football for the Buckeyes anymore. When LSU's starting QB and permanent team captain strolled into the bar the Friday night prior to his alma mater's annual scrimmage - and nearly 1,000 miles from his current stadium and grad school - his former teammates erupted in celebration and engulfed him with hugs and shouts of adulation.
That's because for all those NFL guys, Burrow's dream is their reality. He just has to chase it a little further south than originally planned - and all of those guys who mobbed him that night at the bar accept that. They were just happy to see their old friend and teammate who was just as happy to see them back where all of their dreams began.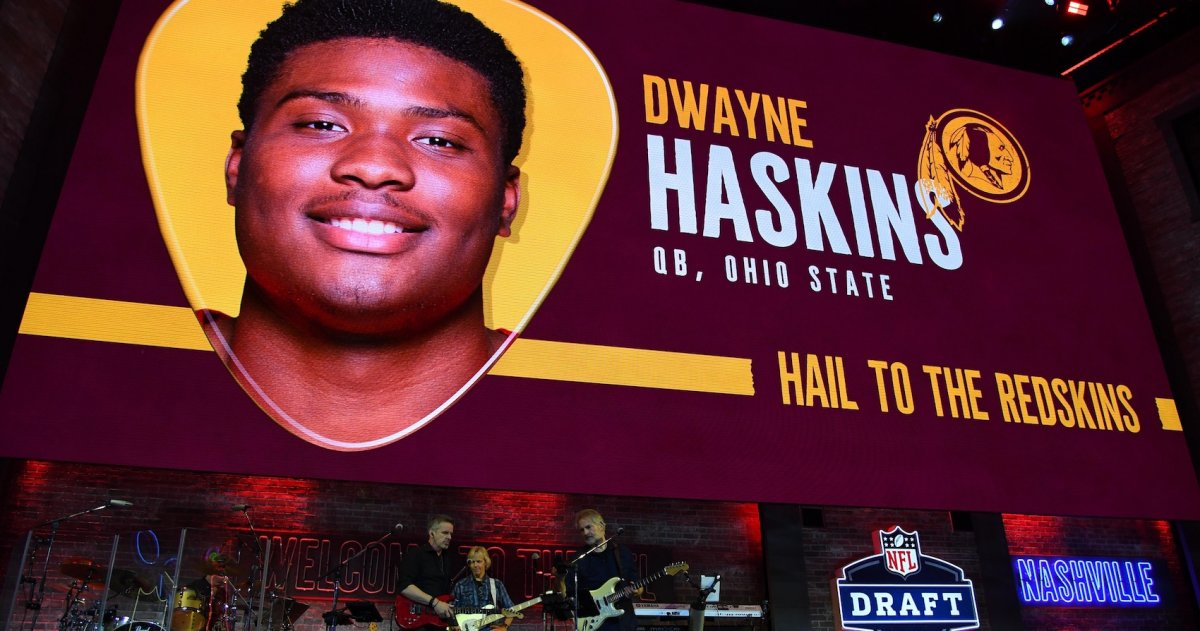 The minimum salary for a rookie active roster NFL player with a one-year contract in 2019 is $480,000. Every NFL club employee at Standard Hall on Spring Game Eve has seen at least that many zeroes in compensation. Tracy Sprinkle, who also dropped by, is getting another shot at that tax bracket from Kansas City this summer.
But 480 large is the smallest NFL contract for newbies, while back on campus America's most expensive tuition checks in at a cool $60,000 per year. Here, I'll do the math for you:
$480,000 (NFL rookie minimum, one year)

- $240,000 (Columbia University, four years)

_____

$240,000
The priciest bachelor's degree in America is worth half the single-season rookie contract minimum.
This doesn't take into account that rookie's radio ads for the local car wash, appearance fees at Chuck E. Cheese or any one of a number of layup gigs his agent can hook up at a moment's notice with the general public's insatiable thirst for celebrity - a moneymaker that's illegal to execute while on scholarship and meal stipends.
All those guys you saw weeping into their cell phones during the NFL draft broadcast over the weekend were destined to make a lot more than that minimum. Just getting drafted is a huge win - even the last guy who gets his name called does pretty damn well:
The 256th and final pick of the 2018 NFL Draft – known in league circles as "Mr. Irrelevant" – will earn an estimated $2.48 million over four years and a signing bonus of roughly $69,000.
I'll do that math for you too: Mr. Irrelevant can buy 10 Columbia bachelor's degrees in the same amount of time it takes to earn one, with some foldable change to spare. Now head back to Standard Hall that Friday night and ask yourself why the Amish Rifle returned to Columbus to visit the campus and teammates he left.
It's because waiting your turn as draftable quarterback is a heart vs. wallet affair like never before, and the phenomenon is accelerating as quickly as amateurism's edifice is eroding. The NCAA finally gave player mobility some structure last October when it created the transfer portal, and now it's as uncomplicated as ever to chase a favorable situation.
Here are Ohio State's QB depth charts at kickoff prior to each of the past three Spring Games. The guys whose names are crossed out checked out the moment they saw the future (transfers only; this does not include medical hardships like Stephen Collier or early NFL draft entries like Cardale Jones):
OHIO STATE QB SPRINGTIME DEPTH CHARTS | 2014 - 2019

| SEASON | 2014 | 2015 | 2016 | 2017 | 2018 | 2019 |
| --- | --- | --- | --- | --- | --- | --- |
| STARTER | MILLER | JONES/BARRETT | BARRETT | BARRETT | HASKINS | FIELDS |
| BACKUP | BARRETT | BARRETT/JONES | COLLIER | HASKINS | BURROW | BALDWIN |
| 3rd STRING | JONES | COLLIER | HASKINS | BURROW | MARTELL | CHUGUNOV |
| 4th STRING | COLLIER | BURROW | BURROW | MARTELL | BALDWIN | VANATSKY |
| 5TH STRING | MORGAN | COOK | COOK | CURTIS | CURTIS |   |
Four backups with both NFL and starting aspirations have skipped town in a year's time. This trend is going to become as normal as it is irreversible, and these are just the OSU dominoes - we've seen the others they topple once they arrive elsewhere (Burrow all but cleared the QB room in Baton Rouge) as well as the ones that disrupt operations at the WHAC.
Chris Chugunov could have enrolled in grad school in Morgantown but Burrowed to Columbus instead. Will Grier, the Heisman candidate and Maxwell finalist he had been stuck behind was just taken in the 3rd round.
Quarterbacks matriculated out of Columbus at a glacial pace for most of Urban Meyer's tenure, as the climate for program-hopping was much cooler for most of it. Burrow left for LSU upon receiving his degree and seeing the hero reliever from the 2017 game in Ann Arbor ascend with multiple years of eligibility remaining.
Georgia's Justin Fields chose to chase his own dream a little further north than originally planned, which sent Tate Martell a little further south for his. Fields' blast radius sent Matt Baldwin out of town not long after the NFL guys closed their tabs in the Short North.
Those glaciers from the Urban era have melted, sending backup quarterbacks around the country in search of a quick competitive advantage, and when you look at what's at stake by just being one of 256 guys on the receiving end of that happy-tears phone call, it's hard to call it a novelty or a hoax. Climate change is math-made.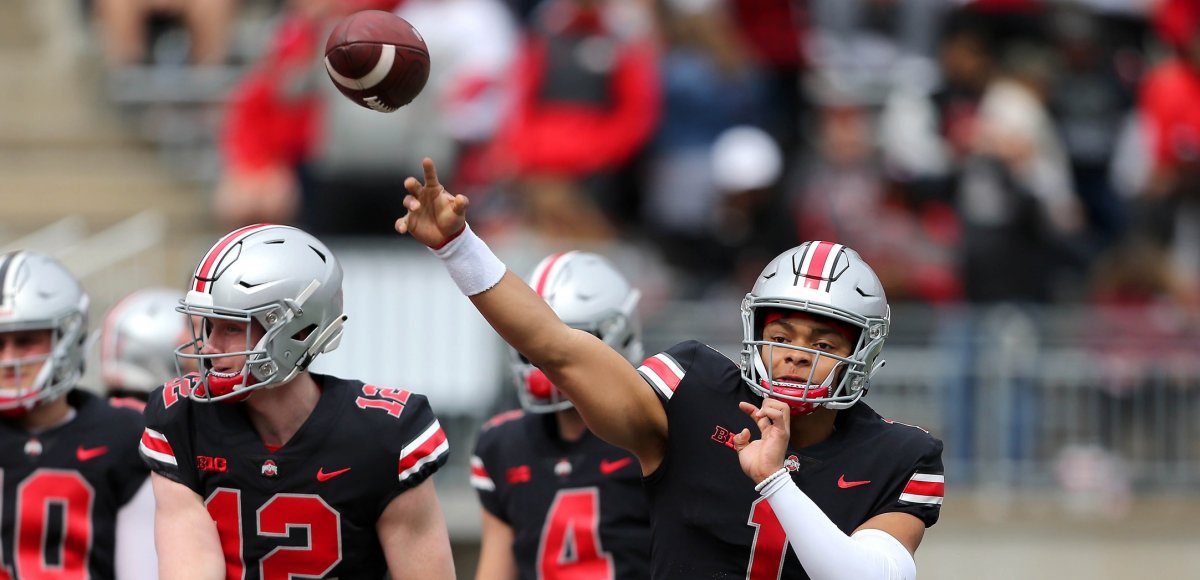 Every move comes with risk, but Burrow's to Baton Rouge is already paying off. He led LSU's victory over UCF in the Peach Bowl winning offensive MVP with 394 passing yards (against a defense that had been allowing barely over 200) and most of which came after he was almost knocked out of the game on a vicious uncalled targeting hit during an afternoon where the nation's longest winning streak ended at 25 games.
That performance - along with four other wins over ranked teams while running an unfamiliar offense - are the valuable narrative-builders he needed to become one of the quarterbacks who gets talked about in NFL Draft circles, which he will as soon as the 2019 season winds down. He might have gotten that chance with the Buckeyes, but he did get it with the Tigers.
While Haskins was breaking records in Columbus, Burrow's year in Baton Rouge put him in the top five for several LSU season marks. He's got almost all of his weapons returning along with a year of experience - and had he won the 2018 spring derby in Columbus it just might have been Haskins, adorable 2008 video and all, seeking the same type of second chance somewhere other than Columbus.
None of this happens if Burrow chooses to pursue an advanced Ohio State degree and play the good soldier from the sideline. The Heisman Trophy itself now has a two-year streak of QB transfers claiming it, and both the newest franchise signal callers in Arizona and Washington demonstrate that it can be done in a single season with one strong job interview to achieve a lifetime of financial security. There's no I in Team, but there are two in millions.
Yes, Joey B can always come back to Columbus in spring. He just couldn't afford to stay in fall.