Michigan State hasn't scored more than 17 points in a game at Ohio Stadium since 2005.
Point totals are meaningless in a sport operated by teens and witchcraft - there's no charmed scoring threshold that always guarantees a win. Spartans are 2-4 in the Horseshoe over their 16-year pitiful point-scoring span, which reminds us of two valuable truths about this matchup recently:
Ohio State's offense puckered in criminal fashion in both of those losses.
Michigan State is especially skilled in activating the dreaded Buckeye offensive pucker.
The last time Michigan State scored more than 17 in Ohio Stadium was the only funny meeting these two teams have ever had. But the last four in the Shoe have been a 2-2 split. Taking down the No.4 team this Saturday on its own field again would merely medal in the biggest Sparty Ohio Stadium upset competition. Gold and silver are spoken for, possibly forever.
Sparty dethroned the undefeated, defending B1G and national champions on Senior Day in 2015 in a game the visitors led for zero seconds. The Buckeyes hammered a 10-win MSU team 48-3 in the follow-up visit and have not lost to the men in green and white since The Great Buckeye Pucker of 2015.
Michigan State is capable of winning any game by 30 or losing by two with the exact same performance because of its chaotic tendencies. The Spartans are bringing an OL and pass defense into Columbus that have no business beating this Ohio State team - and yet, MSU is ahead of 123 FBS teams in the latest playoff rankings.
Iffy units mean nothing. Chaotic tendencies mean everything. Sparty is supernatural. Just like point totals, there's no charmed competence threshold that guarantees a win, either.
It's a safe bet both teams still control their destinies with the College Football Playoff. If everything goes according to plan on Saturday, we'll be able to truthfully say the same thing about the Buckeyes' regular season finale. Teens and witchcraft. Comfort is a myth.
Welcome back, thirsty comrades! Let's get Situational.
OPENING: OMEGA MEN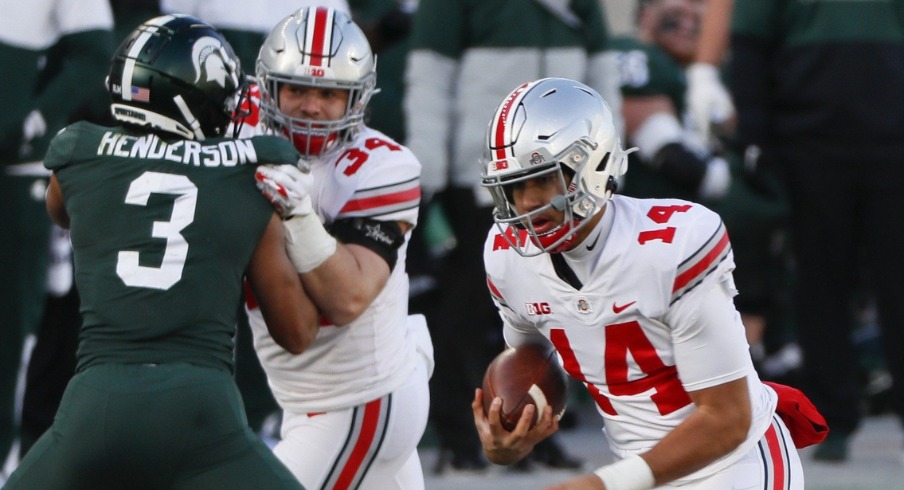 Ohio State's eighth Heisman is officially in play. Not since J.T. Barrett's masterclass against Penn State in 2017 has any Buckeye had this kind of serious trophy momentum. Alas, Barrett failed to register as a finalist following the disastrous Iowa City trip that followed.
In fact, 2017 is the last time Ohio State didn't have a player registering in the final tally, as Dwayne Haskins finished third in 2018, Justin Fields, Chase Young and JK Dobbins went 3-4-6 in 2019 and Fields finished seventh last season.
So C.J. Stroud can either continue Ohio State's registration streak or end it via another Iowa City-type episode. He could also end the Buckeyes' 15-year Heisman drought, if that is such a thing.
He is putting up the same video game numbers in Ryan Day and Kevin Wilson's system that we've grown entitled to, but Stroud also has the best possible final interviews left of any of his contemporaries.
He's positioned to leave the buildup to the Manhattan ceremony without the drama it craves.
HEISMAN TROPHY FAVORITES ENTERING WEEK 11

| PLAYER | ODDS | OPPONENT 11 | OPPONENT 12 | OPPONENT 13* |
| --- | --- | --- | --- | --- |
| C.J. STROUD (OHIO STATE) | +150 | No.7 MICHIGAN STATE | @ No.6 MICHIGAN | No.15 WISCONSIN |
| BRYCE YOUNG (ALABAMA) | +200 | ARKANSAS | @ AUBURN | No.1 GEORGIA |
| KENNETH WALKER III (MSU) | +450 | @ No.4 OHIO STATE | PENN STATE | No.15 WISCONSIN |
| MATT CORRAL (OLE MISS) | +750 | VANDERBILT | @ No. 25 MISS STATE | No.1 GEORGIA |
| KENNY PICKETT (PITT) | +4000 | VIRGINIA | @ SYRACUSE | No.10 WAKE FOREST |
| TREVEYON HENDERSON (OHIO STATE) | +5000 | No.7 MICHIGAN STATE | @ No. 6 MICHIGAN | No.15 WISCONSIN |
First up, no one allows more passing yards in the FBS than Michigan State. Let's get a preview of exactly how that ranking has been manufactured.
Michigan State pass defense:

No. 29 in yards per attempt
No. 60 in QB rating
No. 99 in completion %
No. 130 in yards per game

Death by a thousand out routes and dig routes.

— Chris Vannini (@ChrisVannini) November 8, 2021
JUST IN: Jaxon Smith-Njigba is drooling all over himself. We know who throws him the ball.
Michigan and Wisconsin both rank in the top eight nationally in that category, so both are a stark contrast to what we'll see facing Stroud on Saturday. These three games gift him statistical and big opponent opportunities in a perfect row, right until ballots are due.
That trophy is his to lose. No pressure, lad.
Of course, TreVeyon Henderson could always pull a Late-Season Trey Sermon and make voting even more interesting. Kenneth Walker III also has a nice opportunity. He gets Henderson and Stroud's teammates first.
So Ohio State might end up with a Heisman for the first time in 15 seasons - and if that materializes, the winner would be faced with what can best be described as an existential challenge.
No Buckeye Heisman winner has ever won a postseason game after taking home the hardware.
INTERMISSION: THE SOLO
Oingo Boingo dominated two movies I watched a combined 30+ times while I was in middle school. Weird Science chronicled the story of two friendless teens who used a desktop computer with 128k of RAM (it also took floppy disks and had dial-up Internet) to create a woman who wasn't repelled by them.
This is a fantasy 87% of friendless teens will admit to having. The other 13% are lying.
Back to School was about a multimillionaire who decided to go to college, because...hey why not, college is awesome. It was filmed in Madison on Wisconsin's campus. Kurt Vonnegut (from Indy, Chicago grad, Iowa professor = B1Ggest writer ever) plays "Kurt Vonnegut" and it's an incredible portrayal. He looks and acts just like Vonnegut.
Oingo Boingo did the Weird Science theme song also appears as house band "Oingo Boingo" in Back to School where they play Dead Man's Party, a song which includes tenor and baritone saxophones. Let's answer our two questions.
Is the soloist in this video actually playing the saxophone?
As mentioned, we're dealing with multiple saxes. Sam Phipps can be clearly seen playing the tenor saxophone on the back stage, alongside Leon Schneiderman on the baritone sax. They do not appear to be faking it. Oingo Boingo drips authenticity. VERDICT: Yes, inconclusive.
Does this sax solo slap?
We're presented with a classic 1980s B1G dorm party banger, punctuated by staccato sax stabbing rhythms and one of those keyboards shaped like a guitar which never should have been trendy and never should have gone away. This is a crossing route in the sax solo playbook; a people's solo that slices the song across its core without skipping a beat - and keeps everyone dancing.
You can throw cans of Milwaukee's Best at these saxes and they won't flinch. The jeans are pegged and the collars are popped. Everyone at the party has split ends - but that's fine; the goofy millionaire can get you a hair appointment. The goofy millionaire can get you anything, from Vonnegut as an English tutor to Oingo Boingo in your opulent dorm room. VERDICT: Slaps like a Triple Lindy
THE BOURBON
There is a bourbon for every situation. Sometimes the spirits and the events overlap, which means that where bourbon is concerned there can be more than one worthy choice.
When this bourbon column replaced the temporary hole left by Warren G. Harding in 2011 (he would later return; he always does) I showcased several bourbons that were difficult to procure - especially in Columbus which at the time suffered a terrible whiskey distribution situation.
It was borderline hurtful. I adjusted the situational algorithm accordingly.
We've since pivoted to cocktails and largely accessible bourbons that are situation-dependent. Folks, this week Ohio State has the Heisman favorite. It's November. We need to get rare again.
Union Trail bourbon is next to impossible to find at the moment. There's no family distillery story to be told here; this was created by bourbon critics in conjunction with Mash & Grape, the latter being a cure to Columbus' and any other town's subpar whiskey distribution situations.
Like several of the whiskeys we've discussed this season, Union Trail is a blend. Single barrels from disparate, unnamed distilleries to be unspecific. The mash bill is a total mystery, but I would lean toward ~65/~15/~10/~10 corn/wheat/rye & barley. UT is so smooth and sweet you can tell professional critics unbound by distillery constraints were responsible.
Think: Dense vanilla cake and dulce de leche truffles up front with a cinnamon/nutmeg and oaky finish. That was as erotic to type as it was to experience. Union Trail, currently unavailable, would retail for $80. You might find it on the secondary market, or it might later return. The great ones always do.
CLOSING: VOODOO CHILD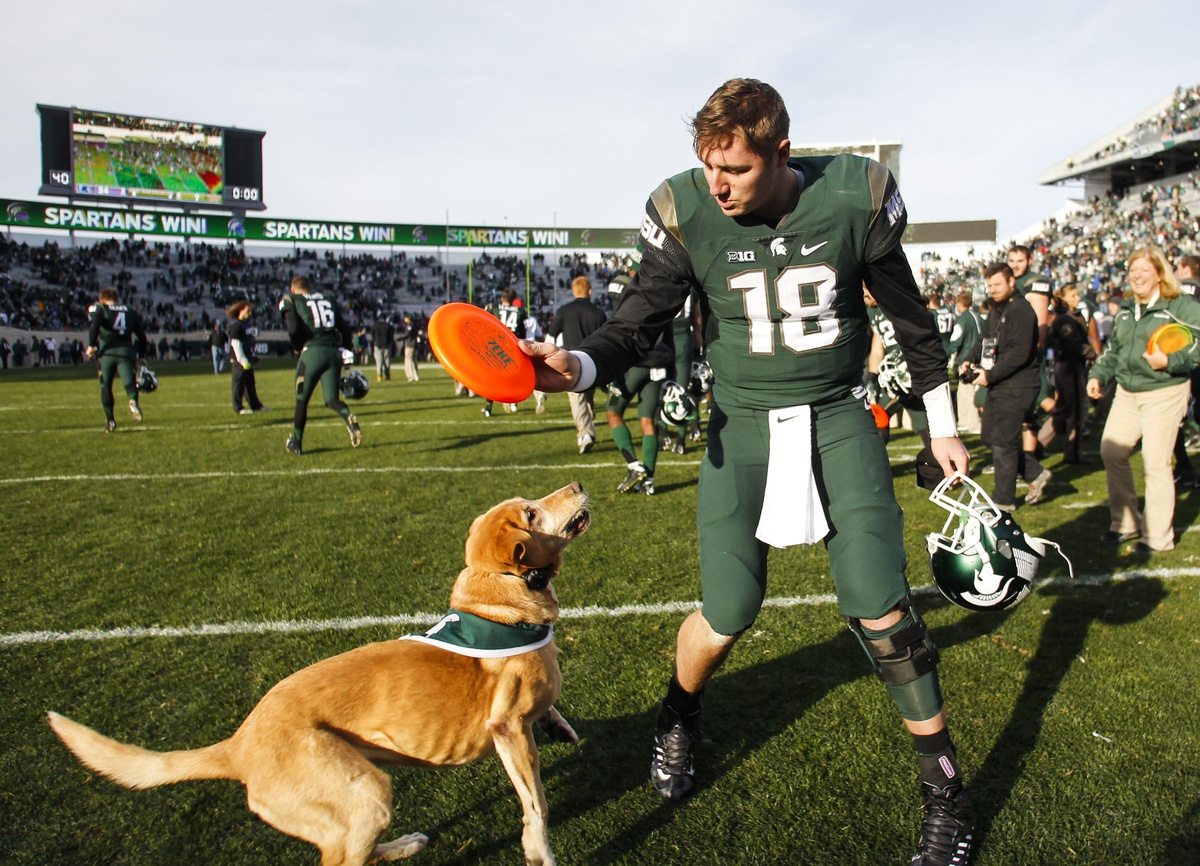 It's been a couple of years since we documented that hex Connor Cook put on his alma mater in 2015.
Somebody tell Connor Cook that's 2-time Heisman winning Archie Griffin, not a groupie! pic.twitter.com/YfYXF1Kxv8

— RedditCFB (@RedditCFB) December 6, 2015
The no-time team captain who was openly reviled by his own teammates was last seen losing the Houston Roughnecks QB job prior to the XFL shuttering its operations. He is currently a free agent.
Also currently, Michigan State is resurgent under Mel Tucker, and the Spartans have clawed back to the elevation Mark Dantonio had them enjoying before Cook shoved Archie Griffin out of his way on the B1G dais in Indy.
THE ARCHIE GRIFFIN SNUB SPARTY CURSE

| 2011-15 vs. 2016 - NOW | BEFORE COOK'S SNUB | SINCE COOK'S SNUB |
| --- | --- | --- |
| vs. Ohio State | 3-2 | 0-5 |
| scoring | MSU 114, OSU 111 | MSU 46, OSU 177 |
| vs. ranked TEAMS | 14-10 | 9-13 |
| b1G games | 32-8 | 25-25 |
| overall record | 54-13 | 38-30 |
The Buckeyes outscored Michigan State's five-year point total against them on two Saturdays alone, in 2017 (48) as well as last season (52) which featured a roster and coaching staff ravaged by COVID and contact tracing. Saturday will be Day and Tucker's first meeting.
Actions carry consequences. Michigan State had been powered by disrespekt for decades, and that energy source only accelerated in joules since Mike Hart's 2007 Little Brother proclamation, an error Michigan Men have very stupidly continued to perpetuate and fuel.
So what Cook did to Griffin was violate the natural order of things. He not only showed contempt for a beloved Ohio State, Big Ten and college football legend, he did so in the most public way possible. He turned the disrespekted into the disrespektor.
Samson's locks. Achilles' heel. Sparty ain't been the same since, at least when facing OSU.
The Buckeyes' longest streak in this series was eight, and that one started after this Sparty chicanery in 1974. Griffin, whom Connor dismissed, was on that team. Current streak is only at five. Mess with Archie and suffer generational consequences. This streak should be hitting its stride.
Thanks for getting Situational today. Go Bucks. Beat Michigan State. Take care of each other.