Michigan is a very good football factory. It isn't a great one.
Wisconsin is also just a good football factory. So are Penn State and Iowa! Ohio State is the Big Ten's only great football factory, and now for the sixth time this millennium it will be formally participating on a national championship stage.
The rest of the Big Ten combined has been here exactly once, with apologies to pre-B1G Nebraska in 2001. So it's Buckeyes 6, Field 1* nearly 20 years into the 21st century. It's not all that competitive, but the B1G is not the current ACC either - we'll get to that in a moment.
We'll also discuss just-good football factory Michigan State shortly, but for now it's up to the Buckeyes once again to represent America's gassy, cold midsection in crowning a national champion.
Three of OHIO STATE's past five postseason losses WERE AGAINST teams in the 2019 college football playoff.
Ohio State closed the 2019 season by besting the B1G's top three good football factories in succession, which has put them in position to face off against as many as two of the rest of the nation's three great ones. Few programs are able to defeat Ohio State in football games, but Clemson, Oklahoma and LSU each did that the most recent time they met.
In fact, three of the Buckeyes' past five postseason losses are represented in this year's field, but history probably matters very little to this year's team. That is something the rest of us can get hung up on while wondering how much value Ryan Day's staff will get out of Clemson's 2019 film against FCS Wofford, the only currently ranked team the Tigers faced this season - with apologies to ACC runner-up No.25 Virginia, your SP+ No.45 program.
Bucks are dancing again. Let's get Situational!
THE HEX
Perhaps you're old enough to remember the time Connor Cook disrespected the patron saint of Ohio State football on national television.
Somebody tell Connor Cook that's 2-time Heisman winning Archie Griffin, not a groupie! pic.twitter.com/YfYXF1Kxv8

— RedditCFB (@RedditCFB) December 6, 2015
Cook's Spartans - beneficiaries of the most puckered Ohio State game plan of Urban Meyer's coaching career - reached Indy on the strength of the head-to-head tiebreaker with the Buckeyes. They dispatched the Iowa Hawkeyes and gained entry into the playoff as what is still - and what will likely always be - the weakest CFP team ever.
Michigan State was charmed. But then Cook treated Archie like a pushy panhandler. Why?
Connor Cook snubbed Archie Griffin last night. Some guesses as to why: https://t.co/58AM1VDvMD pic.twitter.com/mbVT62gafe

— Rodger Sherman (@rodger) December 6, 2015
After the incident blew up, Cook tried to apologize and quell the negative energy he created. But that's not how juju works, lad. You peeled a seal that should have never been tampered with, and those demons don't just go back into the bottle because you said sorry.
#Spartans news: Watch Connor Cook apologize to Archie Griffin for trophy exchange https://t.co/1XoPe7ShBF

— Michigan St. on BTN (@MichiganStOnBTN) December 6, 2015
The karmic forces previously consolidated and focused on inflicting maximum damage to Bret Bielema turned their attention to the football team from East Lansing, which then traveled to Arlington to play defending Sugar Bowl runner-up Alabama Crimson Tide.
It did not go well. Sparty lost 38-0.
Yeah, it's been that kind of game for Michigan State so far. pic.twitter.com/iVXk8ksjbq

— SportsCenter (@SportsCenter) January 1, 2016
Caught up with Connor Cook after the game pic.twitter.com/PPYg2EqxHA

— Thoas Oregon (@Marcus2cold) January 1, 2016
January 1, 2016
But beyond that loss is what has happened to Michigan State's trajectory since Cook's ungracious treatment of Griffin. The Spartans had won four straight bowl games heading into that disastrous meeting with Bama. They had won the previous Cotton Bowl in that stadium, actually.
Sparty hasn't been the same program since that night Cook dismissed Archie.
DID ARCHIE GRIFFIN PUT A HEX ON SPARTY?

| '11-15 vs. '16-19 | BEFORE COOK'S SNUB  | SINCE COOK'S SNUB |
| --- | --- | --- |
| vs. Ohio State | 3-2  | 0-4 |
| scoring | MSU 114, OSU 111 | MSU 35, OSU 125 |
| vs. Michigan | 4-1 | 1-3 |
| scoring | MSU 129, U-M 66 | MSU 54, U-M 107 |
| VS. PENN STATE | 2-0 | 2-2 |
| SCORING | MSU 89, PSU 26 | MSU 67, PSU 114 |
| vs. ranked | 14-10 | 5-12 |
| b1G games | 32-8 | 17-19 |
| overall record | 54-13 | 26-25 |
It's not just "oh, Harbaugh" or "ah, Urban" here. It's everything.
There is a clear demarkation between State operating on the desired half of its rivalry games and the B1G ledger versus where it is now as a middling .500 program, and that shift took place the moment Cook decided Archie wasn't worthy of his respect.
He delivered what was basically Sparty's Mike Hart moment. And it's a lesson for all of us, let alone an Ohio State program that can barely remember what a non-Golden Era of football even feels like.
Do not tempt fate by being a dick. It ends poorly. Also, Archie Griffin is a saint - how dare you.
THE 1980S SAX SOLO INTERMISSION
Speaking of dicks, last week we learned Dave Burnard of Wang Chung goes by Hogg Robinson, which is the second most-phallic saxophone solo commandant stage name of the 1980s. That almost seems impossible. Hogg Robinson of Wang Chung was outknobbed by another sax blower?
No, it's true - and you can see who bested him on the left side of the frozen frame above for Freeze Frame. That's Richard Salwitz of the J.Geils Band, and for more information on his stage name you can visit his web site, the content of which is safe for work - but the URL probably is not. It depends on where you work. They let you read 11W on the clock; maybe they're cool. Still, it's important to be friends with IT. Remember that.
Let's answer our two questions.
Is the soloist in this video actually playing the saxophone?
J.Geils took wedding band music mainstream on the strength of original hits like Centerfold, Love Stinks and of course Freeze Frame. Our protagonist Magic Dick played the sax and the trumpet, which were often mixed together to create the auditory illusion of a full horn section - which, no, it was just him. A one-man band inside a six-man band. Efficiency! VERDICT: Yes.
Does this saxophone solo slap?
Our answer is contained by an elegant sentence which - once it passes through your employer's servers - may demonstrate what the IT department thinks of you. VERDICT: Magic Dick slaps.
THE BOURBON
There is a bourbon for every situation. Sometimes the spirits and the events overlap, which means that where bourbon is concerned there can be more than one worthy choice.
When we last saw P!nk in this series we were shoehorning her Jefferson Airplane cover into a metaphor for how Mickey Marotti transforms teenagers into Ohio State's great football factory. This time she's blind-taste testing whiskey, so it's not nearly as nuanced.
Before this experiment even begins you can probably guess the three glasses are going to be 1) Scotch Whisky 2) Irish Whisky and 3) American Whiskey. SPOILERS AHEAD Laphroig is pretty easy to identify blind, as P!nk does - I'm not the only one who finds the Islay scotches more distinctive compared to the Speyside, Highlands-Islands/Lowlands or Campbeltown ones.
I'm not intelligent or experienced enough to parse the Irish category, as most of the Irish whisky I've consumed has been mixed with Bailey's and served in a pint of Guinness - so we can skip it and jump right to the American participant that burned P!nk's nose hairs.
We can safely conclude by the way Four Roses Small Batch Select (various 4R labels and uses previously visited here, here, here & here) smacks her palate that she's into a bottle that follows the OBSK process. If you're into figuring out how to dazzle people via blind tasting and identification, mash bills are cheat sheets and understanding what wheat, rye, barley and corn do to taste make this a far less daunting exercise.
I can't read Braille, but identifying a wheated, a high rye or a peaty Islay in a lineup isn't hard at all.
SAY SOMETHING NICE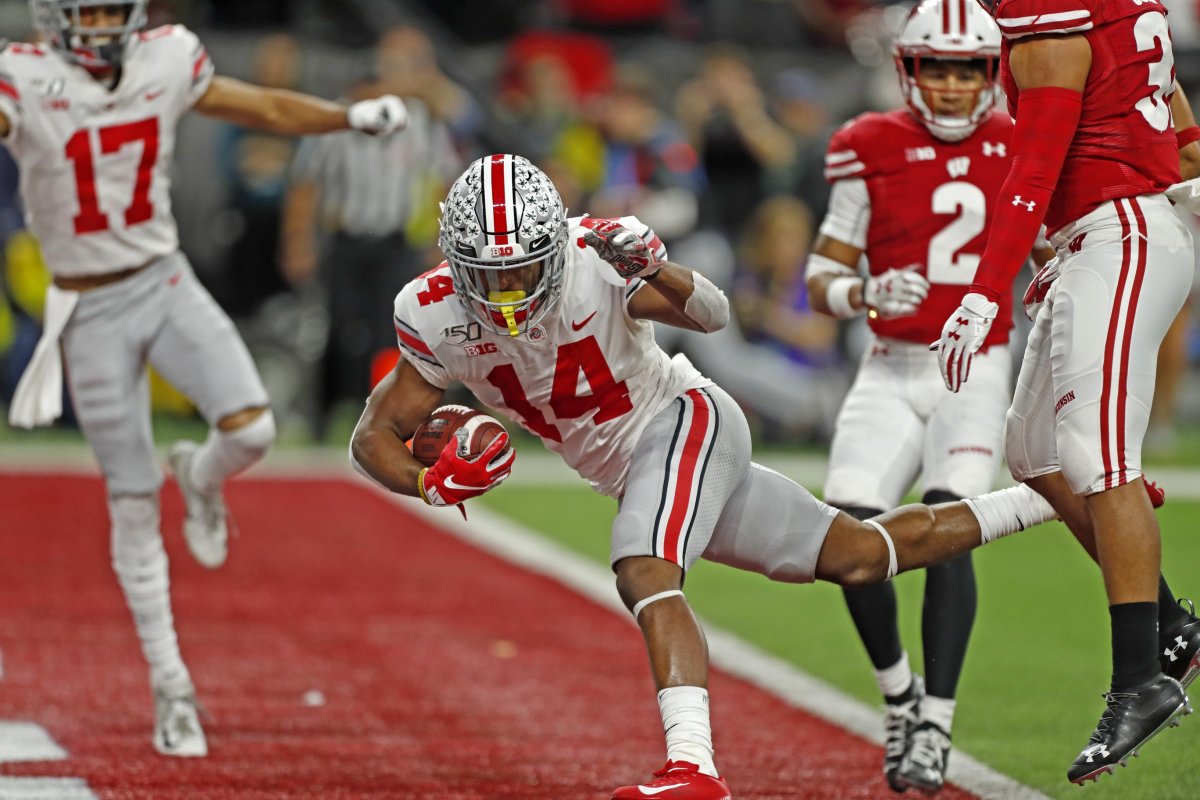 A fun thing about Twitter is that during Ohio State games you can catch former players talking unguardedly about what they think of the current edition of their alma mater's team.
This is from the closing moments of the Buckeyes' comeback romp against the Badgers Saturday night.
You act like I called the plays https://t.co/HWkum5NRwj

— Jake ballard (@TheJakeBallard) December 8, 2019
Jake Ballard's final catch as a collegian was the stuff of immortality. It was his 14th of the season, giving him about one catch per game. Two years later, here's what Ohio State's pass-catchers pulled in through 13 games.
OSU LEADING RECEIVERS 2011

| PLAYER | REC | YDS | TD |
| --- | --- | --- | --- |
| DEVIN SMITH | 14 | 294 | 4 |
| PHILLY BROWN | 14 | 205 | 1 |
| JAKE STONEBURNER | 14 | 193 | 7 |
| JORDAN HALL | 12 | 114 | 3 |
| DEVIER POSEY | 12 | 162 | 2 |
To be fair, Jordan Hall missed five games. DeVier Posey missed 10. Can't remember why; let's just skip it and look at what this year's production looks like in comparison.
Keep in mind this is also through 13 games, also in a run-first offense and also with a first-time starter at QB. Justin Fields turned 20 this year; Braxton Miller was 19 in 2011.
OSU LEADING RECEIVERS 2019

| PLAYER | REC | YDS | TD |
| --- | --- | --- | --- |
| K.J. HILL | 51 | 569 | 10 |
| CHRIS OLAVE | 45 | 790 | 11 |
| BINJIMEN VICTOR | 32 | 535 | 6 |
| GARRETT WILSON | 26 | 385 | 5 |
| AUSTIN MACK | 21 | 307 | 3 |
| JK DOBBINS | 17 | 200 | 2 |
This offense has six guys with more receptions than the top receivers did eight seasons ago.
Ryan Day, Kevin Wilson and Mike Yurcich are better than Jim Bollman and Nick Siciliano is not a take that requires piles of supporting evidence. When we talk about great football factories, it's important to remember that Ohio State's 2011 season happened in this decade.
These two teams, just eight years apart, were playing two completely different sports. Great football factories have the infrastructure and the means to make dramatic corrections in production. This is a glaring example of that in action.
The architect of the disastrous 2011 OSU offense has enjoyed gainful employment in East Lansing ever since that blip season. His strategy and play calling privileges were by committee and then abruptly revoked - right in the midst of that hex Ohio State's two-time Heisman Trophy winner put on his team. It makes you think, for sure.
Thank you for getting Situational today. Go Bucks. Beat Banquet Season.