You know November has arrived once the inappropriately named "fun size" candy bars appear in your office's little kitchenette. This lousy manna is the surest sign Halloween has passed and the 11th month of the Gregorian calendar is upon us.
Those empty calorie nuggets show up for two bad reasons: One, the previous owner doesn't like them - notice you rarely see a Twix, Kit-Kat or Reese's Cup lying around for the taking; only Depression-era crap like Tootsie Rolls - the SPAM of the candy world - or that Hershey's "Special Dark" chocolate which is neither special nor dark.
The second reason is the donor is pretending to diet and transferring Halloween's excess plunder to your struggling metabolism. It's like picking through garbage off someone's curb, except that they've brought their curb to where you get your unsatisfying coffee every morning. 
That pretend diet is a lie because Thanksgiving's comin' and there will be no dieting this month. December reliably delivers a five-pound bloat minimum to your ass or belly depending on where you carry your excess Halloween candy.
Real diets happen exclusively during the first two weeks of January. Dieting now is sad and futile, like Michigan running out of I-formation.
Pretending is also an annual November theme for for college football: September Heismans are long forgotten and those nice little 8-0 records built through October start to weigh on a team's conscience. The pressure from outside is now matched by the pressure within.
And, of course, Halloween itself is about pretending to be someone else. Above are the Minnesota Vikings cheerleaders, featuring Sexy Where's Waldo. Thanks to the irrefutable and timeless Rule 34, improbable combinations like Sexy and Waldo are required to exist.
However, unlike regular/unsexy Waldo, this one is easy to spot in a large crowd. Alright, LET'S GET SITUATIONAL.
THE STADIUM GIMMICK
Orchestrated stadium dress code stunts have been around for awhile. Ohio State has executed numerous "Scarlet-Out" campaigns that turned the Shoe red and even pulled off a "Scarlet with Pink Flair" evening against Penn State recently.
They've all been and will continue to be successful, barring ill-timed weather events. But they work because Ohio Stadium is always full of partisan fans pulling for the home team.
So speaking of partisan fans and ill-timed events, here's California's "Gold-Out" from its September game hosting the Buckeyes: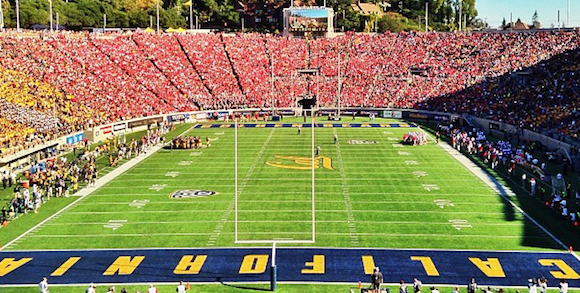 Memorial Stadium has a capacity of 62,467. It's welcomed over 45,000 only one time this season, and that was for the Ohio State game which was filled to the brim with enough Buckeyes to pull off a full-stadium O-H-I-O.
Using wear this color as a come-to-the-game value proposition is destined to fail. There's nothing extra in it for the college fan - not even a free t-shirt like in the NBA playoffs where they're draped on your chair when you arrive.
Cal is allegedly the smarter school that may have lost the game but is winning at life and should have known this was no way to fill seats or show off school spirit.
Speaking of smarter schools, Northwestern has long been the local option for Chicago's enormous Big Ten alumni base to take the Purple Line and see their alma mater play locally. The Wildcats have been trying to change their home crowd dynamic for years. 
When Ohio State visited on October 6 the game was declared the biggest contest in school history. ESPN Gameday even showed up on campus for the first time ever. Here was the view from the press box:
Granted, Northwestern implores fans to wear purple to every game, not just the ones against Ohio State - so this can hardly count toward failed gimmickry. That wall of red showed up and watched the Buckeyes break the Wildcats, who had previously won 14 of 17. They've since lost five straight.
And speaking of five-game losing streaks - Purdue entered last weekend with one, declaring its game with the Buckeyes a Boiler Blackout (not to be confused with a Purdue Blackout). The Boilermakers have scored 92 points all season, which is 27 fewer than the Buckeyes squeaked out over the past two Saturdays.
Here is the view of that Boiler Blackout last Saturday from the Ohio State section. For those of you who need things spelled out, this is what the non-Ohio State part of Ross-Ade Stadium looked like: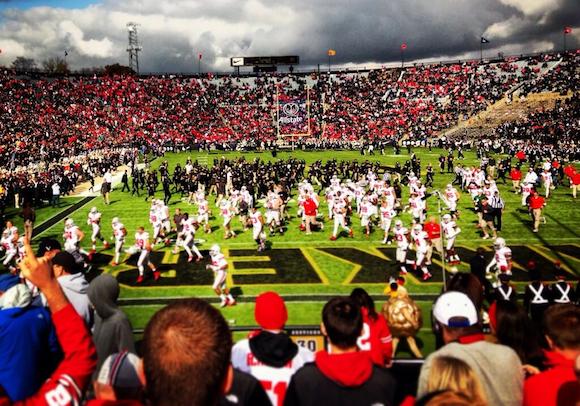 The point is that if you're having trouble filling your stadium you should reserve your color-themed game days for opponents who don't travel well - or just not do them.
Here is a complete list of B1G venues that can safely schedule (color)-outs without fear of embarrassment when Ohio State or another program with excessive groupies visit: Penn State, Iowa, the Michigan schools and the red schools (Wisconsin, Nebraska, Maryland, Indiana, Rutgers).
Virtually every game Ohio State plays is a home game, regardless of location - and stopping the Buckeyes when they're this good is almost as difficult as overcoming its horde of nomads with disposable income and indisposable red wardrobes.
The lesson here is don't try. You will fail, and there will be photos.
THE COOLEST BIG BROTHER EVER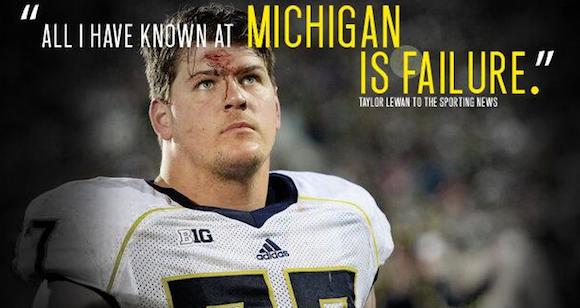 In 2007 Taylor Lewan was a junior at Chaparrel High School in Scottsdale, AZ. That was Mark Dantonio's first season at Michigan State.
One of the first things Dantonio did after being hired was emphasize the state championship game with Michigan (he learned the importance of beating that particular opponent from one of his previous coaching stops). He even installed a countdown clock in the practice facility.
Jake Long, Michigan's Taylor Lewan at the time, quipped, "at least they'll be on time for the game." That was the season Michigan opened by losing to Appalachian State. Dantonio joked on his radio show that week about having a moment of silence for the Wolverines.
When Michigan defeated his first team 28-24 six years ago tomorrow, several players gathered at midfield to have a moment of silence for the Spartans. After the game Mike Hart gave his famous Little Brother speech and Dantonio returned serve with his now-famous Pride Comes Before the Fall response.
Since then Little Brother is on a 5-1 run against Big Brother. Here is a complete list of coaches that have won five of six against Michigan: Jim Tressel, Woody Hayes, Illinois' Ray Elliott in the 1950s, Minnesota's Murray Warmath in the 1960s and Dantonio right now. That's it.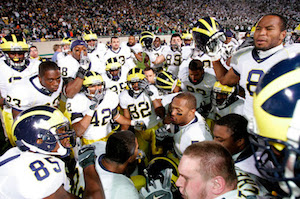 Your big brother was never this cool about letting you win. Michigan is the best big brother ever.
Duffy Daugherty never did what Dantonio has done, nor has any Domer. It's an historical streak that's coinciding with Michigan on the verge of a ninth straight season without a Big Ten title, matching its drought from 1934-1943. Its longest drought was from 1949-1964.
So in light of the respective streak and drought, you might think some of that the Michigan arrogance could give way to a bit of humility. And you would be wrong, because Michigan arrogance is a resistant bacteria that no amount of humiliation can exterminate.
In September the U-M athletic department paid $6700 for a skywriter to write Go Blue above Spartan Stadium during a game. MSU's alumni association chair sought to match those costs with donations through the Ann Arbor-based Michigan Ovarian Cancer Alliance.
They ended up raising over $40,000. A worthy comeback to a questionably-fired shot.
Last week in the buildup to their game with the Spartants running back Fitz Toussaint, who is mediocre enough without being burdened by the weakest Michigan offensive line in your lifetime (it doesn't matter how old you are) channeled Hart's Little Brother speech again.
The Wolverines still haven't won in Spartan Stadium since Lewan's junior year at Chaparrel (he's a fifth-year senior) in proceeding to turn in their worst rushing performance in 134 years.
Little brother no longer seems quite as condescending as it did when Hart first invoked the term in triumph. It was misplaced then and it's just awkward during Sparty's streak. Imagine how adorable Ohio will sound coming out of Hoke's mouth if the Buckeyes prevail in Ann Arbor at the end of the month.
THE BOURBON
There is a bourbon for every situation. Sometimes the spirits and the events overlap, which means that where bourbon is concerned there can be more than one worthy choice.
About 70 years ago a guy named Stanley Burroughs published a book called The Master Cleanser which is a diet that replaces food with, basically, an Arnold Palmer plus maple syrup and cayenne pepper.
The elixir has been since used to detoxify the body. From a clinical standpoint it's bullshit, but it's tasty bullshit.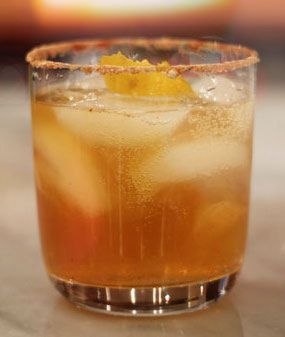 One serendipitous afternoon the good people at Saveur magazine were sampling maple syrups for a story when a bottle of bourbon showed up in the office. These are inventive people, and they predictably got creative.
They combined a couple of the syrups with the bourbon, added lemon and then poured into a glass whose rim had been dipped in cayenne pepper. The result was a familiar detox elixir that had been fortified with brown American liquor, which everyone knows is the best liquor.
And with that, the Retox was born. The drink is both invigorating and delightful, numbing your lips as the beverage diligently works to numb your body. It's not only easy to construct; you can serve the Retox as a breakfast bourbon or a nightcap.
It's situationally appropriate at all hours. The Adrian Peterson of bourbon cocktails, if you will.
You're going to need real maple syrup made by real Vermont hippies. If you prefer your pancakes intercontinental, Canadian syrup can be used. You just want to avoid corn syrup that's been dyed and scented like the real stuff because it didn't come out of a tree and damn it, you're better than fake maple syrup.
The bitters you normally use for your Old Fashioneds are no good here either: You need something either mapley or vanilla-ish. It's November. You should already have bitters like this in your bar, because a gentleman keeps his drinks seasonally appropriate.
Finally, a spicy bourbon is required - something with a high rye content. Four Roses Single Barrel has the highest rye content of any bourbon you can actually find in a store. For the thrifty types you can save upwards of an Andrew Jackson by buying Bulleit instead.
An underrated and spicy option for your Retox is Old Granddad, despite its appearance in that George Thorogood song which makes it sound like alpha bourbon. It isn't. OG is a storyteller that accommodates all syrups - provided they came out of a goddamn tree, preferably in Vermont.
Take a lemon wedge and swipe it around the circumference of your glass, then roll that moist rim in some cayenne pepper. Muddle the bitters, syrup and the lemon wedge in a cup and then pour it over ice in that peppered glass.
Top it off with seltzer water and enjoy your master cleanse.
THE PLAY-OFF
The Internet is now 95% cats or pornography according to a statistic I just made up while typing this sentence. There's no shortage of either, but what separates those two categories is that you can share cat videos with the rest of your office without the threat of termination.
That's unless you work exclusively with dogs, in which case you should demonstrate better office etiquette. That said, this video is 36 seconds long and worth your time, canine coworkers or not:
The soundtrack to this masterpiece - Sail by Awolnation - is popular among animal video enthusiasts: You can find both cat and dog videos set to the song. There's even a snail video set to it. SNAIL [wub wub wub wub wub wubwubwub] SNAIL.
Enjoy your bye week, comrades - and remember to stay away from loose Halloween candy. It has no morals.