Dee Miller's face buried in Ohio Stadium back when its field was still encased by a running track.
Michigan State's Renaldo Hill snatching away Joe Germaine's 4th down pass in the end zone as the clock expired. Your previously immortal Buckeyes losing at home for the first time in two years.
Both of those catastrophes coming via Michigan teams they were favored to beat by more than two touchdowns. That second, wholly undignified setback going down during the inaugural season of the Bowl Championship Series.
It was 1998. This was the beginning.
Fifteen years later the BCS is being put out to pasture just as the Bowl Coalition and the Bowl Alliance that preceded it. There has been a big shakeup late in its rankings just about every season since it started, but that was the only big shakeup that had Michigan State's fingerprints all over it.
That was 1998, which will always be about that damn Michigan State game.
The Buckeyes have to pull off the State of Michigan Sweep to get to return to the title game, and this time the Spartans are visibly blocking the path instead of surreptitiously lurking for an ambush. They have the opportunity to leave their fingerprints all over BCS again.
When they met in that first BCS season, the Buckeyes were at the top. When they meet Saturday in the final BCS season, they're right where they need to be once again. They just need to stay there.
When the season began there were rumblings about the Buckeyes getting the chance to hate twice; facing Michigan in Ann Arbor and again seven days later in Indianapolis for the B1G title. It was a common and obvious fantasy in the final year of Legends and Leaders.
But this is also the final year for the BCS. Michigan isn't as appropriate or fitting of a foe as Michigan State is to close out this era. Ohio State's run of (soon) ten BCS bowls and (hopefully) four title shots began with that stumble inside the old running track 15 years ago.
This final chapter presents a familiar nemesis - and it ain't the Wolverines.
---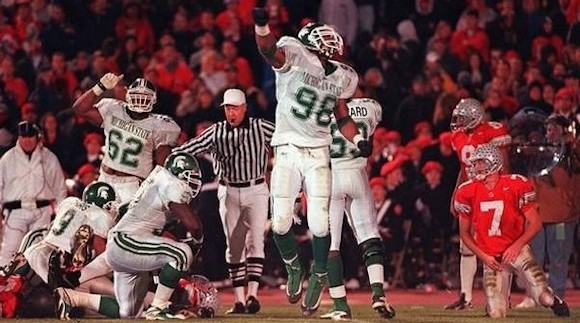 An hour prior to Hill's game-ender there were no thoughts of a Buckeye rally. The number one team in the country was cruising.
Ohio State led 24-9 late in the 3rd quarter with Michigan State punting deep in its own territory. None of the Buckeyes' games leading into November had been even remotely competitive. They had crushed three ranked teams by almost 60 points and absolutely mangled everyone else on the schedule.
And they were beating up Michigan State through halftime, as expected. Ohio State was prolific in every facet of football heading into that game. They had scored plenty of style points, but that didn't matter back then. No one talked about style points in 1998.
There was no SEC dominance, either. The overused cliché wasn't SEC speed, it was Florida speed - Miami, Florida State and Florida were the teams perceived to be too fast for everyone else. The Big Ten wasn't shabby, either: It won half of the BCS bowls that season, including a third-consecutive Rose Bowl.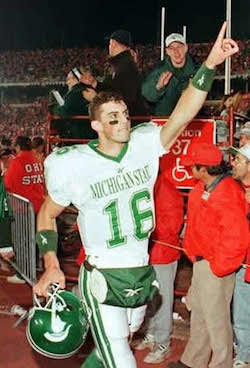 But there were plenty of similarities to today, both on the national landscape and very close to home: Ohio State was in the conversation, and Nick Saban - who coached that 6-6 MSU team which failed to gain bowl eligibility - was a part of it, though only through that one-week cameo; not as his current recurring character.
Mark Dantonio, who leads this year's 11-1 MSU team was Hill's position coach in East Lansing 15 years ago when the BCS began. Fifteen years prior to that he was a grad assistant in Columbus.
Florida State, the only team currently ranked higher than the Buckeyes, was right there in the thick of it then too. The Seminoles had grown roots in the top five during The Florida State Decade (that's why it's called that) and by that November it had beaten five ranked teams.
It had also suffered a very bad loss at NC State. FSU needed help to get to the title game and MSU came to its rescue.
When it came time to choose between the one-loss teams to face undefeated Tennessee, Florida State was at the top by virtue of a BCS formula that wasn't nearly as complex as the current one. Florida State lost in September, not November. Kansas State, Ohio State and UCLA had all taken fresher losses much later in the season.
Style points didn't matter as much as timing did. Think about how that has changed in 15 years, considering Alabama has lost four November games over the past three seasons.
The dawn of the BCS era was less about aggregating ESPN viewing audiences teams by conference strength, debating bad wins and good losses or manufacturing contrived talking points. It was about pulling together regional, fragmented rivalries that had produced split and multiple national champions for several decades.
That's still what it is now, and that is also what the festering ESPN-driven BCS fervor has become. But if you're a Buckeye with a long memory and a drivers license, 1998 doesn't spark thoughts of the BCS in its infancy.
No, 1998 will always be about that damn Michigan State game.
---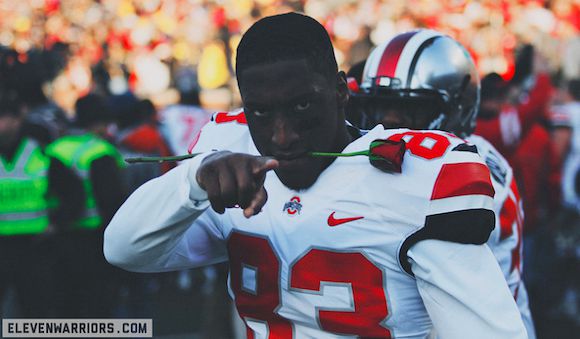 Looking forward to Michigan isn't a one-season anomaly. It's a standard, accepted and understandable flaw in the Buckeye hivemind. Looking forward to Michigan twice was the anomaly.
But as Ohioans have howled in unison more times that they can remember, they don't give a damn for that whole state. This also means the school in East Lansing, however benign it has been historically compared to its sibling from Ann Arbor.
The Spartans have beaten the Buckeyes just six times over the past 40 years (they've beaten Michigan six times during the BCS era alone). Four of those wins - 1987, 1988, 1999 and 2011 - came against arguably the four weakest Ohio State teams of that span.
The other two - that disaster of 1998 and the one that preceded it in 1974 - were absorbed by the number one team in the country. Your Buckeyes are currently number two in the final season of the BCS.
It's 2013. This is the end.
This week Dantonio is delivering this history lesson to his team to help them understand that the task they have Saturday night has been completed by lesser Michigan State editions, and that they can close out the BCS era with the same euphoria in which they opened it.
That history cannot be lost on the Buckeyes either. They have to pull off that State of Michigan Sweep in order to accomplish their goal for the season. They have to leave their fingerprints all over the final season of the BCS.
And they have come way too far for 2013 to also be only remembered for that damn Michigan State game.