We have reached Ohio State's annual Play Exactly One Marquee Power Five Non-Conference Opponent portion of the schedule.
With respect to Oregon State - which is not a marquee non-conference opponent and also has the audacity to tempt fate by referring to itself as OSU - the Horned Frogs were always the Buckeyes' only Power Five non-con test of the season.
I lied, that's not respectful to Oregon State at all. You too, Tulane. We'll get to your cash-checking asses next week. The important thing here is if Ohio State leaves Arlington with an L it will have a Big XII losing streak on its hands. This is peak humiliation among Power Five conferences. Imagine if Rutgers loses to Kansas on the same damn day.
TCU is a must-win game, folks. Let's get Situational.
---
THE RUNDOWN: WEEK TWO
11. The Ohio State defensive line ate Rutgers the way Joey Chestnut eats everything.
The third best part of that GIF (first best - Robert Landers, knower of all snap counts, and second best - the Rutgers 1st & 10 TV graphic appearing right where the play is disintegrating into 2nd & 13) is No.66 for the Scarlet Knights going straight to the second level to block Malik Harrison while his running back is being eaten at the minus-two level. Optimism: Pass it on™.
If you watched zero Ohio State offensive plays and only had a periscope view of the Buckeye defensive line film, you still would have correctly guessed the outcome with no other information available. That line should be the best unit on the field in every regular season game. [this space reserved for future tirades about targeting penalties]
10. We need to talk about Landers, aka BB, aka Bob from Accounting, aka "I'm not fat I'm just a little thicc around the edges" aka the lowest man wins and BB is always the lowest man.
Lord forgive us for what we are about to do to the big10 this year... pic.twitter.com/lz2bxQCbAw

— Robert Landers (@roblanders96) September 8, 2018
Landers, my unashamed crush on the current roster, isn't the most imposing or fastest defender the Buckeyes have. He doesn't rack up conspicuous highlights like both of Ohio State's terrifying starting ends, but he is in aggregate the most disruptive player on that side of the ball.
On just about every snap, Landers yanks a Jenga block out from beneath that play's intentions and the whole damn thing starts wobbling. Also, his pregame meal is a marvel of sports nutrition. I will continue to over-appreciate this team's diminutive and under-appreciated cog.
9. Two Saturdays in and we can already start compiling the percentages of credit due for the super kick-ass Ohio State downfield passing game that's forcing us to complain about other things instead:
THANK YOU FOR RAINBOWS: WEEK 2

| PASSING GAME CREDIT GOES TO: | PERCENTAGE |
| --- | --- |
| RYAN DAY: ZEN MASTER | 25% |
| HASKINS' ARM: PRECISion Instrument | 30% |
| TIM BECK EFFECT: FINALLY GRADUATED | 10% |
| BRIAN HARTLINE EFFECT: OBVIOUS | 20% |
| TOTE NATION: BEAUTIFUL DISTRACTION | 15% |
We are one season removed from a team where only K.J. Hill could reliably catch a football while in the act of running. We're five games removed from Haskins being benched for poor play to bring J.T. Barrett back in, and then tapping Joe Burrow after that.
Two of the next three games are against objectively frightening defenses, and away from the comforts of home. We still haven't seen Haskins respond to adversity as a full-time starter. Or play a snap in a 4th quarter this season. If his streak of smiling and standing on the sideline late in games extends to three, this team might be as special as it already thinks it is.
8. The offense under Tate Martell, as expected, looks more like Barrett's from the past two seasons than Haskins' from the past two first halves.
Past two seasons, and not past three, because we're still not sure what the 2015 offense was prior to the Michigan game. But we're trying really hard to move on. It's just that 2015 team should have been the 2001 Miami Hurricanes, and okay okay okay stop.
Martell's extra element is fun, though - WARNING not safe for ankles:
That was a fluid juke. OPEN > FILE > 2015 > MEMORIES THAT DON'T SUCK > ANN ARBOR
Mmmhmm.
Ohio State's maligned 2017 offense was still the nation's seventh best and averaged north of 500 yards per game, so as a Plan B or a Change of Pace option for what Haskins, J.K. Dobbins, Mike Weber and Whatever We're Going to Rename Zone Six - you could do a lot worse than Martell's RPOs with a legit keeper option. 
As an added bonus - with his early game appearances - Day is giving every defense a lot more to prepare for than what's going to be on the exam. I always hated teachers who did that. They're good now; it switched.
7. Rutgers was the final home game without Urban Meyer on the sideline. BTN, which is basically state-run television for B1G PR, mentioned his name exactly one time (!) and in a blowout. I'm old enough to remember when ESPN - with Kirk Herbstreit present, but quiet - spent the entire 3rd quarter of the 2004 Alamo Bowl talking about Robert Q. Baker paying for Troy Smith's cell phone bill, and how irreparably damaging this was to the very fabric of America.
I'm not a crap-on-all-of-the-media guy. I am a crap-on-the-broadcast guy. It took discipline and preparation by BTN to not pull at the low-hanging scandalfruit in a game that was over after one drive. Maybe it was to avoid alienating the primary customer, but they still had to come up with something to talk about for four hours - and they did it.
6. That all said...it's cooooommmmmmiiiiing.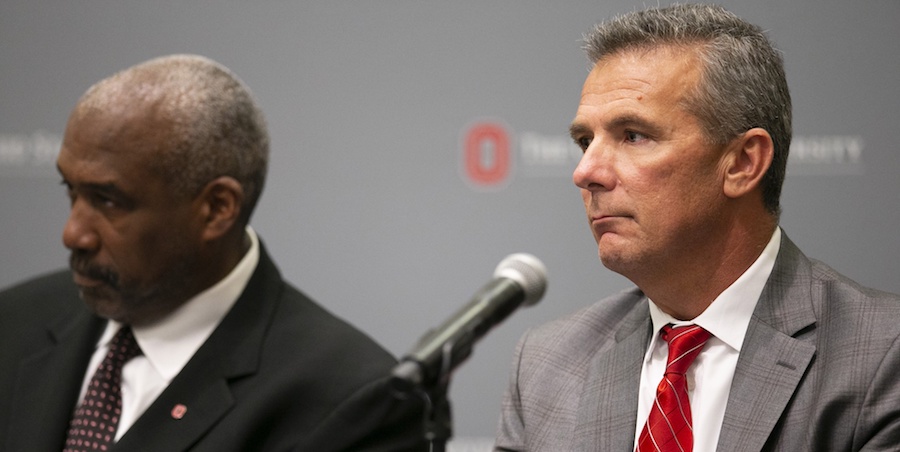 A quarter of the season without Meyer on the sideline was a light punishment in the minds of many (including my own, albeit for different and non-McMurphyish reasons). When Meyer re-enters the view of broadcasting cameras next week, it will feel a little like August all over again. Poor Tulane.
---
HALFTIME: THE BOURBON
There is a bourbon for every situation. Sometimes the spirits and the events overlap, which means that where bourbon is concerned there can be more than one worthy choice.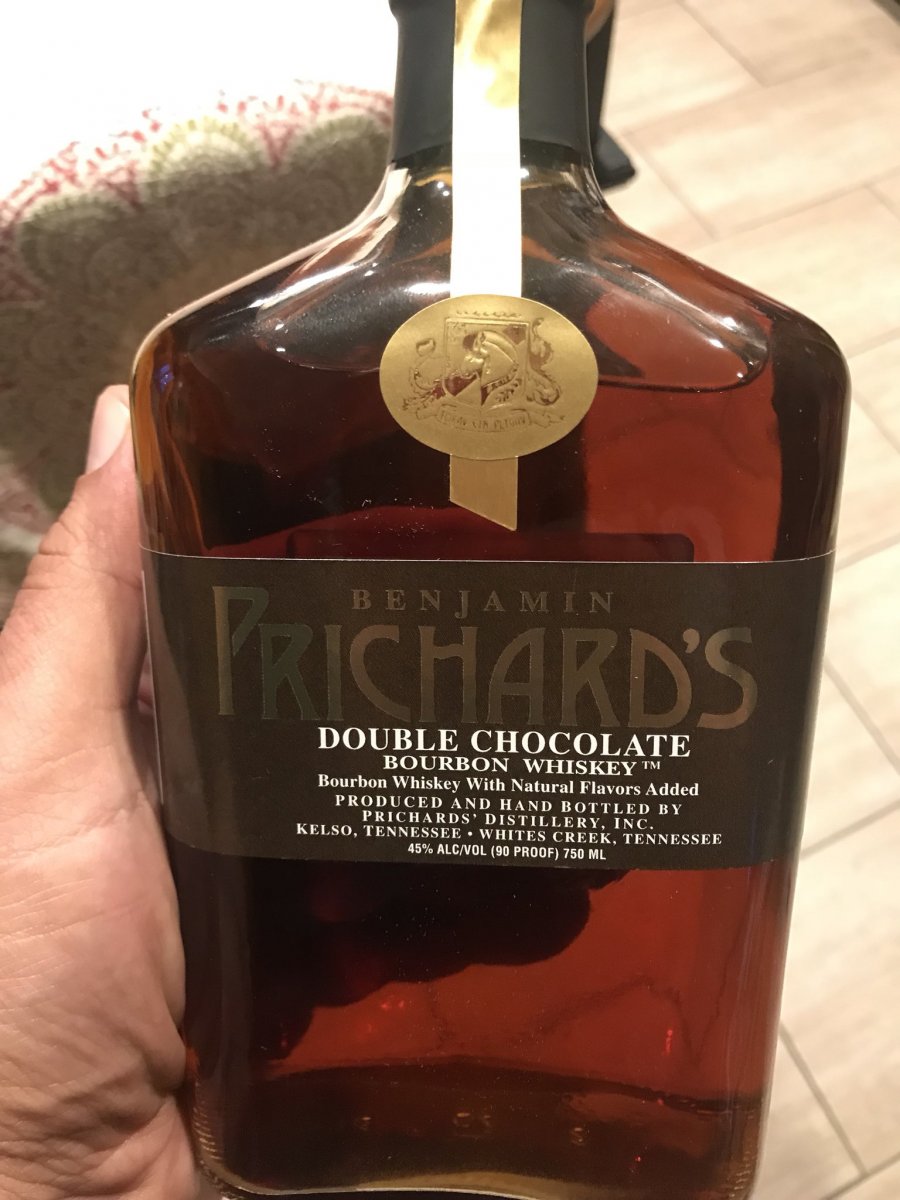 Alright, before the pitchforks come out: Yes, off-the-shelf flavored whiskey is still bullshit. Fireball is extremely bullshit; make your own instead.
Prichard's Double Chocolate is not bullshit. You're owed an explanation: If Prichards was scrap heap Kentucky Gentleman-grade pretend whiskey with store-brand Quik stirred into it (like Fireball, but with cinnamon) it would be bullshit too. It's not.
When the distillery - whose double-barreled bourbon is an expensive, meticulous and colossal pain in the ass to make - released a flavored product, I thought well, shit Prichard's is struggling and this is a cash grab. Yeah, so the opposite is true. I sheathed my pitchfork.
Double Chocolate follows the same PITA method as Double Barreled (mash, ferment, distill, rest in fresh barrels, wake up, remove, discard barrels, age again in brand new barrels for several years) and then adds a Chocolate phase, and it's not as simple as stirring Quik into whiskey and breaking up the powder chunks - which we all know never break up no matter how many hours you stir it. Syrup > Quik. That rabbit belongs in prison.
Anyway, Prichard's brought in Olive & Sinclair to chocolatify the double barrel. This secret process is too sexy for this web site but we'll share it anyway:
After the bourbon is bottle-ready, it is infused with select, single origin cacao beans that are slowly roasted and stone ground...the result...has hints of caramel and toffee typically associated with a bourbon, but a gentle, chocolaty finish.
Try to come up with a better finish than one that's both gentle and chocolaty. I'll wait.
So yes, flavored bourbon is bullshit. Infused bourbon (#tbt Apple Pie bourbon, hello old friend) is not. Chocolate and bourbon have always paired well together. Prichard's Double Chocolate cuts out the middleman and the chewing. It will set you back $70 that you will not regret spending.
---
THE WALKUP: WEEK THREE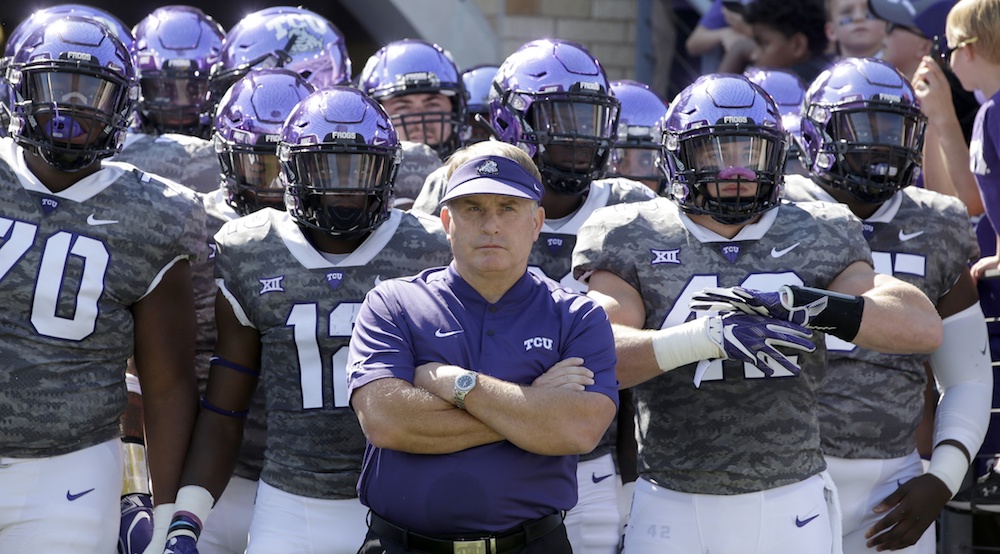 4. A worthy opponent awaits on Saturday night, in a stadium where Ohio State has recently won two marquee postseason games. Texas is a state where the Buckeyes are historically undefeated. The worthy opponent doesn't and shouldn't care about history, recent or distant.
TCU got an extra day to prepare by playing SMU on Friday, but at the expense of several hours of weather delay that may have contributed to the Mustangs keeping it interesting for a full half before inevitability did its thing. Ohio State got two extra days to prepare for Oklahoma last season, which, hey didn't help much at all. Sports and logic don't mix.
TCU was leapfrogged by the Buckeyes in 2014 in the final CFP ranking, something all the 5th year seniors on both teams and fans will remember - but history lessons are not how games are won. It's Jimmys and Joes and X's and O's, not television shows. Ugh I'm sorry how do I delete this
3. Remember when Ted Ginn Jr was breaking sound barriers? It feels like Ohio State punt returns have been a bit of an adventure ever since he vacated the position.
This Saturday night the Buckeyes will be in the dome where we last saw K.J. Hill letting Southern Cal off the mat. That Cotton Bowl was a tale of two games - the one we were enjoying before Hill's fumble (24-0) and the one that followed (0-7). Fumbles do especially bad things to Ohio State teams. Go watch the B1G Championship before and after Weber's fumble.
Hill's was the latest in a long line of punt return nightmares. Ohio State probably beats Clemson in the 2014 Orange Bowl if Philly Brown just fields the damn punt. Dontre Wilson had more special teams fumbles in East Lansing than catches. Jalin Marshall was secretly paid by pharmaceutical companies who manufacture blood pressure medicine for three seasons. Make it stop.
On Saturday Demario McCall got under a punt and nearly airballed it. A roster filled with 4 and 5-star game-breaking talent now has a converted walk-on fielding punts, because clearing the the area and conceding field position is apparently the next best option.
This guy Minnesota has fielding punts, whom the Buckeyes refused to recruit, seems pretty good - he's a team captain, has sure hands, carries the ball high and tight even in the chaos of a punt return - and after absorbing several hits.
It's Antoine Winfield, Jr. I mean, who could have possibly known he would be great despite being undersized. How could Ohio State have known this.
If you had told me 20 years ago that another Antoine Winfield was going to be invented and that Ohio State would not even try to get it I would have called the police

— Ramzy Nasrallah (@ramzy) September 9, 2018
I'm not mad. I'm not mad at all. I'm laughing, actually.
2. The Horned Frogs are deep, veteran and talented. The Buckeyes' starters have yet to play three full quarters of football, let alone four. Both teams have dealt with anxiety, but for embarrassing reasons - SMU kept it interesting for a full half, and Oregon State scored 31 goddamn points.
It's the first bright lights event for both teams. Ohio State was unable to make the Beavers quit in Week One, so it's next to impossible they'll get the Horned Frogs to give up, especially in a program-defining opportunity with national implications.
If there's a such thing as a safe lead, it's not likely to make an appearance in Arlington. TCU may end up losing, but it will play its ass off for the duration.
1. The Buckeyes and Horned Frogs were two of the most penalized teams in the country in 2017. Good teams often make tons of mistakes, because...they can. It's frustrating.
While both have only played two games this season, we can start to see which program made reducing flags a priority, and which is like looool whatever, we're loaded:
TOO MANY HANKIES: 2017 vs. 2018

| TEAM | 2017 PENALTIES | FBS RANK | 2018 PENALTIES | FBS RANK |
| --- | --- | --- | --- | --- |
| OHIO STATE | 89 for 750 yards | 119th | 17 for 170 yards | 100th |
| TCU | 97 for 943 yards | 105th | 9 for 83 yards | 25th |
There will be flags on Saturday night. Win or lose, this game is going to take five hours.
Thanks for getting Situational today. Go Bucks. Beat TCU.