Ohio State made it nearly four years without an August Surprise.
Braxton Miller's Heisman campaign, football season and QB career all came crashing down during a routine Monday practice four Augusts ago. Freshman J.T. Barrett was plugged into his place, and there's a 2014 placard hanging from Ohio Stadium's C-Deck as a reminder of what happened next. It will be displayed there for as long as Ohio Stadium stands.
Urban Meyer solidified his reputation as an elite coach after converting a catastrophe into a fairy tale. The theory became testimony. E+R=O. Above the Line. He was living his best life, coaching his best team, taming unicorns, crapping rainbows, writing books, throwing out ceremonial first pitches, dropping in on late night television shows and staring in case studies on organizational stewardship all accelerated for Ohio's most prominent state employee.
The 2014 season born from that August Surprise gave lift to every first responder, as Tom Herman and Chris Ash gained fame and accumulated enviable wealth on the promise that they too had the special sauce required to recreate not just the victories but the entire foundation that made 2014 possible.
Ohio State football's ivory never shined so bright. Even the Buckeyes' third-string quarterback, previously known for a bad tweet, was now America's Sweetheart. Reputations were healed, not just by what they had done - but how they did it.
August Surprises aren't supposed to have endings this happy. It was a far cry from the one Ohio State had endured 16 years earlier.
That one is largely forgotten because it was arrived within a lingering three-year stench that had been growing pungent for awhile. The smell arose during the summer of 1998 when Andy Katzenmoyer's summer eligibility schedule became the national punchline for a football factory disguised as an institution of higher learning.
Katzenmoyer revealed he took Golf, Music and AIDS Awareness to straighten out his GPA and stay on the field. "He's never been especially intellectually curious," said athletic director Andy Geiger, in a backhanded defense of the reigning Butkus winner. All it took to tarnish the academic reputation of the university and its football program was one student's class schedule from one summer quarter.
the 2014 BUCKEYES could have settled FOR 10-3 or 11-2 and still be lauded for resilience AFTER BRAXTON'S INJURY. But Meyer didn't come out of retirement for consolation prizes.
Sports Illustrated picked the Buckeyes as its top team, with a humiliating caveat - Katzenmoyer had to stay academically eligible to keep Ohio State atop its rankings. And everyone learned how he was able to do that through the path of least resistance. The Buckeyes would be only as good as the academic charade their top players were engaged in.
But that was not the August surprise. It was just the beginning of that stench and the first unfortunate bookend.
Reggie Germany's zero point zero GPA two seasons later was the other. Ohio State's most reliable wide receiver had pulled a Flounder, which punctuated the reputation that had begun with Katzenmoyer's summer schedule and was amplified by that shocking August Surprise of 1999.
Wait, you don't remember? It's been nearly two damn decades. You're forgiven for forgetting what happened during the final buildup to Ohio State's most forgettable football season of the 1990s.
That August we learned a full 25% of the Buckeyes' incoming recruits had failed to clear admissions. They including blue chipper Bryce Bishop, who many had hoped could immediately fill in for All American offensive lineman Rob Murphy, who was unavailable because...right, he was another academic casualty. John Cooper's coaching epitaph has Michigan failures written all over it, but the program rot was on full display during that stretch - and it had nothing to do with losing in November.
The 1999 team went 6-6 one season after squandering a sure shot at the first-ever BCS title. After a dazzling run during the middle part of the decade we learned we don't rebuild, we reload is only possible when your guys are eligible to play, and it started with that August Surprise.
Ohio State couldn't even beat Michigan with borderline college students. The reputation was earned.
The stench vaporized three years later when a molecular genetics major led the team to a 14-0 record and a C-Deck placard that currently hangs just left of the 2014 one. It took much of the sting out of the August Surprise of 2003 when Maurice Clarett was suspended, and what had happened in 1999 was already a distant memory.
All it took to rehabilitate the academic reputation of the football program was one student's major. And winning. Not even the best freshman running back the school had ever seen spiraling out of school could extinguish the enthusiasm. Reputations are fickle. 
The 1999 Buckeyes were dead in the water for a multitude of reasons outside of their late summer eligibility anchor, whereas the 2014 edition found immortality when it easily could have settled into winning on talent alone to go 10-3 or 11-2 and still be lauded for resilience. But Meyer didn't come out of abrupt retirement for consolation prizes.
He didn't re-enter coaching in 2012 to have his program back in the news for embarrassing non-football reasons, as in Gainesville. He didn't return to be the recipient of paid administrative leave. Urban wins football games because of what he does on the field. Urban has gotten himself in trouble for not doing enough off of it. 
Everyone figured this out when he was still a Gator, and his time as a Buckeye had been practically unblemished with regard to not tolerating what happened at Florida. Reputation is a dual vector agreement with yourself and the general public. For living people, it's only renewable daily. Unfortunately it doesn't come with better terms.
Ohio State made it nearly four years without an August Surprise. It was a good run.
Let's get Situational.
---
THE RECOVERY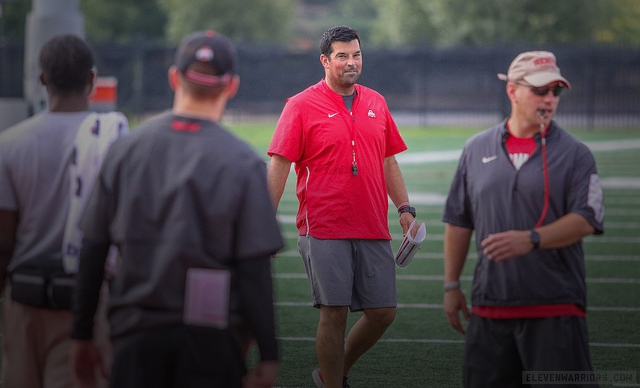 If there's any hint of an analog to 2018, it's 1999. It's a different stench, but it had been with us for awhile.
Zach Smith, Meyer's nepotism hire and the program's unofficial online cringe ambassador since 2012 finally had his comeuppance, but not before leaving a blast radius that far exceeded the aggregated value he might have inadvertently brought to the program during his six seasons of being Ohio State's weakest football teacher.
The radioactivity from retaining Earle Bruce's grandson and allowing him to leave his skid marks all over the program will linger for awhile. Meyer's coaching tree is practically without peer in the modern era, which is what made Smith's continued retention so frustrating long before the allegations of domestic violence surfaced.
Being deprived of his presence means we're probably (hopefully?) finished producing so many pieces about how the Buckeyes' wide receivers have no reliable difference-makers and lack development and cannot catch footballs well or run precision routes, which, hey cool. Writing around how pitiful of a university ambassador the wide receivers coach was by instead focusing on the middling results of his unit was exhausting. Documenting the pendulum swing we're all anticipating from his replacement should be a lot more fun to both write and read.
Smith did not deserve the invasion into his disastrous marriage or online purchases as much as he did not deserve the opportunity to occupy one of the most coveted jobs in his field. Personal conduct delivered the consequences that his job performance did not, and now he gets to be a mildly interesting footnote in the annals of program history.
Ohio State football is a rental property that's passed in perpetuity to and from players and coaches.
Bigger picture - fortunately, and we've known this for decades, Ohio State football doesn't stop for one person, one loss or even one season. No single player or coach is worth it, which is a core principle that escaped Meyer for the years that he retained Smith - there is absolutely no chance a non-relative of Bruce's with identical results would have lasted this long. A young assistant at a top-five program who doesn't get promoted and isn't a flight risk or coveted by other programs? That's a red flag you can see from space.
Greg Schiano and Kevin Wilson are both still enrolled in their image rehabilitation stints under Meyer, who himself now requires a few continuing education credits for his own reputation. Ryan Day and Alex Grinch have lengthy runways in the coaching business. Brian Hartline made $10MM playing the position he now enthusiastically teaches for a fraction of that money.
But Ohio State is much stronger with Meyer actively leading the program, and with a competent wide receivers coach. The Buckeyes got better when Meyer's staff was forced to compensate for his absence. They are much stronger with this cautionary tale and its lessons in the rearview mirror. Reputation is the only element the came out of this demonstrably weaker.
Meanwhile, the most talented roster in school history is preparing to defend the B1G championship, beat Michigan for a seventh straight time for the second time this century and earn another spot in the College Football Playoff. Reputation is a holistic attribute. The one that shows up on fall Saturdays and the one that's been in the news lately don't overlap right now.
But that should be easier to upgrade than the Buckeyes' linebacker play, a unit with enormous upside currently coached by a journeyman assistant who happens to be Meyer's college buddy and the best man from his wedding. Everything there should be just fine.
The most important thing to remember this season - and every one that follows - is that Ohio State football is a rental property that's passed in perpetuity to and from players and coaches. They receive it, they take care of it and then they give it back. It's no one's to keep. Some tenants forget that, and it ends up being how they're remembered forever.
---
THE BOURBON
There is a bourbon for every situation. Sometimes the spirits and the events overlap, which means that where bourbon is concerned there can be more than one worthy choice.
This August has lasted for years. We could all use a drink. 
So whats this years under-the-radar bourbon that can actually be purchased?

— Ken I (@IdleHands21) April 22, 2018
I've been meaning to answer that question in this space for a few months now, which has given me ample time to overthink it. Bourbon is in a multi-year crescendo for popularity, driven largely by how strong the category is as well as by how it has turned into a hoarding competition to drive brands into scarcity. I'd like to avoid contributing to the Bourbon Industrial Complex, so I'll answer a slightly different question. Overthought? Always.
Finding new, fun stuff for your glass means procuring bourbon that's just available enough, worthy of your money, not radically priced and interesting. So let's talk about Longbranch.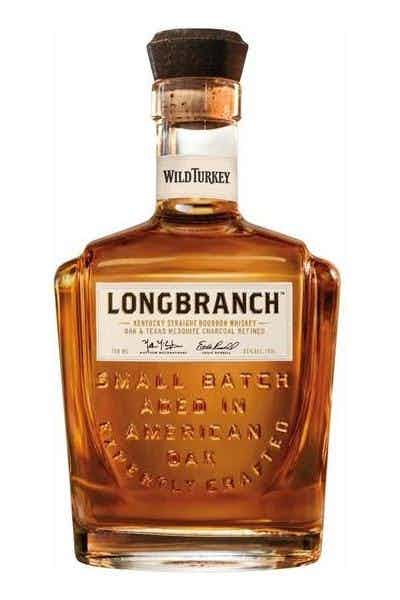 Unlike football coaching, nepotism has been very good to the evolution of bourbon. Eddie Russell, humble son of Jimmy, is Wild Turkey's master distiller whose reputation is beyond reproach. Longbranch is a new (2018) offering to the Turkey portfolio that you might have heard of because its pitchman - and Russell's collaborator - is actor Matthew McConaughey. 
A celebrity endorsement. That's bad, right? Usually.
Mila Kunis is currently on television putting her stamp on Jim Beam, which is cheap and available in every bar in the world as well as some laundromats. McConaughey's role in Longbranch has a little more depth to it. He's not plugging a flat, legacy brand to give it a bump in sales; this is a new and relatively sophisticated entry from an established distillery that 100% knows what the hell it's doing.
People who prefer bourbon to Scotch whisky generally do so because of the sweetness, and if you're among that crowd you'll be pleased to discover that this might be the sweetest bourbon a major distillery has ever produced.
Longbranch smells like a barbecued poundcake. You taste that when you sip it, plus a rich caramel buttercream frosting. What's interesting is that those notes leave your palate quickly, while most whiskeys hang on your tongue a little while and heat you up. Longbranch just sort of exits the premises and only leaves a puff of smoke behind (mesquite, to be specific - this wasn't a metaphor).
What's also interesting is that Longbranch is not priced to cover the costs an A-list celebrity endorsement requires. The Russells could have probably added $20-40 to their ASP, but didn't - they simply took their reliable mash bill (probably the 101 8-year but don't hold me to that) added some enhancements to the finishing processes with guidance from McConaughey and produced a really interesting and different bourbon.
So you could say Longbranch kept getting bolder, but stayed the same age. I'm not sorry.
---
THE PLAYOFF
Taylor Swift's latest album is called Reputation. Normally there's a theme to these articles, but this month has been anything but normal, so here's the best 25-minute concert in the history of rock n' roll instead.
Actual football is almost back! (also, Bohemian Rhapsody comes out November 1)
Thanks for getting Situational today. Go Bucks.