Austin Mack lost his black stripe one year ago this month.

It happened right after Ohio State's seventh practice of the spring, coming off a season in which the Buckeye offense didn't quite figure out its own identity until Michigan State forced the issue. Mack's brisk ascendance was welcome news; the offense was in search of a new playmaker, having lost so many to an historic NFL draft that was still a month away.
Mack was the first Buckeye since Urban Meyer arrived to shed his black stripe in the springtime. His on-scholarship predecessors who were the first in their respective classes to ritualistically join the program were De'Van Bogard, Noah Spence, Raekwon McMillan and Isaiah Prince, all of whom saw the field early. The speculation for Mack losing his in March was understandably bullish.
Running Backs coach Tony Alford was later asked about Zone 6's star pupil, who had skipped prom to enroll early in college:
(Mack) just plays hard, he plays fast. He's hungry. He's not taking plays off. Even if he's wrong, he goes 100 mph. We can fix a mistake. Your effort is from within. He goes. He goes.
Mack went on to complete his freshman season with two catches totaling 15 yards.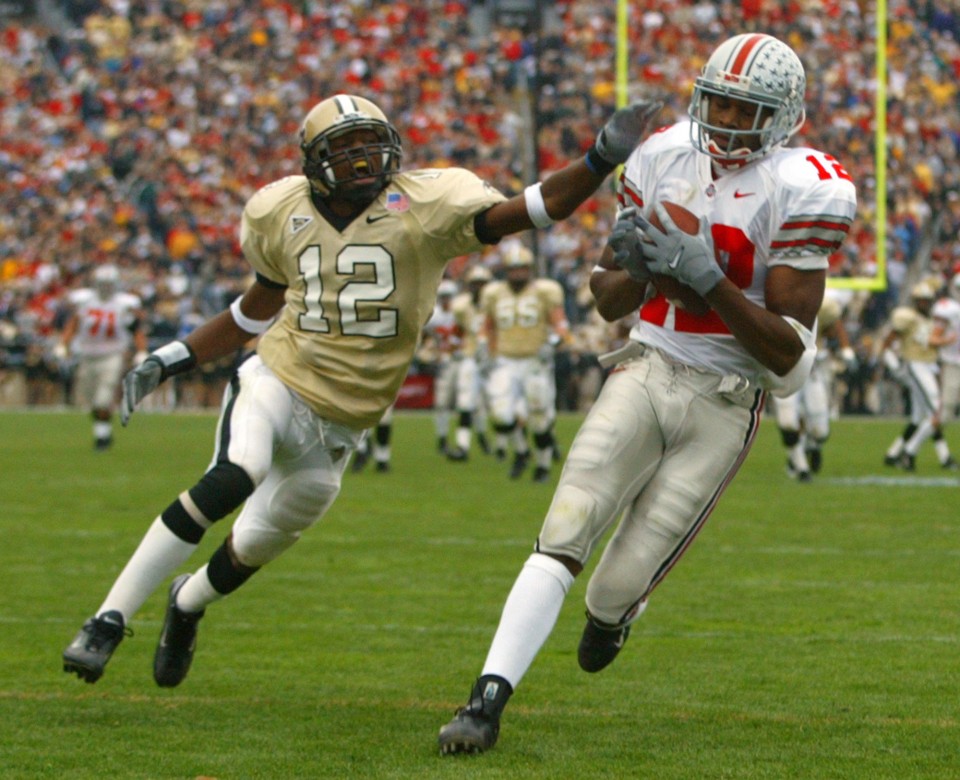 Ohio State's leading receiver - defined as someone who doesn't line up in the backfield most of the time - ended up being Noah Brown, who took his 32 receptions and One Big Night to an early NFL declaration. Mack, along with Ben Victor (4 catches) and K.J. Hill (18 catches) are expected to shine this fall.
But shine is an expectation that has been increasingly difficult to measure or quantify for Ohio State's wide receivers.
Do you remember how detractors used to remind everyone - especially running back recruits - that Meyer never had a 1,000-yard rusher at Florida? It turns out Columbus isn't Gainesville, and the Buckeyes have had a 1,000-yard rusher in every season under Meyer, including two the year both Braxton Miller and Carlos Hyde advanced their totals into four figures. A freshman just did it, for the third time ever.
But 1,000 yards receiving? No Buckeye has come close. Last year Curtis Samuel became only the second player to eclipse 800 in a season since Dane Sanzenbacher last did it in 2010. A thousand yards receiving feels like a 1,000 years ago.
---
Rationalizing the receiving corps is one of our goofiest and least self-aware rituals as Buckeye fans every season - and it predates Urban, Zach Smith and even Jim Tressel: We have convinced ourselves that Ohio State receivers are different. They have to block.
Edge blocking is simply more important in Columbus than it is anywhere else. A wide receiver's inability to properly block with passion, technique and gusto in the Ohio State offense is the shadowy boogeyman that keeps him off the field. We tell ourselves this every year to explain away cases like Mack's in 2017.
Mack lost his black stripe in March and went on to grab two passes on the season while Terry McLaurin and James Clark were flailing all over the field every game, combining for 17 total catches. Stage fright? Inability to master the playbook? Ah right, McLaurin and Clark probably block better - Ohio State receivers are required to block. They must be more trustworthy on RPOs when the R happens.
One thing OSU receivers don't do is tease four digits. The last time Ohio State had a 1,000 receiver it won the national title. And it wasn't the 2014 one. 
Devin Smith took 15 games to finish the 2014 season with 931 yards (Ed. on only 33 catches, holy shit). Michael Jenkins had nearly 150 more receiving yards in one less game in 2002, a season that was defined by the Buckeyes' futility on offense in the absence of Maurice Clarett. They won with defense and field position and yet still managed to have a 1,000-yard receiver along the way. 
That hasn't happened since. Utah's Paris Warren in 2004 is the most recent Meyer receiver to break 1,000 yards (1076) in a season, and Steve Savoy (961) nearly gave him two that year.
URBAN MEYER'S LEADING RECEIVERS THROUGH FIVE SEASONS


| YEAR | FLORIDA WR | REC | YDS | OHIO STATE WR | REC | YDS | YEAR |
| --- | --- | --- | --- | --- | --- | --- | --- |
| 2005 | Chad Jackson | 88 | 900 | Philly Brown | 60 | 669 | 2012 |
| 2006 | Dallas Baker | 60 | 920 | Philly Brown | 63 | 771 | 2013 |
| 2007 | Percy Harvin (H) | 59 | 858 | Devin Smith | 33 | 931 | 2014 |
| 2008 | Louis Murphy | 38 | 665 | Michael Thomas | 56 | 781 | 2015 |
| 2009 | Riley Cooper | 51 | 961 | Curtis Samuel (H) | 74 | 865 | 2016 |
It's not exactly a rare feat in college football, either - 37 FBS receivers broke 1,000 yards last season. That number hovers around 40 every year, so 15 years - and counting - can categorically be considered a drought at a place like Ohio State that recruits as it has while emphasizing its passing game as it does.
A 1,000-yard receiver is a nice indicator that your offense can properly stretch the field. It's a deep threat, a consistent threat and a threat that makes everything else around it a bigger threat. It's not an arbitrary benchmark, and Ohio State hasn't had it in ages.
On a regional level, the Buckeyes are the conference's glaring outlier. Every single other Big Ten program has had at least one in that span except Nebraska - which has never had a 1,000-yard receiver in school history. The notoriously grounded Huskers have purposefully tried to be more open on offense since 2011, but they still haven't produced a prolific downfield threat.
Heyyyyy, maybe there is a common element there. Whatever, it no longer matters - and incoming offensive coordinator Kevin Wilson has enough history behind him for us to conclude the Buckeye offense will change ever-so-slightly philosophically, but throw the ball with more purpose than the past two seasons.
Last year in Bloomington IU's leading receiver was Nick Westbrook, a sophomore who ended 2016 five yards short of 1,000 in what was viewed as a down year for the Hoosier offense. Senior Ricky Jones complemented Westbrook with 848 yards receiving after pulling down 906 as a junior.
That season Simmie Cobbs ended with 1,035 yards receiving, so you have to go all the way back to 2015 to find a 1,000-yard receiver under Wilson (who also had two 1,000-yard rushers that year in Jordan Howard and Devine Redding). Once he got his system and players in place, the only other time the Hoosiers failed to have a 1,000-yard receiver Tevin Coleman finished with over 2,000 yards rushing. 
Wilson is coming to a program that's 61-6 over five seasons. Imagine if the Buckeyes had a capable secondary in 2013. Imagine if they had an offensive identity for most of 2015. Imagine if the offense hadn't gotten so stale to the point it was helpless to end 2016.
Now imagine the 2017 team with a complement of 1,000-yard receiving threats.
AROUND 40 FBS PLAYERS break 1,000 yards receiving every season. A Buckeye hasn't been among them since 2002.
Meyer recruited speed upon arriving in Columbus. The philosophy behind receiver selection has changed noticeably over the past couple of cycles as it has become depressingly obvious Zone 6 has trouble producing reliable pass-catchers and game-breakers. Its holistically-best receiver has been Michael Thomas, who himself was grossly underutilized.
The urgency is obvious. When Eric sat down to determine five guys that needed to emerge from spring practice for this series, he made 40% of them wide receivers. He's not wrong, and that brings us back to Mack, Victor and Hill being expected to shine in 2017. Fifteen years after Jenkins's Holy Buckeye season we still don't know how to quantify what that means for an Ohio State receiver.
But maybe we'll be able to do that after next season. Or if we can't, perhaps the receivers we hoped to see more of will just have to get better at blocking.