Urban Meyer has climbed college football's summit three times, but Ohio State's fourth-year coach has never sat atop the New York Times' Best Sellers List. That, however, looks like it's about to change.
Enter Above the Line, a book penned by Urban Meyer and the New York Daily News' Wayne Coffee, that's set for an October 27th release. Here's a look at the cover: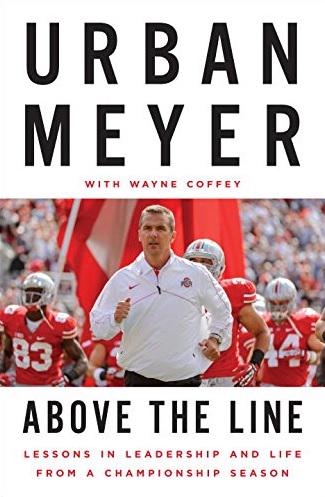 Here's how Penguin Random House, the book's publisher, describes the book, which will include tales from Urban's Florida days but will focus on OSU's title team:
How did Ohio State, a school many thought did not even deserve to be in the playoffs, end up at the summit of college football? In Above the Line, Urban Meyer answers this question and many more. Pulling back the curtain on the high-profile, high-pressure world he operates in, he offers readers a groundbreaking game plan for creating a culture of success that engages and inspires the people around them – the very game plan he followed every day in the Buckeyes' historic 2014 season.

A student of psychology long before he became a coach, Meyer believes that trust is the bedrock of great achievements and healthy relationships, and explains how to build it, step by step—whether in a team, a family, or a Fortune 500 company. 
"The time was right for this book," Meyer said in a press release. "Last season's Ohio State team was so inspiring to me, especially in the way it handled adversity, that I truly believed it offered lessons that could have value to a wider audience."
H/T: ESPN Big Ten Blog