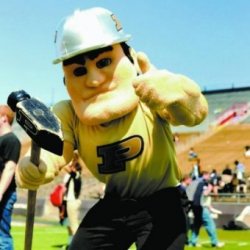 D.J. Byrnes
Piqua, Ohio (via Marion, Ohio)
MEMBER SINCE June 24, 2011
Dispatches from the underground.
Favorites
SPORTS MOMENT: The day the Cleveland Browns win the Super Bowl.
COLLEGE FOOTBALL PLAYER: The Iron King, Cardale Jones, First of His Name, Poacher of Badgers, Controller of Tides, Slayer of
COLLEGE BASKETBALL PLAYER: Michael Redd
NFL TEAM: the Almighty Cleveland Browns
NHL TEAM: Columbus Blue Jackets
NBA TEAM: Los Angeles Lakers
MLB TEAM: Dodgers (Only in World Series)
SOCCER TEAM: Aston Villa
Recent Activity
Condolences to Michigan fans who spent the last week thinking they had a chance now.
Thank you for all the kind words everyone! I am jotting down all the necessary notes. Go Bucks!
Can't wait to watch this dude cry.
Penn State is going to get rolled.
Kevin.... long-time reader first-time commenter.... do you think the local team covers Saturday? I'll hang up and listen.
I will put a poster of Alex Hornibrook on the wall of my room if the Badgers finish higher than the Buckeyes. I will also be betting my life savings on that contest if it should come to fruition in Indianapolis.
Man, that's awesome, Silver. Thanks for that.
God bless, Fitz. You are one of my favorite readers. Hope you stick around to watch my mediocre son blossom into the mediocre blgoger he was destined to become.
I'm an a grinder with a lot of upside. Hoping to outshine my initial recruiting service ranking through the camp circuit this fall.
Thank you, Gibbs. Be sure to stick around. I'm the least talented one of the bunch.
Scott's Tots is the funniest Office episode, followed by the one at the beach and racial diversity training. I could type a thesis on why Scott's Tots was hilarious.
Starcat is definitely the straw that stirs my drink in this.
No problem, Bloom. Just know I'll have your back wherever I go.
Hahahaha, that's so true Squirrel Master. I'll never forget the time I went after Bob Knight and people torched me. Great memories.
My political enemies may take everything from me. But they will never take my cats or my sense of humor.
No problem, Charlie. I got paid well for my troubles so it wasn't charity. It was still an honor to serve.
Enzo, thank you for your kind words.
This is exactly how I look reading these comments, Reds.
Thank you, Wyatt. Any chance you move to the 80th before November? Need every vote I can get.
CC — I know you disagreed with me a lot, and I want to express my gratitude to you for hanging around despite all that. My goal is to be back in November, win or lose, but alas I cannot guarantee anything at this time. Hope your weekend treats you well, brother.
Brian Cook talks trash about me but never comes down to the streets to face me. So I had to go to him. I think they're still downvoting me over there, lmao.
Hove, I appreciate that, man. Stepping away from a role like this, where I know I helped people escape the grind even for five minutes, was not something I did lightly. In a perfect world I'll be back to blog in November. But only time will tell, as we like to say in the biz.
Thank you, Best Damn Fan in the Land. It was an honor to help guys like you.
Now now, I haven't used beg the question in years precisely because I don't know what it means. #knowingyourrole
Piqua, Ohio, on the banks of the mighty Miami River, baby.