It's been four long days since Jalin Marshall's slippery digits cost middle America its bright future.
Many of our civilization's castaways - those perpetually whiny citizens readily-equipped but nevertheless incapable of personal achievement - publicly and heroically cited his fumbles as the worst thing to ever happen to them. They communicated their frustration to him from the safety of their electronic devices.
It's been four days, but for them it might as well be four years. They'll never recover from last Saturday. Hope you're happy, Jalin.
Social media is all about accessibility, and since real success escapes most people the consolation prize is the electronic means to launch insults at those talented enough to attend college for free. The allows them to briefly associate with people better, braver and with significantly higher limits on the human experience than they could ever dream.
NOPE. THE INTERNET NEVER FUMBLES.
Forget about standardized test scores, the number in Box 1 of your W-2 form or your greatest conquest's lady-measurements: If you possess the restraint to not tweet at college (or high school) football players, you're already a success - or destined to become one.
That said, not everything about harassing 20-year old college football players is necessarily bad. Shaming the creeps who do so is great. <----- Notice how many of the chickenshits featured in that linked piece abruptly deleted their tweets upon being shamed, thinking their lousy judgment would be erased. NOPE. THE INTERNET NEVER FUMBLES.
Nevertheless, Marshall's slick fingers did have real victims: Based on this gentleman's grammar and hat we can safely assume he 1) is Chief of Surgery at a prestigious medical facility, and 2) savvy enough to wager a portion of his sizable income on a college football game being played in windy, sub-zero temperatures:
@JalinMarshall your a piece of garbage. All you have to do is make a fair catch to cover the spread an you muff it.

— Jay Droney (@JD1V) November 15, 2014
Just hours earlier, Mr. Droney had hope. He had dreams. He was happy:
Cherry chapstick season!

— Jay Droney (@JD1V) November 12, 2014
Jalin's fumbles shattered this poor guy's finances, and possibly his life as well. On the bright and far more important side, the Buckeyes are still undefeated in Big Ten play and are 6th in the latest playoff rankings!
And no, social media isn't horrible. Twitter isn't the worst. People are horrible. Social media would be flawless if it weren't for them.
Now - let's get Situational!
---
The MINESWEEPER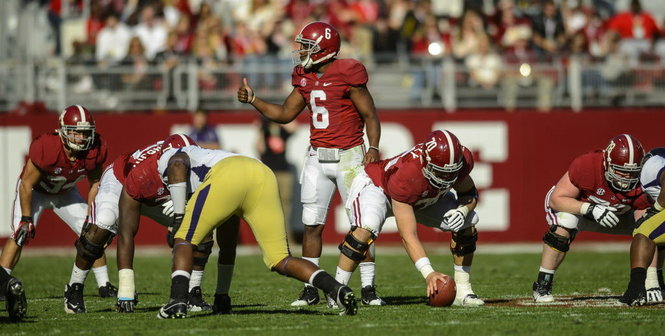 It's an annual tradition no one seems to ever talk about: The third Saturday in November in the S-E-C.
Above is a photo from the hotly anticipated 2012 Alabama-Western Carolina game (you may notice Ohio State Buckeye-for-ten-minutes Chad Lindsay (#78) playing left guard). The Crimson Tide won that game 49-0 against the Catamounts, who finished the season 1-10 in the FCS' vaunted Southern Conference.
This football-game-in-name-only allowed Alabama to accomplish two important goals: One, it removed a land mine where land mines generally occur during the witchcraftiest portion of the college football season - late November. Two, none of the Tide's starters left the bench after going into halftime leading 42-0. They were able to rest for the Iron Bowl with Auburn the following Saturday.
Meanwhile, Auburn was busy beating up on poor old Alabama A&M 51-7. They too scheduled a game that was impossible to lose during the scariest time of year.
On Saturday the coachless Florida Gators are facing Eastern Kentucky in a game for which Vegas has issued no odds. Other games Vegas isn't touching: Georgia vs. Charleston Southern, Auburn vs. Samford and of course that annual Bama/Western Carolina Late-Season Classic. Five-loss South Carolina (still a quality win, no matter what) is giving 22 points to South Alabama.
The SEC annually conspires to play nobody during the penultimate week of the regular season.
The SEC annually conspires to play nobody during the penultimate week of the regular season. The primary advantage is obvious; it's one less opportunity to step on one's own genitals during the most nerve-wracking and ominous week of the season.
This isn't an accident or a coincidence - doing so en masse adds a level of preservation to the conference's national title aspirations. This, of course, is tweeting-insults-at-Jalin-Marshall-for-fumbling levels of chicken shittery, and it's a practice that done in the only part of the country that openly and proudly aggregates success. There's just one conference chant in the history of mankind for a reason.
That being said, Ohio State gets Indiana this week and they're favored by 30. The Missouri Tigers, who can clinch the SEC East title on Saturday, were only favored to beat the Hoosiers by 16 when they played in September. After the Buckeyes cover the spread you can be confident Urban will remind everyone at his postgame presser what happened when Ohio State's latest victim played the defending - and possibly repeating - SEC East champs.
Sure, land mines can show up anywhere, anytime. But the scariest ones get stepped on in November. That's explicitly why the SEC sweeps for them every third Saturday, every single year.
---
The Paranoia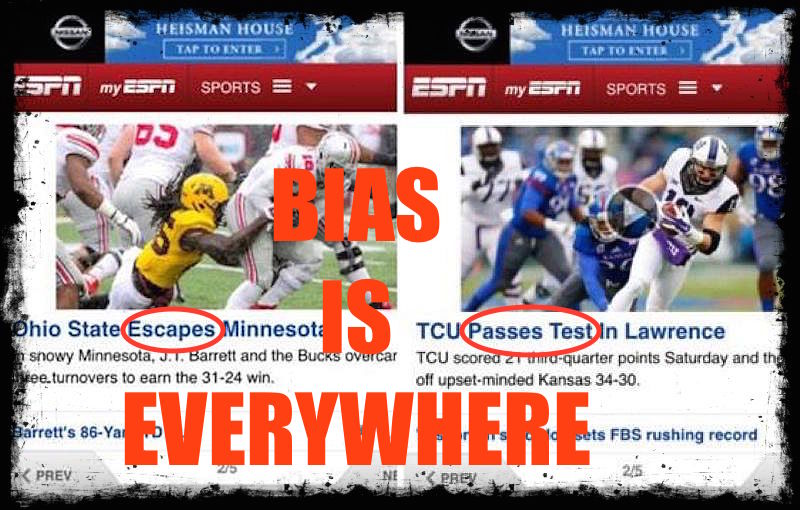 No, ESPN did not conspire to embellish TCU's miserable showing against one of the worst FBS teams in the country while simultaneously exaggerating the Buckeyes' "escape" in Minneapolis. That's not how headline writing works. Source: I was once in charge of creating headlines for stories I didn't write for an actual print newspaper.
ESPN's long history of antagonizing Ohio State football (its unforgivable Tatgate coverage, its treatment of Maurice Clarett, Jim Tressel, the 2004 Alamo Bowl ambush, suing the university, etc) is quite real. It has never been reluctant to make any Ohio State story bigger than it should be - and what's important about that is it also works in Ohio State's favor.
ESPN WILL ride the Ohio State train whether it's cruising or derailing.
So when the Buckeyes overcome a bad early loss to Virginia Tech and have a redshirt freshman emerge as a Heisman candidate while they beat the crap out of everyone, that's a story. That's as good for ESPN as a now-in-hindsight-salaciously-overinflated-tattoo-scandal was for ESPN.
You can't allow it to bother you. ESPN is going to ride the Ohio State train whether it's cruising or derailing. Straight news reporting was conquered by sensationalism prior to the turn of the century. You're better off making fun of an individual reporter's inconsistencies, like whenever Pat Forde opens his big stupid plastic face:
Pat Forde re: Terrelle Pryor in 2011 vs. Pat Forde re: Todd Gurley today. #evolution pic.twitter.com/YndvdfhAH1

— Ramzy Nasrallah (@ramzy) October 10, 2014
Solid word choice by Forde there: Outdated. Getting wound up over every little thing a faceless money-loving demon like ESPN does is better left in the past.
---
The INSPIRATION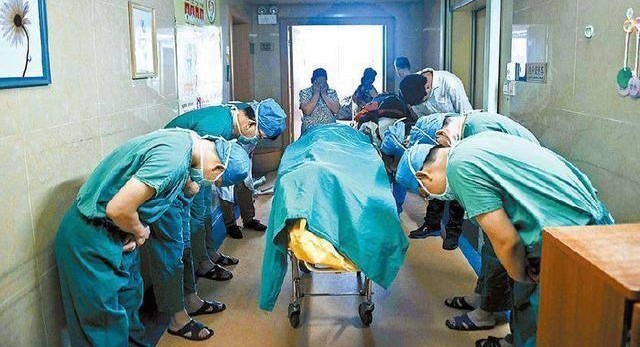 If you still find time during your Saturday to watch ESPN College Gameday you know that the best segment of the show belongs to Tom Rinaldi, who mines the college football landscape for poignant, tear-jerking stories of inspiration.
Consider this your Situational Moment of Rinaldi.
The surgeons in the photo above are bowing before the lifeless body of Liang Yaoyi, an 11 year-old boy from Shenzhen, China who always wanted to be a doctor. They're bowing because his dying wish was to be an organ donor, and they're about to make his wish come true.
That's his mother pictured at the top of the gurney with her face in her hands as her son's body is being prepared for organ donation. Liang bravely fought brain cancer over the final two years of his life:
As he neared the end, he revealed to his mother that he wanted her to donate his organs so that he could save the lives of other children. It was likely that he had read about tissue donation at school, through one story about bone marrow donations to treat leukemia and another titled, "Immortal Eyes."

"I have seen many people doing good deeds and I think they are great. I want to be a great child too," he reportedly told his mother.
His organs were harvested and in death young Liang - who was robbed by cancer of the opportunity to grow up - saved lives of people he never met and who will never meet him, but will still grow old with him.
ESPN College Gameday greatly benefits from briefly interrupting all its college football grabassery with a Moment of Rinaldi, and that was the intent here with the tragic, beautiful and important story of brave Liang. We will now get back to the shenanigans you originally came here to consume.
Oh, one last thing before we make tasty bourbon drinks together: You too could be a hero like Liang someday. And you should.
---
The Bourbon
There is a bourbon for every situation. Sometimes the spirits and the events overlap, which means that where bourbon is concerned there can be more than one worthy choice.
The holidays are upon us, comrades. You have the opportunity to break your [however old you are goes here]-year streak of convenience gifting, i.e. buying some meaningless present in haste the week of Christmas or Hanukkah or overnighting something already gift-wrapped from Amazon. You should be better than that.
Seize this opportunity, because this kind of gift-giving can fun, delicious and literally intoxicating. This year, give a gift that says 1) you are better than the average gifter and 2) you are classy, sophisticated and skilled. 
This holiday season, give the gift of bourbon. Infused bourbon.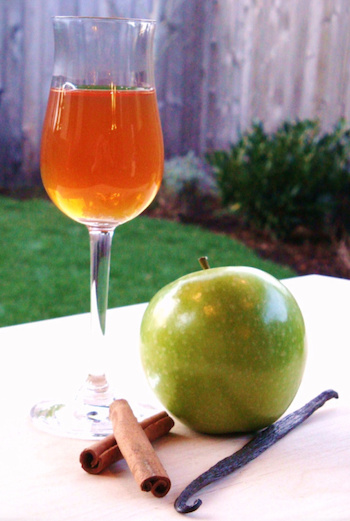 Bourbon is a 51% corn, 49% other stuff mixture that basically colors in its otherwise flavorless mash bill with fermentation and charred American oak. There's sugar in that wood, and it's among the tastiest you'll find in nature.
Here's where your classy sophistication comes in.
You can take finished bourbon and refinish it with a whole host of other non-charred oak infusion agents as an encore. This holiday season give your loved ones a bottle of Apple Pie bourbon.
Start with a bottle of Woodford Reserve - because it's got a lot of character, it's available in every store in America and mostly because the bottle shape allows for optimal presentation of your contribution. Slice up three Granny Smith apples into wedges thin enough to slide into the bottle. Drop in a cinnamon stick and two split sticks of Madagascar vanilla (this is the best there is - find it on the internet if it's not at your local store; in a pinch you can just use plain old vanilla beans). 
Now close the bottle tightly. If you want to have some fun, do this with several bottles for different gift recipients (and one for yourself, obviously). Leave the gift bourbons unopened - they need a month to steal the flavors you've added and mature into full-blown apple pie. 
But take your own bottle and sample it every week: The first week it will taste like a cinnamon roll. The second week it will taste like a cinnamon roll that whispers mmmm, apples in your ear while you're making out with it. By the fourth week you'll be drinking apple pie. If you let it infuse longer it will get more and more apple pie-ish, but one month should do the trick, especially with Christmas 35 days away.
Apple Pie Bourbon

| Ingredient | quantity |
| --- | --- |
| Woodford Reserve | One Bottle |
| Granny Smith Apples | Three |
| CInnamon Stick | One |
| Madagascar Vanilla | Two split sticks |
| Time | One month |
When you've drained the bottle - and you can tell your gift recipients this as well - those apple slices that are left should be immediately baked into an actual apple pie. Do not throw them away. Those apple slices have been upgraded.
The resulting pie is virtually guaranteed to be tastier than anything your grandma is capable of making, with sincere apologies to your grandma. It's not her fault. Bourbon has superpowers that grandmas simply don't have. 
If apple pie isn't your thing, you can also do this with sliced ripe bananas - you'll just want to filter it through a cheese cloth or coffee filters into a pitcher and then back into the bottle prior to gifting. Banana-infused bourbon is sneaky good and universally appreciated. It's the J.T. Barrett of infused bourbons, basically.
Infused bourbon is a terrific semi-homemade gift for the holidays. And to think you were going to pay for overnight shipping and gift wrap on Amazon. You savage.
---
The Playoff
If Metallica had abandoned its pipe dream of becoming the father of radio-friendly heavy metal and instead chosen to be a cover band that played Beatles songs, it would not be Beatallica.
No, Beatallica takes Beatles songs and strains them through a very precise Metallica song filter. That's far different from simply turning guitars down half a key, adding a second bass drum pedal and groaning yeeeaahhhhuhhh at the end of Penny Lane. 
Here's what happens when Beatallica strains Day Tripper through Hero of the Day:
[Note: There's no rational explanation for the video above; the recommendation here is to close your eyes and simply listen to it. It's worth noting the original video for Hero of the Day is also completely insane.]
Hero of the Day comes from the album Load, Metallica's under-appreciated but fatal trip into blues and country. The cover art was, uh, cow blood mixed with human semen pressed between two sheets of plexiglass, because art's gonna art.
The videos for Day Tripper (there are three of them) predate the Beatles' introduction to Bob Dylan and transitively, psychedelic drugs - which makes all of them rather tame. It's worth noting the Beatles lyric she's a big teaser was originally she's a prick teaser because young McCartney and Lennon really didn't give a shit about being radio-friendly. Apple Records absolutely did, and as a result big teaser is what you hear on the record.
There's your Situational. Enjoy Jalin Marshall's enduring triumph this weekend. Go Bucks!