Oklahoma hasn't lost a game since the last time it faced Ohio State.
The Sooners did not win a single quarter against the Buckeyes in Norman. Sure, they later gave up even more points to TCU and Texas Tech (hashtag: Big XII defense) but they emerged from both of those shootouts as the victor. OU also let a very bad Texas team put up 40. Still won.
Then they closed out 2016 by throttling #14 West Virginia 56-28 in Morgantown, #10 Oklahoma State 38-10 in Bedlam and #14 Auburn 35-19 in the Sugar Bowl. Oklahoma figured it out during the part of the season where you absolutely have to have it figured out.
That was right around the same time the Ohio State offense was completely impotent in East Lansing, deadbeat dad versus Michigan and just dead against Clemson. Finishing the final three games of any season like that can do wonders for your mood - OU's mood was good. Ohio State's mood, despite pounding OU months earlier, was bad. Same football season. This sport has a scorching recency bias.
Saturday would be a delightful bookend to Oklahoma's winning streak.
September is exciting but generally irrelevant to history. Allow your memory to venture back to the end of the 2014 season when the Buckeyes figured it all out - Google it if you can't remember what you had for breakfast this morning. Take a look at how that team started September when it hosted Virginia Tech. The Buckeyes did not have anything figured out that month. That's what October and November are for, friends. The OU-OSU home-and-home is exciting, but generally irrelevant to history.
But the Sooners are perfect since the last Ohio State game. The Buckeyes have lost twice since Norman, or in helpful math terms that provide better context - they've absorbed a full third of Urban Meyer's losses in five years. Oklahoma lost its coach, too, while Ohio State said goodbye to its offensive brain trust in the Phoenix airport since last season. Both squads are loaded with talent, emotion and just enough urgency to have it figured out, this week.
That said, Saturday would be a delightful bookend to Oklahoma's winning streak. Situational: ENGAGE
---
The SURPRISE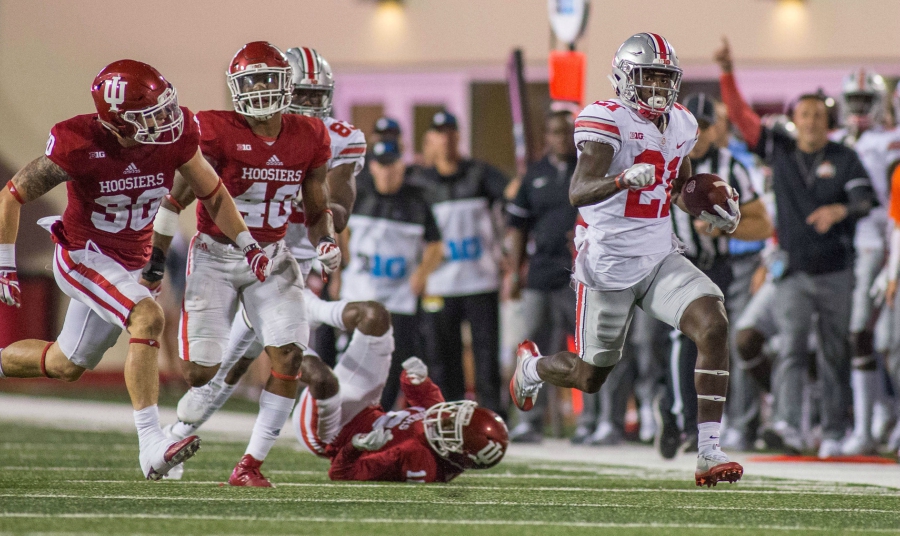 I was not surprised Ohio State's offense didn't just roll onto the field in Bloomington with a new QB coach and offensive coordinator and casually vomit 5 touchdowns inside the first half.
I was not surprised J.T. Barrett is still one full second late on half of his throws. I was not surprised to see Zone Six's arms, to a man, flailing about completely uncontrolled while zeroing in on the ball in flight during vertical passing attempts because that entire unit's mechanics have been lacking since Michael Thomas exhausted his eligibility. 
I was not surprised that Barrett was the calming influence on the field during a tepid first half where Kevin Wilson was just sort of trying to gauge where his offense was coming out of camp. I was not surprised Barrett finally and consistently set his feet properly for the first time since Tom Herman was on the payroll, because he has a competent position coach again.
I was not surprised the shallow and intermediate crossing routes where there all night, or that Zone Six's subpar mechanics were mitigated when they just squat in the hole of a zone and only have to catch the ball with both feet planted on terra firma. I was not surprised they were able to create YAC with regularity coming off those squats, because their elite speed is unsurprising.
I was not surprised J.K. Dobbins was so snappy and crisp in his first start. It took about 30 seconds during the one practice I attended this fall to see that coming:
 Dobbins appears like he's going to be a nightmare for defenses; everything he does is so snappy and crisp.
I was not surprised that Ohio State's defensive front was deep and uniformly ferocious, or that its back seven got picked on all evening. I was not surprised that Indiana's coaches attacked the greenest part of the defense with what is undoubtedly its biggest strength.
I wasn't surprised when Wilson terminated his 1st half offense progress testing, switched to short crossing routes and casually chose to end the game with what he knew a roster he recruited in its entirety could not stop.
I wasn't surprised at all at how last Thursday in Bloomington transpired. I wasn't surprised the Buckeye offense didn't take the field in its first game as a highly-refined touchdown machine peaking in all elements.
I will be surprised if it doesn't become one.
---
The Bourbon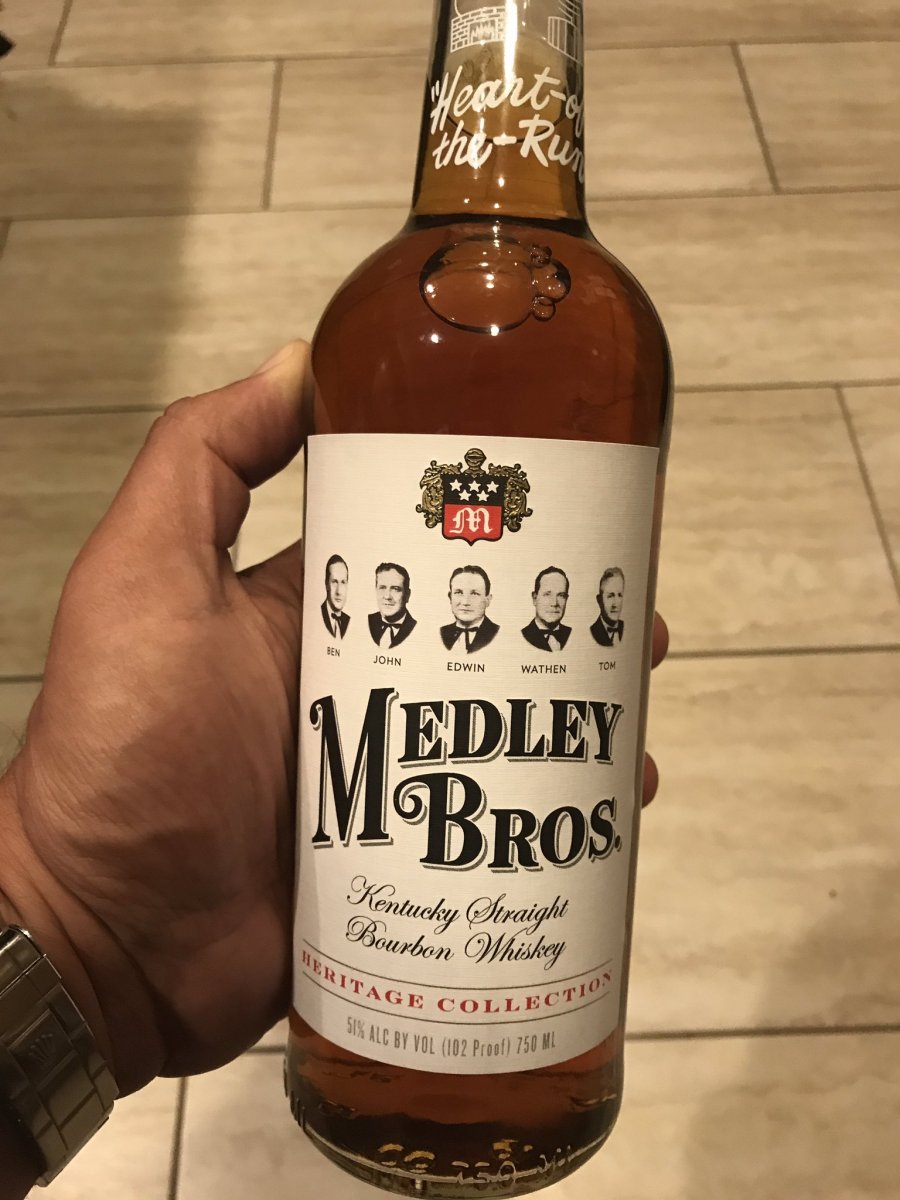 There is a bourbon for every situation. Sometimes the spirits and the events overlap, which means that where bourbon is concerned there can be more than one worthy choice.
Medley Bros. bourbon enjoyed mild popularity in the 1940s up until 1958 when it ceased production. Four years ago it returned to (some) store shelves bearing the same label it wore back when Marty McFly was trying to save his future mother from himself at Hill Valley High's Under the Sea dance.
The label is important. Bourbon is a sensory experience, and Medley Bros. chose to pretend its 55-year hiatus never happened, in lieu of shining up its branding by throwing an avocado or Drake on the label to try and win over millennials. Just like drinking Jim Beam is an inexpensive trip down memory lane (it's exactly what pre-prohibition tasted like) sipping Medley Bros. is a parallel path. If you pay $25 for this bottle, shout at the liquor store clerk.
It's strong (>100 proof) worthy, and yet entirely uncaptivating - but it doesn't try to be. Remember when Oklahoma's backup QB made that unfortunate Basic Defense comment last season ahead of the Ohio State game? Medley Bros. is that bourbon. Josh Peters' review is perfect:
Medley Bros Bourbon is not a fancy bourbon. It doesn't put on airs, hell it barely manages to put pants on before company comes over, but it's warm and friendly and works well in mixed (drink) company and can find itself a home in nearly any environment.
This is a bourbon that does not require a special occasion or situation. Those are always good to have around since life is what happens between special occasions. Consider picking up a bottle before it goes on another 55-year break.
---
The Playoff
I'm old enough to remember when The Simpsons was appointment television:
If you're not old enough - or if you simply made bad choices and avoided the show during its heyday - that clip is there for your benefit as we pay homage to the sexiest moment from Bloomington.
Robert Landers earned that Teen Beat-style collage at the top of the article with his girthy hustle, elite motor, Braxton Milleresque stutter step and endzone triumph, which only lived long enough to be killed by replay officials. It was so real. It was so brief.
Here's Landers' shining moment on a loop set to Marvin Gaye's Sexual Healing. Thank you, sir. 
Hey @ramzy ask and ye shall receive #fatkidtouchdown pic.twitter.com/DAzbM3DI9X

— Chad Heald (@chadheald) September 1, 2017​​
This one counted in our hearts. Bob, here's to your next one counting on the scoreboard too.
Thanks for getting Situational today. Go Bucks. Beat the Sooners again.