Tomorrow night in Bloomington Ohio State will start six wide receivers.
It goes like this, per the Ohio State football web site of record: Parris Campbell and K.J. Hill will both start at the Percy Harvin Curtis Samuel position. Camp concluded with Austin Mack and Binjimen Victor both winning the X position vacated by Noah Brown/shared by Campbell last year, and Johnnie Dixon and Terry McLaurin both locked down the Z.
Dixon takes current Virginia Tech Hokie James Clark's 2016 spot - last year's listed co-starter with McLaurin against Bowling Green - and is tasked with replacing his six receptions that went with him to Blacksburg.
Here's to Dixon covering that entire gap Thursday night. We'll get back to him shortly.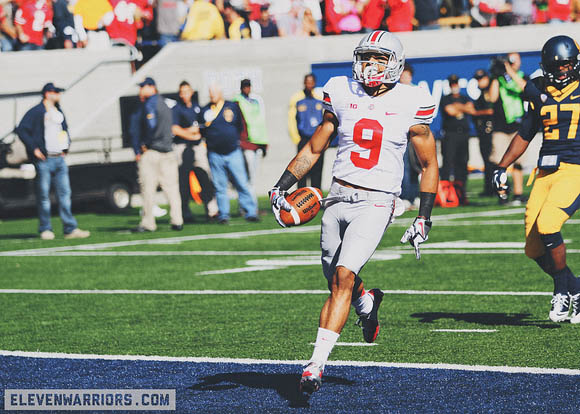 Every other position on the offense has a single name attached to it. Three-time captain J.T. Barrett won the starting QB position (whaaaat?!) and Mike Weber - or J.K. Dobbins, depending entirely on Weber's hammy at game time - will be next to him in the backfield. They'll be walled off by Jamarco Jones, Michael Jordan, Billy Price, Branden Bowen and Isaiah Prince. Marcus Baugh, Ohio State's leading returning receiver, has TE all to himself.
That gives the Buckeyes 14 guys on the field at the snap. Correct, professor - that's a penalty.
Don't be confused. Ohio State is not starting six receivers tomorrow night in Bloomington. It didn't list six starters on the depth chart for gamesmanship reasons, or to force Indiana to prepare for six guys who combined for just 54 catches last season. It's not dependent on what formation takes the field first, either. And no, Kevin Wilson isn't playing 12-dimensional chess against his former employer with OSU's depth chart.
The Buckeyes have six starting receivers in Game One for the third straight opener because they still don't know who their starting receivers are. Six starting wide receivers isn't depth. It's ambiguity. This happened in 2015 and 2016, both disappoinments for wide receiver production, and now it's happening again this season.
Zone Six was even more ambiguous opening against Bowling Green: Brown and Campbell were both listed as starters at the X. Samuel and Dontre Wilson both started at what was the Percy Harvin position. Corey Smith and Dixon both won a starting spot that had previously listed three (!!!) starters heading into the Virginia Tech rematch back in 2015 (Dixon, Clark, McLaurin).
And last season McLaurin and Clark also both locked down the Z vacated by Michael Thomas, who declined his final college season to catch more passes as an NFL rookie than he did as Ohio State's #1 receiver. Did I say the Buckeyes had six starting wide receivers last season? I was kidding - last season's least productive unit had eight guys listed as starters for the season opener. Eight. Because of the depth, obviously.
So having at least six starting receivers isn't a new thing in Columbus. It's a ritual now.
The last time Ohio State didn't begin a season with Zone Six ambiguity the Buckeyes ended up winning the national title. Evan Spencer owned the X from Game One. Devin Smith held onto the Z from 2013. Wilson and Jalin Marshall were co-starters at the H and shared duty until Wilson broke his foot in East Lansing and Marshall never let it go once it was all his.
Everything Urban Meyer does at Ohio State is a competition with a winner and a loser. Zone Six is the exception.
All three demonstrably commanded those roles as the Buckeyes evolved into an unbeatable killing machine at the season's climax. Thomas shined in a backup role and in larger sets. No pure wide receiver has shined since he left.
Which brings us back to Dixon, the easiest player to root for on the 2017 Buckeyes.
Last season Brown fought back from a catastrophic injury to co-start with Campbell, and in Game Two he appeared to have penned the fairy tale comeback story everyone always hoped he would. That Oklahoma game happened and Zone Six's ambiguity disappeared with Brown's nationally-televised coming out party.
Ohio State's alpha receiver had given notice. He caught the winning touchdown pass in Madison a month later, which was his first score since that night in Norman. He caught his final touchdown against Nebraska; a two-catch 14-yard performance. Ohio State's alpha receiver ended 2016 with three or fewer catches in 10 games. He didn't reach 20 yards receiving six times.
Brown didn't win the September Heisman last year. He won the September 17th Heisman.
Receiver is a funny position relative to all the others, save QB. The best ones have an ego and just the right amount of crazy. There are other attributes you need there, too. But you've got to crown an alpha. Interchangeable, indistinguishable receivers are the opposite of a nightmare for defensive backfields. Three years in a row is not just a red flag; it's a blaring siren.
Dixon is the most complete receiver Meyer has ever recruited at Ohio State. Tendonitis failed to leave him alone until now, and it's been story after story about how great he will finally be at full health. The Noah parallel is already under construction. If he shines in Bloomington or next weekend against Oklahoma we'll have the beginning of a sequel to last year's fairy tale comeback.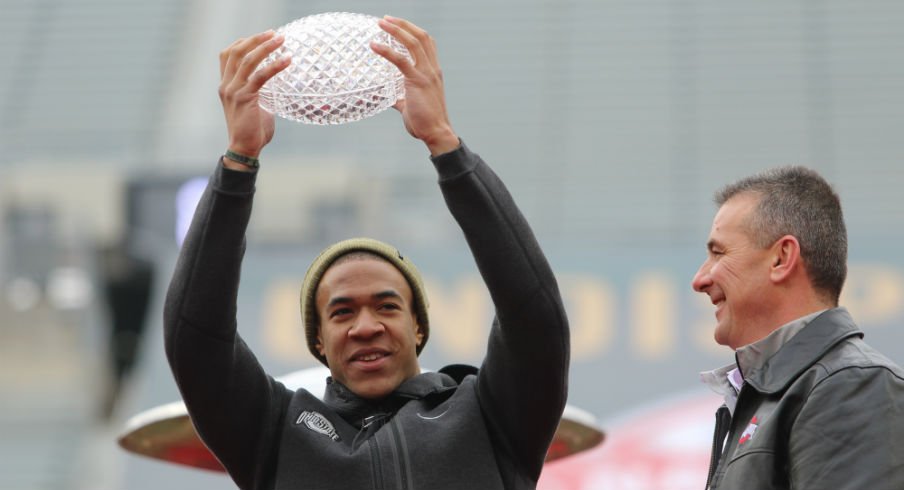 He would have Brown's vacated X all to himself, at Victor's expense. That's not to say anyone should be rooting against Victor; it's just that Zone Six is the one area where there have been far too many "winners." While every other unit has competitions, Zone Six hands out participation ribbons. You run faster when someone's chasing you. That's why everything Meyer does is a competition. Only one unit has been exempted from that ritual. It's created one of its own.
Which screams that it's not the players' fault. Exhibit A is how Thomas abruptly exploded in New Orleans, Exhibit B is how Braxton's generational talent was mismanaged so egregiously in 2015 criminal charges should have been brought against the entire coaching staff. Exhibit C is the Six Starting Receivers ritual that's taken hold and the lackluster production that has followed.
Perhaps it will finally solve itself in September - as we thought it did a year ago - but it will take more than one big night to finally upgrade Zone Six up to an acceptable standard. Tomorrow night the Buckeyes start six wide receivers. Here's to permanently leaving this ritual behind in Bloomington.