The 19th installment of this year's Better Know a Buckeye series continues profiling the eleventh hour additions to this class. This week's feature is on Johnnie Dixon, a wide receiver prospect from West Palm Beach, Florida. For a recruitment process involving Alabama, the three major programs in Florida, and Ohio State over two years, little was said of Dixon during his recruitment. The assumption was Dixon would ultimately land at Miami, though a late in-home visit by Urban Meyer sold him on Ohio State.
I retell his recruitment below before offering video of his commitment and the interview that followed with West Palm Beach's ESPN affiliate. Thereafter, I discuss strengths and areas for improvement for a wide receiver prospect that could be the most complete that Urban Meyer has yet to recruit to Ohio State. I conclude with an expectation that Dixon will play in 2014, highlight film, and some miscellaneous things about him you may find interesting.
Height: 5-11
Weight: 198
High School: William T. Dwyer High School; West Palm Beach, FL
His Recruitment

Johnnie Dixon's recruitment starts in the spring of 2012 at the end of his sophomore year. Ohio State extended its scholarship offer in May. Several others had followed around that time. These officers were noteworthy too. By the end of the summer before his junior year, Dixon boasted offers from programs like Alabama, Florida, Florida State, Miami, Ohio State, and South Florida. By themselves, they constitute a more than adequate sample from which to select a college destination.
However, Dixon's recruitment did not progress beyond the acquisition of offers at this time and through his junior year. He acquired additional offers from programs like Arkansas, Auburn, Clemson, Louisville, Mississippi, Mississippi State, NC State, Tennessee, Virginia Tech, and Washington State. Of these schools, only the offers from—of all programs—Arkansas and NC State mattered to his recruitment during his senior year when he started taking official visits.
Dixon had little in the way of "top fives" and favorites during his two-year recruitment. The prohibitive favorite through the summer of 2013 was Miami. The local program hosted Dixon for at least seven unofficial visits, including summer camps. Dixon was no stranger to Ohio State, though. He attended a summer camp in 2013 with friend and high school teammate, Shawn Boone.
Dixon's recruitment moves toward a conclusion with his official visits. The first two official visits were to NC State and Arkansas for their respective games against Richmond and Southern Miss. Both visits seemed to conclude with the lack of interest toward those respective programs. While NC State's 23-21 victory over Richmond may have helped the Wolfpack land his teammate Shawn Boone, no further interest for Dixon in NC State materialized after the visit. Arkansas had more ease in dispatching Southern Miss though Arkansas' position with Dixon ends with the visit. Saying both were still "in the mix" was at least polite.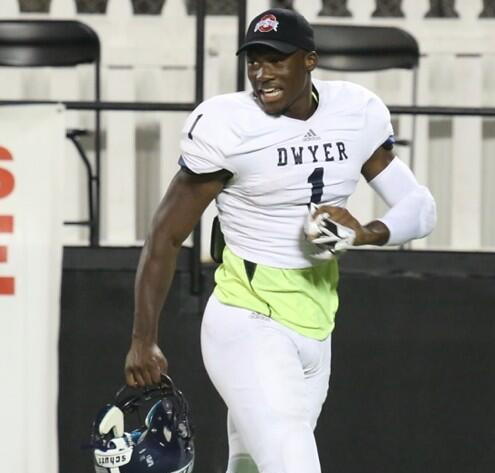 Dixon visited Ohio State for its night game against Wisconsin though said little of the visit afterward. He finished his official visits with trips to Alabama in November for its win against LSU and to Miami in December for its win against Georgia Tech. Few official comments could be discerned regarding any visit.
Without many official comments to parse, most predictions surrounding Dixon had him to Miami or, maybe, Alabama. It was an in-home visit from Urban Meyer that seemed to sell Dixon on selecting Ohio State. The visit from Meyer came as Dixon's team was preparing to play in the state championship game against Niceville. Thereafter, Dixon was seen sporting Ohio State gear as his team was finishing its pre-game preparations. 
Dwyer beat Niceville in the state championship game, 55-39. Dixon was ready to make his selection a few days later.
His Commitment

On December 17th, one day after Raekwon McMillan pledged to Ohio State, Dixon committed to Ohio State. You can see the ceremony and post-commitment interview with ESPN West Palm below.
Where He Excels

People with more experience than I in evaluating South Florida prospects suggest Dixon might be the most complete wide receiver Meyer has yet to recruit to Ohio State. The belief is that Meyer has found a prospect equivalent to what Nick Saban found in Amari Cooper.
Dixon is just 5-11 making him not particularly "big". Still, he is a solid 200 pounds, give or take. He will adjust quite well to the physical nature of major college football.
First thing that stands out on film is his acceleration. Dixon explodes off the line of scrimmage after the snap. He showcases both the outright speed to make him fast off the snap but has a strength to handle press coverage as well.
I have not seen a lot of it because most wide receiver highlight films will not show it, but he is apparently a capable blocker in run support too.
Must Work On

A few things stand out. For a guy his size (i.e. length), Dixon does better than most in high-pointing footballs and catching away from his body. I think he is at the least adequate but I would like to see more.
The bigger inquiry may be his versatility as a wide receiver. Dixon is a deep threat right now but does not show much in running routes and working plays underneath coverage to pick up first downs. He will be a complete receiver the sooner he could demonstrate this ability.
Redshirt?

This is unlikely. The wide receiver position is a logjam of known, if average, commodities for which it is conceivable that Dixon could redshirt like Jalin Marshall did last year. That Dixon has been enrolled since January makes his likelihood of playing this season that much greater.
Highlights

This is senior year.
Miscellany

11W feature on his prospects for immediate playing time.
Dwyer's state championship was the program's second. Its first game in 2009.
USA Today's national high school football rankings put Dwyer at 12th nationally for the season.
In a regional championship game against annual titans, St. Thomas Aquinas, Dixon had 4 catches for 124 yards and two touchdowns in a 35-28 win for Dwyer. His two touchdowns were of 43 yards and 67 yards. You can watch highlights here.
In the five-game postseason run to the state championship, Dixon had 17 receptions for 366 yards and six touchdowns.
He will wear no. 1 this season.
He played in the U.S. Army All-American Game, along with Dante Booker, Jalyn Holmes, Marcelys Jones, Demetrius Knox, Marshon Lattimore, Curtis Samuel, Erick Smith, and Damon Webb.