The first rule of winning a national championship is you do not talk about winning a national championship.

The second rule of winning a national championship is you do not talk about winning a national championship.
Third rule of winning a national championship: Opponent yells stop, goes limp, taps out - just ignore it and keep running them over. Fourth rule: beat Michigan. Fifth rule: one game at a time, fellas. Sixth rule: avoid dumb penalties, dumb suspensions, dumb distractions, dumb anything. Seventh rule: The Chase will go on as long as it has to. And the eighth and final rule: If this is your last season, you have to make it count.
That first (and second) rule are routinely blown off by players, fans and the media - who are all complicit in creating distractions that derail everything. Every single one of Ohio State's can't-miss national title contenders in my lifetime have all missed, spectacularly. Meanwhile, the 2002 run came off a five-loss season. The 2014 one suffered three Ls in four games before embarking on its title run, only after being written off.
Those two teams were just interested in getting better while grinding opponents each week into a fine paste, either through suffocation or domination. Their rewards hang on large red placards in perpetuity above the north endzone in Ohio Stadium. The can't-miss ones are nowhere to be found and cannot be spoken of without a tinge of regret. 
It's fun to talk about winning the national championship, but ask those two recent teams that did it - it's way more fun to win one. So shhhhhhhh.
Heed the rules. Let's get Situational!
---
The SPY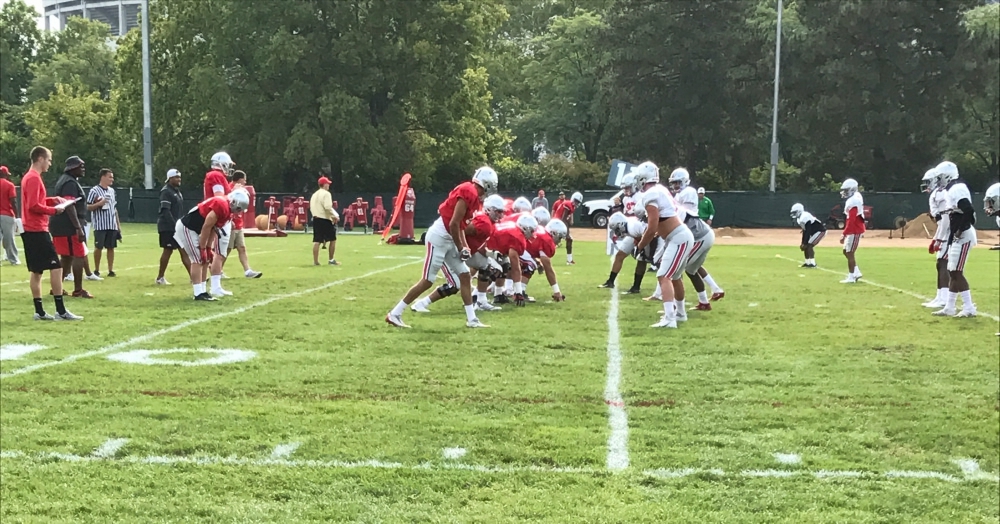 That's a photo from an Ohio State practice last week. I took it, and am sharing it being mindful of spilling any state secrets.
You'll notice a whole bunch of black-striped helmets here, along with Kory Curtis at QB wearing a scarlet Yes You Can Hit Me jersey and Jordan Leasure next to him in the backfield. So no, this isn't what the Buckeyes are sending onto the field in Bloomington offensively. At least not in the 1st quarter.
If Nick Bosa playing at WDE (near side with his jersey Zeke'd out) was supposed to stay under wraps, I apologize for blowing it. The Buckeyes will be terrorizing opponents with a Bosa for the fifth-straight season. You heard it here first, folks.
As for other things I saw that don't compromise the team, its objectives or this web site's wonderful and symbiotic relationship with the university:
Paul Keels, routinely adventurous in identifying players during live action, will eventually credit J.K. Dobbins with a Chase Young sack because they both wear the No.2 jersey and Dobbins comes before Young in the media guide. Young is over half a foot taller than Dobbins. It doesn't matter. 

Young really is shaped like the Predator in his body armor. He practically looks photoshopped. Dobbins merely appears like he's going to be a nightmare for defenses; everything he does is so snappy and crisp. If you think Keels' confusion is unlikely, please refer back to the sacks Keels credited to Doug Datish (No.50) back when Vernon Gholston (No.50) was lined up at defensive end. The man's voice is deep and velvety. His roster knowledge is always in-progress.
Kendall Sheffield intercepted the ass-end of a pass OBJ-style during a throwaway drill with barely anyone watching. At first I thought it was No. 8 Trevon Grimes (I too am Paul Keels) but his helmet stripe was red and I thought my god that's a defensive back.
There are a select few scholarship players who I cannot imagine will ever play a meaningful snap. They know who they are. There are some on every team, everywhere, every year. Ohio State has very few of them, but they, um, stand out.
Eric Glover-Williams is a silky football player. I had Al Green songs in my head while watching him with the ball.
The defensive front seven was getting frustrated by the tactics the OL was using to try and defend them. There was a brief scuffle between a starting OL and a backup LB who I won't identify here. Dre'Mont Jones and Bosa came to the sideline after a play and had this exchange:

Jones: "They're holding the [redacted] out of me, man!"
Bosa: [literal ¯\_(ツ)_/¯ in response. Peak Bosa]
Both then cycled back into action on the next play, in which Bosa and Tracy Sprinkle promptly met at Dwayne Haskins in what would have been a crushing sack in a live play with contact. 

Guys who made me think wow, who is that?:

Elijah Gardiner, who somehow looks taller than he's listed at 6'4". Faaaaaade route.
Isaiah Pryor. NFL body. Young teenager.
The Predator. You'll see.
Jaylen Harris. Ohio State is equipped for an All-Jump-Ball offense for the foreseeable future.
Ben Victor. If he gained 15lbs in this offseason, he's hiding it very well.

The DBs are so well-coached. Even when Zone 6 got separation, they were all - to a man - violent and disruptive when the ball arrived. They conceded nothing.
JTB's arm, feet and pocket work looked great. On that day he threw some of the nicest passes I've seen from an OSU QB since Troy Smith (apologies to Cardale, who just unclenches the ball from his hand and it flies away)
Overall, this is a pretty good-looking team. I think it will end up winning several football games. You heard it here first.
---
The WINDOW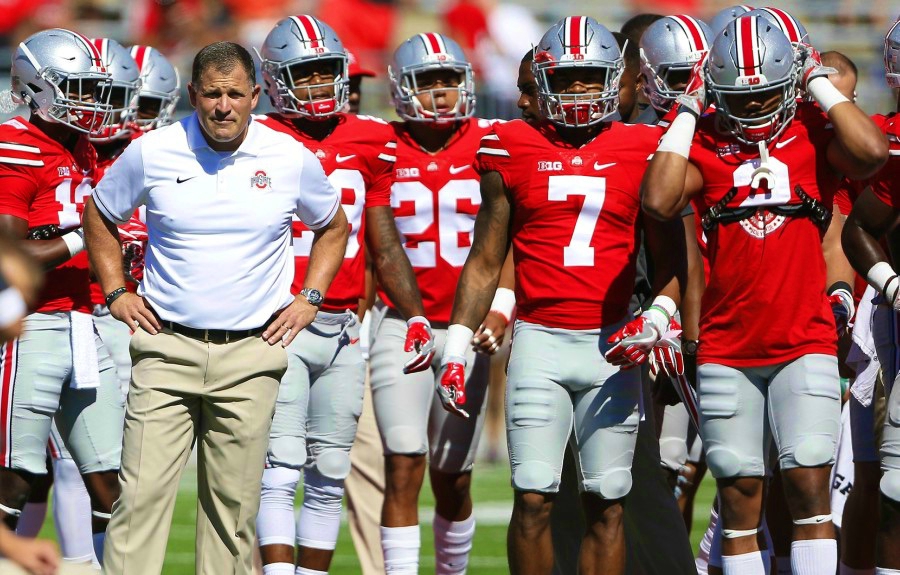 Ohio State has Kevin Wilson coaching its offense and Greg Schiano coaching its defense in 2017. Take a moment to process that.
That's one of the revolutionary offensive minds in the college game along with one of the sharpest defensive ones. Watching them command practice was a unique experience; two clearly demonstrative and seasoned head coaches caretaking their units.
They could - should - both be head coaches - again - right now. Larry Johnson should have been one years ago. Kerry Coombs is impossible to miss and in a constant state of engagement and teaching. Tony Alford is exceptional with running backs. Ryan Day might be Urban's next Tom Herman - I'll boldly predict you won't have to wait too long to evaluate quarterback play in 2017 and realize what held it up the past two seasons.
This might be the best Ohio State coaching staff since 1968.
We're into the fourth paragraph and haven't mentioned Bill Davis yet. Much is made of Buckeye recruits, but it's easy to forget that this program also has a 5-star coaching staff. What plagued it the past couple of seasons has been significantly upgraded.
It might be the best one at Ohio State since 1968 when the sidelines were ripe with eventual Hall of Famers: Woody Hayes, Earle Bruce and Lou Holtz along with Bill Mallory, Glenn "Tiger" Ellison - who literally created Run n' Shoot - and Hugh Hindman, who eventually became OSU AD and had to fire his former boss after he punched a Clemson Tiger.
So the 2017 Ohio State coaching staff is as good as it gets. You should enjoy it while it's intact.
---
The Bourbon
There is a bourbon for every situation. Sometimes the spirits and the events overlap, which means that where bourbon is concerned there can be more than one worthy choice.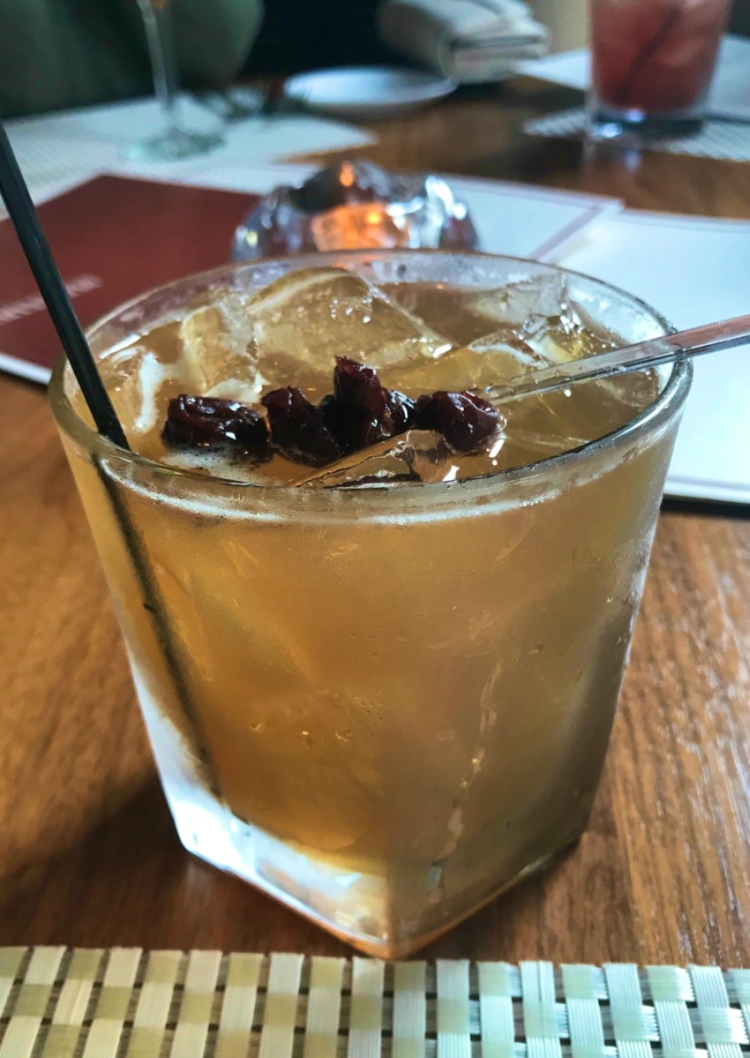 Watching the Buckeyes practice is thirsty work. That evening I dined at Cameron Mitchell's Martini Modern Italian and had a couple of their Dark Cherry Manhattans - on the rocks, not up. It's a personal preference - I'm generally too uncoordinated to drink out of a martini glass without pouring half of it down my chin. Rocks glasses are easier. 
Manhattans are simple - they're generally Old Fashioneds + sweet vermouth. The Martini Manhattan strayed from tradition with its Dark Cherry version by abandoning both bitters and vermouth, but after having it I can see why they kept the name intact. The vanilla and amaretto-soaked cherries are clever replacements. You'd barely know what they substituted if they didn't reveal it to you on the drink menu.
If you're not at Martini, it's an uncomplicated recipe you can recreate at home. The problem is amaretto-soaked cherries aren't as simple as just dunking fruit in booze. There's a science involved. Fortunately, I majored in English, a language I already spoke fluently; why did I even go to college Advanced Mixology Studies and am here to help.
First, you'll want to zest a lemon into a sauce pan with water and sugar. Squeeze some juice in there too, but don't worry about getting every drop - just use your hands. Bring that all to a boil and let everything complete dissolve, so let it go for about a minute. Put your pitted cherries in a mason jar or jars, depending on how big you like to go with those things.
DARK CHERRY MANHATTAN

| Ingredient | quantity |
| --- | --- |
| Woodford Reserve | 2 oz |
| VANILLA BEAN | One |
| AMARETTO CHERRIES | Five |
Pour the amaretto - just use Disaronno; it's good, fancy and easy to find - over the cherries first. Then carefully (it's hot!) drizzle the sizzurp you just boiled into the jar or jars. Leave some space at the top before you close them up. Also, you probably spilled a little so rinse the jars off after you've sealed them.
By the time they're room temperature, your amaretto cherries should be good to go. They're not a bad thing to keep in your bar or kitchen anyway, because as anyone knows the best way to make eating those seven or whatever servings of fruit and vegetables you're supposed to guzzle down every day more tolerable is to add booze and sugar to them.
HOW TO MAKE THE CHERRIES

| Ingredient | quantity |
| --- | --- |
| PITTED CHERRIES | 3 cups |
| DISARONNO | 4 tbsp |
| SUGAR | 2 cups |
| LEMON | 1 |
| WATER | 3 cups |
Now that you've got those cherries at your disposal you can make Dark Cherry Manhattans a la Cameron Mitchell. Martini used Woodford Reserve, which is sweet, smooth, spicy and ubiquitous. It's fine. If you need a substitution, you'll want something more fruity than caramelly and more sweet than shoe leathery. Makers Mark works. High West would as well, as would Rowan's Creek. Know your mash bills and bouquets, people.
Don't overlook the importance of having reputable vanilla - it's worth the investment. It also elevates the natural vanilla in Woodford in both nose and flavor, so try not to skimp. You've come this far. Go all the way.
Simply put the cherries and bourbon in a shaker with ice and pour into a martini glass (or a rocks glass, if you too are an adult who needs sippy cups) and garnish with more cherries and your reputable vanilla bean. Viva Columbus.
---
The Playoff
Can you believe it's been 10 years since Ohio State came off an historic postseason humiliation? Well, yeah it's also been eight months, but remember, time is a flat circle. Whatever goes down this season will happen again. Whatever happens this season will have already happened previously. 
Please enjoy this highlight film from the 2007 Ohio State football season, set to Matchbox 20's How Far We've Come, because 2007 was not only 10 years ago; it was 1,000 years ago.
Thank you for getting Preseason Situational. Go Bucks. Beat everyone.